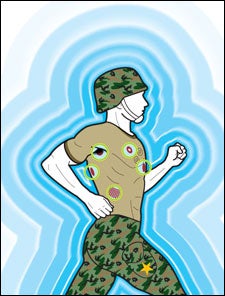 Heading out the door? Read this article on the new Outside+ app available now on iOS devices for members! Download the app.
For the U.S. military, there are no priorities higher than troop readiness and efficiency of field medical treatment. A remarkable new tool for improving both could be new combat T-shirts that allow commanders and medics to assess soldiers' fit-to-fight status and perform rapid triage miles from the fray. The lightweight, machine-washable shirts contain dime-size sensors that transmit a GI's vitals back to base. Massachusetts-based firms Foster-Miller and Malden Mills have a $5.5 million Defense Department contract to get them ready by 2008; a civilian version, with a wide range of applications, could be available by 2006. But don't worry—whatever happens in your skivvies will remain private.
combat T-shirt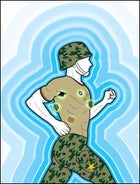 » A three-quarter-inch-thick, egg-shaped MINI-CPU over the sternum collects data from the sensors, then uses a Wi-Fi-type signal to send it to a small wireless hub in a pack or on a belt, which in turn transmits it to the Army's encrypted communications system.


» The shirt's CONDUCTIVE FIBERS record the expansion and contraction of the chest with each breath, telling medics if a soldier is maxing out. An Everest Base Camp manager could monitor a climber in the same way.


» A Ballistic Impact Detection System (BIDS) uses acoustic sensors on the back, beneath the shoulder blades, that can discern the sound of a BULLET IMPACT to indicate when and where a soldier has been hit.


» At least two thermistors measure SKIN TEMPERATURE in spots like the armpit. Infantry can also swallow a nondigestible plastic pill that reads core temperature for up to 24 hours. (Overzealous triathletes might also, if a civilian pill is approved.)


» Chest sensors produce an electrocardiogram—the same HEART RATE graph you see in hospital ERs—that tracks heart rate and overall functionality of the organ.