Indefinitely Wild
The Latest Synthetic Base Layers Have Surpassed the Performance of Merino Wool
Just as cozy with remarkable technology? Consider me a convert.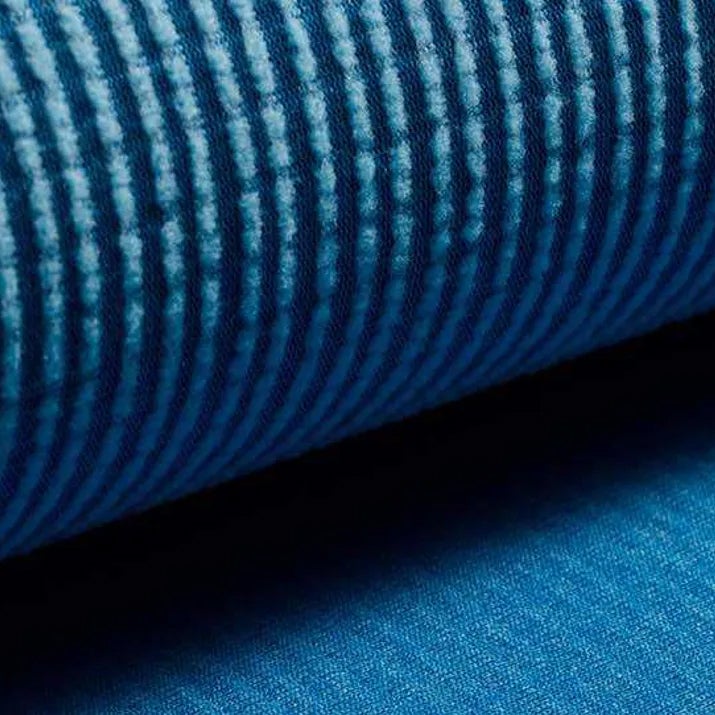 Polartec
Heading out the door? Read this article on the new Outside+ app available now on iOS devices for members! Download the app.
I've stopped wearing merino base layers. The change wasn't deliberate, sudden, or driven by a deep concern for the wellbeing of rare sheep. Instead, it happened naturally over time, because the latest generation of synthetic next-to-skins genuinely offers superior performance.
A unique mix of performance attributes have always made wool the go-to long underwear. It remains warm when wet, resists odor, actively wicks moisture away from your skin, and helps regulate temperature, keeping you warm when you're resting and cool when you're moving.
And the ways in which wool does all that can—if you forget that it's a natural material for a moment—sound surprisingly high-tech. Take wool's ability to actually generate heat, for instance. While its scaly outer layer repels water droplets, a wool fiber's hollow interior is actually hydrophilic: it attracts and absorbs water vapor. And, once water gets inside those fibers, their rough texture actually breaks apart the hydrogen and oxygen molecules, creating a chemical process that produces a small amount of heat.
Merino carries many of the same performance attributes as regular wool; it's just softer, so wearing it next to your skin usually feels a bit less itchy. But synthetic fabrics have grown to be just as cozy with remarkable technical attributes that are so much more than marketing hullabaloo. Consider me a convert.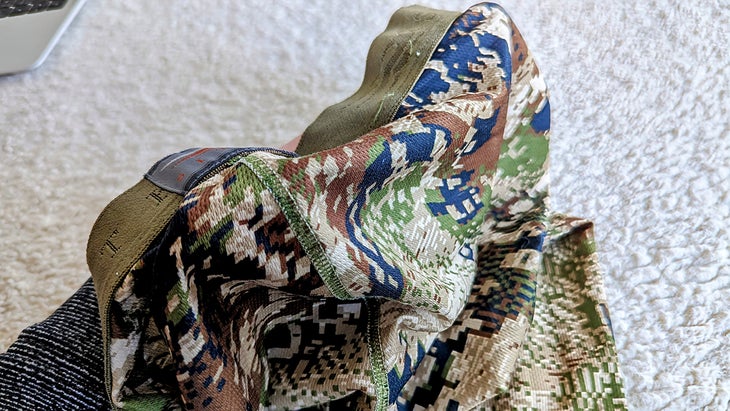 Old Faithful
Sitka Core Lightweight (from $79)
My first experience with modern synthetic base layer technology came from a set of Sitka Core Lightweight tights and T-shirt. Founded as a hunting brand that's now expanding into general outdoors apparel, Sitka tries to prescribe precise layering systems to suit specific activities and weather conditions. Using synthetic fabrics helps the brand engineer the way moisture and heat move through multiple layered items of clothing.
The Core Lightweights are very thin, waffle-pattern, four-way stretch polyester. The waffle texture is capable of trapping a little bit of air next to your skin, making them feel warmer than their weight would suggest. But the fabric is so thin that it dries instantly, even if you completely submerge it in a stream. That instantaneous drying is also facilitated by the hydrophobic nature of polyester fibers, which are only able to absorb 0.4 percent of their weight in moisture. Cotton, for the worst possible comparison, absorbs 24 to 27 times its weight in water, while wool can soak up 30 percent. And because water isn't absorbed, its surface tension draws it across those fibers, spreading it out and allowing it to evaporate rapidly.
Work up a sweat in the Core Lightweights, and that rapid evaporation provides a cooling effect, just like wool, only faster, and with less moisture retention.
Speaking of sweat, what about odors? Warm, moist environments like those created when you sweat in base layers are perfect environments for naturally occurring bacteria to rapidly multiply and stink. To discourage bacteria growth, Sitka employs a fabric treatment composed of silver chloride that's made by Swedish firm Polygiene. Silver ions puncture bacterial cell membranes, then bond to the DNA inside, preventing those cells from replicating.
In short, the Core Lightweights provide insulation when you're holding still, work to actively cool you through evaporative heat loss when you're moving, and don't stink—just like wool. They also have an advantage over wool: Polyester sheds moisture faster than wool, and holds up to much more wear. I've been wearing the same set of these (pictured) regularly for at least the last eight years, and they remain as good as new. Dozens of pairs of ultralight merino layers have perished during that same time.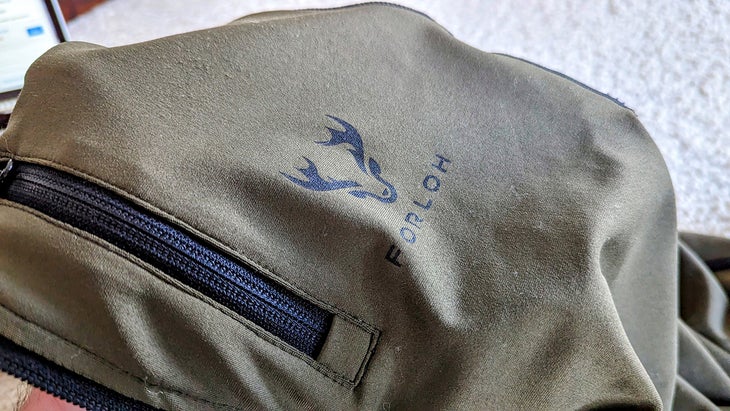 The Warm Ones
Forloh Deep Space (from $99)
I've been writing a lot about hunting apparel lately, because there's currently a lot of technical innovation happening in that space that's relevant to all outdoor enthusiasts. Not only is all Forloh gear made in America, but it seeks to take advantage of cutting edge technologies larger companies may not be agile enough to rapidly adopt.
Deep Space layers are made from a thick, heavy polyester fabric that also incorporates Spandex. That makes them tangibly warmer and stretchier than the Core Lightweights. Forloh then coats those fibers in Trizar, a ceramic material designed to reflect heat back toward the wearer's body. It's similar to the metallic linings used in some outerwear, except it's woven into the fabric itself, so it's not crinkly, won't wear off, and doesn't limit wicking. Forloh claims this makes its base layers feel a full 2.0 degrees Fahrenheit warmer than they would without the coating.
The company also employs a Polygiene silver chloride treatment similar to the one used by Sitka, plus a new technology from the same company. Odor Crunch is a fabric treatment containing silica particles. Those bind to odor-causing molecules like oxygen, nitrogen, and sulfur, then through a chemical process break those into carbon dioxide and water. Polygiene makers say it deals with externally-sourced odors—wood smoke or cooking smells—as well as body odors.
Just like wool, Deep Space base layers provide more warmth than that created by trapped air alone, while preventing odor causing bacteria growth. That they're quicker drying, able to shed externally-sourced odors, and very stretchy gives them a real advantage.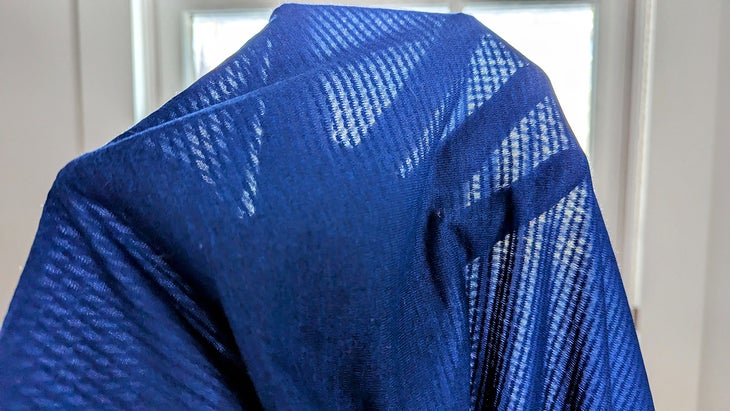 The Athletic Option
Beyond Bask L1 (from $70)
You'll be familiar with Polartec Power Grid fabric from mid-layers like Patagonia's ubiquitous R1. In that role, the material is about the weight of a typical polyester fleece sweater, but features a grid pattern in which squares of loft trap air to insulate, while thin dividing lines between those squares go without the loft, facilitating breathability.
The Basks are made from a new, thinner, lighter weight version of Power Grid (pictured, top). One so open you can literally read a book through it. Seattle-based Beyond Clothing is trying to apply lessons learned from apparel designed for Special Operations Forces to civilian athletes.
The material is so breathable, its more reminiscent of and constructed like Polartec Alpha, the fabric technology company's most breathable mid-layer. On both, a sparse loft of polyester fibers is held together by a mesh chassis. Sit still and that loft traps a surprising amount of warm air. Start moving, and it presents no impediment as heat and moisture disappear outwards. Pair the Basks with an Alpha mid-layer—Beyond makes several, but my all-time favorite remains the Rab Alpha Flash—and you'll be uniquely well equipped for athletic endeavors in cold weather.
Like the other polyester materials above, the its inability to absorb water helps it wick moisture away from your skin while remaining dry. On Power Grid, those lofted Polyester fibers are engineered to start thin, next to your skin, then grow thicker as they move outwards. That also helps draw away water from your skin, then spreads it out, encouraging it to evaporate even faster.
I picked up a pair of Basks in early January, and have worn them almost daily since. For such a minimal, thin material, they're surprisingly robust. The instructions say to wash with cold water, then air dry them. I've been afraid of poking holes in them with my fingers as I pull them on, but so far have had no such problems. Polartec doesn't apply any odor-resistant treatments to Power Grid, but I've been able to wear the Basks daily for up to a week without them stinking.
Lead Photo: Polartec