Is there such a thing as a bike-compatible leash?
Is there such a thing as a bike-compatible leash? — Patricia Schneiderjohn St. Louis, Missouri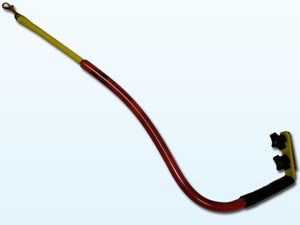 Heading out the door? Read this article on the new Outside+ app available now on iOS devices for members! Download the app.
Rumor has it that Dog Whisperer Cesar Millan has used a plain old leash in the past. But I wouldn't try that at home. The Bike Tow Leash ($110; biketowleash)—a flexible composite arm of extra-strength plastics that extend off the bike's frame near the left rear axle—is a pretty ingenious answer. A former aeronautics mechanical engineer named Michael Leon designed it: Ironically, a car hit him while he was out riding his bike and, during his year of disability and rehab, Leon learned how to train service dogs. Since he couldn't run and walk the dogs as often as they needed, he invented a leash that would allow him to more easily ride with the dogs. Testing included riding at night through the woods on singletrack and busy city streets, both of which provided plenty of distractions for the dog, which is possibly why it took six years to perfect the final product.
Bike Tow Leash

Bike Tow Leash
Unlike other bike leashes on the market, the Bike Tow has a low center of gravity, which makes it much easier to balance out your bike with the dog. Working like a mechanical appendage, the leash attaches to the bike with a two-bolt brass clamping system, which is sheathed in plastic to protect the bike's finish. The leash itself has two parts, a springy, tubular section that keeps the dog in the heel position and a more rigid section that has slightly less give. A rigid elbow in-between ensures the dog never gets too close to the wheel. The two-pronged balance between flex and rigidity will automatically reign the dog in without hurting it, yet let it run hard without having to pay too much attention to getting run over. The beauty of the system is that the leash acts as a resilient barrier, communication tool, and tether all in one. The leash works on all bike styles, but if I were you, I'd ride wide tires and practice on a nice empty beach before you graduate to riding with your pooch on singletrack.