Trail Tested: Uvex Sportstyle 202 Race Vario
Who needs interchangeable lenses when one pair of glasses can do it all?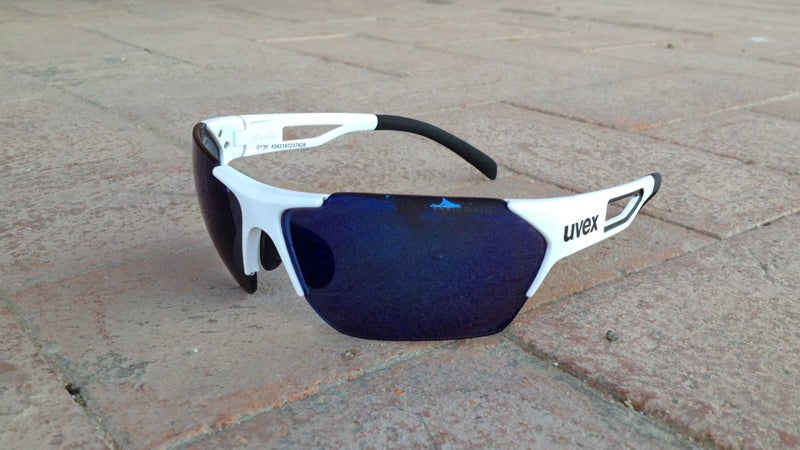 Courtesy of Aaron Gulley(Photo)
Heading out the door? Read this article on the new Outside+ app available now on iOS devices for members! Download the app.
Smith Optics, Oakley, and other sunglass manufacturers have done a great job recently building excellent shades with interchangeable lens options. It's a best-of-both-worlds argument, with the ability to swap myriad tints and finishes depending on the conditions.
The alternative, of course, is a single lens that adjusts to the light and conditions so you don't have to switch it in the first place. This technology has been around for awhile, but early versions had their challenges, including a narrow range of tint shifting, slow transitions, and light sensitivity that sometimes permanently altered the tint-shifting capabilities.
In the last couple of years, though, lens technology has improved and manufacturers have rolled out high-quality optics that cycle quickly between almost zero- and full-light blockage. The Uvex Sportstyle 202 Race Vario is one of this new breed of mutable-lens glasses, with polycarbonate lenses that shift from crystal clear to full dark in a matter of seconds. It begs the question of why you would ever opt for interchangeable lenses again.
The heart of these glasses is Uvex's Vario lens, which can block anywhere from 78 to nine percent of light. That's an incredible range, with plenty of ray-stopping power for even full bluebird days in the Arizona desert. The tint on my blue-mirrored variety is a natural gray with a slight blue hue that works great in bright light conditions. And while I worried that the lighter end of the spectrum wouldn't be bright enough for night riding, in the end it's almost crystal clear. There's an excellent anti-fog coating that's kept these shades from fogging even once during several thousand miles of riding in a broad range of conditions. As expected, the lens offers 100 percent protection from UVA, UVB, and UVC rays.
The lens transitions fairly quickly, too. Uvex claims 25 seconds for a full shift, and that seems about right. The one time I found it a bit too slow was around dusk, when it feels dark outside but the ambient light keeps the lens a bit too dark. You have to wait until after sunset for it to go clear. Otherwise, I had no issues, even with streaking or ghosting from cast shadows when I left the glasses sitting in the full sun.
And the Sportstyle 202 is more than just a high-tech lens. The rimless design weighs almost nothing (less than one ounce), and the earpieces and nose pads are made from a comfy, soft, grippy rubber that's fully formable for tweaking the fit. Once I got these shades shaped to my face, I barely even noticed they were there. They look pretty good, too—definitely on the sporty side, but not something ridiculous out of Tron.
I rode these in my AZT300 push last weekend (as well as throughout the winter and spring), and I will never go back to an interchangeable lens for endurance events. While other riders were futzing with switching out lenses at dark and worrying about broken glass in their packs, I kept the Sportstyle 202 on my face. And they are so moisture- and sweat-resistant that I barely even had to worry about cleaning them. The lens coverage is oversize and excellent—it kept my eyes fresh for two whole days on the bike.
The Uvex Sportstyle 202 Race Vario is available in five colorways, all with the same lens, and it sells for $170. For those with smaller faces, there's a petite variety that sells for the same price.
Lead Photo: Courtesy of Aaron Gulley