Gear Guy
What layering system works best for summer in the Rockies and points north?
My husband and I are taking a cruise from Vancouver to Alaska in May and then driving from Jasper through Glacier National Park, Yellowstone, and the Colorado Rockies. Being Aussies from the subtropics, we would welcome your suggestions about what outerwear we'll need and where to buy it in Vancouver. Margaret Brisbane, Australia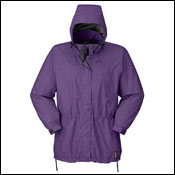 Heading out the door? Read this article on the new Outside+ app available now on iOS devices for members! Download the app.
Interesting outerwear challenge, Marge. And a fun trip!
MEC Monsoon Jacket

Monsoon Jacket
Your best weather might well be in Alaska. The typical pattern up there is that May is fairly dry and clear, even somewhat balmy. Down "south" here, May and early June can sometimes seem like late winter in the mountains. You have an excellent chance of running into at least some snowfall in Glacier, Yellowstone, and the Rockies. But it can also be very quite warm that time of the year. So you never know. Bring some of your "at home" clothes for temps in the 80s (Fahrenheit), and you'll be fine if the sun is out.
Essentially you need to purchase things for cool weather, with two variables: wet or dry. And that isn't difficult. I'd start at home in Brisbane by going to K2 Odyssey Travel and buying a set of Icebreaker long underwear—the Skin200 weight long-sleeve shirt and tights (US$60 each; icebreaker.com). They are light, warm, and comfortable across a wide temperature range. It works well under casual shirts and trousers, or as part of a more technical layering setup. You'll thank me.
Once in Vancouver, make your way to Mountain Equipment Co-op, a large outdoor-goods store that covers half a city block near downtown. You'll find all kinds of things there, both brand-name gear and a wide selection of MEC-brand stuff. The basics you need are these: waterproof/breathable jacket and pants, and a reasonably warm piece to layer under the jacket. The MEC Monsoon Jacket (CA$155; mec.com), is a well-priced Gore-Tex piece with a long cut for good coverage. It has room underneath for extra layers without being too Michelin Man-like. Pair it with the matching Typhoon pants (CA$98) and you'll have a well-priced rain suit that's also a wind-breaking layer on cool and breezy but dry days.
The other thing you need is an insulating jacket. The MEC Ovis Hoodie (CA$78) is a warm blend of wool and fleece to wear under the Monsoon or on its own. It has a hood, which you might find very handy.
I will concede that MEC's house-brand stuff is not the most stylish. MEC also carries items from companies such as Patagonia, which combine function with a little more fashion, albeit for a extra piece of cash. Patagonia's very fine R2 Jacket, analogous to the Ovis Hoodie in warmth, is CA$180.
Along with that stuff, perhaps pack a pair of gloves and a warm hat. Then you're good to go. Bon voyage.
The Gear Guy reports from 2007 Winter Outdoor Retailer, the bi-annual gearapalooza in Salt Lake City. Check out his top picks for gear to watch in 2007.
Trending on Outside Online