What's the best multi-purpose backpack?
I'm searching for a great multi-purpose backpack for graduate school. I'd like to use it while biking to carry my laptop, books, and some dog accessories. In addition, I'd love to be able to throw a bladder in there along with some hiking gear. Any suggestions for me as to what route to go for a super sweet new pack?—LizDenver, CO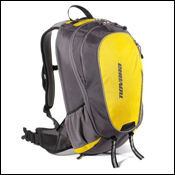 Heading out the door? Read this article on the new Outside+ app available now on iOS devices for members! Download the app.
I dunno, Liz. I guess they haven't yet taught you the art of compromise in grad school. You know, where you give up one thing to gain another.

Novara Commuter Backpack
Same for packs. You want a book pack. And a hiking pack. And a hydration pack. But a book pack is kind of a casual fashion thing. A daypack for hiking is something else. And a hydration pack is a third thing. And kind of a useless thing, really. I mean, I occasionally use a hydration bladder on a bike. But otherwise: really? A water bottle doesn't work?? I can't get my head around that.
Anyway. Your first pick ought to be REI's Novara Commuter Backpack ($70). It's ideally suited for your biking world, and an easily hold a laptop, books, and doggie things. It's designed to carry well on a bike. And it will be OK on a trail. Not a ton of room inside it—only 1,500 cubic inches—but it'll hold clothes, a snack, and water. And it will adapt for a water bladder if that is what you really want.
On the more backpack-y side of things, there is the Osprey Stratos 24 ($99). Same size as the REI pack, but a little less streamlined as it's mean to be carried while walking. But you can use it on a bike. It'll take a hydration bladder, it carries great, and its design gives you easy access to the stuff you need.
Lastly, Gregory's Z35 ($139) goes all the way in the backpack direction. Bigger than either the REI or Osprey packs (2,500 cubic inches), it is a bit of a lump to carry as a bike pack. But it will do on a bike, and otherwise it's an excellent all-around daypack.
So there you go. One of these ought to see you through grad school—and years beyond.