Gear Guy
What's a good, 45-degree sweater?
I'm after a down jacket or sweater that could replace a fleece jacket in my pack, hopefully adding lots of warmth for only a few ounces extra. I'd hope it would keep me warm by itself to about 45 degrees, and be a layer after that. I don't want it to be too warm or heavy—California isn't usually very cold. I was looking at the EMS Super Sweater, for exple. Any thoughts? Jonathan Thousand Oaks, CA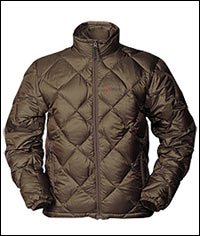 Heading out the door? Read this article on the new Outside+ app available now on iOS devices for members! Download the app.
Down sweaters are the single greatest piece of insulating gear on the planet. They're warm, work on their own or under a shell, pack to the size of a golf ball, and weight less than helium. Everyone who spends time in temps under 32 degrees should have one. No, they're not much good in the rain, but they're great for everything else.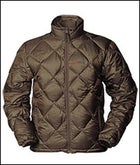 Moonstone's Lucid Down Jacket
The EMS Super Sweater ($200; www.ems.com) is a fine example of this type of garment. It's pretty luxe—800-fill down, hand-warmer pockets, inside pockets, fused quilt lines (rather than sewn). Very nice indeed. If I have a criticism of it, it's that the Super Sweater is almost a down parka, almost too warm for many of the applications for which a down sweater is so ideally suited (walking dogs on cold night, extra insulation while reading a book in tent, an additional layer for when the sun goes down, etc.). Plus, it weighs nearly a pound.
For that reason, if you can find one, take a look as well at Moonstone's Lucid Down Jacket ($160; www.moonstone.com). Despite the name, it's more of a true down sweater—super light (10.5 ounces), 800-fill down, polyester shell (dries faster than nylon and resists light moisture better). I got one this past fall and think it's wonderful. A very similar product is the Patagonia Down Sweater ($165; www.patagonia.com) almost same price, more or less same weight. To go really nuts on shaving ounces, look into Mont-Bell's UL Down Inner Jacket ($140; www.2montbell.com), which weighs a mere seven ounces. Not as warm as the other pieces, but still pretty terrific.
Want more of the same cold-weather variety? Check out Outside Online's definitive overview of all things jacket-related.

Trending on Outside Online