What's up with these sunglasses that have NASA-based lens technology?
I just discovered your gearness and must say I like your logical mirth. Please enlighten me on Eagle Eyes sunglasses technology. Is its NASA-accepted light-filtering system really unmatched? Salim Loma Linda, California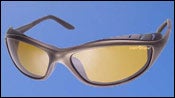 Heading out the door? Read this article on the new Outside+ app available now on iOS devices for members! Download the app.
Ah! You say you are a newcomer to the altar of Gearness. Do you have a chart of your IQ? Was it wandering around in the low 70s a month ago and now has gone well into Mensa territory? This site has that sort of impact on people, you know.
Eagle Eyes Futura Sunglasses

Futura Sunglasses
Anyway, everybody say, "Hello, Salim." "Hello, Salim!!!" There. You're among friends.
I will date myself considerably by confessing that as a boy growing up in Portland, Oregon, I spent many a pre-school hour raptly staring at our black-and-white Magnavox television, watching the Mercury, then Gemini, then Apollo spaceships blast off. So I am completely down with the notion that NASA (recent press not withstanding) has made our life totally better. Tang? Better baby food? Golf balls that fly better? Those are real examples—how ever would we survive today?
So, Eagle Eyes sunglasses. Well, why not? The Eagle Eyes website (eeo.com) says, in part, NASA's "findings revealed that eagles have unique oil droplets in their eyes that selectively filter out harmful radiation and permit only specific wavelengths of light to enter their eyes giving them extremely powerful visual clarity, even at great distances. NASA then replicated this discovery into a lens technology that, in turn, resulted in Eagle Eyes—a leader in high performance eyewear."
Plus, these lenses have TriLenium. TriLenium! How can they not rock?
So my conclusion is…I have no idea if these are any better than other eyeglasses, or not. At face value, Eagle Eyes offers a collection of decent-looking, reasonably priced (most are around $60) sunglasses and clip-ons that may well offer something useful for some users. The lenses in Eagle Eyes have a gold cast, which I would place mid-range between the common brown/bronze lenses one sees and yellow lenses. Bronze lenses reduce glare, while yellow ones heighten contrast. So it's plausible that the gold lenses on Eagle Eyes glasses combines a little of each feature. They meet standards for UV protection, so that's of course a good thing.
One disadvantage is that Eagle Eyes sunglasses come in one lens flavor. It all depends on the activity, I suppose, but I like to be able to swap out lenses for different conditions.
My advice: Buy a pair. Then write again and tell us what you think.
You've seen our picks for 2007 Gear of the Year, and now the entire
Outside Summer Buyer's Guide is online. Check out this year's more than 400 must-have gear items, including sunglasses.
Trending on Outside Online