Gear Guy
Which wind shirt offers lightweight waterproofing and breathability?
I need to replace my old Moonstone Activent wind shirt that I use for running. Can you direct me to another one, preferably a pullover? Dan St. Louis, Missouri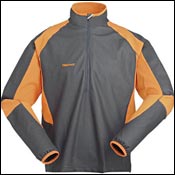 Heading out the door? Read this article on the new Outside+ app available now on iOS devices for members! Download the app.
Alas, Activent, we hardly knew ye. For those to whom the name is unfamiliar, Gore Activent was a material that came out seven or eight years ago. Sort of a "Gore-Tex Really Light." It wasn't waterproof, but water-resistant enough to keep you dry for a few hours of moderate rain. It was also windproof and very breathable. In short, just great stuff—I still think it's the best performance fabric of the past decade. But it didn't sell. Most manufacturers were putting out pieces that cost $150 or more, and when a prospective buyer heard "not waterproof," they backed off.
Marmot's Evolution Half-Zip

Evolution Half-Zip
When it went off the market, I bought four or five pieces on closeout and still use several of them to this day.
Gore says Activent re-surfaced under the Windstopper trademark. I have a Windstopper piece that doesn't seem to have Activent's breathability, although it also has a mesh liner, which adds weight and warmth. Still, the Gore Bike Wear Balance Jacket can be had from places such as Performance (www.performancebike.com) for $99. The Balance is a two-layer shell, meaning no mesh liner, which is good. Marmot's Evolution Half-Zip ($100; www.marmot.com) also uses Windstopper in a pullover-style wind shirt.
The other thing I'd suggest is to look at REI's Mistral Jacket ($149; www.rei.com). It's a soft shell made with a lightweight version of Polartec's Power Shield. So it's nearly completely windproof, very breathable, and highly water-repellent. Not as much as the old Activent/new Windstopper, but pretty good in mist, snow, or light rain. I've been wearing one this fall on cool evenings when we're out mountain-biking. When the temps are below 40 it's terrific—a light wicking T-shirt under it, and I'm set. Above 40 it may be a bit warm, but that depends on the user and the activity.
Alas, it has a full zip and is not a pullover. And it's bulkier than a light hard-shell; you probably couldn't fit it in a jersey pocket.
Get more advice from the Gear Guy as he picks this season's top gifts in Away.com's Holiday Gift Guide. You'll probably find a few things to put on your own wish list, too.
Trending on Outside Online