Why Buying a Lightweight Rain Jacket Is More Confusing than Ever
Changing environmental standards have upended the industry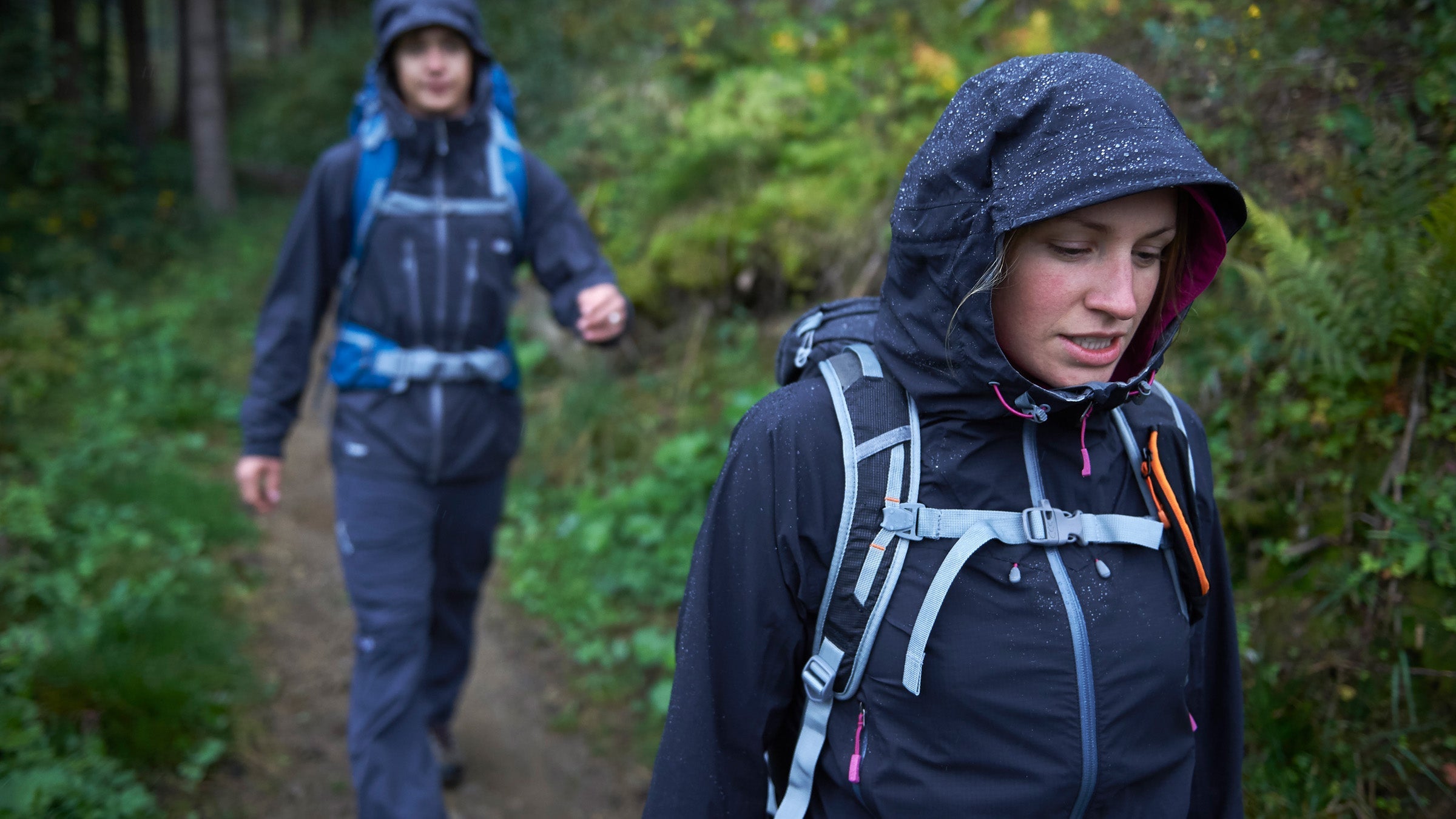 Ross Woodhall via Getty
Heading out the door? Read this article on the new Outside+ app available now on iOS devices for members! Download the app.
If you've felt lately that the world of lightweight rain gear has gotten more confusing than ever, you're not alone. There have been a lot of shakeups in the industry lately, including stricter environmental standards, supply-chain woes, and substandard performance. One brand manager told me point-blank that rain jackets have become less durable and breathable over the past decade. With increased scrutiny of the chemicals used in high-tech fabrics, it can feel like you need a chemical engineering degree to understand modern raingear and make an informed purchase. We dug into the subject, talking with designers from brands big and small, to get a handle on the state of ultralight raingear. 
The PFC Question
In the past several years, chemicals called PFCs or PFAS have been under scrutiny—in the outdoor industry and beyond—for their potential harmful health effects, ranging from liver damage, increased cancer rates, or risk of birth defects. PFCs, or perfluorinated chemicals, are a group of chemicals that are used in many industries as a water-resistant coating. They're also often referred to as PFAS (or per- and polyfluoroalkyl substances), and in the context of outdoor apparel, the two terms are basically interchangeable. These chemicals are considered harmful because they break down very slowly, and can accumulate in water, soil, air, and our own bloodstreams. Research suggests that PFAS are mainly a public health hazard as they accumulate in the world; a person wearing a garment made with PFAS is not at a higher risk of harm. The strongest research shows that PFAS act as endocrine disruptors in both humans and wildlife, which can cause alarming biological disfunction. It's safe to say that decreasing our reliance on PFAS is a crucial goal, especially in non-essential goods like hiking gear. 
In waterproof gear, PFAS show up in two main applications: durable water-repellant (DWR) coatings and breathable membranes. As these coatings and membranes break down, from abrasion, repeated washing, or just old age, they shed PFAS chemicals. In the past decade or so, much of the outdoor industry has moved away from what are called "long-chain" PFAS ("long" because they contain more carbon atoms), to shorter chain chemicals. It's hypothesized that these shorter chain PFAS may be more environmentally friendly because they break down faster and not accumulate in the environment as quickly. (Although research has shown that short-chain PFAS have similar health impacts to long-chain ones.) But shorter chain coatings are also not as effective and long-lasting as the older coatings: If you've noticed that a recent rain jacket purchase doesn't bead water as well as a jacket made in 2010, you're probably right. That difference comes down to the adoption of short-chain chemicals. 
Increasingly, the outdoor industry is moving away from PFAS altogether: In February 2023, REI, a financial and cultural trend-driver for the industry, announced that by Fall 2024, it will no longer sell any products that contain PFAS. And bans on PFAS will soon go far beyond the outdoor industry. New York is banning the sale of any apparel containing PFAS by the end of the year, and other states have enacted bans on PFAS in apparel, food packaging, upholstery, and other products.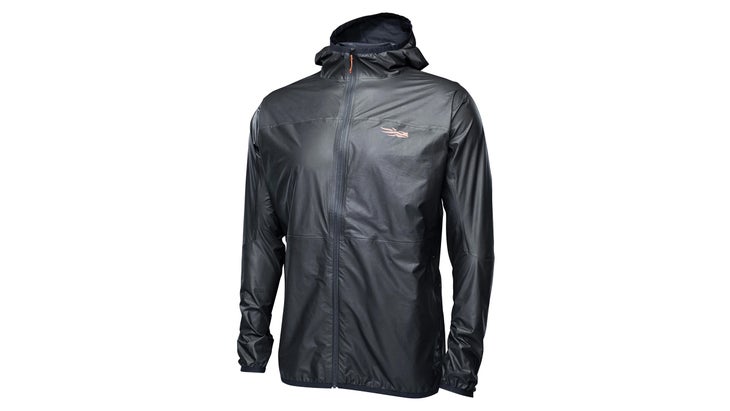 How Has the Ultralight Market Responded?
Unlike many items in an ultralighter's gear closet, most rainwear comes from major brands, not cottage companies. That's because those brands often have exclusive access to the best technology from companies like Gore-Tex or Toray. After a Gore-Tex Paclite shell? You might be heading to REI instead of Garage Grown Gear.
And those big brands have—so far—shown a concerted effort to move to PFAS-free. There are a few reasons for this. REI's PFAS-free ultimatum surely adds to the pressure for major brands, who are reliant on retail sales. Last year, Gore-Tex announced it would discontinue its ShakeDry line, the lightest and most enticing option for ultralighters, only six years after it hit the market. Last fall, Gore-Tex also replaced its standard three-layer shell with a PFAS-free alternative made of expanded polyethylene, or ePE. According to Gore, the new fabric is not only PFAS-free, but lighter in weight and has a smaller carbon footprint. When it comes to lighter Gore-Tex fabrics like Paclite and Paclite Plus, Gore hasn't been as forthcoming, stating that "a growing number of Gore‑tex Paclite garments come with a durable water repellent treatment free of PFCs of environmental concern." In other words, Paclite is moving toward PFAS-free, but for now you should check individual product specifications to be sure.  
The ePE shells available to date are far from ultralight and only available from a few brands. Patagonia, Mountain Hardwear, Arc'teryx all began to offer ePE shells last year, but most come in at 14 ounces or above. Prices are steep as well: even a more affordable option like Salomon's Essential Gore-Tex Jacket, is $350. Then there's the breathability ratings. By the numbers, ePE is the least breathable fabric that Gore-Tex offers, with a Thermal Evaporative Resistance (RET) rating of <13. In comparison, Gore-Tex Pro has a RET of <6, while Shakedry comes in at <3. 
The other big player in the game is Columbia's Outdry Extreme fabric line. First introduced in 2016, Outdry does away with the need for DWR coatings by putting the membrane layer on the outside (Gore-Tex's ill-fated Shakedry fabric also had an outer-layer membrane). Outdry Extreme and Extreme Eco are now both PFAS-free (Eco goes a step further and also uses recycled materials). The stats are fairly promising: the Outdry Ex Eco Tech Shell weighs about 10 ounces and has a waterproof rating of about 20,000 mm (making it 100% waterproof in real-world scenarios. M own experience? Breathability is good but not extraordinary. The big drawback for consumers here is that Outdry is exclusive to Columbia, which means there are only a few different jackets to choose from. So far, Outdry jackets aren't even available from other Columbia-owned brands like Mountain Hardwear. 
For those willing to spend the cash, cycling gear is another good place to find the latest tech. POC recently unveiled a three-layer rainshell with some eye-popping stats: PFAS-free, 3 ounces, and $500. The featherlight construction (it uses 10-denier polyester and a super-thin polyurethane membrane) almost certainly comes with durability concerns, though, especially since cycling apparel isn't designed with rubbing pack straps in mind. 
Cottage brands, which are mostly direct-to-consumer, aren't beholden to PFAS bans from retailers. As a result, some are continuing to offer jackets with short chain DWR coatings, while others have moved to PFAS-free coatings. A chief reason? Performance. On its website, Katabatic Gear says it has found PFAS-free coating to be about 10 percent as effective and far less durable than the short-chain alternative. 
Some cottage brands are dropping "forever chemicals" from their lineups, even without industry regulations and regardless of performance concerns. One brand that has already adopted PFAS-free standards in Enlightened Equipment. CEO Chris Schabow says that since 2021, the brand has made the transition for its full line of sleeping bags and apparel, including the Visp rain jacket, a 5-ounce three-layer shell.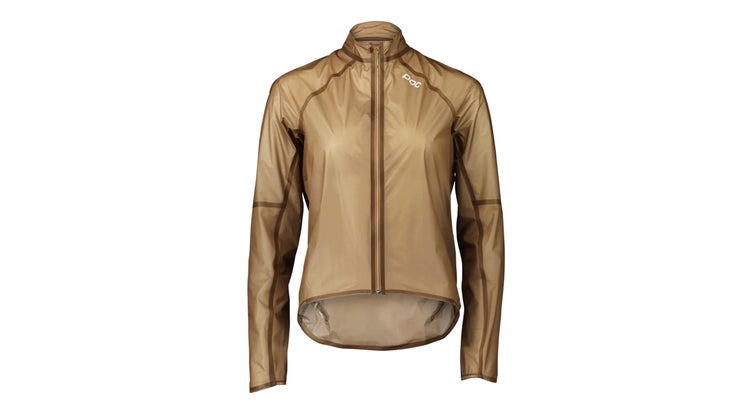 Breathable Rainwear: Just a Gimmick?
In the cottage world, a few brands are taking a novel approach—abandoning the waterproof-breathable idea entirely. At Lightheart Gear, customers can find a 20-denier silicone-polyester rain jacket that's 100 percent waterproof and non-breathable. "In my somewhat unscientific opinion, [waterproof-breathable fabrics] are just an expensive gimmick," says founder Judy Gross. "Yes, I get a lot of questions from people asking about chemicals in the material for the jackets and our tents. And yes, it's a selling point. But mostly, people complain that waterproof-breathable jackets just don't work." Instead of breathable fabric, Gross relies on mechanical venting to dump heat, in the form of two-way pit zips that extend down to the elbow.
Another brand that takes a similar approach is Timmermade, which offers silpoly and Dyneema jackets that weigh as little as three ounces. "Environmental impact is always at the front of my mind when considering anything, and siliconized fabrics and DCF look a lot more friendly than the membranes," says founder Dan Timmerman. "However, I don't think these reasons are responsible for the current popularity of impermeable rainwear. These products are trending because membrane technology has failed a lot of people and those people are looking back to reliability." Once a waterproof-breathable jacket wets out, Timmerman says the drawbacks start to become apparent: they are usually heavier, offer less abrasion resistance, and absorb water. 
What's Next?
It remains to be seen if PFAS-free raingear can offer the same performance and durability as its predecessors. But as more regulations and bans come into effect, PFAS-free gear is likely to become the standard within a few years. That means performance may continue to dip, but new technologies are sure to hit the market. For gearheads, the shift to PFAS-free is an opportunity to try novel products and anxiously wait for new releases. For other ultralighters, there will always a tried-and-true option to fall back on: the humble silnylon poncho.
Lead Photo: Ross Woodhall via Getty