Gear Guy
Why is fabric softener considered harmful to technical apparel?
Why do makers of technical fabrics discourage using fabric softener when drying? And I hear that you should line dry all running and hiking clothing. What's the word? Brad Colorado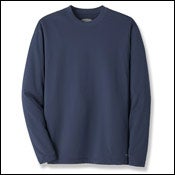 Heading out the door? Read this article on the new Outside+ app available now on iOS devices for members! Download the app.
Fabric softeners are designed to reduce static cling and help fabrics feel, well, softer. They accomplish that by coating the fabric fibers with a thin layer of chemicals, including some waxy compounds. That's fine for everyday clothing, but it's problematic for outdoor-related apparel. Fabric softeners reduce the ability of fabric to absorb water, so that could prevent your wicking long underwear to do its job, wicking moisture from your skin. In fabrics that use microfiber to create water-repellency and wind-resistance, the fabric softener can clog the tiny spaces within the fabric, reducing its breathability.
REI OXT Tech Tee

OXT Long-Sleeve Tech Tee
The same would be true of waterproof/breathable fabrics used in jackets and parkas. Fabric softeners can get into the tiny pores that help these materials breathe, reducing their effectiveness.
The bottom line: Outdoor clothing washed with a fabric softener is apt to breathe less well and feel clammier because moisture will tend to cling to the inside surface, next to your skin.
The best thing to do is wash any and all technical fabrics in a washing machine with regular detergent and no additives. The Gore-Tex folks use to suggest powdered detergent only, but today they say that either powdered or liquid is fine. There's really no reason to buy special detergents for down clothing, Gore-Tex, or anything else.
Line drying probably isn't a bad idea for long underwear, fleece jackets, and other technical apparel like that. It may help extend the life of those items because of reduced wear and tear from thumping around in a dryer. For rainwear, however, machine drying actually helps. The warmth refreshes and spreads out the DWR (durable water-repellent) coating on the outside of the fabric, enhancing its ability to repel water.
So there you go. Clean living is a good thing, even with outdoor wear.
The Gear Guy reports from 2007 Winter Outdoor Retailer, the bi-annual gearapalooza in Salt Lake City. Check out his top picks for gear to watch in 2007.