Indefinitely Wild
Why Your Next Puffy Jacket Should Be Made from Merino
Smartwool's Smartloft is a superior insulation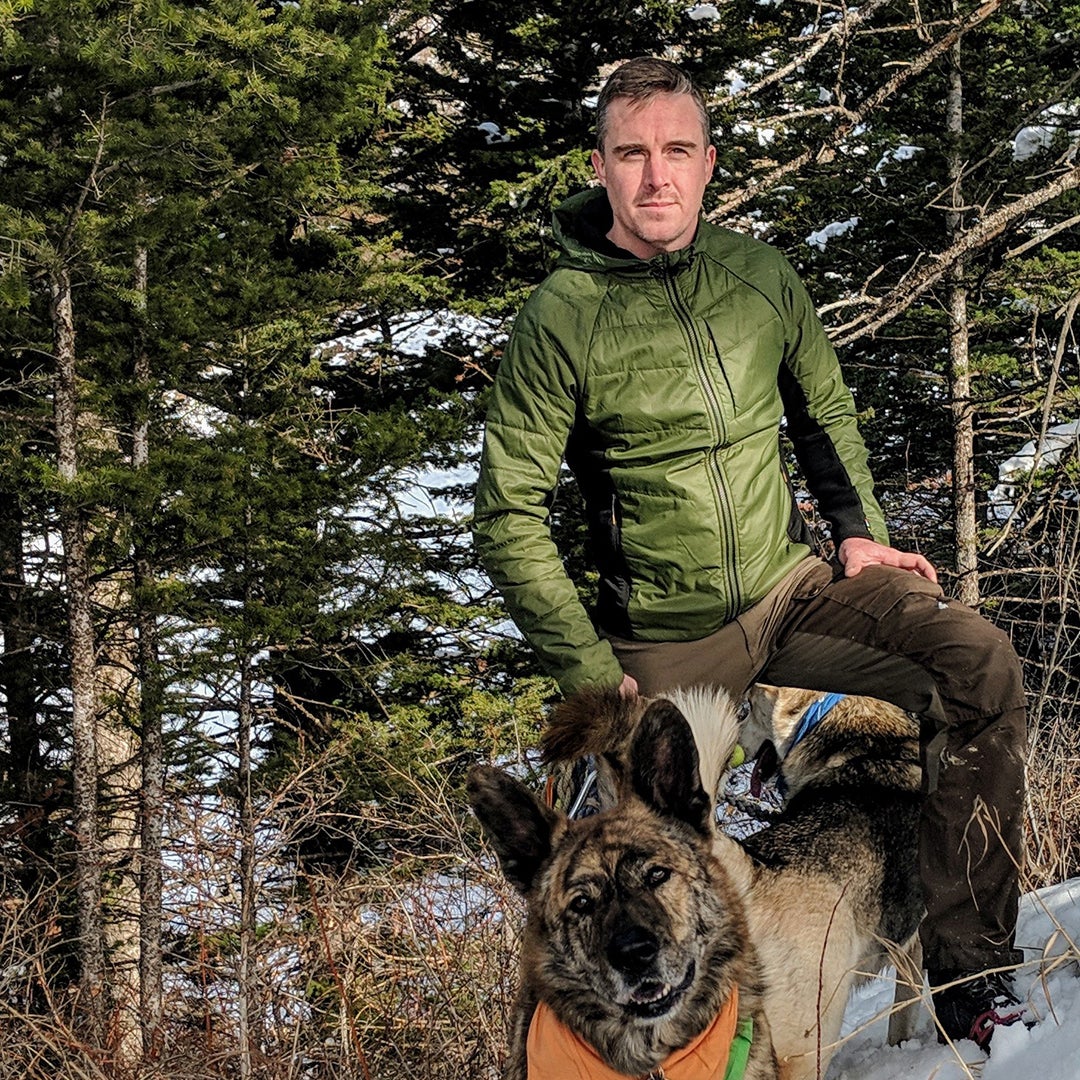 Heading out the door? Read this article on the new Outside+ app available now on iOS devices for members! Download the app.
We all know that merino wool isn't just warm, it's also capable of regulating temperature whether you're hot or cold. It insulates when wet, dries out quickly, and is almost impossibly soft. Now apply those merits to a puffy jacket and you get the newly updated Smartwool Smartloft midlayer range. I think this stuff is one of the most under-appreciated insulators on the market right now. 
There's a lot being written about the extreme levels of breathability of new synthetic insulation materials, along with their ability to handle huge swings in both ambient temperatures and activity levels. But in my experience, none of them match the breathability or all-around comfort of a wool sweater. 
Down remains the lightest and most compressible insulator out there, but even with hydrophobic coatings, it still has problems with losing its loft when it gets wet or damp. And I find that even ultralight down puffies quickly get too hot as exertion levels rise. 
The limitations of both materials demand another product that can easily deal with moisture and is capable of thermo-regulation, rather than just insulation. Enter Smartloft. Smartwool makes the fill from offcuts of its 250-weight merino baselayers that fall to the factory floor during production. By shredding that excess merino, blending it with polyester threads for strength, then pressing the result into sheets, Smartwool is able to create lofted insulation that's capable of trapping a lot of air, while retaining the performance benefits of its signature merino.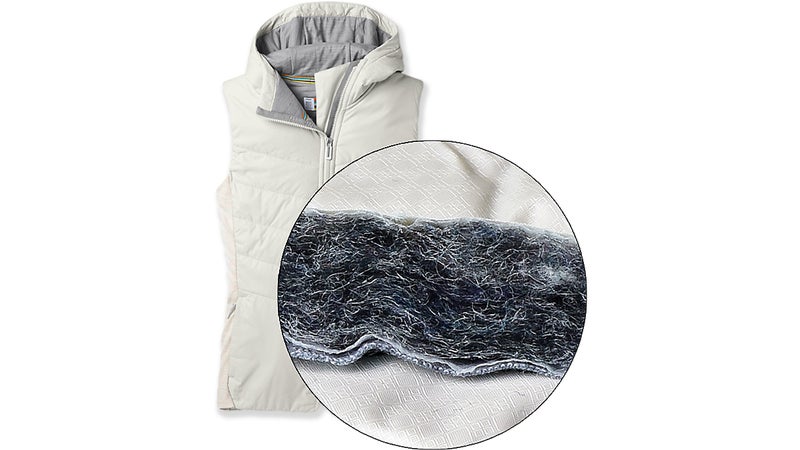 As we learned when I went on that rant about flannel shirts, wool is something of a miracle material. When you're warm, it helps cool you by pulling moisture away from your skin, spreading it out, and letting it evaporate. It then traps the cool, dry air created by that evaporative cooling process next to your skin for comfort. When you're cold, wool can actually generate heat by breaking the bonds between water's hydrogen and oxygen particles, then trapping that warm, dry air next to your body. All wool materials are capable of doing this, but merino is nice and soft, making it feel nice next to skin.
Smartwool maximizes the benefits of its merino wool puffy insulation by sandwiching it between a merino liner and a breathable, DWR-coated nylon face material. Layer it with more merino wool, and you'll benefit from an entire system of clothing that enjoys the material's full benefits. 
I've been wearing the Smartloft 60 hoody for the last couple of months. Layered over a lightweight merino T-shirt from Trew, which uses a more durable fabric called NuYarn, it's kept me comfortable across an extraordinary range of temperatures. Writing this now, with my thermostat set at 66 degrees, I'm not too hot. When I was just outside in 20 degree temperatures walking the dogs, I wasn't too cold. When I go for a hike in the mountains later, it'll probably be 35 degrees or so, and I won't need to strip off the jacket, because it breathes so well and will keep me completely dry as I begin to sweat. 
I think it's that total dryness combined with the warmth and breathability that makes Smartloft special. I've been alternating this Smartwool jacket with normal fleece hoodies, various down midlayers, and even the hyper-technical Rab Alpha Flash midlayer, and still haven't found anything else capable of always making me comfortable. 
It's also worth talking about how well Smartloft works while layered under a shell. We all know that hardshells are a lot less breathable than they claim to be and working hard inside one can quickly turn steamy. Synthetic insulation has traditionally been the best option for working up a sweat, because all that clamminess won't limit the top's ability to keep you warm when exertion levels drop. But I think Smartloft works better. I certainly feel drier when I'm wearing it, plus that merino T-shirt, under a hardshell.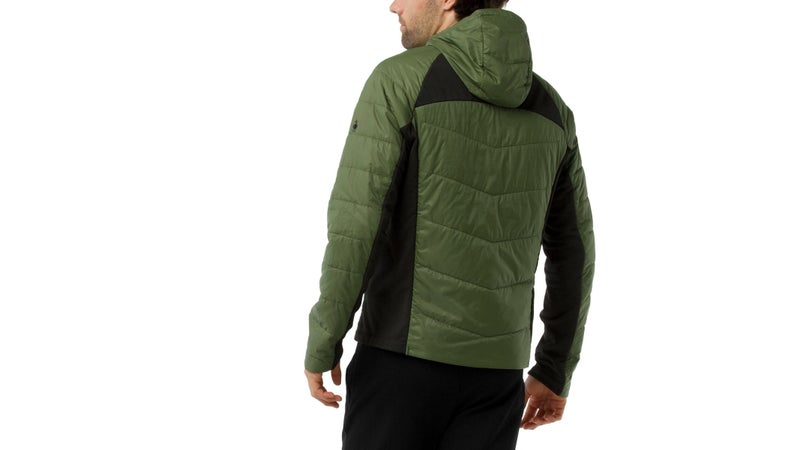 So far we've discussed the merits of the insulation technology, but not the actual product. With outdoor gear, there's plenty of examples of a wonder-material finding its way into an otherwise non-innovative, poorly executed final product that limits that material's actual benefits. The Smartloft 60 jacket is not one of those jackets. Smartwool has delivered a trimmer, more flattering fit than that achieved by most puffies, which also helps immensely with layering. Throw a decent fitting shell over the top and you no longer look like an overstuffed sausage. There are also bare panels of stretchy merino under the arms and at the top of the back, maximizing breathability. 
Curiously, the 60's hood includes insulation only through a panel that runs across the top of the head and down the back of the neck. Your ears and face are left covered by just two layers of the nylon shell. I was worried this design wouldn't be warm enough, but so far I've actually found it to be ideal for offering occasional insulation, without impairing my hearing. Like the rest of the jacket, it's neither too warm, nor too cold. Rather, it hits a sweet middle ground I haven't found elsewhere. 
One limitation of Smartloft is that it is not as light or as compressible as down or the latest synthetic insulators. In medium, this jacket weighs 16.7 ounces. Compare that to something like the Patagonia Micro Puff Hoody, which weighs 9.3 ounces and you may not find Smartloft ideal as part of something like an ultralight backpacking or ski touring system. 
But while it may not be ideal for those who prioritize fast-and-light setups, Smartloft excels at being worn. Choose it for activities where you intend to keep your puffy on and I think you'll find that it's comfortable all the time.