Gear Guy
Do I need a heavy-duty rear rack for my mountain-bike trip?
In August, I'm going on a mountain-bike trip in Colorado, where I'll be porting some 30 to 40 pounds of gear. I have a 15-year-old Nashbar rear rack but don't know its maximum capacity. The current Nashbar rear rack holds 30 pounds. Should I spend $60 for a heavy-duty rack? I also need to buy panniers. Sherry Parker, Colorado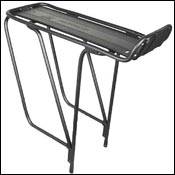 Heading out the door? Read this article on the new Outside+ app available now on iOS devices for members! Download the app.
The rack you have is rated on the ITTWW system. That's an acronym for the common industry expression, "I Think This Will Work." Not to say that the 30-pound rating is completely fanciful, but I doubt that the engineering on that rack was tremendously rigorous (not to pick on Nashbar—I've owned a number of their house-brand products over the years and generally find them pretty good. Well, except for the chamois that always falls apart in their cycling knickers…).
Jandd's Expedition Rack

Expedition Rack

Add to that the inevitable metal fatigue from prolonged use, and it might be prudent to buy a new rack. Blackburn's EX-1 is an excellent choice, very beefy and built for touring. It has a 40-pound rating, and I expect that offers a pretty wide margin of safety. Retail is $45, but Nashbar (www.nashbar.com) currently has them for $35.
I also like Jandd's Expedition Rack ($65; www.jandd.com). In fact, that's what I have on my Bob Jackson Special Tourist. It's a really rugged rack, rated to 50 pounds, and can easily handle as much stuff as you can pile on top of it.
Dunno what you're after for panniers. Jandd makes excellent ones—$140 for a pair of Mountain Panniers, the cast-iron skillet of Jandd's pannier line. Very rugged, with plenty of room for multi-day trips. But the Gold Standard for pack bags has to be the Ortlieb (www.ortliebusa.com) line of rugged, waterproof bags. The Bike Packer Plus is the flagship Ortlieb rear bag—$200 for a pair. Excellent bags.
The votes are in: Check out the winners of Outside's 2006 Gear of the Year awards, including the year's hottest mountain bike.