Gear Guy
Do I need separate wetsuits for snorkeling and kayaking?
Gear Guru, over the last two years I've taken up two new sports: snorkeling and kayaking. Several times while snorkeling I have rented "shorties," or partial wetsuits. I have also been told that I should buy a similar wetsuit for spring kayaking. Can you use the se suit for both sports? If so, can you make some recommendations? Steve Delmar, New York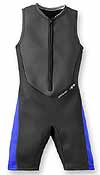 Heading out the door? Read this article on the new Outside+ app available now on iOS devices for members! Download the app.
Of course you can use the same wetsuit. Water is water, cold is cold, neoprene is neoprene. The only conceivable reason I can see for buying two is if you decide one shortie wetsuit is warmer than another, and therefore more suitable for, say, kayaking.
Farmer John Short-Leg

You could, for instance, get a Warmers 2mm AquaLite Short-Leg Wetsuit ($69; available at REI.com), a good base layer adequate for more temperate aquatic sports. When things get chillier, add a Mysterioso Nyloprene Top ($59; www.mysterioso.com), which combines neoprene with stretchy nylon panels in a light, warm shirt-type top.


In any event, there are lots of options. Some people prefer the extra warmth of a long-legged sleeveless suit, such as the Warmers 3mm Titanium Farmer John (REI has these for $119), then add a short- or long-sleeve neoprene top/shirt. Or, get the shortie suit and have in your arsenal a long-sleeve neoprene top, such as one made by Zap ($60; available at www.skimcity.com). Point is, you can spend maybe $200 and have three pieces that will suffice for a variety of conditions.