Here's What Adidas Should Do With $1.3 Billion Worth of Unsold Yeezy Sneakers
Donate? Auction? Burn? Experts weigh in on how the apparel giant should navigate its footwear crisis.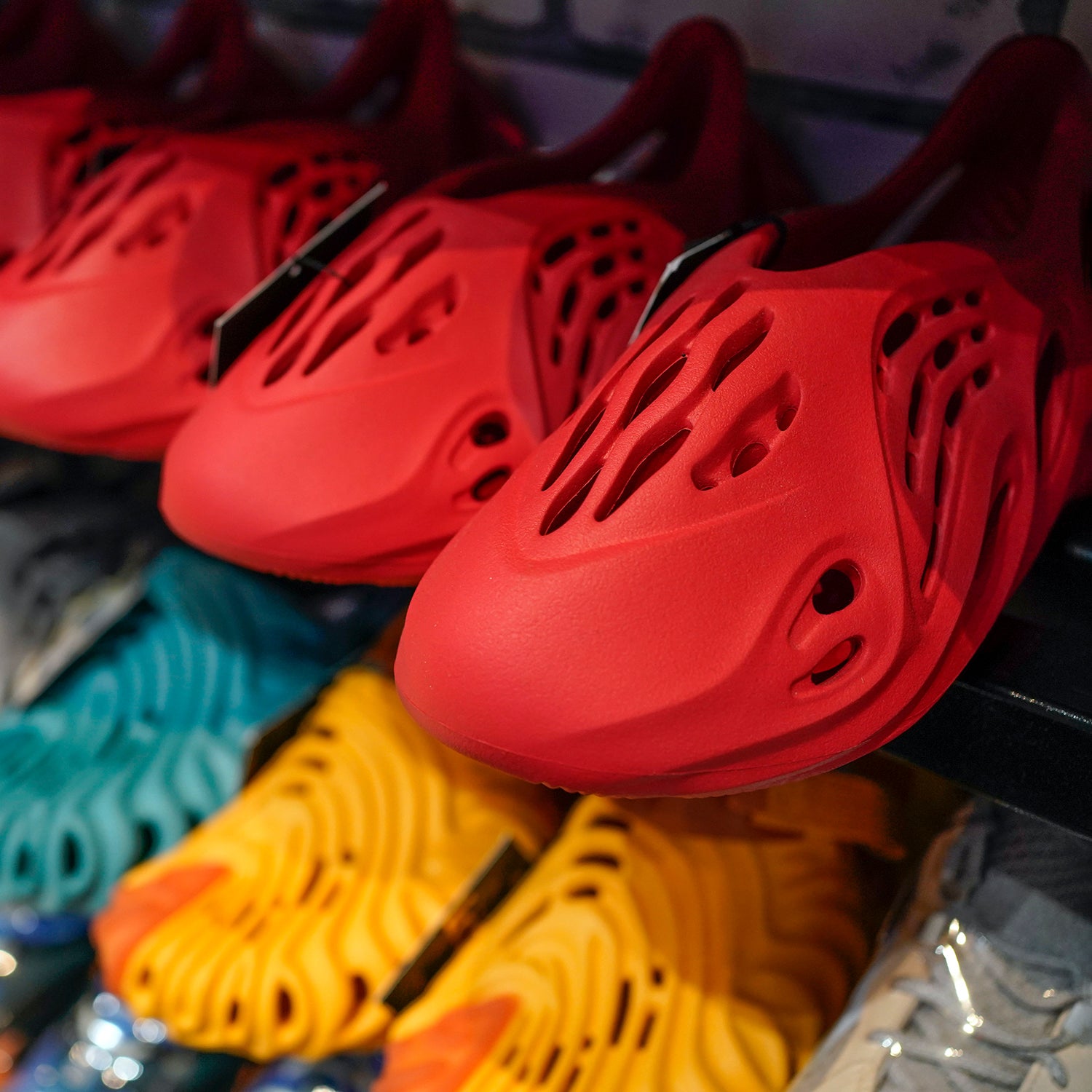 Heading out the door? Read this article on the new Outside+ app available now on iOS devices for members! Download the app.
Global shoe giant Adidas has a problem on its hands: $1.3 billion in Yeezy sneakers are collecting dust in warehouses across the globe, unable to be sold. The shoes were designed by recording artist Ye (who formerly went by Kanye West), and Adidas severed its ties with him last October after he made a series of antisemitic remarks.
Initially, Adidas said it would continue to sell Yeezy shoes and apparel, but that decision was met with a barrage of criticism that forced the company to try and figure out what to do with the remaining products. Each option is fraught with potential fallout. For example, donating the shoes to refugees or the homeless could result in sellers hawking them at an inflated value. Auctioning them off and donating the proceeds to charity carries the same implications. Destroying them (as in burning them) carries serious environmental concerns, and seems very un-Adidas, which is well known in the footwear world for its leadership in sustainability.
No matter its choice, Adidas is likely to take a financial hit. We asked a company spokesperson if any decisions had yet been made. The response: "We continue to evaluate options for the use of the existing Yeezy inventory. We have no updates to share at this time."
What should Adidas do? We reached out to a range of experts in the fields of sustainability, homelessness, crisis PR management, footwear, and law to gather valuable perspectives on how the shoe giant should handle the mountain of tainted sneakers.
Upcycle into Art Projects That Fight Anti Semitism
Adidas is definitely in a tough spot. Putting the product into the market is out of the question. Donating them has so many pitfalls including them ending up on a secondary market. And destroying them is wasteful. The only real responsible avenue I see open to them is to find a way to recycle or up-cycle the product. This could be as simple as integrating the recycled materials nondescriptly into current product, which isn't likely easy.  Other options would need to be more creative, like working with artists to integrate the product into works that act as reminders that there is no place in our world for antisemitism.
—Amy Beck, president at Oboz
Disassemble and Recycle
We always advocate for reuse as a better solution than recycling. If reuse (in this case, donation) wasn't possible, the next best option would be recycling to recover the material the sneakers are made from.
Sneakers are tricky to recycle because they're made from multiple materials that are hard to separate, making them complicated and costly to process. For context, local recycling solutions only accept items they can recycle profitably, like aluminum cans or cardboard.
To recycle these sneakers, our scientists would work with Adidas to identify the specific materials used and then develop a recycling process that efficiently disassembles the shoes and recovers materials at the highest quality possible. This solution would come at a cost to Adidas (likely into seven figures), but would prevent the shoes from entering landfills or incinerators and enable their materials to be reused as part of the circular economy.
—Tom Szaky, founder and CEO at Terracycle
Change the System
This is an extremely challenging situation that adds to the 92 million tons of fashion-related waste generated each year globally, and to the environmental and human health impacts of landfilled clothes and shoes. While $1.3 billion in shoes is an extreme example of product loss, it is not uncommon for unused shoes and other apparel to go to waste.
Some brands (like Nike) have systems for recycling the shoes that never make it to market. However, it's unclear if Adidas has this program in place as it is not highlighted on their website. Somewhat ironically, Adidas, does however, have a line called Made to be Remade where items are designed for Adidas to "Clean it. Shred it. Remake it." It does not appear that the Yeezys in question have been designed with this process in mind. Too bad. That would have been a great solution.
This is an unfortunate example of wasted goods that could spark all brands to bring reuse and remanufacturing systems online to recover the valuable natural resources embedded in all unsellable products.
—Kate Christian, corporate sustainability manager at Eco-Cycle
Dispatch Staff to Distribute to the Needy
Adidas suffered badly in the world of public relations because of the extraordinarily long time it took to make the decision to part ways with Mr. West.
Without being a lawyer or a logistics, copyright, or recycling expert, what I can say is that Adidas has an opportunity to turn the tide around on public opinion as long as the action it takes is authentic and does not look like it is trying to gain favor through public relations. Surely there are substantial issues with destroying, reselling, or recycling the footwear.
An option that addresses a very real global need is to donate the remaining Ye product to global organizations that have a successful and legitimate history of providing shoes to those truly in need. However, rather than just providing the shoes as a donation, Adidas should provide the staff onsite to assist with the distribution around the globe for as long as it takes. Do this because it is the right thing to do without making a lot of PR noise. Adidas certainly has investor obligations to provide details on such a step, but it should not try to pat itself on the back because of this gesture.
—Chris Goddard, president at CGPR
Deface the Trademark and Donate to Refugees Who Don't Know or Care About Ye
Ye owns the trademark "Yeezy" and the agreement between him and Adidas most likely states what Adidas may do with their unsold inventory when the contract is terminated, and apparently Ye would continue to receive royalties for those sold under his brand. While Adidas does own the designs for most of the Yeezy-branded shoes and therefore likely could sell them under another brand, due to their distinctive design, consumers would probably still recognize them as formerly being Yeezy shoes, so it could be difficult to merely rebrand them and be disconnected from the association with Ye.
If possible, it may be in Adidas's best interests to donate the shoes to an international aid organization who can distribute them to refugees and others outside of the United States, to places where the recipients would have no idea who Ye is but would greatly benefit from the merchandise. To increase the odds that these donated shoes do not make their way to the U.S. resale market, Adidas could rebrand the shoes or deface the trademark on them prior to donating. This would drastically decrease their value and discourage resellers.
—Yvette Joy Liebesman, professor of law and founder and faculty adviser for the Intellectual Property Law Concentration Program at Saint Louis University School of Law
Support People Experiencing Homelessness
Foot care is a major issue for people experiencing homelessness, so access to quality footwear is a need. New shoes in a variety of sizes are hard to come by. In this case, given the controversy surrounding the brand it is unclear how nonprofits or others who could distribute the merchandise would want to handle a donation like this. But one option would be for Adidas to sell the shoes and donate the $1.3 billion to support long term solutions like programs that create opportunities such as employment and housing for people transitioning off the streets.
—Isabel McDevitt, advocate for people experiencing homelessness and co-founder of Work Works America 
Lead Photo: Seth Wenig/AP