Exclusive: Black Diamond Announces New Technical Apparel
Heading out the door? Read this article on the new Outside+ app available now on iOS devices for members! Download the app.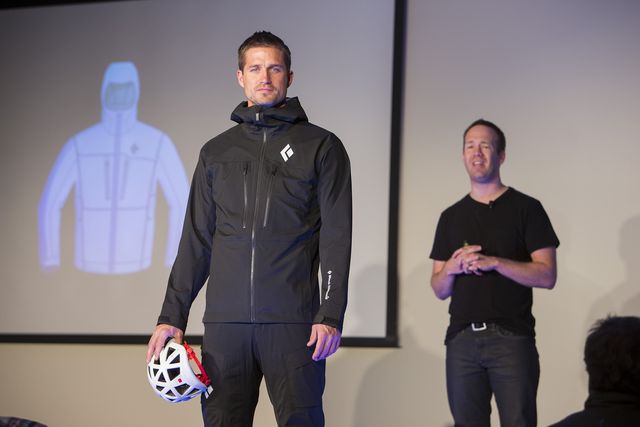 You're reading it
here first.
In a few days,
Black Diamond Equipment will unveil its new collection of clothing to media and
retailers at the Outdoor Retailer Trade show in Salt Lake City, Utah. The clothing has
been under development for two years, and you'll be able to buy it at outdoor
specialty shops this coming fall.
Outside pulled
Tim Bantle, head of Black Diamond's clothing team, from the ski slopes
at Utah's Canyons Resort for an exclusive interview on design, philosophy, and
why the world needs another outdoor apparel line.
On Black Diamond's
Design process and ethic:
Design. Engineer.
Build. Repeat. Black Diamond has been doing this for 55 years. Though really
the process starts with use. Field use is the first point of entry into product
here. Then we go through design, engineer, build and we're manically addicted
to starting it all over again. It's iterative over time. You can look back over 50
years at carabineers to see how this has played out in history. In apparel we
will see a similar evolutionary path. The "BD-ness" of the process is a
guarantee of great apparel to come. Does that mean we'll redefine
silhouette of jacket? No. We didn't do it with the carabiner.  
On why the world
needs another high-end apparel brand:
The narrative of
our industry is the movement of equipment brands into apparel over time. This
usually takes place early in the lifecycle of the brand. The situation we
find ourselves in here at Black Diamond is a bit unusual. We have a
legacy reaching back five decades and have built a global business on hardgoods
that's as big or bigger than most existing apparel brands. As we build
into apparel, we're simply trying to take everything we've learned in
equipment and apply it. We want to build product that matters.   
Patagonia, Marmot,
Norrona, Mammut, Arc'teryx, Mountain Hardwear—they all make equipment plus
clothing. Nobody has hung onto $130 million of pure equipment sales. Apparel
makes those kinds of numbers possible.
One of the brands
we admire for balancing hardgoods and softgoods is Burton. What Burton was to
snowboarding, Black Diamond has been to alpine climbing, climbing, and backcountry skiing.
Burton has developed into a world-class hardgoods and softgoods brand.
I am pretty sure
when I bought my first Black Diamond headlamp, Princeton Tec and Petzl were on
the shelf too. It was the same with gloves. Black Diamond has done a superb job
of grinding out really successful business initiatives, of competing in a space
that sometimes seems saturated. I think it's because we're engineering-minded
outdoor lovers who live at the base of a mountain range.

On what makes Black
Diamond special:
Black Diamond is differentiated to
its core. It just is. There is a natural magnetism around this place. It
just draws people in. And we have a hyperfocus on details and materials.
Our strategy around
entering the apparel space is pretty simple: Build product for our
existing customer and stay true to the design tenets that have given rise to our
best and most iconic products. As a group, we're pretty obsessed with
clean, functional design. And we're obsessed with making product that
matters for users.
Black Diamond is
more than just an equipment company; we're a design, engineering, and
manufacturing company, full of obsessive product users. I couldn't think
of a better environment to do an apparel start-up. Our internal audience and
our external audience are the same. We build product for users. This keeps our
intentions pretty pure. When you're committed, really great things
follow.
On what it means to
be different and build product that matters:
The core members of
this industry—core shops, core users—want something different. They may not
know it until it arrives, but they do.
Other brands are
ubiquitous, and diverse. Black Diamond has the opportunity to be tremendously
focused inside the specialty retail market, outdoor specific stores that we've been in for 50 years, first as Chouinard Equipment, then as Black Diamond.
With this
collection, we're going to give Schoeller, particularly Schoeller Softshell, a
global stage.
At Black Diamond we
helped to introduce soft-shell and Schoeller textiles to the North American
market over a decade ago with iconic products like the BDV (Black Diamond
Vertical) Pants and Shorts, and the Alpine Shirt and Alpine Pants. Guys
around the office have been hoarding the last of those products in their gear
stashes, basements, and garages since we stopped making them 10 years ago. The
timing wasn't right for Black Diamond clothing then. But it is now.
Schoeller takes an
approach to designing and engineering textiles similar to Black Diamond. They
have brilliant technologies that solve real problems. Like Nanosphere, which
repels dirt and water. Few brands are currently working with Nanosphere—we're
applying it everywhere we can.
On confusion as to
what softshell is and how it should be used:
Softshell is the
smallest category in outdoor industry and it's tremendously relevant for core
users. As a company of climbers, skiers, and outdoor athletes, soft–shell is a
foundational technology—a staple in the field—for our wardrobe. The customer
group this is targeted at knows the category and how it's used. They will understand
intuitively. And not everyone needs to use it.
I really like
building product lines around core technology platforms that are tangibly and
intuitively beneficial for users.
Insulation and
fleece are our other foci for the launch. We've also collaborated with
Polartec, Primaloft, and Pertex to build unique and differentiated products in
the fleece and insulation categories that we know our customers are going to
love.
On the importance
of specialty outdoor stores:
We are a specialty
brand. Our fate and the fate of our customers are intrinsically linked.
Right now, many of
the founders of the best specialty outdoor shops are in the later part of their
careers. I think a new generation of entrepreneurs and start-ups are going to
break out. There is going to be great, innovative new product that serves a purpose.
Outdoor gear
captures the imagination of a ton of people. The market has given rise to the
best brands and best products, companies and products that become global
standards. My hope is that the industry continues to thrive in that spirit
going forward. None of the greatest things that have ever happened have
happened without vision for future.
On who he is, where
he comes from, and how he ended up at Black Diamond:
I grew up in the Midwest, in St. Louis. I worked in a gear shop as teenager so
that I could get deals. Then I studied philosophy, then I trained with AMGA (The American Mountain Guides Association). I worked as an itinerant outdoor
educator and worked at a gear shop in St. Louis. I split my time between Jackson
Hole working as an educator and St. Louis managing a specialty outdoor store.
One fateful summer,
an interesting trifecta of things happened: I had a bad auto accident, a friend
died in a climbing accident, and I got married. It made me think I should get a
job with health insurance. Patagonia was hiring a sales rep for the Midwest. I
got the job. I started in sales. Then I spent five years in product. I was the
director of technical outerwear and equipment and managed half the revenue for
Patagonia. Then, about two years ago, I got a call from Peter Metcalf, president and CEO of Black Diamond. I was interested in getting to know
Peter—he's a luminary in the business. I also thought Black Diamond would be a
formidable competitor and I wanted to know what they were up to.
After a weekend
trip to Utah and some phone calls to see what Black Diamond was all about, I
decided to leave SoCal and move to Utah to join the Black Diamond Team. My wife
and I made the macro life shift and moved to the mountains. I've been at BD for
18 months—my charge is starting Black Diamond's apparel business. Eighteen months ago,
I was the only apparel-focused employee. Now, we're still in the start-up
phase, but we have team of 12 globally.

On why Black Diamond holds appeal:
If you're going to build great stuff
and be totally committed to it, the best people will want to come and work with
you. It's really fun—and we're
just in early days. More and more, as this initiative grows, you'll see
great crossover with the hardgoods design team.
There are 75 engineers at Black
Diamond today. We have a super high concentration of people with engineering
backgrounds. In fact, there are more engineers at Black Diamond than at the rest
of specialty apparel brands worldwide.
We're sending the first season of
clothing to production this month. The momentum of this small team is going to
be exciting in two, five, 10 years. Many of the very best people in the world
are joining our team—people who not only know how to design and build apparel
better than anyone else, but people who resonate with the brand.
On the most representative piece of apparel you'll see in 2013:
The Dawn Patrol Hybrid
Shell is three-layer Schoeller C-change and Schoeller StretchWoven alpine shell
that's been bio mapped. Schoeller
C-change responds to your body heat and the pores in the membrane open and
close to let heat out without letting moisture in. StretchWoven is highly
breathable and optimally durable, but it still gives you warmth and some weather
protection. So this jacket is designed for wide-ranging weather when you're
active. But it'll still protect you when you're standing still. Nanosphere repels
dirt and oil and water.
Hybridization done
right is different, cool, functional. The Prius as hybrid has broken loose the design
concept of hybridization. The Dawn Patrol Hybrid shell is also treated with Nanosphere.
It's a distinguished looking product that we're making innovative through
construction. It'll have a broad range of comfort. Available Fall 2013, $350; blackdiamondequipment.com.
—Berne Broudy
@berneb
Trending on Outside Online