Climate Neutral-ish
How to Avoid Getting Scammed By Greenwashing
Deceptive eco-marketing techniques prey on consumers looking to make responsible purchases. Follow these tips to avoid getting duped.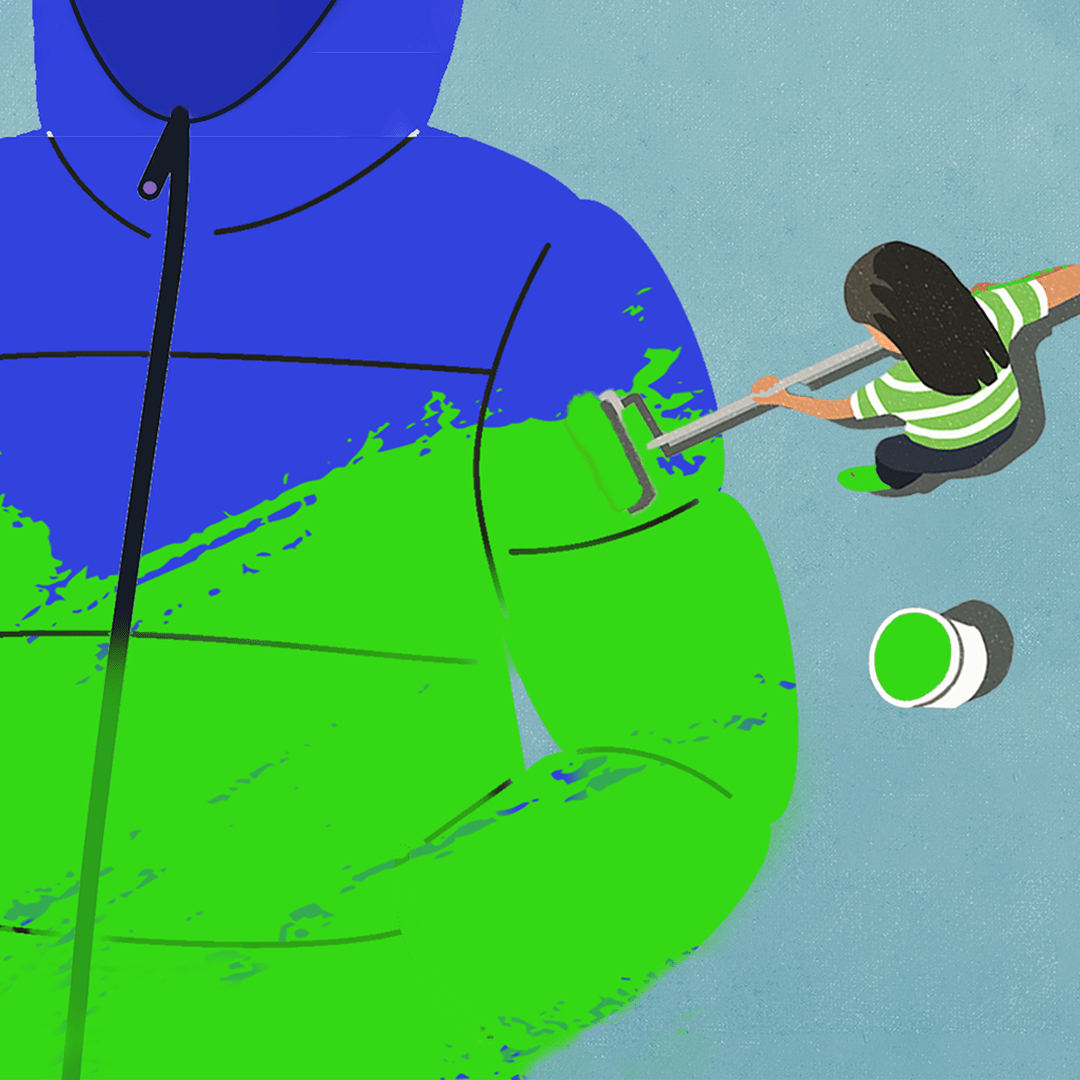 Heading out the door? Read this article on the new Outside+ app available now on iOS devices for members! Download the app.
Doing right by the planet can make you happier, healthier, and—yes—wealthier. Outside's Head of Sustainability, Kristin Hostetter, explores small lifestyle tweaks that can make a big impact. Write to her at climateneutral-ish@outsideinc.com.
You've seen the labels: eco-friendly, sustainable, recyclable, recycled, compostable, biodegradable, natural, plastic-free, and more. And because you care about the planet, you probably buy products based on those claims, thinking that you're doing the earth a solid.
But here's the thing: they're often just words–very carefully chosen marketing words intended to make you feel good and virtuous about buying that product. Sometimes they're legit. But oftentimes, they're bullshit. When it's the latter, it's called greenwashing, and it's a real problem. Why?
"There are currently no binding federal laws around sustainability claims," says Meg Carney, host of The Outdoor Minimalist Podcast, and author of a book by the same name. "What that means is that it's kind of the Wild West. Marketers can say whatever they like; unless someone files a lawsuit and brings them to court, they get away with it. Unfortunately, it's up to us, the consumers, to sort through the greenwashing and find the truth."
That's presumably what Maria Guadalupe Ellis did before filing a recent class action suit against Nike, one of several high-profile greenwashing cases against mega-retailers. Ellis' suit claims that Nike "deceives consumers into believing that they're receiving sustainable products, made with recycled fibers," and will reduce one's carbon footprint. Ellis says that of the 2,452 products in Nike's sustainability collection, "only 239 products are actually made with any recycled materials" and that she would "not have purchased the products if she had known that they were not sustainable, not made from sustainable materials and not environmentally friendly."
In plain terms, Ellis was greenwashed, and she's fighting it. If you want to do the same, first, you must understand what greenwashing is.
What Is Greenwashing?
Greenwashing is a marketing technique used to convince consumers that a product is more eco-friendly than it actually is. In a nutshell, it's false advertising.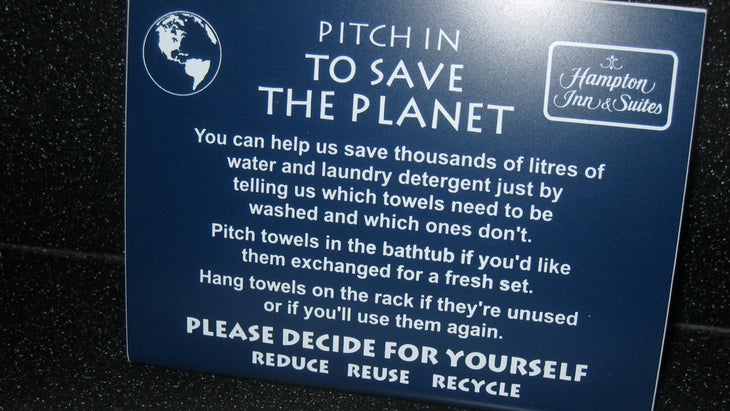 The term "greenwashing" was created by environmentalist Jay Westerveld in 1986. He was visiting a resort in Fiji when he spied a card in the bathroom—we've all seen them by now— asking him to hang and re-use his towels in an effort to save water and natural resources. It dawned on him, as he looked around and saw the resort expansion in progress, that this plea to reuse towels had little, if nothing, to do with protecting resources. The hotel had an ulterior motive: to save money on laundry.
Greenwashing can take many forms. It can include using imagery that has an aura of sustainability, patently false information, vague and misleading claims, or even just exaggerated ones. But let's just call it what it is: deceitful.
The most common forms of greenwashing are lies of omission. You might see a product proudly claiming to be made from ocean plastic, algae, or recycled content. But what percentage? Sometimes it's a scant amount of the overall material mix, but the marketing entices well-meaning consumers to buy it.
"Greenwashing makes me angry," says Kiana Kazemi, co-founder and programming director of the nonprofit Intersectional Environmentalist. "It's taking advantage of people who are trying to do the right thing. None of us have the time to deeply research everything we buy, so it feels overwhelming, exhausting, and frustrating that we can't trust companies to just be transparent about their sustainability."
And in some cases, it's downright heartbreaking, "especially when it relates to health issues and people trying to make responsible choices end up harming themselves." Kazemi points to the lawsuits against companies like Knix and Thinx, which make women's period underwear marketed as safe and sustainable, but is said to contain harmful PFAS, a.k.a. forever chemicals, to absorb moisture and reduce stains.
Why Isn't Greenwashing Illegal?
As a form of false advertising, greenwashing can technically be illegal if you can prove that the company knowingly and patently lied. But companies can make misleading statements (without blatant lying) to paint a green picture that wins your business, and it's hard to take legal action against that.
The Federal Trade Commission (FTC) created the Green Guides in 1992 with the intent of helping marketers avoid making misleading environmental claims. However, the Guides are not legally binding. Not yet, anyway.
"We do see guidelines that have translated into regulations in other industries,"says Debbie Read, head of corporate communications and Corporate Social Responsibility at Equip Outdoor Technologies, makers of Rab and Lowe Alpine gear and apparel. "The obvious is food nutrition labeling, but similar [regulations] have occurred in appliances with energy ratings and even car tires with fuel efficiency, noise, and weather ratings in the EU. So we expect to see more coming into our sector as consumer and retailer interest increases."

In the outdoor industry, Equip is taking this effort to the next level. Equip recently announced a bold move towards transparency with its Material Facts program. Starting in September 2023, all Rab apparel and sleeping bags sold will include a QR code which leads customers to what amounts to a nutritional label for that item including detailed, easy-to-understand information on recycled content, fluorocarbon status, and production details. "We're trying to keep ahead of [these coming regulations] by designing products responsibly and communicating meaningfully to consumers," says Read. "Having more clarity at a federal level would make things easier and prevent some of the ambiguity and complexity we are all facing.
5 Easy Ways to Fight Greenwashing
View this post on Instagram
Find good information. Within two clicks on any website, you should be able to find information about a company's sustainability efforts, says Carney. Look for a mission statement or at the About Us page. If sustainability is front and center for a company, it will be implicitly mentioned and easily found, no digging required. You'll know it when you see it and if you don't, move onto another brand. Another shortcut is to shop from a company that does the legwork for you. Simple Switch is an online marketplace that sells clothing, housewares, outdoor lifestyle gear, and food. The team meticulously vets and curates products according to rigorous sustainability and social impact standards, saving you time and headspace.
Seek third-party certifications, like Fair Trade, B-Corp, and Oeko Tex. "Trusted certification programs reduce the burden on consumers, but there's a caveat " says Kazemi. "They're expensive and time consuming, and often smaller brands can't afford them. It doesn't mean they're not worthy of certifications and being transparent, it just means that certifications aren't accessible to them."
Look for complete transparency. Vague words like "eco-friendly" or "sustainable" that aren't accompanied by initiatives, data, goals, and reporting on those goals, are a major red flag. You shouldn't have to go down a rabbit hole to find quantifiable sustainability information.
Beware of short product life cycles. This is why fast fashion is so harmful to the environment. Watch to see if your favorite brands are constantly releasing new products, colors, and creating new trends. If it's all new all the time, they are not prioritizing durability and longevity, says Kazemi.
Ask questions. If you can't easily find an answer to a sustainability question on a website, use the Contact Us page to reach out to a brand. In her book, Outdoor Minimalist, Carney provides tips and templates to inspire productive conversations. If you get back a vague, dodgy, or automated response–or worse, no response at all–assume that the company doesn't have a good answer and move on.
Kristin Hostetter is the Head of Sustainability at Outside Interactive, Inc. and the resident sustainability columnist on Outside Online.