The 7 Best Trail Running Shoes of Summer 2012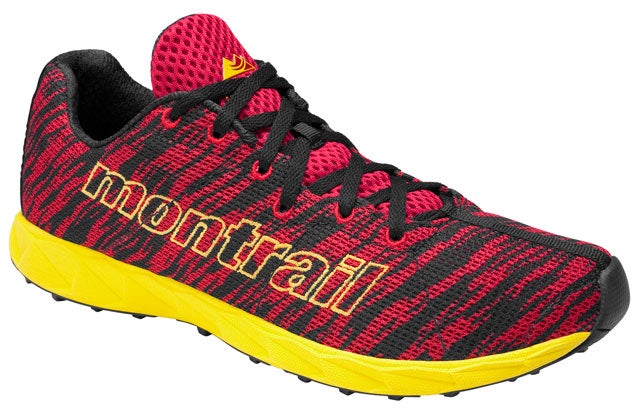 Heading out the door? Read this article on the new Outside+ app available now on iOS devices for members! Download the app.
Montrail Rogue Fly
Here's the thing about running shoes: at their absolute best, you don't notice they're there. And that's why we loved the Rogue Fly—it's a pared-down shoe that kept our feet planted on the trail with simple square lugs and Montrail's sticky Gryptonite rubber, whether on easy recovery jogs on dry trails or muddy, ten-mile tempo runs. Testers raved about the Rogue Fly's snug, one-seam upper, which was pliant enough for toe wiggling but kept the shoe's sole in line. And unlike many trail shoes that are too stiff for variable terrain, these are a perfect concoction of light cushioning and flexibility. If you're still more of a heel striker than a midfoot striker, you're not out of luck: with a ten-millimeter drop from heel to toe, the Rogue Fly is a hybrid of a true minimalist shoe and a supremely light cushioned trainer. When the running is this good, who cares what type of shoe it is? 7.4 oz
SUPPORT: 3
TRACTION: 4.5
VERSATILITY: 5 (OUT OF 5)
La Sportiva Vertical K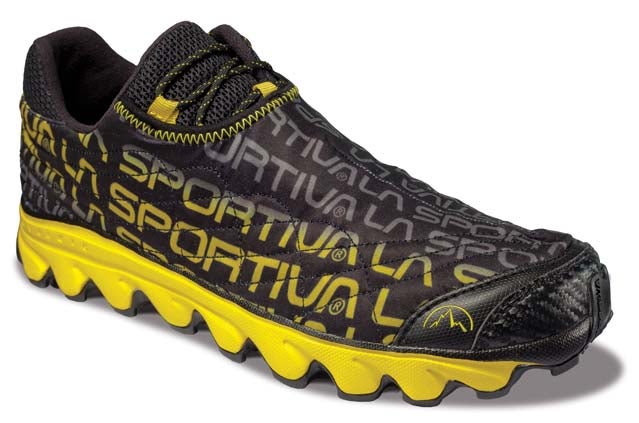 BEST FOR: Fast racing on rough terrain. THE TEST: We were amazed at how well this stripped-down shoe—at 7.4 ounces, one of the lightest in our test—handled treacherous singletrack. La Sportiva's designers gave the Vertical K a liberal dose of its ultralight, wavy Frixion rubber, made to deform around rocks and roots. Then they cut away unnecessary material underfoot, shaving more ounces and keeping the outsole flexible and responsive. Our only complaint: the upper material hides several loops of laces, keeping out dirt and debris but making the Vertical K a challenge to loosen after long runs. THE VERDICT: La Sportiva's best trail shoe yet takes an innovative design and improves on it. 7.4 oz
SUPPORT: 2
TRACTION: 4
VERSATILITY: 2
Simple, single-material uppers, like those on the La Sportiva and the Gear of the Year-winning Montrail, are on the rise. Eliminating layers of fabric on the upper makes shoes lighter and more comfortable.
New Balance MT 110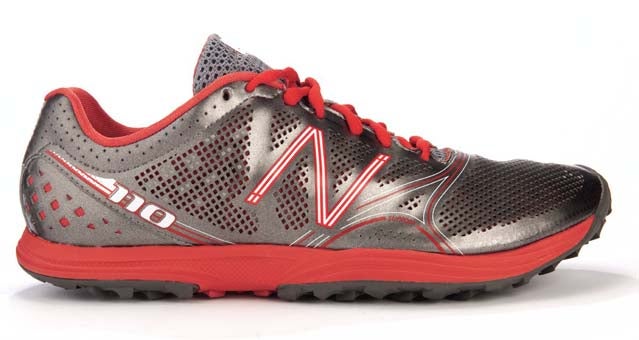 BEST FOR: Technical trails where grip is paramount. THE TEST: The honeycomb outsole on this minimalist shoe hung tough even on slippery rocks, and the low-to-the-ground design made it stable for off-camber trails. Testers liked the roomy toe box but complained that the arch was a little snug. The double-material upper looks cool but didn't breathe as well as we'd hoped. Then there are New Balance's love-'em-or-hate-'em ribbed laces—we loved 'em. Like several shoes here, the MT 110s are only slightly higher (four millimeters) in the heel than in the forefoot, perfect for mid- or forefoot strikers. THE VERDICT: Just enough cushion to keep your feet happy on runs longer than an hour. 7.7 oz
SUPPORT: 2.5
TRACTION: 5
VERSATILITY: 3.5
Vibram FiveFingers Spyridon LS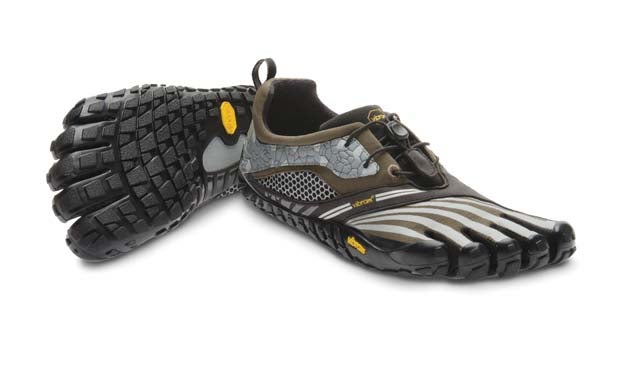 BEST FOR: Barefoot runners who want to go off-road. THE TEST: With a layer of thick, scaly rubber on the bottom that extends up around the toes, Vibram's beefiest five-finger model held its own on gnarly singletrack and pebbly gravel paths. Testers appreciated the ease of the single-pull lace system, which stayed secure with a tough piece of Velcro. Still, they said the outsole could have gripped better on muddy days, and, with no cushioning, most ended up avoiding rough terrain. "They work best on mellow trails," was a common refrain. Like all Five Fingers, they're a project to put on. THE VERDICT: A dedicated trail shoe for committed minimalists, from the people who liberated your toes. 7.4 oz
SUPPORT: 1
TRACTION: 3.5
VERSATILITY: 3
Asics Gel Fuji Racer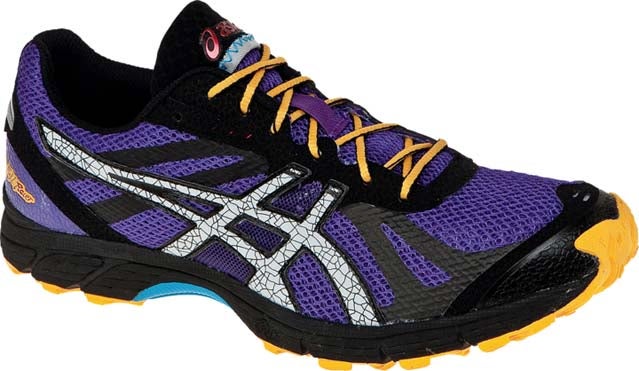 BEST FOR: Trail-racing speed freaks. THE TEST: The lightest Asics trail shoe to date has pyramid-shaped rubber nubs on the bottom for digging in to even the loosest downhills and yet somehow "never felt bulky on pavement," according to one tester. A firm rock plate underfoot affords impressive protection for such an airy shoe, and at sub-ten ounces with drainage holes, it should make waves on the trail-racing scene. Unfortunately, those same holes can drain the other way, translating to cold, wet feet on waterlogged trails. THE VERDICT: Grip, protection, and breathability when you want to go fast, on road or off. 9.4 oz
SUPPORT: 3
TRACTION: 4.5
VERSATILITY: 5
Small perforations underfoot—present on the Asics and New Balance—allow water to drain from inside the shoe on rainy days.
Reebok Reetrek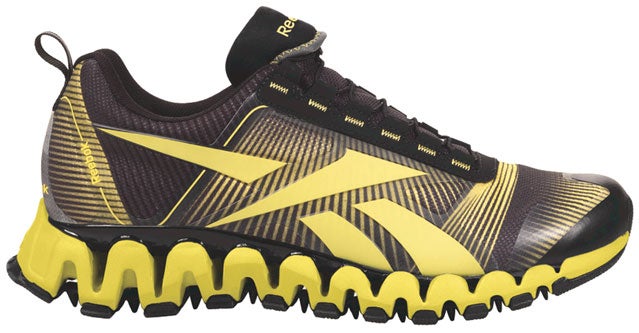 BEST FOR: Road runners who only occasionally venture off-piste. THE TEST: Not only is the wavy "zig tech" cushioning system cool looking, it also adds a mountain of comfort without sacrificing flexibility, making this a favorite of testers who also train on roads. Plastic accents on the upper armored against splashing during stream crossings but meant the Reetreks were stuffy on hot runs. Our only big gripe was with the grip: testers were generally underwhelmed with the Reetrek's tread—a combination of useless, non-gripping rubber nubs and a relatively smooth outsole. THE VERDICT: A road-trail combo best suited to casual runs. 11.8 oz
SUPPORT: 3
TRACTION: 2
VERSATILITY: 4
Saucony Xodus 3.0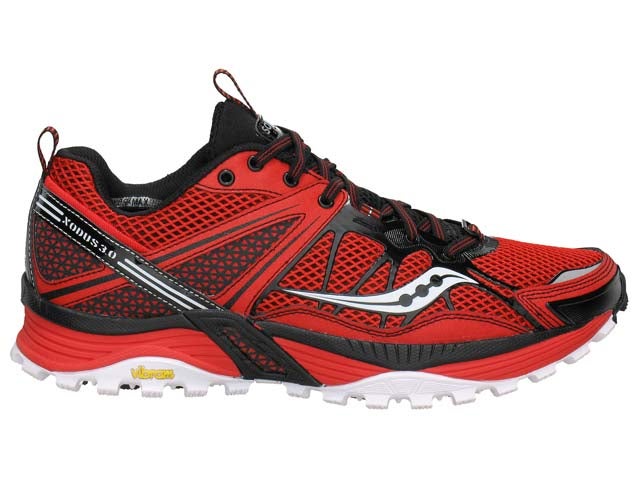 BEST FOR: Midfoot strikers looking for big-time traction and cushion. THE TEST: With this much rubber on the road, we expected a firm ride. Instead we got a cushy, flexible one. The Xodus's oversize lugs were overkill on pavement but inspired confidence on tacky fire roads and aspen-leaf-slick ascents above Santa Fe. At 11 ounces, with a supportive upper and lots of padding underfoot, they're best for those used to traditionally cushioned shoes or those heading to super-technical terrain. Midfoot strikers will appreciate the four millimeters of drop from heel to toe. THE VERDICT: A serious off-road shoe that won't beat up your feet. 11.5 oz
SUPPORT: 4
TRACTION: 5
VERSATILITY: 2