The 7 Best Road Running Shoes of Summer 2012
Heading out the door? Read this article on the new Outside+ app available now on iOS devices for members! Download the app.
New Balance Minimus Zero Road
It's no secret that we love New Balance's Minimus collection. We even gave a full page to the Minimus Zero Trail in a recent issue of Outside. Why? Because it strikes the delicate balance between trail feel and cushioning. Not surprisingly, the road version won our hearts, too. The upper fits snugly and feels as light as a sock. But because only two-thirds of the outsole is covered in hard rubber (the rest is foamy midsole material), we wondered whether it would hold up for daily use. Three months of testing and some 400 miles later, the Minimus's close-to-new condition answered that question. Whereas more and more minimalist shoes on the market are using stiffer materials in (what's left of) the midsole, the Minimus has just enough foam underfoot for the shoe to remain soft and flexible and still protect you from sharp pebbles. Paired with a generous toe box and low-profile good looks—"sleek and fast," according to one tester—it could be the best minimalist road shoe on the market. 5.9 oz; 0 mm drop
FLEX: 5
CUSHIONING: 2
SPEED: 5 (OUT OF 5)
Mizuno Wave Rider
BEST FOR: Neutral heel strikers. THE TEST: Mizuno's flagship daily trainer packs ample cushioning into a relatively light (11 ounce) package. That's thanks to Mizuno's patented wave plate—an S-shaped piece of plastic that flexes to absorb shock and save weight. Compared with Asics' Gel Excel 33s, though, testers said the Wave Riders were "on the firm side," and some found it unforgiving for runs longer than 13 miles. But on warm days, they loved the cool, meshy upper. THE VERDICT: Ample heel cushioning makes this a good everyday training shoe for heel strikers running up to five miles; midfoot strikers might want to look elsewhere. 10.9 oz; 12 mm drop
FLEX: 4
CUSHIONING: 5
SPEED: 4
Brooks Adrenaline GTS 12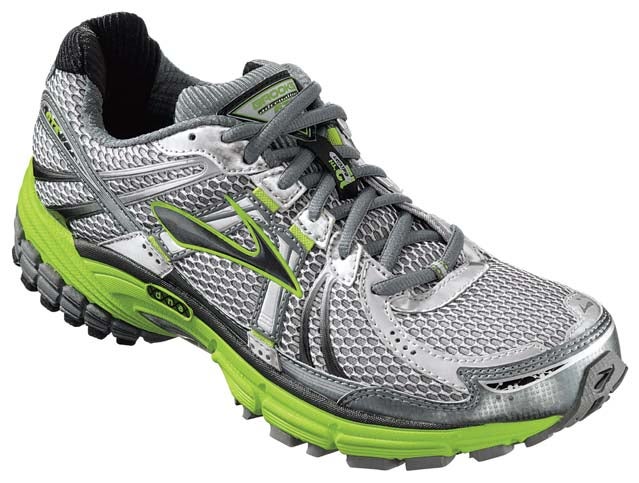 BEST FOR: Runners who want support, cushion, and lots of comfort. THE TEST: Need a little support in your stride? Stability shoes have a reputation for bulkiness, but testers were impressed with how smooth the Adrenaline GTS 12 felt. A sturdy medial post—it was the only shoe with that feature in this test—gave overpronators plenty of support without getting in the way, and a gel insert in the heel kept things feeling light and bouncy. Even better, the midsole rubber is made with an additive that Brooks says will help the Adrenalines biodegrade once they've been consigned to the dump. THE VERDICT: An ideal marathon-training shoe for overpronators. 10.9 oz; 12 mm drop
FLEX: 3
CUSHIONING: 5
SPEED: 3.5
Asics Gel Excel 33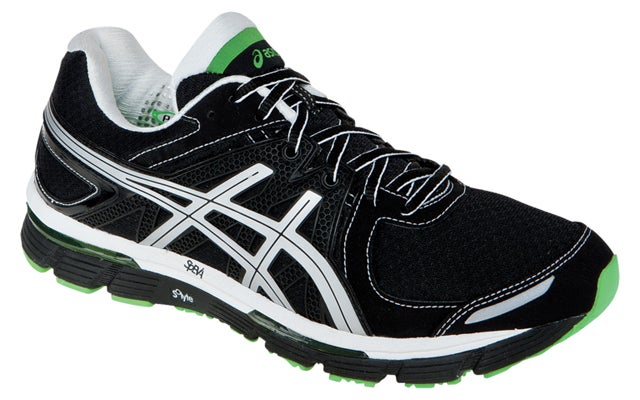 BEST FOR: A smooth, neutral ride. THE TEST: Even after we ran in light (and ultralight) shoes, the moderately cushioned Gel Excel 33 never felt clunky. It was forgiving on pancake-flat bike paths and lively on steep, rolling roads—a go-to choice for both recovery days and Sunday-morning runs of 12 miles and longer. Asics says the Gel Excel 33—named for the 33 joints in the foot—enhances natural movement by collecting and releasing tension like the body's natural connective tissue. Still, it doesn't feel quite as natural as some other shoes in this test, like Nike's Free 3.0 and Merrell's Road Glove. THE VERDICT: One of the more traditional shoes this year, and a favorite. 10.6 oz; 10 mm drop
FLEX: 4
CUSHIONING: 5
SPEED: 3.5
Merrell Road Glove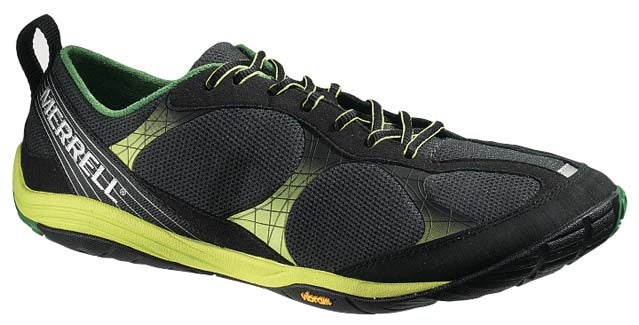 BEST FOR: Hardcore minimalists. THE TEST: True to its name, the Road Glove fits snugly around the heel and arch, but it widens in the forefoot to let your toes splay naturally. This isn't the shoe for a pronounced heel striker who runs mostly on flat pavement, but midfoot strikers said the Road Glove performed flawlessly on hilly runs and during road interval workouts. Only downside: to stay protective without cushioning, the shoe's rubber outsole was unexpectedly stiff for some testers—a bummer for a minimalist shoe. THE VERDICT: The answer for runners who want a minimally cushioned shoe but aren't sold on Vibram's gorilla-toe look. 8.8 oz; 0 mm drop
FLEX: 4.5
CUSHIONING: 1
SPEED: 4
K-Swiss Blade Run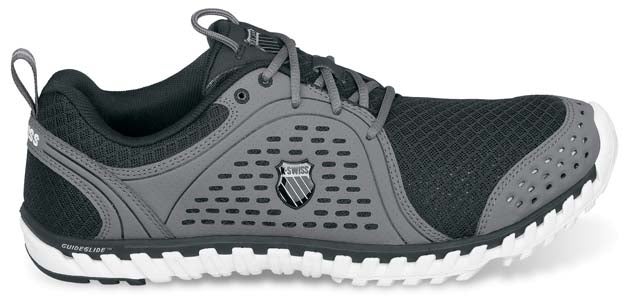 BEST FOR: High-speed road running. THE TEST: In case you hadn't noticed, K-Swiss has been quietly making more and more triathlon and running shoes over the past few years, and the company impressed us with its first zero-drop road shoe. Testers said the Blade Run had "just the right feel" for hard workouts, providing enough cushion for comfort but not so much that the sole sponged energy away at high speeds. We liked the Blade Run's low-profile and understated design, although on easy recovery runs the consensus was that the sole could be a little less firm. THE VERDICT: Firmness was a bit too jarring for some testers day in and day out. 8 oz; 0 mm drop
FLEX: 4
CUSHIONING: 3
SPEED: 4.5
Nike Free 3.0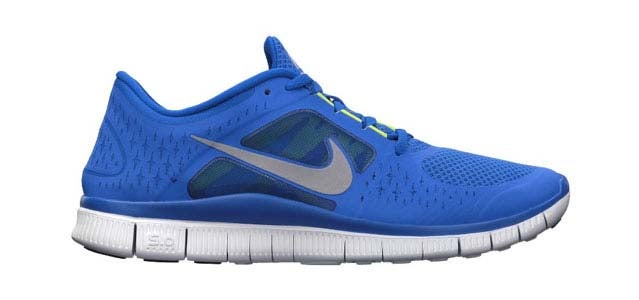 BEST FOR: Everyday minimalist training. THE TEST: The Free was Nike's original minimalist shoe, and the 3.0, the least cushioned (and coolest-looking) of the series, remains one of our favorites. The famous waffle-sole design left us marveling at the 3.0's flexibility and what several testers dubbed its "springiness"—it's considerably softer than the Blade Run and especially responsive at faster tempos. The 3.0 also got high marks for fit: a stretchy heel makes it easy to put on, and the tongueless upper makes it snug. The only minor flaw: the sole's flex grooves picked up annoying amounts of debris and gravel. THE VERDICT: A lively, forgiving minimalist shoe. 7 oz; 4 mm drop
FLEX: 5
CUSHIONING: 3
SPEED: 5
The Nike Free 3.0 eschews a traditional plastic heel cup in favor of stretchy fabric, which is lighter and more comfortable. Just don't look to these if you need ankle support.