The 10 Best Sunglasses of Summer 2012
Heading out the door? Read this article on the new Outside+ app available now on iOS devices for members! Download the app.
Oakley Radarlock Sunglasses
The "lock" refers to a new system to secure swappable lenses, but this sexed-up performance shields are first and foremost about looks. We have here psyops face weaponry with an aero design that cries out, "F you! I'm the winner." Though brassy from the exterior, the glasses all but disappear from the back side of the big, wide-wrapping single-piece poly lens. The 00 Red Iridium polarized lens—mirrored red, but actually a dark neutral gray tint—kills glare dead and cools hellish brightness. Road bikers have lots to love in this lightweight number, but it's born to run, especially on long hot roads. A clear extra lens costs $65, and prescriptions are an option. And the lock? Pull back a hidden latch and the left-hand corner of the frame swings out gate-like to free the lens. Invisible and rock solid, it's the best lens-switch system we've seen.
VALUE: 3
PERFORMANCE: 5
LOOK: 5 (OUT OF 5)
Colored lens mirroring generally does a lot less for the wearer than lens tint does. But this hot red seems to have a cooling effect that stops some of the infrared heat radiating from sun-sizzled pavement.
Bollé Diablo Sunglasses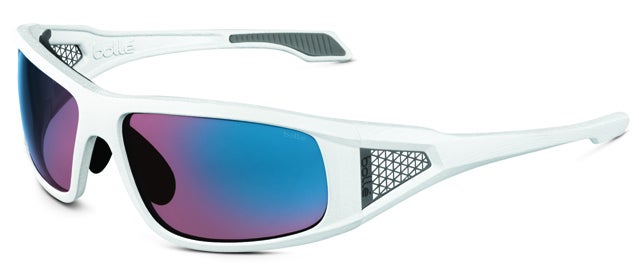 BEST FOR: Hiking and scrambling way up in the alpine. THE TEST: This big-lens wrap melds sports function with form in the shape of the ventilating metal grillwork at the temples. The Diablo's rose-tint photochromic poly lenses, with mirrorlike coating to mitigate glare, make depth and detail jump out and holler, and they do it all day as the tint adjusts to brightness. The springy frames and rubber at the ears and nose keep things secure, and we appreciated the extra rubber at the brows to defend against light leaks and sweat. Also good for trail sports, especially tough hiking and mountain biking, as well as mountain-town streets. THE VERDICT: Nice, though maybe not quite nice enough for the full sticker price.
VALUE: 3 
PERFORMANCE: 4
LOOK: 4
Rudy Project HyperMask Sunglasses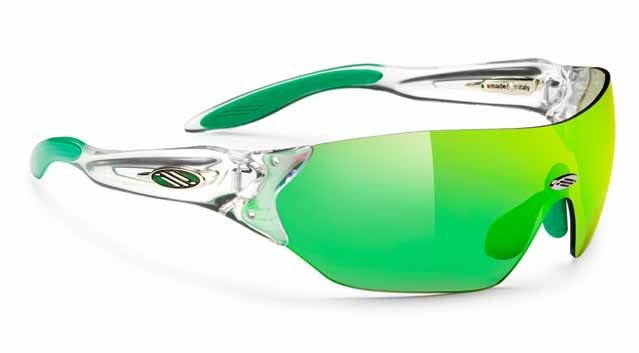 BEST FOR: Going really fast in Italianate style. THE TEST: Lots of shades combine the HyperMask's elements—frameless design for low weight, radically wrapped lens shield for unobstructed coverage, sticky rubber where you need it, and out-there attitude—but none roll it into athletic high art like this. So natural and comfy is the HyperMask, you flat-out don't feel it on your face. You don't see it, either, except in all the sharp, sumptuous detail provided by the antiglare-coated (but not polarized) Multilaser Green lens, which is tinted cool neutral with loud mirroring for glare. Visuals are so good, you won't want to take off the HyperMask, but you must: it's way too performance-weenie for the street. THE VERDICT: Radical racing gear for your eyes.
VALUE: 4
PERFORMANCE: 5
LOOK: 5
Green is this year's "It" color for mirroring. No practical reason for it; just the moving finger of fashion. You watch: those who bought heavy into neon last year will lean green.
VonZipper Snark Frosteez Sunglasses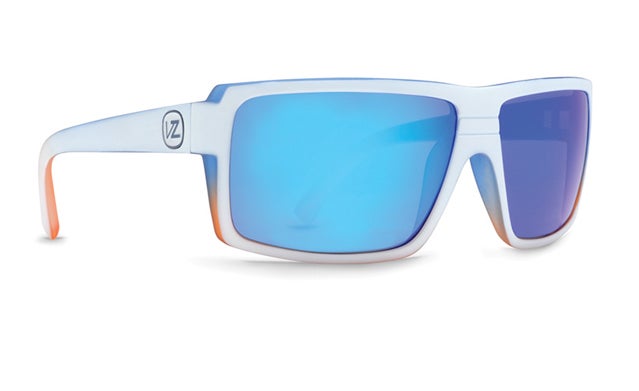 BEST FOR: Being seen. THE TEST: As an attention magnet, the Snark outscores the rest of the eyewear in this review combined. Strangers literally approached us with oohs and ahhs, these shades are so damn pretty. Our test pair's creamy lime-and-lemon-underlay frames and vermilion-tinted, mirrored polycarbonate lenses, which flash green and blue, are seemingly all about SoCal sex appeal, but VZ still worked in some solid functionality. The optics are sharp, and the big square lenses provide tons of coverage for blazing beachside brunches. That's where they should stay, however—when we took them running in the sun, we noticed distracting lens flare. THE VERDICT: All shades should be such great entertainment.
VALUE: 4
PERFORMANCE: 3
LOOK: 5+
XX2i USA1 Performance Dual Pack Sunglasses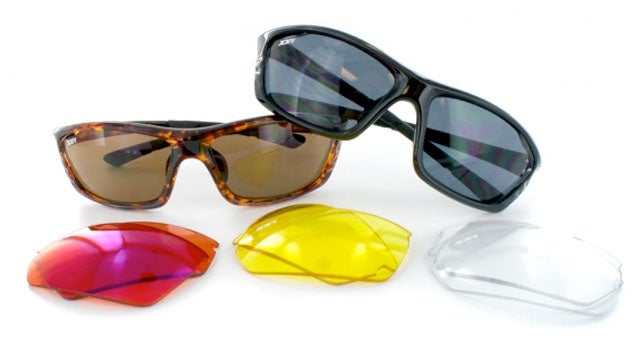 BEST FOR: All your sunglasses needs, from street casual to trail sport. THE TEST: This new spin-off of R.A.C.E. (distributors of Rudy Project in North America) with the wacky name musters a crazy amount of sunglasses goodness for the price, with two sporty wrap-style frames (black and tortoise) and five sets of lenses (general-purpose dark gray and brown, clear, yellow, and orange). That's the functional equivalent of 10 pairs of sunglasses at 15 bucks per! Optics are fine, coverage is good, and frames are comfy and secure, with sticky-when-wet rubber at the ears and an adjustable nosepiece. Best of all, they don't come across as cheap. THE VERDICT: Value taken to new, unexplored extremes.
VALUE: 5
PERFORMANCE: 4
LOOK: 3
Mind the gap. Without venting, like the sliver of nothing in the corner of the USA1's lens, sports wraps can fog as they trap heat from exertion.
Costa Double Haul Sunglasses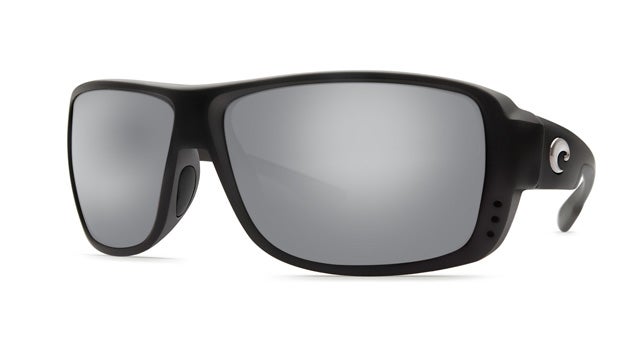 BEST: Land-sport grownups proud to look their age. THE TEST: For athletes who can't risk shattered glass (think ball sports, mountain biking, trail running), the Double Haul debuts Costa's superfine polarized optics in a polycarbonate lens. With tortoise frames and gray lenses, these are sports glasses, but quietly so. Rubber cladding on the earpieces keeps things tight but looks more fashion than function. Ditto the tiny vents on the front. Wear them to work, running errands on the way home, and then out on your road workout. Available with prescription lenses. THE VERDICT: Crossover glasses for those who don't play too hard, but a bit heavy and avuncular for youthful extremes.
VALUE: 3
PERFORMANCE: 4
LOOK: 4
Tifosi Seek Sunglasses

BEST FOR: All-day pedaling on dirt. THE TEST: The pair pictured have standard lenses, which we liked, but testers preferred the photochromic ones ($90; white frames only), which adjust from early-morning murk to afternoon radiance and are polarized for glare. The brown tint snaps up depth and detail, the better to read trails in a hurry, and the lenses multitask as structural elements, so there's nothing extra to weigh you down. This frameless design, best on small and medium-wide faces, is a great multisport performer, but the functional mix is especially right for mountain biking. THE VERDICT: High marks for comfort and value, but stylewise, the money you didn't spend shows.
VALUE: 5
PERFORMANCE: 3
LOOK: 3
Ryders Defcon Polar Photo Sunglasses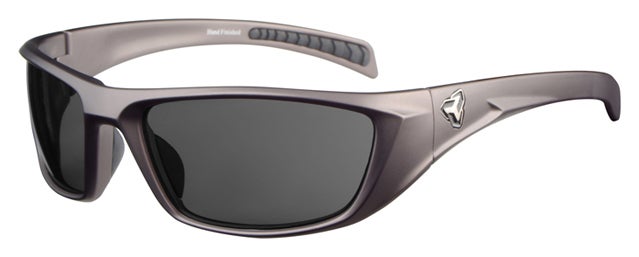 BEST FOR: The budget-conscious multisporter. THE TEST: The term Defcon refers to levels of readiness for war, or, in this case, weekend warriorhood. Check the gray polycarbonate lenses' firepower: photochromic for surveillance of a dynamic environment in changing light conditions, plus polarized light filtration to neutralize the glare threat. It's a solid all-rounder for outdoor rec and driving, and the neutral gray tint with polarization works well over water. THE VERDICT: The classic swoopy wrap might not blow you away with its looks, but that's the point. This one is for the guy who just wants high-performance glasses at a great price, without the attitude.
VALUE: 5
PERFORMANCE: 4
LOOK: 3
Gargoyles Alfa Sunglasses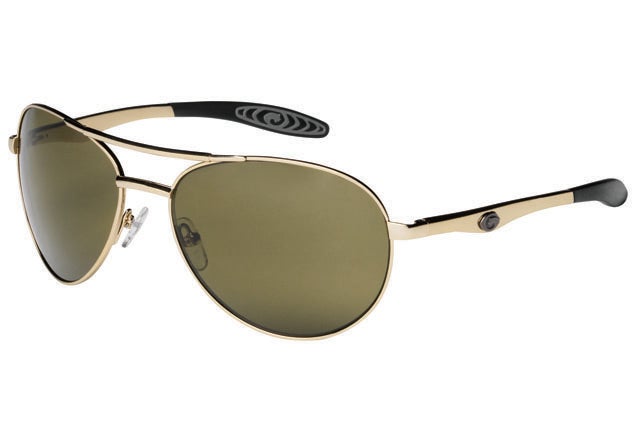 BEST FOR: Driving, knocking around, channeling Clint Eastwood. THE TEST: The Alfa delivers the vintage, tough-guy looks of a classic aviator while sneaking in active-outdoor-rec function. For one thing, the polarized dark gray lenses are safe, lightweight polycarbonate, but with sharp, near-glass optics. The lenses make a sly backward curve for reasonable peripheral cover-age from wind and glare, and spring-loaded stainless hinges add comfort and durability. These shades are so functional, in fact, that you could almost do your Saturday group road ride in them, though we suggest saving the Alfas for the café run afterward. THE VERDICT: Ex-military chic for blue staters.
VALUE: 3
PERFORMANCE: 3
LOOK: 5
Not long ago, "Made in China" meant mass-market, possibly dangerous schlock (e.g., with false UV-filtering claims). These days there's lots of high quality coming out of China, too.
Revo Headway Sunglasses

BEST FOR: Sailing, deep-sea fishing, driving a convertible Carrera. THE TEST: Nothing beats optically ground glass for open water, and the Headway's deep gray, polarized version renders ocean views in superb HD. We took them out to sea in Hawaii and they tamed the tropical sun. Coverage from the wrap-back lenses is huge, and Revo's signature blue-flash lens mirroring looks right, as does the whole macho Headway package. The big black frames appeared slick at first, but the rubber at the ears and nose kept them sticky on the inside. Rx-able, but glass is strictly no-go—shatter-prone and unsafe—for rough sports. THE VERDICT: Primo on- and near-water eyewear. A mite middle-age.
VALUE: 4
PERFORMANCE: 5
LOOK: 4