Supply Chains for the Outdoor Industry Are in Shambles
And there's no end in sight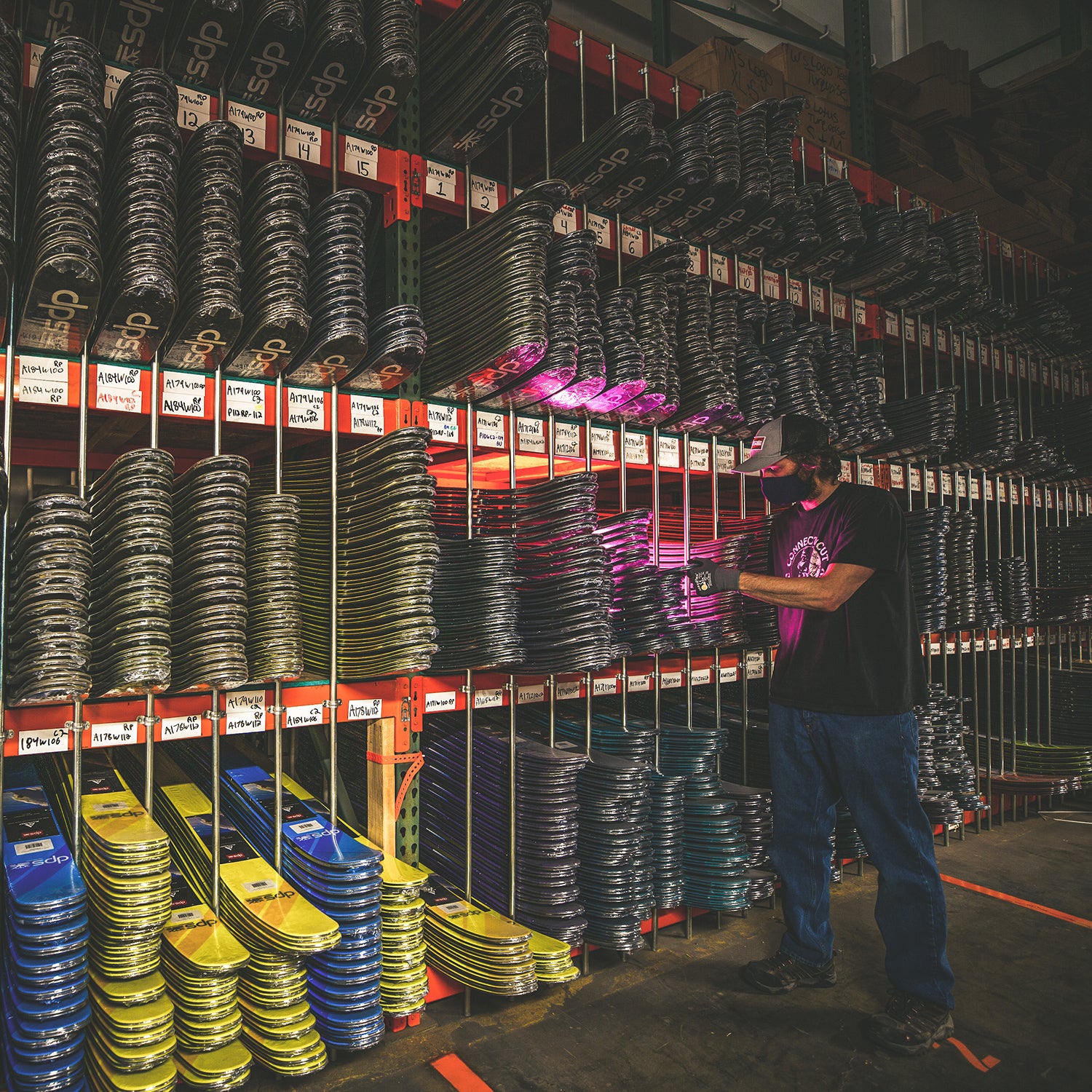 Heading out the door? Read this article on the new Outside+ app available now on iOS devices for members! Download the app.
Looking to buy the kids their first pair of performance skis this Christmas? Think the boyfriend might like a new ski helmet? Considering getting into snowshoeing this winter?
Good luck.
More than a year after a bicycle shortage laid bare the complexities of international manufacturing, the global supply chain for the outdoor gear industry remains in shambles. And as winter sports and activities commence, industry insiders say, it's not getting any better.
This fall, Outside spoke with leading winter-gear manufacturers about the challenges of making outdoor equipment and apparel in the age of COVID. Mervin Manufacturing, the parent company of Lib Tech snowboards, was waiting for a container ship off the coast of Seattle to dock—and had been for weeks. And it wasn't alone. In a normal year, Vista Outdoor, the owner of dozens of companies, including ski-helmets maker Giro, figures 10 percent of its goods or materials are stuck in transit at any given time; in October, a full third of its items were stuck in transportation limbo. In some cases, similar delays kept manufacturers on edge. The supply-chain lead at DPS, the Utah-based ski maker, noted each time the company almost ran out materials and ground production to a halt—they had been on that precipice 15 times as of December.
"It is absolutely crazy," says Vista CEO Chris Metz. "We've never seen anything like this in our entire careers or lives."
And the problems will likely continue for months.
COVID-19 outbreaks across Southeast Asia, Trump-era tariffs in China, and an unprecedented backlog in international shipping have forced outdoor gear manufacturers to scramble to keep skis, snowshoes, and helmets on the shelves. "We have weekly supply-chain meetings," says Anthony DeRocco, Mervin Manufacturing's CEO, "and every Monday morning, if we get out of that meeting without a surprise, we are fired up."
Pair this mess with outdoor recreation's staggering post-lockdown boom, and demand for gear this season is at an all-time high—which means if you haven't done your holiday shopping yet, you may be wishing you had.
Retailers and manufacturers figure that most gear won't be completely unobtainable—except perhaps nordic skis and snowshoes, which have exploded in popularity. But if you're seeking something specific, act fast. "If it's in stock, buy it," says Thomas Laakso, vice president of product and operations at DPS. "But don't buy more than you need."
---
The supply-chain crunch has exposed just how profoundly interconnected the manufacturing sector is. Consider a pair of DPS performance skis, which are made in the company's Salt Lake City factory. Every ski DPS sells is comprised of 30 parts, and is each of those are made of myriad materials that are mined or molded or felled somewhere different—a lightweight wood called Paulownia that's only grown in east Asia, for example, or a sintered race base only produced in Europe. All of these components have been delayed or unobtainable at one time or another in the past year, the company says.
"Yes, we're made in America, but we're dependent on the world," says Laakso.
The uncertainty has forced teams to think creatively and work longer hours than ever before, as brands search for components in stock elsewhere or commission new manufacturers entirely. "There are a lot of small ski makers out here," says Tim Shoaf, DPS's enterprise resource planning and supply-chain manager. "If I have enough extra material and somebody calls me and asks if we can exchange or buy some material, we'll do it."
"It's a firefight with no rule book. Nobody's been through this before."
Tracking down the right components is critical, because substituting raw materials is exceptionally difficult in the high-end-gear world. Materials are chosen for specific reasons, insiders say. "We spent years, if not decades, zeroing in on these best resins we could use for snowshoe bindings," says Doug Sanders, vice president of operations at Cascade Designs, which owns Mountain Safety Research (MSR). The plastic in snowshoes has to be extremely tough, able to withstand a huge range of temperatures, and never brittle. "And then suddenly we get hit from our injection molder. 'We can't get it,' they say, 'we can't deliver.'"
So instead of one 10,000-pound resin shipment delivered to MSR's Nevada factory, the team has to spend the week in search of 2,000 pounds of resin here and another 3,000 pounds there, until the total is met. Such disruptions might sound like simple annoyances, but if MSR doesn't have all the components on hand to make its snowshoes, the production lines shut down entirely. "It's a firefight with no rule book," Sanders says. "Nobody's been through this before."
---
The problems start, for many manufacturers, in Asia's manufacturing hubs. As COVID outbreaks ebb and flow across the region, production of many component parts and materials are disrupted. (The latest material crunch appears to be magnesium, much of which comes from China and is an essential element in the production of aluminum; this will make ski poles, tent poles, or bicycles harder to find in the coming months.) Outbreaks across Southeast Asia this summer and fall shuttered the mills where many of the world's garments are sewn. And for Burton Snowboards, the shutdown curtailed jacket and thermal production right when the company needed to ramp up to meet winter demand. Last month Burton Snowboards vice president of global supply chain Rachel Grogan said the company had about 70 percent of its outerwear in stock. "That's better than 20 percent!" she laughed.
And even when brands have been able to secure raw materials abroad, finding space for goods on container ships has been a constant struggle. Vista's Metz estimates that for every container it manages to get shipped to America, 16 are sitting on docks abroad. Port shutdowns in China earlier this year, the blockage of the Suez Canal in May, and pent-up demand for products after months of lockdown are all to blame.
Even empty containers themselves are in high demand. Vista has gotten scrappy, offering to take up 1/100th of a container if another company can't quite fill their "can." At the same time, the average cost of shipping containers around the world is eight to nine times the pre-pandemic rate, according to the freight-tracking company Freightos. The average price of a can now tops $10,000, but the busiest routes, including from China to the West Coast, now run outdoor retailers up to twice that. Still, shipping costs are nothing compared to air-freighting goods, which Vista and other retailers now utilize to get smaller, high-value items to the American market. "We never considered doing anything like this in the past," Metz says.
Analysts think the supply-chain crunch may be easing, but leaders across the outdoor gear industry expect it to stretch deep into next year.
The problems don't end once containers of supplies finally make it to American shores. Any surfer in Southern California can tell you about the miles-long lines of cargo ships stretching from the ports of Los Angeles and Long Beach down to Orange County, waiting weeks for a docking. Like fast-food restaurants and grocery stores, the country's biggest ports are suffering from labor shortages and there just aren't enough hands to offload the goods piled up offshore. "And now it's moved down the food chain—there aren't enough truck drivers now, too!" Mervin's DeRocco says.
Consumers, it seems, have learned to live with the shortage. "The idea of seasonality has just gone out the window," says Ben Johns, REI's general merchandising manager for action sports. Consumers are buying whatever is in stock, whenever they can, he says. In November, he reported, REI was "seeing triple-digit increases in every facet of snow sports, but also in bicycles and in kayaks and stand-up paddleboards." Needless to say, most Novembers aren't considered prime season for kayak manufacturers. For MSR, demand for snowshoes used to tail off by January. But last year, the company sold them in February, March, April, and all the way into summer. "The season never stopped," Sanders says.
When will it all end? Analysts think the supply-chain crunch may be easing, but leaders across the outdoor gear industry expect it to stretch deep into next year. And the effects will continue to ripple across the entirety of outdoor recreation. Tents will be "massively constrained" this summer, Sanders says. Mervin anticipates struggling to meet its surf orders for spring 2022. Any high-tech gadget with a microchip in it will be scarce for the foreseeable future. "We all have big challenges ahead," DeRocco says.
Yet it's not all doom and gloom. At DPS, Shoaf, the supply-chain manager, maintains that the crunch has forced his company to streamline and improve. "We won't go back to the way it was," he says. "As difficult as the chaos has been, it's forcing us to do things better—just maybe not on the timeline we wanted."
Lead Photo: Courtesy DPS Skis