Outdoor Retailer and Snow Show Liveblog: Day 3
First looks, analysis, and interviews, all delivered from our team at Winter OR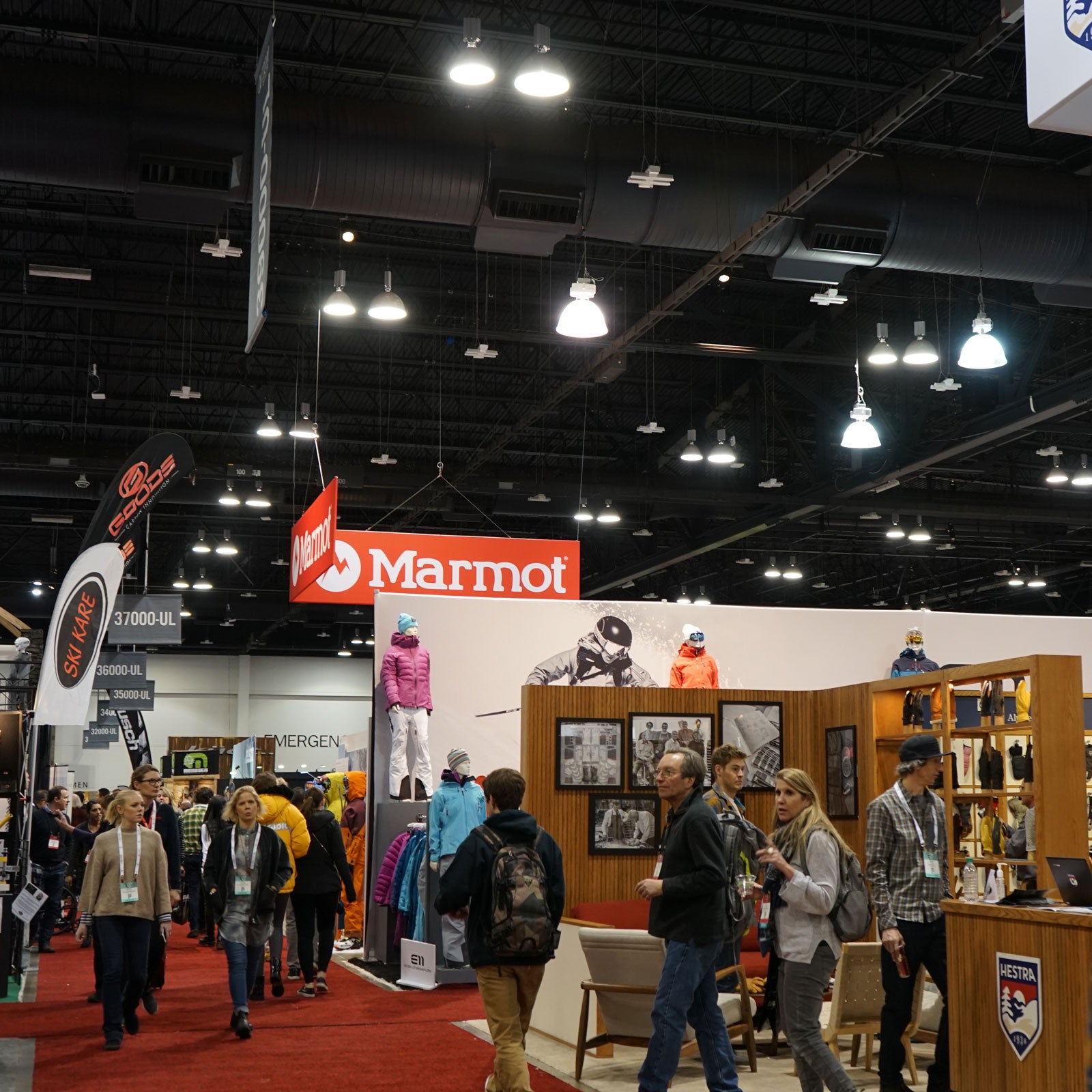 Heading out the door? Read this article on the new Outside+ app available now on iOS devices for members! Download the app.
The Outside gear editors are on the floor at the 2019 Outdoor Retailer and Snow Show this week in Denver. Follow along to see our coverage of the greatest gear coming out next winter, hot trends in the snowsports industry, and other happenings at the Colorado Convention Center. We'll be live-blogging throughout the event, with the most recent posts appearing at the top.
The Tecnica Forge Is Winter's Best Boot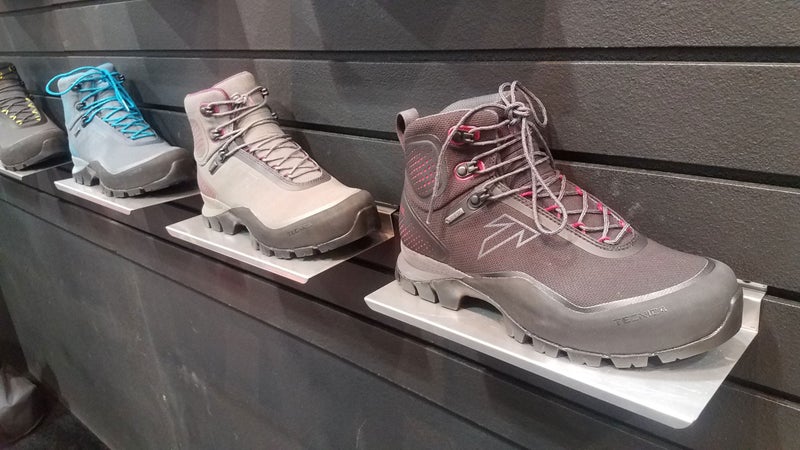 Tecnica's heat-moldable Forge boot debuted in 2017, followed by the low-top Plasma shoes, which saved my feet at last summer's Outdoor Retailer as I spent days running back and forth through the convention center. The heat-molding process imbues them with customized support where you need it most, and a dialed-in fit does wonders to prevent blisters.
Tecnica took that tech and implemented it in a cold-weather boot: the Forge Winter. The update here is the Vibram Arctic Grip outsole, which provides excellent traction on ice. In short, the best hiking footwear just got better.
—Will Egensteiner, senior gear editor
Order Skida's Bento Box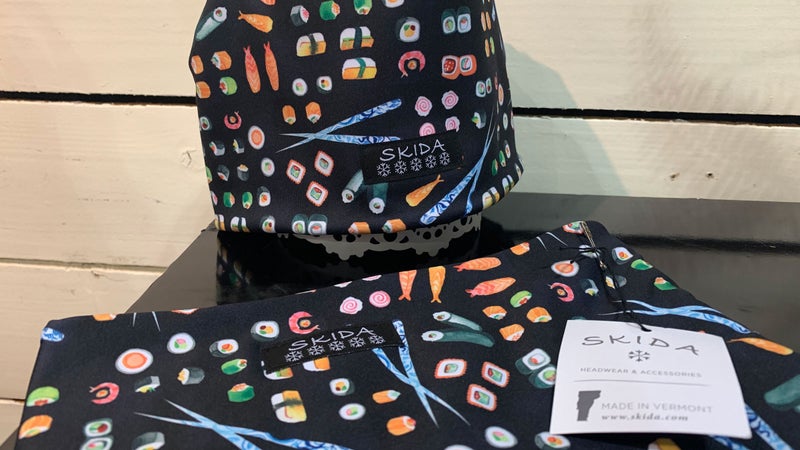 Skida makes some of our favorite cold-weather headgear. The Vermont company's cozy hats, buffs, and headbands come in a variety of prints that run the gamut from bright flowers to toned-down geometric designs. But the new Bento Box pattern is our favorite yet, with tiny illustrated sushi, fish, and chopsticks. It's playful without being childish and has us feeling like we're on our way to shred some Japow.
—Ariella Gintzler, assistant editor
Nite Ize Unveils the First Toothless Waterproof Zipper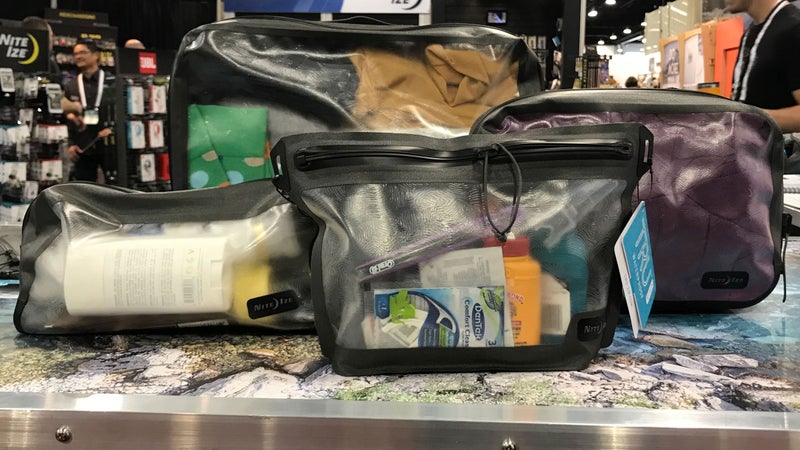 The company is taking a dip into the travel category with its new RunOff waterproof bags. Utilizing a brand-new toothless waterproof zipper, which Nite Ize says is the first of its kind, the travel bags come in six styles, including a wallet and a large packing cube. The bags are tested to withstand submersion up to one meter for 30 minutes—just in case you capsize on the way to your next beach vacation. The RunOff bags will be out this fall, in the price range of $25 to $55.
—Emily Reed, assistant editor
Ecco's Exostrike Kromatafors Are the Raddest Kicks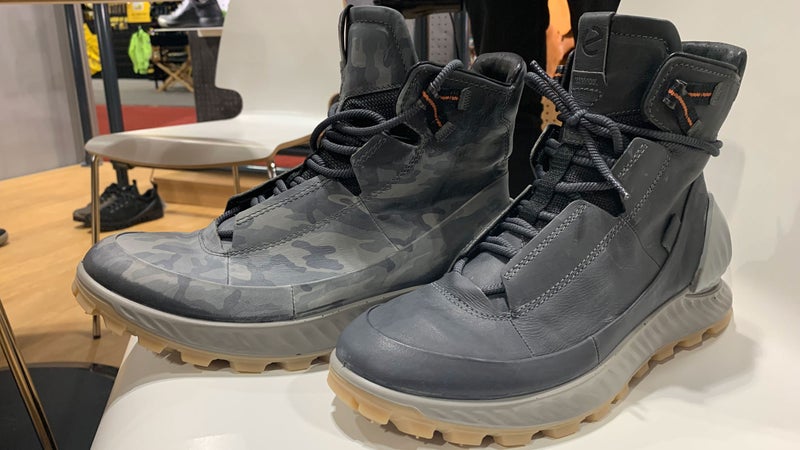 Some innovations are significant because they enable us to go farther, faster, harder, and longer in comfort. Others are simply awesome for the sake of being awesome. That's the case with Ecco's new Exostrike Kromatafor, made from color-changing leather. When it's cold, the material is black; as the mercury rises, it reveals a camo pattern. Ecco says it achieved this by tanning the leather twice and treating it with a heat-sensitive chemical in between. Of course, there's no technical benefit to a shoe that changes colors. But there doesn't need to be.
—Ariella Gintzler, assistant editor
Mountain Hardwear's Phantom Punches Above Its Weight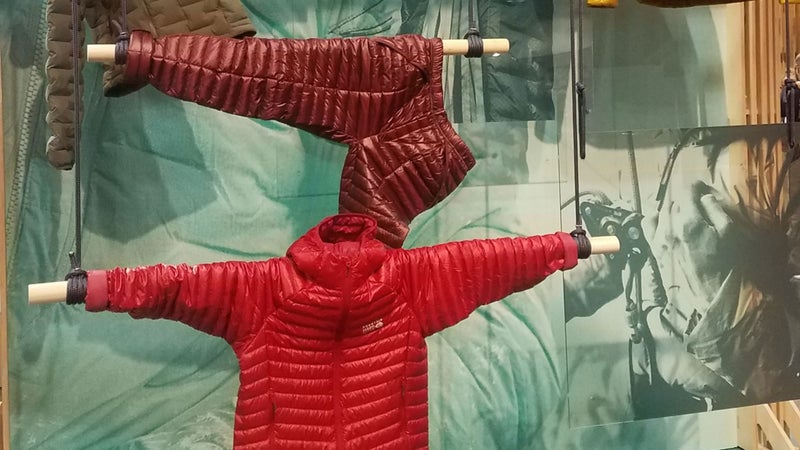 We're big fans of Mountain Hardwear's down jackets and pants. And the company has outdone itself again with the new Phantom hoodie (the red jacket pictured). It's simple—nothing flashy here. But its water-resistant 800-fill down and ultralight face fabric come together to make a supremely compressible, breathable, and warm piece that's ideal for shaving grams on winter climbing trips. We had the opportunity to test out the Phantom for about a month prior to Outdoor Retailer and it hasn't let us down yet.
—Will Egensteiner, senior gear editor
The RMU Tailgate Locker Puts It Together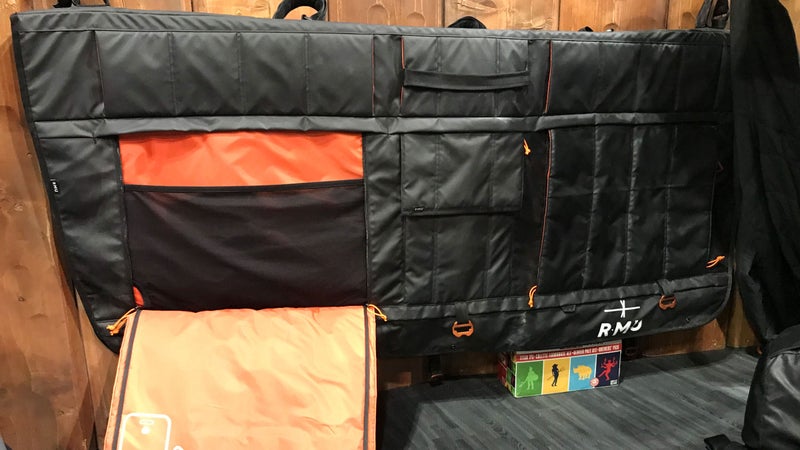 Although it came out last Summer, we just stumbled upon this workhorse today. Made to fit over most truck tailgates, the Tailgate Locker is a do-it-all accessory with the main function of protecting your rigs from each other. The padded cover attaches to your gate and straps bikes in place, and it has several zip pockets for tools, gear, and snacks. There's also an insulated beer cooler with an integrated bottle opener. This rockstar is available now for $250.
—Emily Reed, assistant editor
The Best Gear Displays at Winter Outdoor Retailer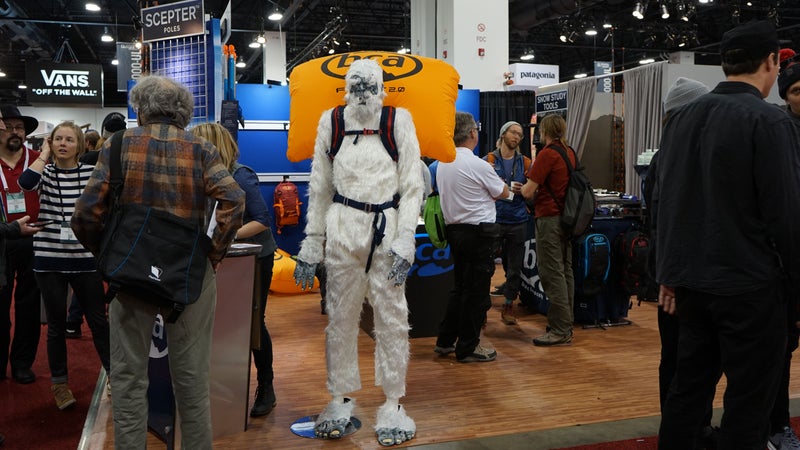 There's a lot of gear on display at Outdoor Retailer, so to stand out, brands get creative. Here are some of our favorite booths.
—Ariella Gintzler, assistant editor
United by Blue X Sole Jasper Wool Eco Chukkas Win at Sustainability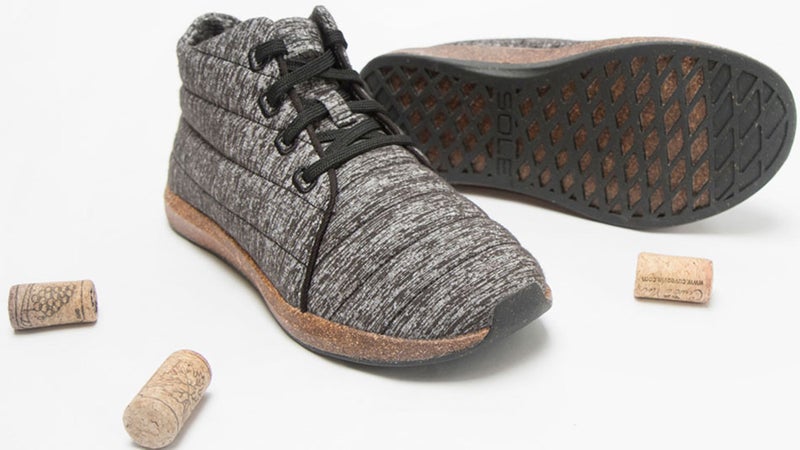 Hipster brand United by Blue and shoe manufacturer Sole have teamed up to create what they're billing as the world's most sustainable shoe. The Jasper, an insulated mid-height chukka, is made entirely of biodegradable materials that were produced specifically for this shoe. The ReCork midsole comes entirely from post-consumer-recycled wine corks. The BisonShield insulation, which took five years to develop, is a breathable, hypoallergenic material made from bison fiber and recycled polyester. Last but not least, the shoe's upper is comprised of 80 percent merino wool, and the outsole is made from rice. The Jasper is impressive to say the least, and will launch on Kickstarter on March 1.
—Ben Fox, affiliate reviews manager
SealLine's Pro Drybag Is a Bottomless Pit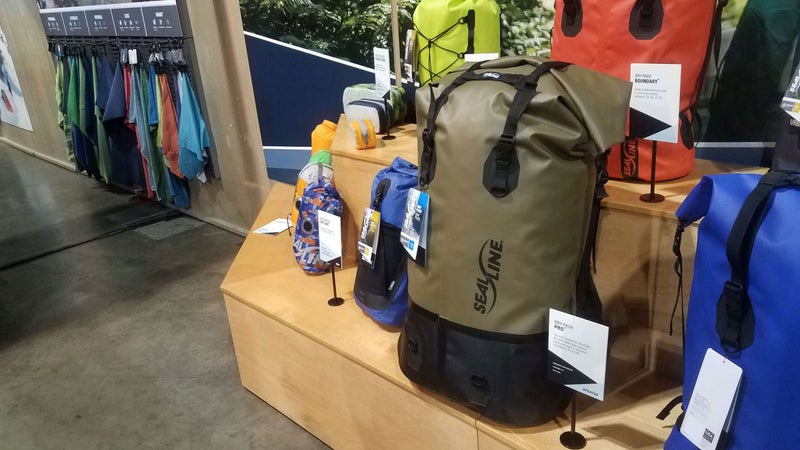 It's not often you'd need a 120-liter pack for a river trip, but for the times you do, there's the SealLine Pro drybag. The seam-welded roll top is completely waterproof, and the beefy suspension system and padded back panels look impressively comfortable for a pack of this type. And that's a good thing if you're planning on loading it to capacity.
—Will Egensteiner, senior gear editor
Upgrade Your Hang Time with the Mammut Diamond Fingerboard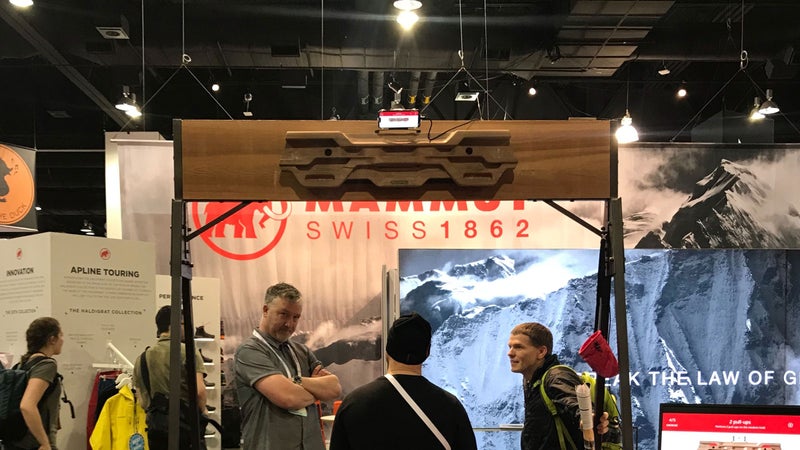 The humble hang board just got high tech. The beautiful walnut-wood Diamond is equipped with weight sensors that communicate with the Mammut training app. Join training programs created by pros, keep track of workouts, and even compete worldwide in a hang contest. The Diamond comes with a hefty price tag of $450, but if you're serious about climbing (or you're a data nerd), it's an exciting addition to the world of training tools.
—Emily Reed, assistant editor
Smartwool's Intraknit Base Layers Are Far from Basic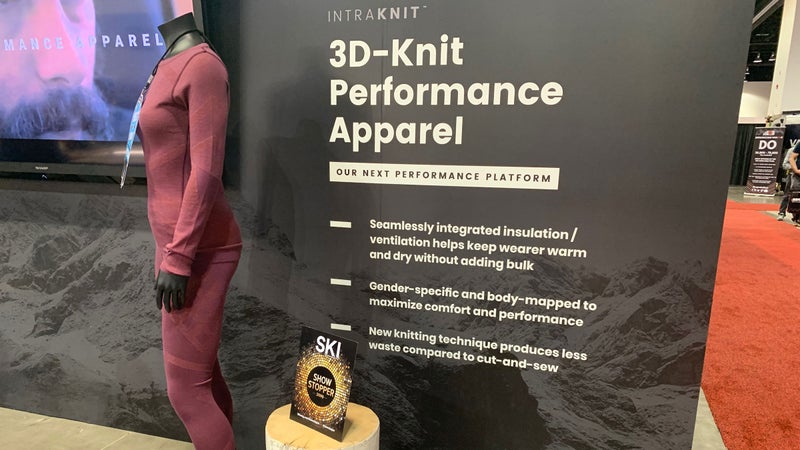 Seamless-knit construction is all the rage: the technique enables manufacturers to produce garments with varying panels of thick and thin material without cutting and sewing different pieces together, which minimized chafing and reduces factory waste. Smartwool has been using the technique in its socks for years, and now it's introducing seamless base layers. The new Intraknit tops and bottoms are body-mapped to be thinner in high-heat areas (like the back), thicker in high-abrasion areas (like the elbows), and tighter in areas that need a closer fit (like behind the knees). Men's and women's pieces are mapped differently, since the genders tend to produce heat in different patterns—for example in the middle of the back, men run hot vertically and women horizontally. The Intraknit series comes in two weights, mid and heavy, and launches this fall.
—Ariella Gintzler, assistant editor
Taxa's Mantis Is the Brand's Sweetest Trailer Yet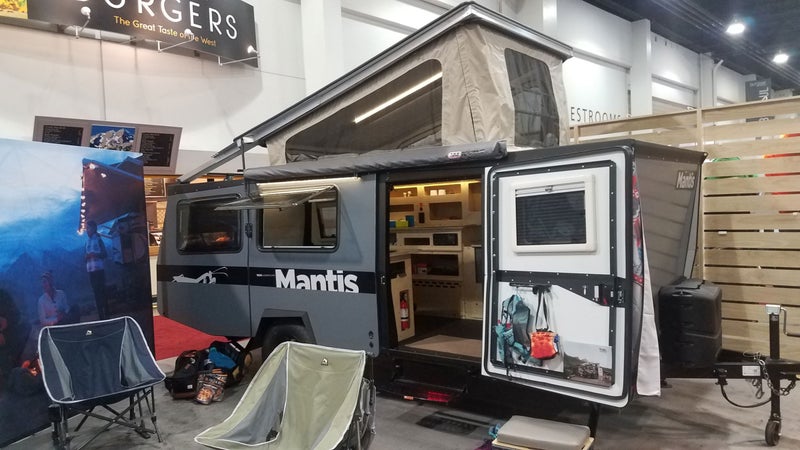 As I stepped into the 2019 Mantis parked in the convention center, I was surprised by how roomy it is inside. Taxa did a great job of fitting plenty of accoutrements and amenities into the trailer without packing it so full that there's no room to turn around. I'm six foot two, and the pop-up roof allowed me to stand without crouching. The rig comes with a full-size bed and a bench that folds in two places to configure one way for freeing up bike-storage space and another way to create bunk beds, allowing the trailer to sleep four. The optional toilet and shower add-on ($2,485) is a worthwhile luxury if you plan on spending extended time on the road. Taxa laid aluminum panels around the steel frame to save on weight—the whole thing tips the scales at 3,020 pounds. Burly tires and independent suspension can handle dirt roads when venturing off the beaten path. And when you return home, the Mantis can fit inside a garage, so you don't have to park it on the street for months on end. The Mantis starts at $44,000.
—Will Egensteiner, senior gear editor
The Best New Gear Under $50 at Outdoor Retailer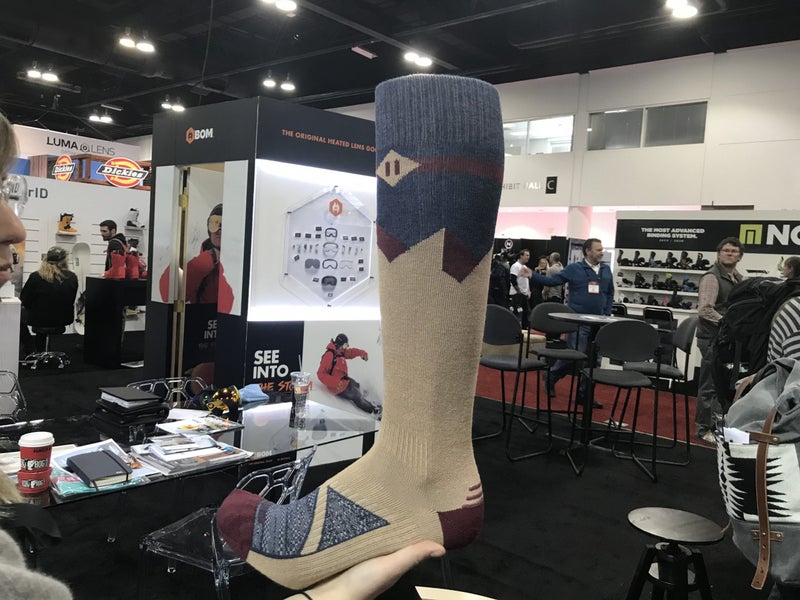 A lot of snow-sports equipment costs more than a season pass. But not everything. Here are our editors' favorite picks under $50.
—Will Egensteiner, senior gear editor
Blundstone's New Lightweight Boots Are Cool for Summer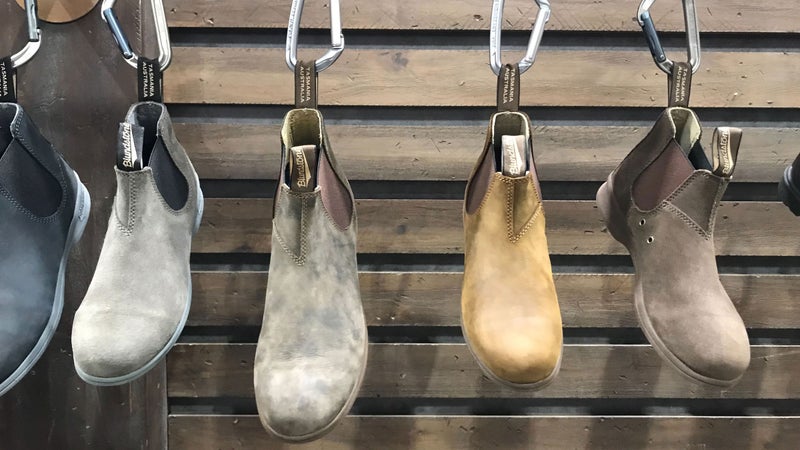 Who says Blundstones are just for winter? The Active Series is ready for any hot-weather adventure. Constructed with ultralight and breathable materials, the Active Series has the good looks of the brand's classic boots but with noticeably less heft. Priced at $155, these will hit stores just in time for summer getaways.
—Emily Reed, assistant editor
Zeal's Portal XL Goggles Go Big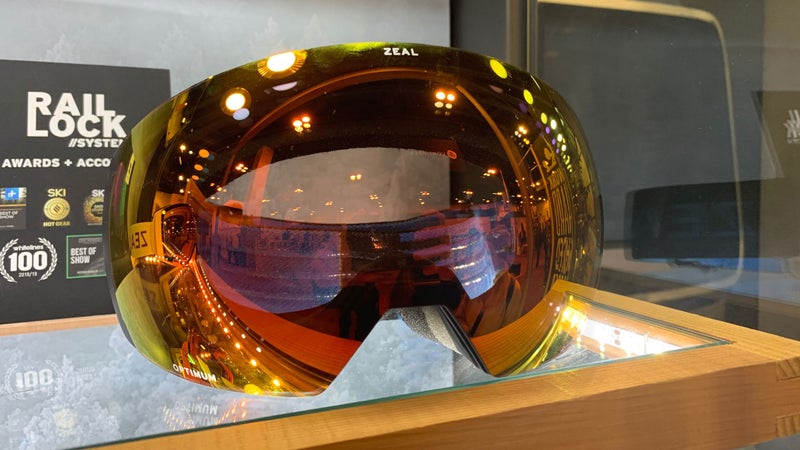 Zeal's original Portal goggles featured a two-part lens-change system: rails to slide the lens into place and magnets to lock them in. This was great for fast and secure swaps, but customers noted that the magnets jutted up from the bottom of the frame, cutting slightly into the field of view. Zeal took that feedback to heart. The new Portal XL's feature a bigger lens and a frame wide enough to house the magnets out of sight. The oversize model may not be ideal for small faces, but it's a welcome upgrade for those who like big goggles.
—Ariella Gintzler, assistant editor
G3 Just Launched the Lightest and Most Packable Skins Ever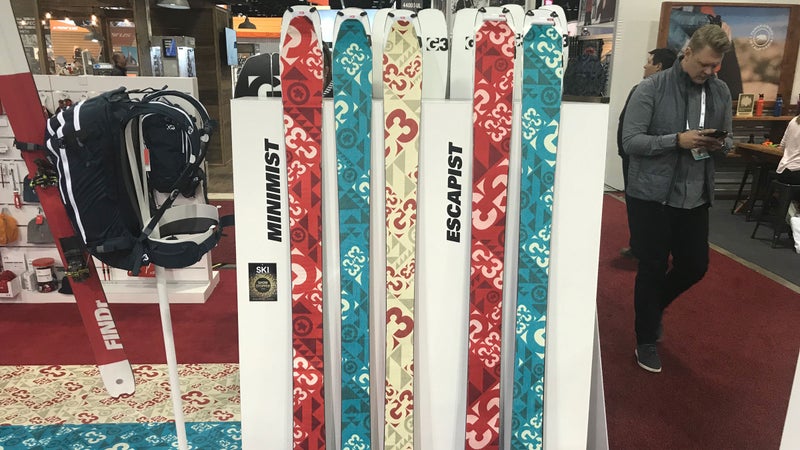 We gave the G3 Findr skis a Gear of the Show award, but G3's new Minimist skins also warrants attention. We often recommend G3 skins for their affordability, strong grip, and good glide. The new Minimist improves on G3's tried-and-true design by being 30 percent lighter than any other skin on the market and rolling up small enough to fit in a jacket pocket. They achieve this by forgoing all plastic and using carbon-fiber inserts around the tip section, which decreases snow creep without compromising packability. Granted, skins aren't a super bulky item to begin with, but less weight means an easier time on the uphill and more packability means quicker transitions. Those are two things we can get behind.
—Ben Fox, affiliate reviews manager
Riding the Cake Kalk& E-Motorbike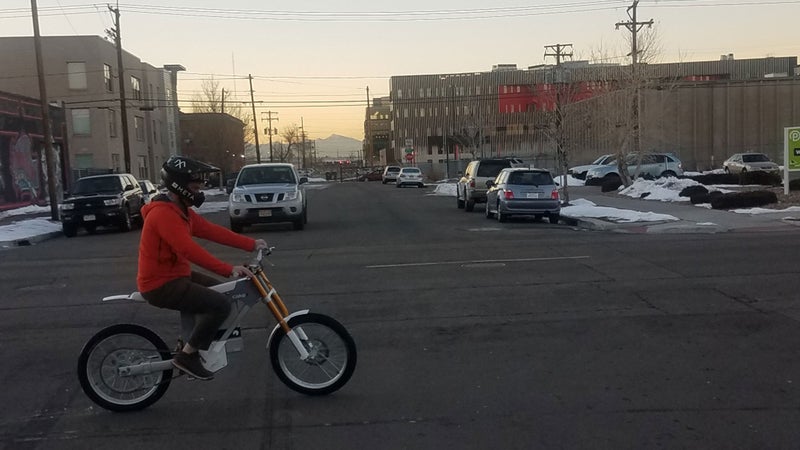 Last night I got to take this beautiful e-motorbike for a brief spin on the streets of Denver. And boy is it fun to ride. The controls are intuitive—all you have to worry about is setting the torque and engine braking before starting out, then the hand brakes and throttle are just like you'd find on a regular motorcycle. Given that this new model is both trail- and street-legal, I might give up the car and mountain bike.
—Will Egensteiner, senior gear editor
Lead Photo: Ariella Gintzler