Para-Athletes Use Some of the Most Innovative Gear We've Seen
From running blades to $16,000 handbikes, high-tech gear helped athletes shatter records in Tokyo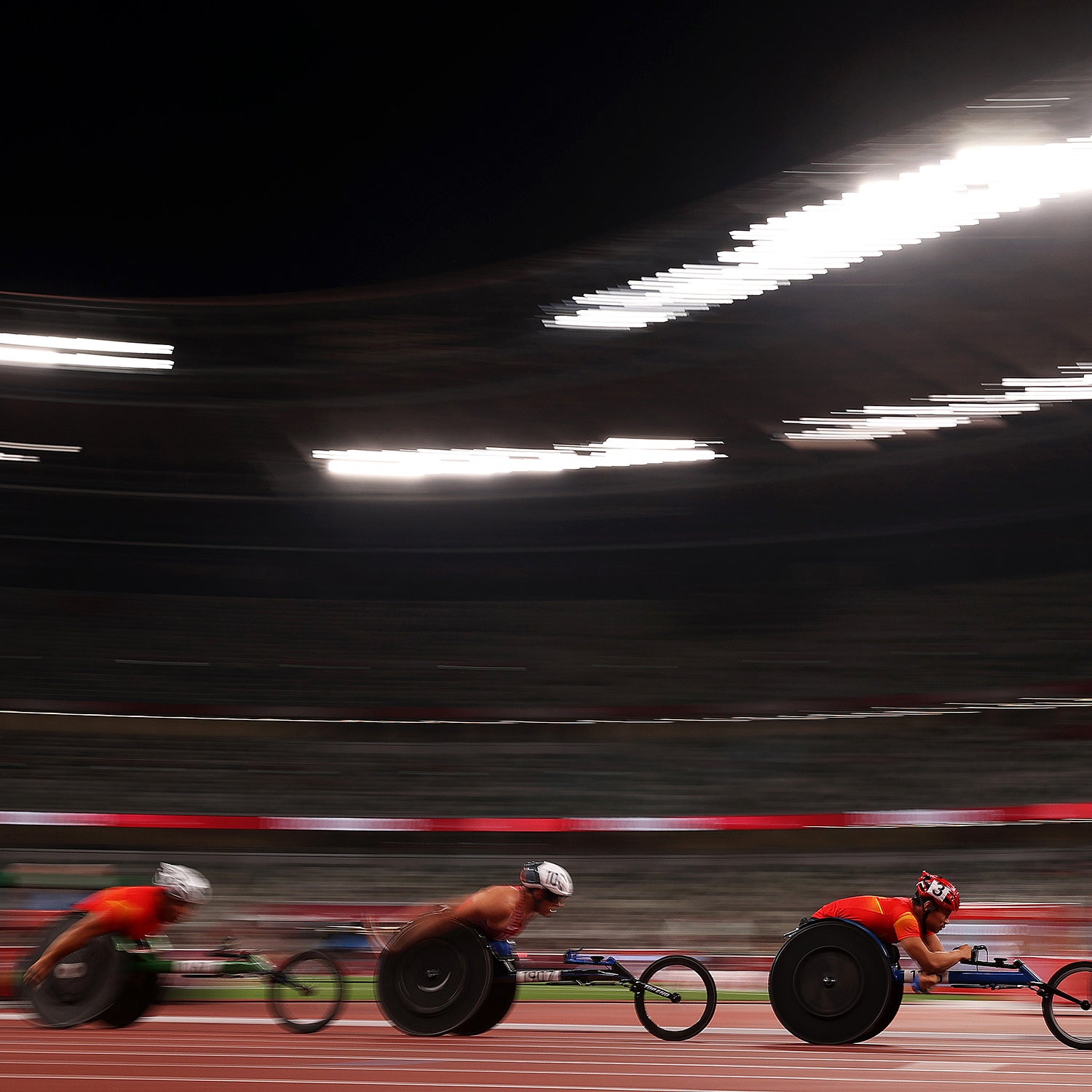 Heading out the door? Read this article on the new Outside+ app available now on iOS devices for members! Download the app.
Just like the Olympics, the Paralympic Games overflow with sporting greatness and remarkable characters. But unlike Olympians, Paralympians use gear for more than just an edge—it's what allows them to compete. Engineers have come up with ingenious designs to enable athletes with a wide range of injuries and disabilities to perform at their highest level.
In the aftermath of a Paralympics full of world-record performances, we took a peek at some of the technical equipment used in competitions like triathlon, goalball, track and field, and the infamously brutal "Murderball."
Running Blades
Estimated cost: $4,000 to $6,000
Running blades are so effective that Blake Leeper, a double amputee, started racing against able-bodied athletes after winning medals at the 2012 Paralympics—he was barred from Olympic competition because some argued that the blades provide an unfair advantage.
The first running blade was created by Van Phillips, who lost a leg in a water-skiing accident in the 1970s. He was dissatisfied with the prosthetics available at the time, which mimicked human bone structure. Instead, he developed a new concept based on the energy recoil of tendons and ligaments. The Cheetah was launched in 1996 and quickly became widely used by Paralympic athletes.
Today, several companies make running blades, and the bionic limbs are increasingly light, springy, and durable. Some blades are built from up to 90 layers of carbon fiber—some thinner than a human hair—fused together in a 3-D printing process.
Blades differ in how much they flex. A sprinter with a fast turnover and low ground-contact time might opt for a stiffer blade; long-distance runners might choose one with more give to reduce impact on the body. They also have significant differences in fit and motion. Above-the-knee amputees can go for a prosthesis with a bionic knee joint that allows for a more familiar up-and-down running action, or one that creates a straight leg from hip to blade and requires a roundhouse stride. Factors like the length of the stump, whether one or both legs have been amputated, and personal preference also figure into the decision. 
For example, unlike some of his rivals, British champion Richard Whitehead runs with a straight-leg prosthesis, meaning his forward momentum comes from hip rotation. While that makes his starts comparatively slow, his dominating speed has led to two gold medals and a silver in the T42 200-meter event, for above-the-knee amputees.
Racing Wheelchairs
Estimated cost: $10,000 to $12,000
With a racing wheelchair, the best para-athletes can reach speeds of around 30 miles per hour (that's three miles per hour faster than Usain Bolt). These speeds, on wheels, make the sport more akin to cycling than running. For example, racers often try to take advantage of drafting, tucking in behind a rival until late in an event. 
The effort, cost, and engineering that go into racing chairs also mirror cycling. The chairs are made of lightweight carbon fiber or titanium, and aerodynamics play a key role in design. The big difference of course is that the athlete uses arms instead of legs for power, rotating push rims on the wheels that drive a single gear. In this case the circumference of the push rim dictates how hard the chair will be to move forward. A bigger circumference means it's easier to get the chair rolling initially, but a smaller push rim has the advantage of being able to deliver more power per push. (Racers use gloves to protect their hands.)
Steering is another matter. A "compensator" that acts like a rudder is positioned just below the frame and connected to the front wheel. It allows for fine adjustments when rounding a curve on the track or battling wind resistance on the road. Para-athletes spend years perfecting their technique for pushing and rolling at high speeds. 
Beyond the racing events, four other Paralympic wheelchair sports—basketball, fencing, rugby, and tennis—require chairs that are designed for agility rather than straight-line speed. The basketball chair, for example, has wheels pitched steeply inward for ease of turning. They're made of titanium or aluminum to withstand the amount of contact they receive during a match, although it's not quite as much as the chairs used by rugby players (below).
Rugby Wheelchairs
Estimated cost: $10,000 to $15,000
These wheelchairs deserve a category of their own. Even with a design approach that emphasizes durability, many don't last long. That's because wheelchair rugby is also known as Murderball.
Wheelchairs used by attackers and defenders tend to differ. Attacking chairs are shorter and have a protective bumper and curved wings to allow them to turn quickly and elude defenders. Defensive chairs have a protruding bumper specifically designed to "hook" and hold an attacker, just as you might tackle or block in conventional rugby or on a gridiron. 
Unlike sports that have different classes for athletes with different levels of body function or injury, wheelchair rugby puts all athletes on the field together. Those with less impairment tend to take on offensive roles. It's also a mixed-gender sport, and in Tokyo, Kylie Grimes became the first woman to win rugby gold when Great Britain defeated the U.S. in the title game.
Not surprisingly, chair maintenance is never ending. Axles, tires, and wheels require patching up or complete overhauls after every match. Regular competitors will need entire chair replacements every couple of years.
Handcycles
Estimated cost: $13,000 to $16,000
Paralympic cycling puts together various types and levels of impairment with four categories of gear: handcycles, tricycles, bicycles, and tandem bikes. Tricycles are typically ridden by athletes who can use their legs but have balance issues that prevent them from using bikes. Some athletes can use modified bicycles, while competitors with vision impairments use tandem bikes with guides. Handcyclists use their arms, creating a sport that sits somewhere between cycling and wheelchair racing. 
There are five classes of handcycle racer ranging from H1 to H5, where higher numbers indicate restrictions in lower limbs only and lower numbers indicate impairment in both upper and lower limbs. A handcycle is like a normal bike turned upside down, or a recumbent bike operated by hand: the athletes hold the pedals with their hands rather than their feet, and custom-made hand grips act like cleats. The brakes are integrated into the hand-pedals. In other ways they are similar to regular bicycles, often with carbon frames, electronic shifters, and models with more than 30 gears.
Aerodynamics are crucial: the low profile allows athletes to cut through the wind at speeds over 40 miles per hour. As the design has evolved, back wheels have shrunk and become increasingly pitched in, decreasing wind resistance (although they can increase rolling resistance through the tires). Check out these stealth photos of Team USA bikes in Tokyo. 
Specialist Balls
Estimated cost: $70 per ball or set
For several Paralympic ball sports, the key piece of equipment is the ball itself.
Goalball and five-a-side soccer are both played by athletes with visual impairments. Typically, all players are blindfolded to protect the sports' integrity, and in goalball, players lie down and roll the ball by hand. In both sports, the balls have bells embedded in them so the players must use hand-ear coordination. A goalball is the size of a basketball but twice the weight. 
Goalball has no equivalent in the Olympics, and even among Paralympic sports it stands out for the longevity of its star athletes. Asya Miller and Lisa Czechowski, American goalball players, have been at it for two decades, and they competed in their sixth Paralympics in Tokyo (they won silver).
Boccia is also unique to the Paralympics but is similar to pétanque; each athlete or team throws a series of balls to try to get as close as possible to the jack. It was originally designed to be played by athletes with cerebral palsy, though at the Paralympic level, it includes athletes with other impairments affecting motor skills. The balls are made of leather, for easy gripping, and filled with plastic granules to prevent them from bouncing. They can be kicked, thrown by hand, rolled along the floor, or, for athletes with the most severe impairments, rolled down ramps.
British para-athlete David Smith won a boccia gold medal in Tokyo, retaining his title as the world's best in the BC1 classification (for athletes with severe activity limitations affecting their legs, arms, and trunk). Smith, who has cerebral palsy, which limits his ability to compete in other sports, told The Guardian, "I wouldn't be a Paralympian without boccia."
Lead Photo: Naomi Baker/Getty