Rapha and Apple Make Predictably Gorgeous Commuter Bags
We got our hands on the British cycling brand's new commuter gear, which is designed with your gadgets in mind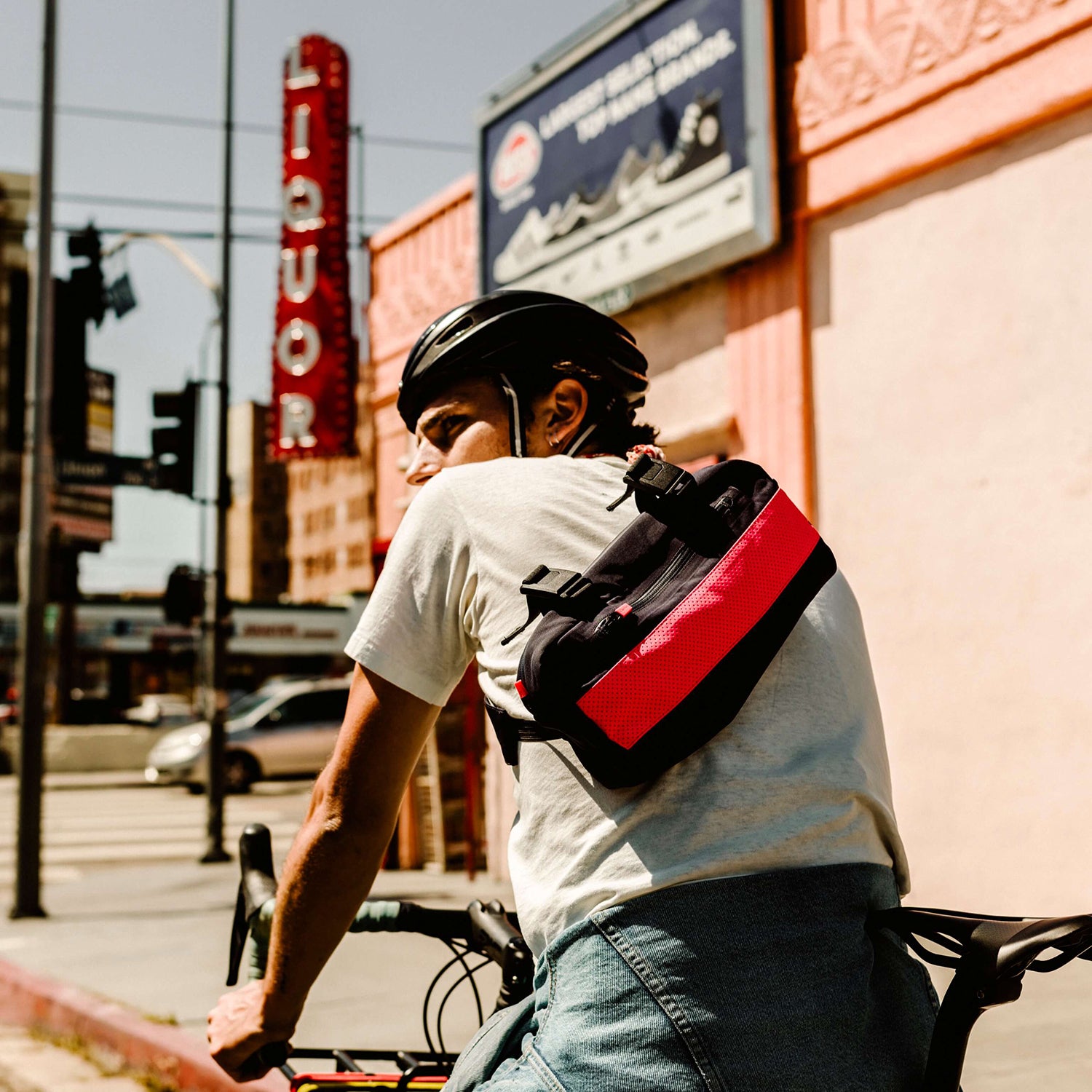 Courtesy Rapha(Photo)
Heading out the door? Read this article on the new Outside+ app available now on iOS devices for members! Download the app.
When Rapha announced that it was teaming up with Apple to create a line of bike accessories for cyclists who want to keep their electronics safe on the go, it seemed like a meeting of the minds of two eminently style-conscious brands. 
A number of products—from a mini messenger bag to a tech organizer—are available for a limited time in select Apple stores and on Apple.com starting today, and we were able to put some of them through the wringer before they hit shelves. Our verdict? The two brands turned out some pretty damn good-looking gear, with great features and a handful of flaws. 
Convertible tote backpack ($150)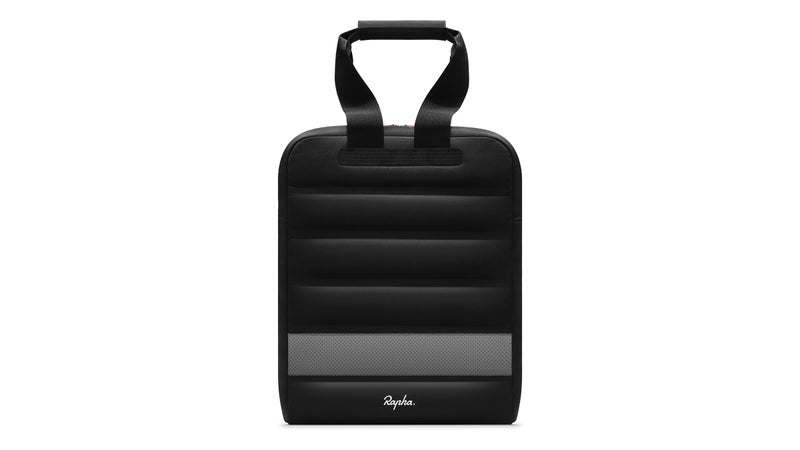 Rapha says it designed the Convertible tote backpack to handle the demands of your daily bike commute while also being stylish and large enough for overnight travel. The pack's measurements (3 by 15 by 12 inches) pale in comparison to what a Manhattan bike messenger might lug around, but I was able to fit my lunch, a 40-ounce water bottle, and two hardbound books in the main compartment, while my laptop fit snugly into the raised sleeve, and pens and notebooks went into two internal zip pockets.
DWR treatment and AguaGuard zips kept the contents dry during a torrential early-summer thunderstorm, and the down-filled padding added comfort, although it provided little assurance that my MacBook would survive unscathed if I hit the deck.
Indeed, there were a few areas of the bag that seemed to favor style over function—namely, the straps. It would have been nice to see some of that down padding used there, as they began to chafe after a few miles of riding. Also, the magnetic clasps that hold the straps together when in tote mode look clean but can come undone when in motion. Nothing catastrophic, but for the money I'd have liked something a little burlier.
In all, it's a great-looking, comfortable pack if you're spending a weekend night on the town and need some space for your stuff, but for daily use it lacks the simple functionality of something like Topo Designs' Commuter Briefcase.
Mini messenger bag ($130)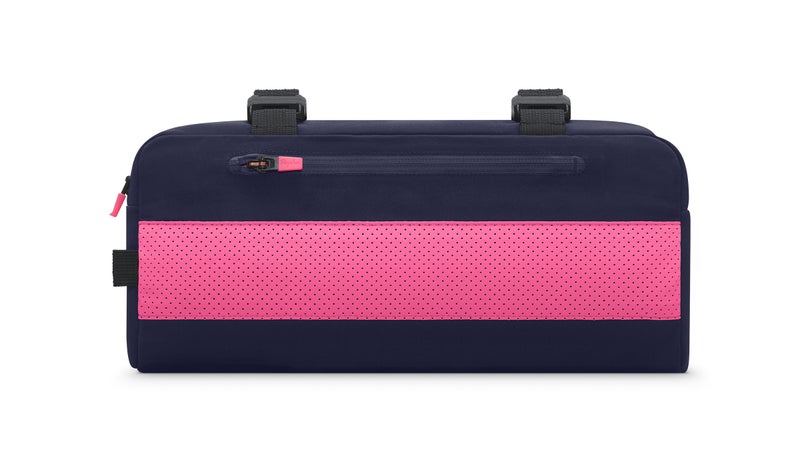 Rapha creative director Alex Valdman says that the company designed the Mini messenger bag to help its photographers shoot while on the move. It can certainly hold a camera and a couple of lenses, but it's also one of the cleanest-looking, most functional handlebar bags I've ever used. On a recent gravel ride, I easily fit my iPhone, my wallet, a spare tube, a cycling cap, and a couple of gels in the front pocket, where they stayed bone-dry for 50 wet and muddy miles, thanks to the same DWR treatment and AguaGuard zips used on the backpack. The magnetic clasps and durable straps kept the bag secured to the front of my bike, with almost no shifting around over rough terrain, and the over-the-shoulder strap easily clipped to the bag when I made the obligatory midride coffee stop.
Despite its svelte looks, the bag's massive storage area easily holds a rain jacket, a water bottle, a multitool, and a few other knicknacks. Accessing it while the bag is on the bike is tough, as the clasps block the zipper, but with such a sizable front pocket, essentials are within easy reach.
MacBook sleeve ($70)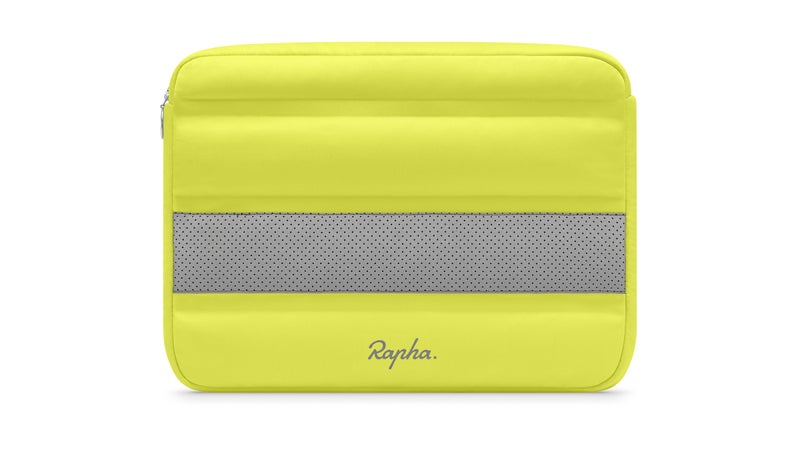 Paired with the backpack, the MacBook sleeve adds an extra layer of security when riding through city traffic. It's made with the same down padding and rainproofing, and it accommodated my aging 13-inch MacBook Pro nicely. (There are also 12- and 15-inch sleeves available.) One user-friendly feature it lacks is a carry handle, but I guess that's what the pack is for. 
Aside from the padding and fashion colors (the sleeve and other products come in blue, black, and yellow, with pink and gray accents), there is very little to distinguish this sleeve from the dozens of others on the market, and $70 is a lot to invest in something that's going to sit inside a drawer or a bag most of the time.
Lead Photo: Courtesy Rapha
Trending on Outside Online