Sponsor Content: HYDROW
Rowing Is the New Running
Hydrow's next-gen rowing machines are helping more people discover that rowing is the ideal mix of cardio and strength training—and the best way to cross-train for virtually any outdoor sport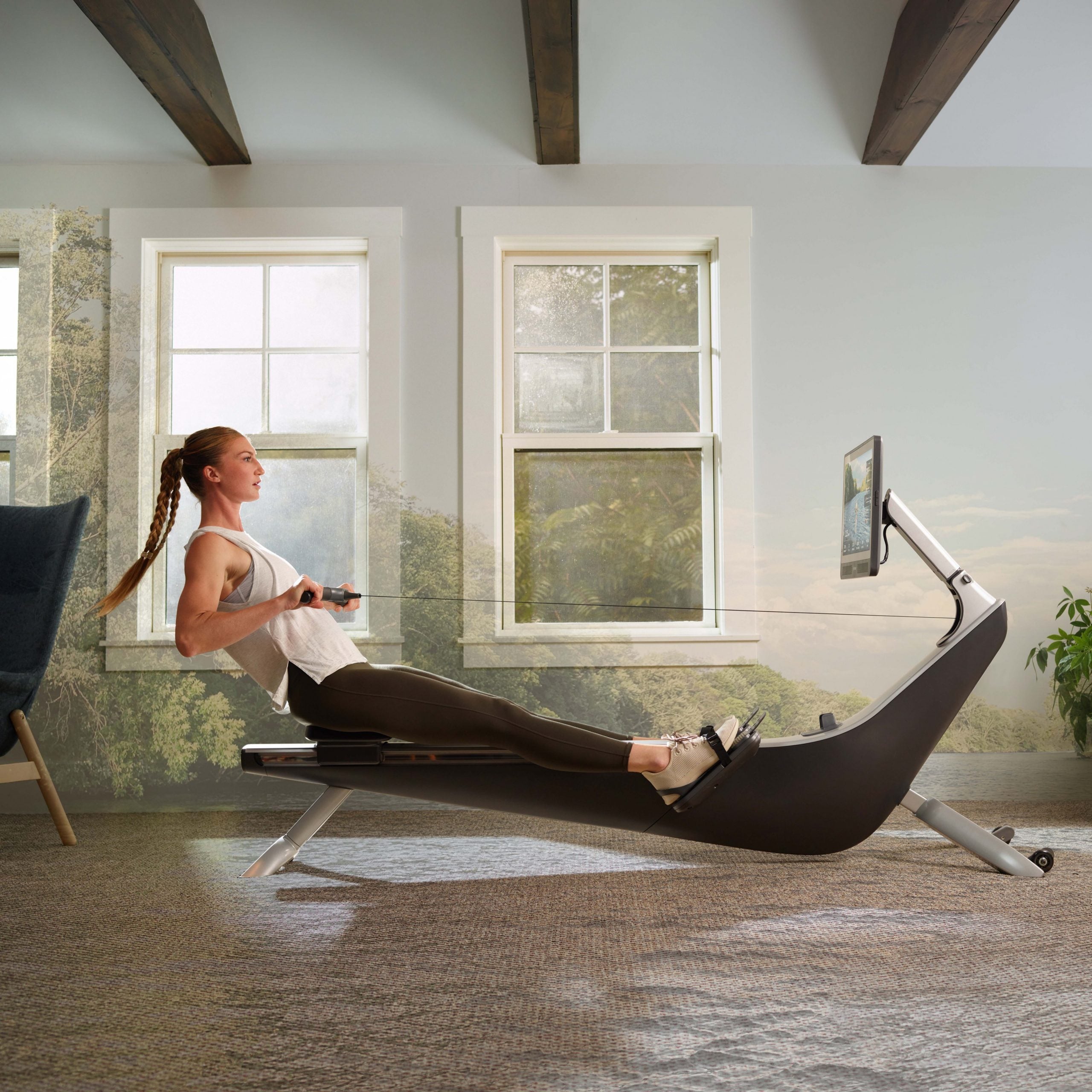 In terms of efficiency, it's hard to beat the benefits of rowing. The full-body effort involved in the rowing motion engages all the major muscle groups—and in particular the core. "The trunk is the biggest contribution to the body's stability and strength across all sports," says Kristin Haraldsdottir, Ph.D., director of exercise research and innovation for Hydrow, a new kind of rowing machine that delivers the sensation of on-river outdoor rowing at home. "The back-glutes-hamstrings connection targeted by the rowing motion—in addition to the work done by the quads, shoulders, and arms—will make you a stronger runner, cyclist, climber—you name it."
To wit: U.S. Olympic marathon hopeful Keira D'Amato uses a Hydrow rowing machine in lieu of pounding more miles onto her weekly 100-miles of running to reduce her chances of injury—and save time. "I can be on a rower for five minutes and be so thoroughly exhausted," she says. "The ability to cram all that awesomeness into a 10-, 15-, 20-minute session is great. I have to run 10 miles to get that same kind of burn."
D'Amato's experience underscores two other great things about rowing: It's low-impact, so the motion doesn't put wear and tear on your joints like, say, running or an intense gym workout. It's also easy to modulate—you can take it easy and use a session as a warm-up or go hard and blast yourself. And because it engages twice as many muscles as cycling or running, you get as good a workout in half the time. "Our cornerstone workout is 20 minutes, three times a week, which puts you at the tipping point for long-term strength and fitness benefits," Haraldsdottir says, "and it's enough to leave you feeling fresh and energized for your target activity on the weekends."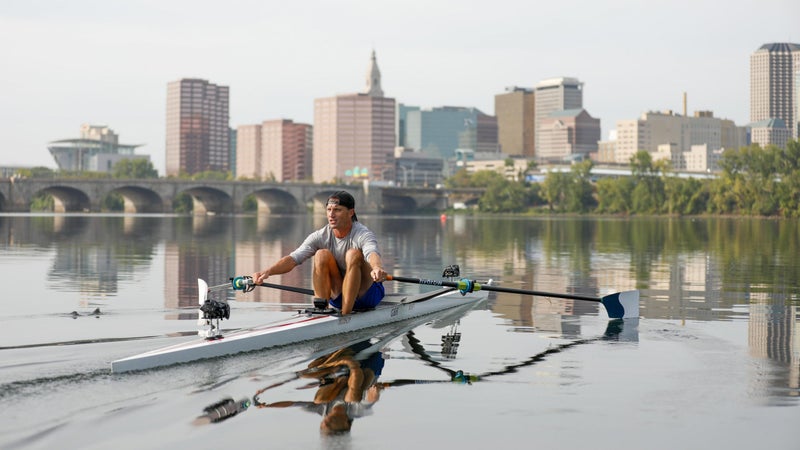 Of course, athletes, coaches, and exercise experts of all stripes have known this for years and have long used rowing machines as their cross-training secret weapon. Rowing sessions are beginning to replace timed runs in total-fitness assessments by military, police, and fire departments. And thanks to the rise in popularity of high-intensity fitness classes such as CrossFit and Orangetheory, millions of people have been introduced to the cardio- and strength-boosting power of rowing machines at their local gyms.
But what if your rowing experience could be much more than a full-body workout and actually feel like you're on the water? That's the idea behind Hydrow's completely reimagined rowing machines. A 22-inch HD touchscreen monitor, powerful speakers, and a proprietary ultrasmooth and quiet resistance system designed to mimic the pull of an oar through water combine to create a completely immersive experience.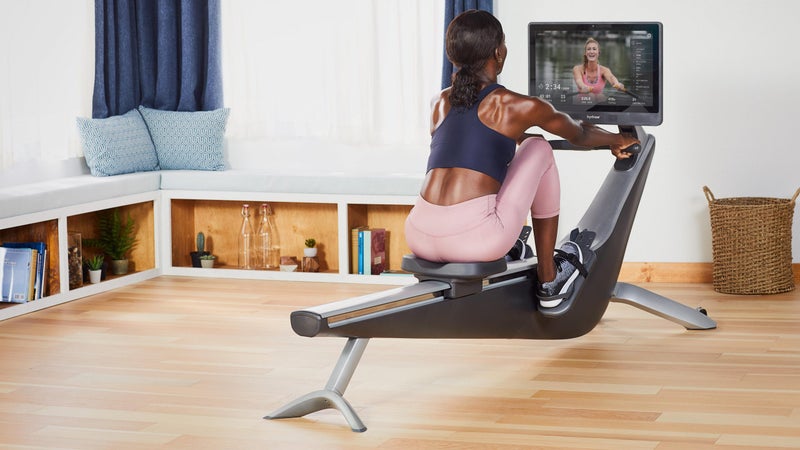 Hydrow offers thousands of structured on-demand workouts, from learn-to-row tutorials to races against other Hydrow members around the world, all of it served up on an intuitive, easy-to-navigate interface. You can also opt for Journeys, unguided rows through scenic waterways, or Hydrow's signature feature: live workouts. Offered twice a day during the week, these live-streamed classes bring rowers together as a community to follow one another's progress on a leaderboard on the screen.
Thanks to nifty camerawork and impressive sound design, it's a truly multi-sensory experience. Hydrow calls it Live Outdoor Reality and it's pretty darn impressive—you feel as if you're sitting in the boat with the instructor. Classes last anywhere from one-minute sprint challenges to hour-long endurance rows and are led by athletes such as collegiate champion and Paralympian Dani Hansen. As she and other instructors row their way along the Charles River in Boston, Biscayne Bay in Miami, or a scenic New Hampshire lake, members work through sessions ranging from high-intensity intervals to more meditative and restorative rows.
Hydrow's most remarkable trick, however, might be how the sleek interface, camera angles, camaraderie, and coaching seamlessly work together to make the entire experience more enjoyable. And because there's no need to push buttons or turn a knob as you would on a treadmill or spin bike to make the work harder, the Hydrow makes it easy for newer rowers to find their rowing groove. It lets any athlete step into a workout that will seamlessly guide them through every type of training, so users don't have to spend time coming up with the structure themselves.
All of which makes it the ultimate cross-training tool for athletes like newbie rower, regular marathoner, and working mother Pamela Harris. "Rowing is so much about technique, body awareness, rhythm, and flow that it forces you into a sort of zen state of concentration," Harris says. "I found that I can now tap into that flow during my runs, that I can consciously trust my new rowing muscles (such as her lats) to help me power through hard tempo pieces."  She credits rowing for allowing her to run farther, faster, and with less effort—all without needing to pile on more miles to do it.
That's why Hydrow is for every outdoor athlete training for any goal. When one machine provides a complete full-body workout, solid cardio, and pre-programmed training with top-tier instruction, all that's left is you showing up.
---
Hydrow is the Live Outdoor Reality™ (LOR) rower. The state-of-the-art rower leverages innovative technology to capture the visual, auditory and emotional components of on-water rowing, resulting in truly dynamic at-home workouts. World-class Athletes lead members through challenging rows that engage 86% of the body's muscles, compared to 44% with cycling.
Trending on Outside Online