6 New Running Hydration Vests We Love
From dialed fits and soft, wicking materials to intelligently placed pockets, these vests have the features to carry (and offer up) your kit more comfortably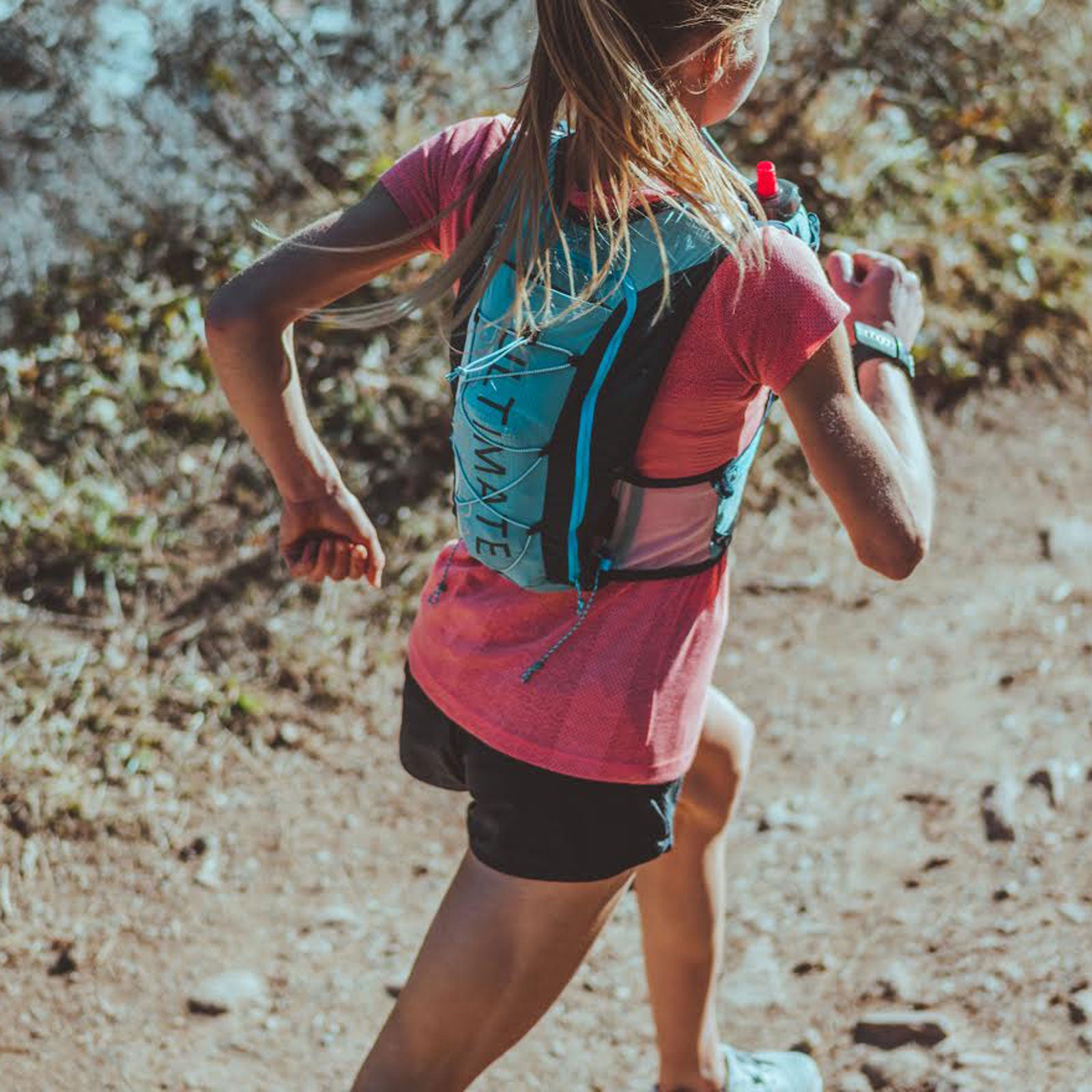 Courtesy Ultimate Direction(Photo)
Heading out the door? Read this article on the new Outside+ app available now on iOS devices for members! Download the app.
Trail-running hydration gear has evolved a lot since the days of fanny packs and water bottles with duct-tape handles. As the sport has grown, so has the variety of vests designed to hold water, food, and gear for hours-long runs or between race aid stations. We spent the summer checking out new and updated packs from a host of top brands. Here are six of our favorites, some recently launched and some coming in early 2019.
Ultimate Direction Adventure Vesta 4.0 ($160)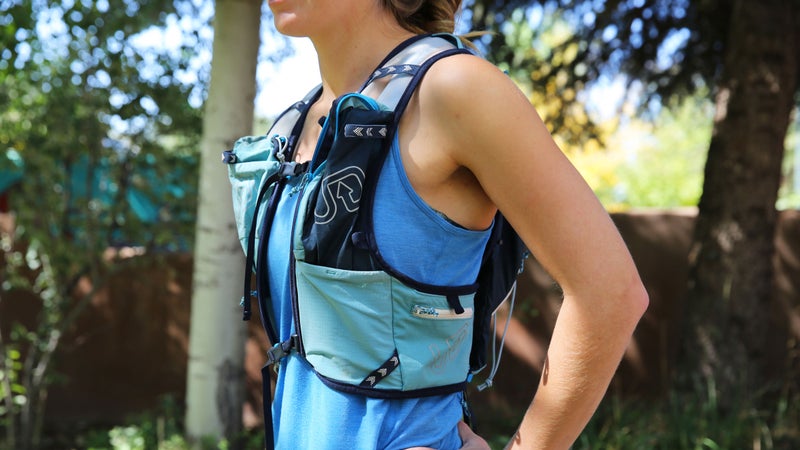 Online managing editor Abigail Wise ran two ultras in the original version of the 12.5-liter Adventure Vesta—Ultimate Direction's large-capacity women's vest for long days on the trail—so she was excited to test the updated model. "It's like UD was watching me fumble with the old one and dreamed up impactful tweaks to make this model as efficient as possible," she says. Cases in point: one of the two front bottle holsters is replaced with a zippered iPhone-size pocket, a new fabric loop snaps open and shut to quickly secure drink tubes, and the vest now has a monofilament mesh backing that is more durable but also more breathable and faster-drying than the old cloth-mesh blend, which was prone to absorbing more moisture.
---
The North Face Flight Trail Vest ($150)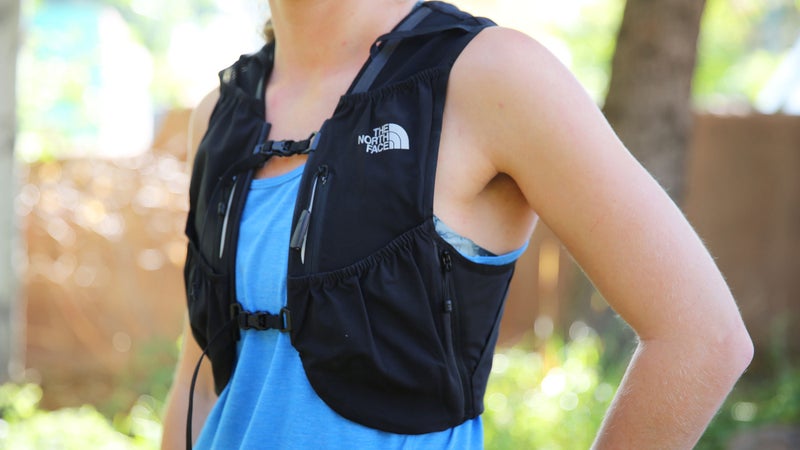 Don't let the slim profile of The North Face's first-ever hydration vest fool you: it can fit more than you think. Two front stretch pockets accommodate multiple bars, gels, and chew packets, while the zippered side pockets are each big enough for an iPhone—though, when filled, they somewhat block the kangaroo pouch on the back. Two small zippered pockets high on the shoulder straps are perfect for keys, salt tabs, or lip balm. The North Face took a page from Salomon's playbook for the fabric and fit, with thin poly-elastane for pockets and fine nylon mesh next to the skin—reminiscent of the French brand's wildly popular S-Lab Sense Ultra 5 Set vest. The end result is close-fitting with a low-bounce ride.
---
Raidlight Responsiv 10L ($170)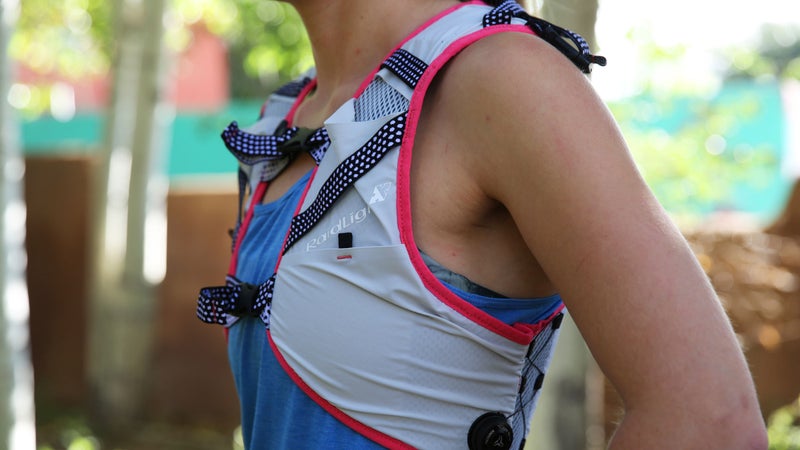 This French company has been gaining traction in the U.S. for several years, thanks to its detail-driven designs and high-quality construction (think: laser-cut, stitch-free hems). The Responsiv 10L, the brand's most popular vest, is getting an upgrade in 2019, with two additional liters of capacity and a zipper on one of the front pockets for more secure storage. Thankfully, many of our favorite features remain, including the Freelock wheel-and-wire cinches, similar to Boa dials, on both sides for a supremely dialed-in fit (though as a result the vest does not have side pockets). Water-resistant nylon on the main rear compartment means gear stays relatively dry during squalls, while a vertical pole-storage system has stretchy pockets that cover the pole tips, so you don't have to fear impaling yourself if you fall. 
---
Salomon Agile 6 ($100)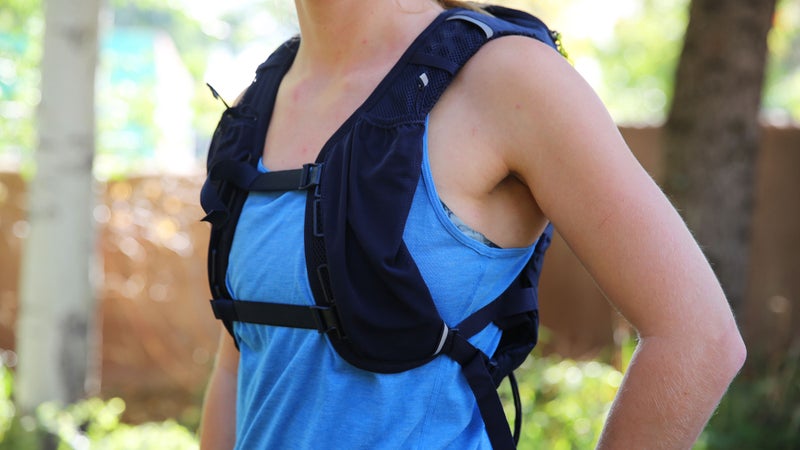 Some of us prefer a vest that fits more like a pack, without the full underarm coverage and the mess of front pockets. That's where Salomon's new Agile 6 comes in. The front straps have soft-flask holsters but no other pouches; instead, the main back compartment offers a full six liters of storage, with a U-shaped zipper that opens the pack like a clamshell for easy organization. A smaller internal zippered pocket holds keys, and a separate zippered hydration-bladder slot sits against your back. Without front easy-access stuff pouches, this isn't the vest you'd reach for on race day. But the shoulder padding, wide opening, and large capacity make it ideal for those long days when you'd welcome the chance to stop and take off your pack to shed a layer.
---
Patagonia Slope Runner 4L ($140)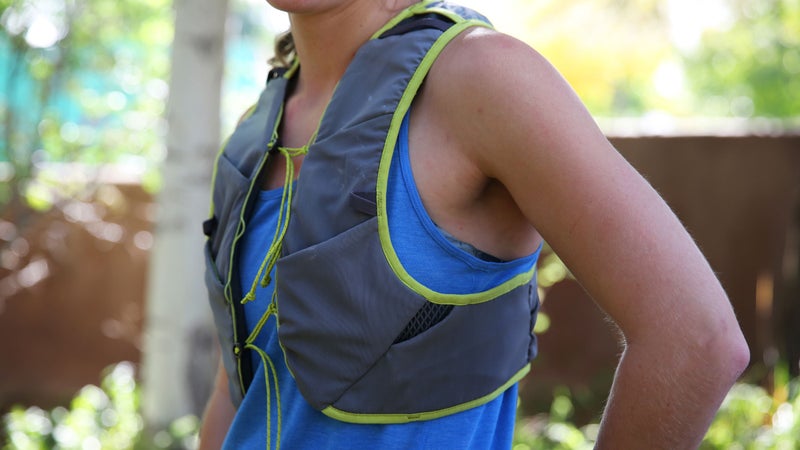 Patagonia's new running hydration pack—its first in many years—wears more like a shirt. The slim, minimalist design accommodates two 500-milliliter soft flasks up front and a bladder in back. The two side and front pockets are made of compressive, stretchy fabric, which keeps small items like sunglasses, keys, gloves, or snacks from jostling around or slipping out. The chest-flask holders are made of the same fabric but lack a cinch up top, so getting flasks back in after a refill can be difficult. Still, the close-to-the-body fit and secure pockets make this a great choice for light-and-fast runs.
Available January 2019
---
CamelBak Women's Ultra Pro ($120)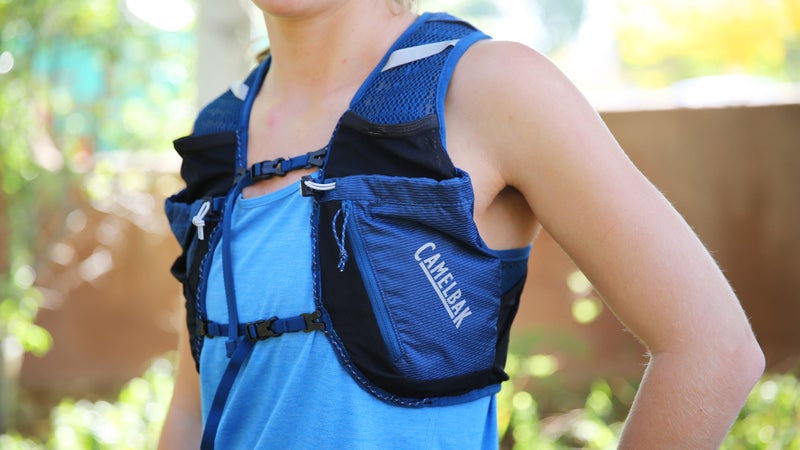 The Ultra Pro has been in CamelBak's line for several years, but 2019 marks its first women-specific version. Like its unisex predecessor, the Women's Ultra Pro houses seven liters' worth of gear and water, but it is equipped with two sets of pockets for housing soft flasks, one high and one low. Three large stuff pockets and a phone-size zippered pocket up front hold everything from snacks and headlamps to gloves and sunglasses, while a rear kangaroo pouch layered over two smaller stretch pockets (also phone-size) offers easy on-the-go access to stashed layers. The main back compartment also accommodates a water bladder. CamelBak opted for a 3-D mesh next to the skin, which is chunkier than the thin stretch mesh used by Patagonia and The North Face but rises off the skin at points for ventilation, a bonus in hot weather.
Available in January 2019
Lead Photo: Courtesy Ultimate Direction