Is a $200 hiking boot really that much better than a $100 one?
I need a pair of solid backpacking boots. Is there really that much difference between a Lowa that sells for $200 and a Hi-Tec that sells for $100? I'll be hiking on occasionally rocky, steep terrain. Pela Pickens, South Carolina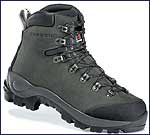 Heading out the door? Read this article on the new Outside+ app available now on iOS devices for members! Download the app.
Lots of times there really isn't $100 worth of difference between one item and its cheaper or more expensive competitor—least of all when the price differential is double. But I mean no knock on Hi-Tec when I say that in this case, there is a difference. OK, maybe that is a knock.

Dakota Plus


But, take Hi-Tec's Solitude, which sells for $90 (www.hi-tec.com). It's not a bad boot—leather uppers, steel shank, even a waterproof bootie. But its EVA midsole is better suited for a running shoe (not the best thing for rough terrain) and you won't find the construction to be as durable as a boot costing more. Lowa's Banff ($200; www.lowaboots.com), on the other hand, has heavier leather uppers and a polyurethane midsole for more support, an extremely good Vibram sole, and even leather linings—a real plus for long-term comfort. Simply a much better boot overall.
There are other good boots to consider, as you want to make sure you buy good-quality boots that fit, and one maker's boot may not fit you as well as another's. So take some time to try on Garmont's Dakota Plus ($235; www.garmont.com), the Boreal Tundra ($200; www.boreal-club.com), the Chaco Garvin ($210; www.chacousa.com), and perhaps the Dunham Waffle Stomper Premier ($180; www.nbwebexpress.com). All are solid midweight boots, perfect for hiking on rough terrain.
Read reviews of the year's best boots from Outside's 2004 Buyer's Guide.
Trending on Outside Online