7 Backpacking Gear Hacks Using Household 'Trash'
Some of our favorite gear is garbage. And that's why we love it so much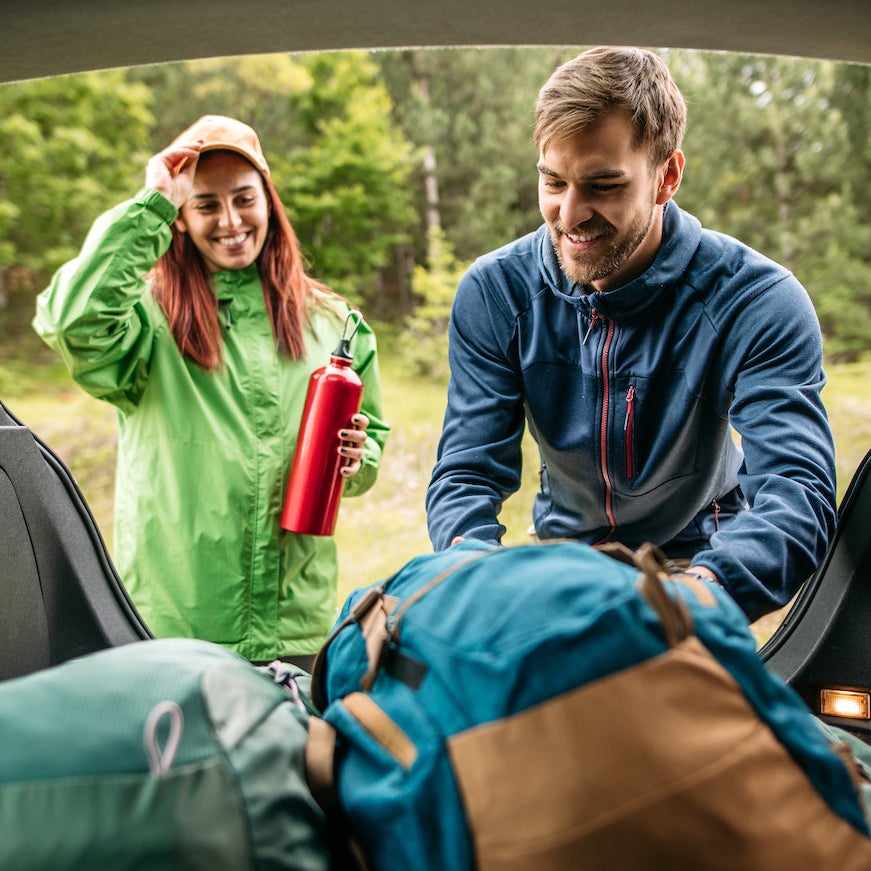 hobo_018 via Getty Images
Heading out the door? Read this article on the new Outside+ app available now on iOS devices for members! Download the app.
One of the biggest barriers to backpacking more? The cost of gear. People might think that you'll only have to shell out for your big three pieces of gear (tent, sleeping bag, sleeping pad), but it's actually all the little trinkets that add up. The convenient pieces of gear, like freeze-dried meal coozies and clothesline pins, make backpacking more fun. Some manufacturers will hike  the price of these items just because they know backpackers and hikers will pay a premium for convenience or low base weight bragging rights.
But some backpackers want to ball on a budget. Luckily, you have some junk at home that works just as well as the specialized hiking gear you can find at the store. It's as durable and only a fraction of the price. Here's where you can start:
Plastic Tag Closures From Bread Bags
These nifty little closures (that also come with onion and potato bags from your local supermarket) are nearly weightless and take up barely any space in your pack. Use them to hold wet clothes on lines to dry or to keep stuffsacks closed.
Wellness Shot Bottles
Those expensive little "wellness elixir" bottles of ginger, wheatgrass, and lemon cayenne juice aren't such a bad deal when they can be reused as miniature spice and seasoning containers. Not one for wellness shots? There are other weightless containers you can use. Kinder Surprise Eggs come in small, sealable containers that will do the trick.
Bubble Mailer
If your luxury item is an iPad, you'll have to protect it from any inevitable spills or dings with a case. Cases can be costly and bulky, however. A free, ultralight alternative? A bubble mailer from the post office. This padded envelope is waterproof, protects against impact, and weighs only a few grams compared to other cases on the market. These also work great as coozies as you rehydrate and reheat freeze-dried meals. No more burnt fingertips as you wait for your rice to cook.
Nut Butter Jar/Gelato Jar
If you're Team Cold Soak, there are lots of containers on the market that promise ultralight weight and durability. But you have to spend $5 or $6 for one measly container. You know what's a sweeter deal? Spending the same amount and getting peanut butter or gelato out of it. Use these empty jars as you'd use any other kind to cold soak meals on the trail.
Contact Lens Case
Sick of single-use, travel-style toiletries? Contact lens cases can hold lotion, sunscreen, toothpaste, lip balm, vaseline, eye cream, and pretty much anything else you can squeeze or dab out of a tube.These cases are cheap, light, and don't take up much space in your pack.
Dryer Lint
This is a trick you may have learned in Scouts already: Lint, especially from cotton clothing, works great as a fire starter. (Synthetic fibers don't burn as easily.) It's easy to store and weighs just grams compared to typical fire starters available at outdoor stores.
A teaspoon of Vaseline on a gumball-size piece of lint will burn for about 7 minutes. Here's how to make a fire starter:
Cut a paper bag into 3-inch by 3-inch square pieces.
Place a bit of dryer lint in the middle of each square.
Glob a teaspoon of Vaseline on the lint.
Fold the paper over the lint to make a trail-ready fire starter packet.
Massage the packet to set the Vaseline into the lint.
Don't have that much lint? Cotton balls work just as well.
Brine Bags or Oven Bags
Don't fork over money for a silnylon or Dyneema backpack liner. Instead, use the leftover brine or oven bag you have from the holidays. If these bags can hold a 20-pound turkey, they can hold your gear—and keep it dry—too. These bags weigh less than designated plastic pack liners, and cost way less, too. Bonus: Smaller brine bags can work as waterproof socks.
Lead Photo: hobo_018 via Getty Images