After serious saturation do boots need to be broken in again?
Help me, Obi-Wan-Gear-Nobi! My three-year-old Zberlan GT's tore me a new one (heel blister, that is) while hiking the Ouachita Trail this weekend. I haven't worn them since a canoe trip last summer when they got waterlogged during most portages. Question: After serious saturation do boots need to be broken in again? What would cause my friendly Zberlans to turn on me? Yours, Blistered in Dallas. Greg Dallas, Texas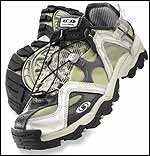 Heading out the door? Read this article on the new Outside+ app available now on iOS devices for members! Download the app.
Greg…the Force is with you…I can feel it. It's very strong—at least as strong as a large hamster.

Pro Amphib Watershoes

As for the Zamberlans that reduced your heel to hamburger, all I can say is, who knows what happened. Assuming these boots haven't caused you problems before, then the possible culprits run from sweaty feet stirring up some sock-to-skin friction to a trail that simply put unusual twists into your feet and boot.

@#95;gui_include name="ad_in_article"@#95;gui_include
It's possible, too, that after getting wet the boots shrank a little, which is something boots can do—particularly when soaked through repeatedly. Boots shrink mainly in the length, so that could account for a heel that's packed more tightly into the rear of the boot, causing a blister. If so, can the problem be fixed? Well, maybe. Wear the boots around the house some, using the warmth and moisture from your foot to soften the material and get it to relax. I'd also treat the uppers with something such as Nikwax FabricLeather Boot Treatment ($8; www.nikwax-usa.com). At the very least, you and the Zamberlans will have some time together to patch things up.


Otherwise, you might want to carry some shoes that are really meant to be soaked and use those for the portages. Salomon Pro Amphib Watershoes ($85; www.salomonoutdoor.com) are a good choice for that, offering traction, foot protection, and more than a worthy match for aqua dunkings.


Read reviews of the Pro Amphib and other water-worthy shoes in "Make a Splash" from Outside's July '04 issue.



Trending on Outside Online