6 Things I'm Bringing to Hike the Appalachian Mountains
My first backpack trip of 2019 is this month. These are the critical and interesting items that I'm taking with me.
Andrew Skurka(Photo)
Heading out the door? Read this article on the new Outside+ app available now on iOS devices for members! Download the app.
This month I am guiding two three-day overnight backpacking trips in West Virginia's beautiful and uncrowded Appalachian Mountains. Here are six important—and maybe slightly odd —items that I'm taking with me.
Brute Super Tuff Compactor Bags ($18)
An NOAA weather station near the trailhead where I'll be starting reports that the average rainfall in May is 6.1 inches. Over the course of six days, I'm almost certain that it'll rain, and it could rain the entire time. To keep my gear dry, I'll line my pack with two 20-gallon Brute Super Tuff Compactor bags, which are made of two-millimeter plastic and last about a month before developing holes (which can be covered with duct tape for a time).
In one bag, I'll keep my overnight gear and supplies, which I don't need during the day (e.g., the sleeping bag, pad, stove, insulated clothing, sleeping clothes, and food for later in the trip). Items I'll use more frequently, I'll keep in the other bag. If any of my things get wet (e.g., the shelter, raingear), I'll put them in an outside pocket or inside the main compartment but on the outside of the Brute liners.
REI Quarter Dome Air Hammock ($200)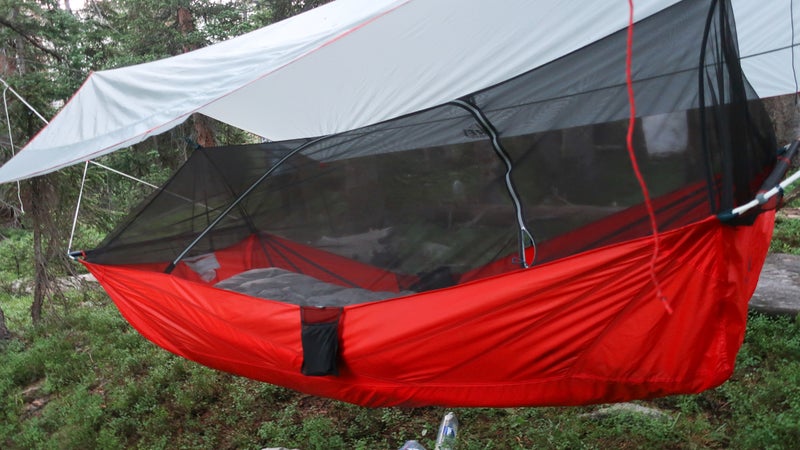 Most backpackers still sleep in tents, but for the eastern woodlands (and for some high-use areas in the West) I'm completely sold on the virtues of hammocks, which are phenomenally comfortable. A hammock allows you to set up camp away from crowded and often rocky established campsites. It's also a nice place to hang out when it's raining.
Backpacking hammock systems are pretty niche, and cottage brands like Warbonnet Outdoors and Hammock Gear dominate the market. But I plan to use a more widely accessible model, the REI Quarter Dome Air hammock, which I used last summer for two weeks in Rocky Mountain National Park.
The Quarter Dome Air is user-friendly, very comfortable, and just $200 (which includes the hammock with suspension and a tarp with guylines). To complete the kit and avoid CBS (a.k.a. "cold-butt syndrome"), add a traditional sleeping pad or the $100 underquilt accessory (recommended). My only criticism is its weight: three pounds eight ounces. To keep the Quarter Dome Air at this price, the company eschewed lighter (and more expensive) fabrics.
This item is currently sold out. 
Sawyer Picaridin Insect Repellent Lotion ($9)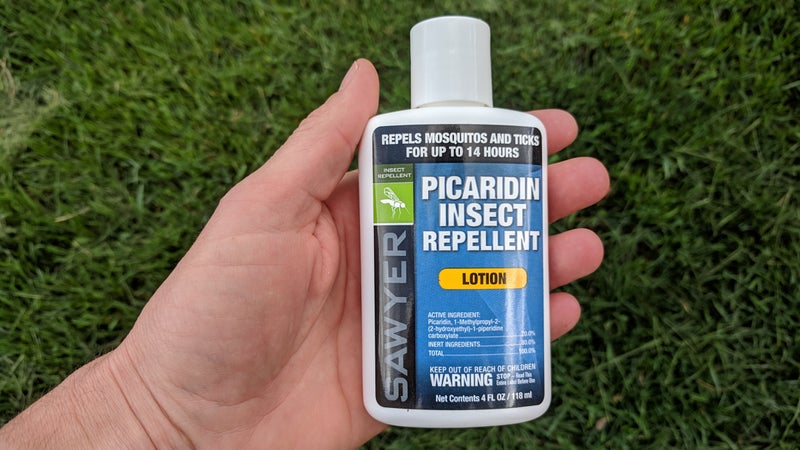 I'm expecting some mosquitoes, but I'm more concerned about ticks—May is prime time for them, and the mid-Atlantic is the epicenter for Lyme disease, according to the Centers for Disease Control and Prevention.
The most effective method to repel ticks is full-coverage clothing treated with permethrin, which may be branded as BugsAway, Insect Blocker, or Insect Shield. I'm going to risk it some with a more customary hiking outfit, consisting of shorts and a T-shirt, but I plan to regularly apply Sawyer Picaridin Insect Repellent lotion to my arms and legs and around (but not directly on) sensitive areas where ticks are most likely to burrow, like my armpits and crotch.
Gore H5 Gore-Tex Shakedry Hooded Jacket ($400)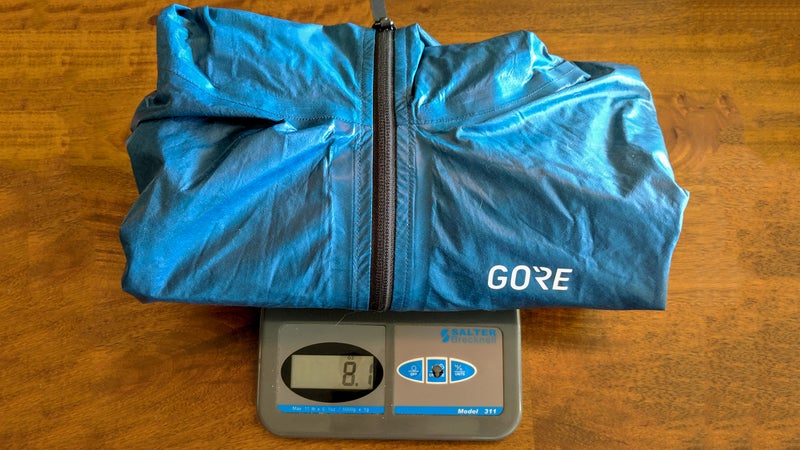 Did I mention it will probably rain? When it does, I'm excited to test the new H5 Hooded jacket from Gore Wear, which is Gore's internal design group, tasked with trying to push the limits of its fabrics.
The H5 is made of Gore-Tex Active fabric, with Shakedry technology. Unlike a conventional waterproof-breathable fabric, where the membrane is in a 2.5- or three-layer sandwich, protected on both sides with face fabrics and/or coatings, the Shakedry membrane is on the outside. Theoretically, this should prevent wetting out (when the face fabric becomes saturated with water and hinders breathability). Conceptually, it's similar to Outdry Extreme from Columbia. I don't yet know how the fabrics compare in their performance.
Shakedry technology has been out for several years, but the original fabric was not sufficiently durable for use with a backpack, at least according to Gore's guidelines. The H5 is made with a heavier fabric that should better withstand abrasion. It's still very light—my size large (which fits more like a medium from most other brands) weighs just 8.2 ounces. It's a minimalist and well-executed design, featuring a hood adjustment, two front pockets, elasticized wrist cuffs, and a waist drawcord with a waist gaiter.
Sleeping Clothes (Stuff Already in the Closet)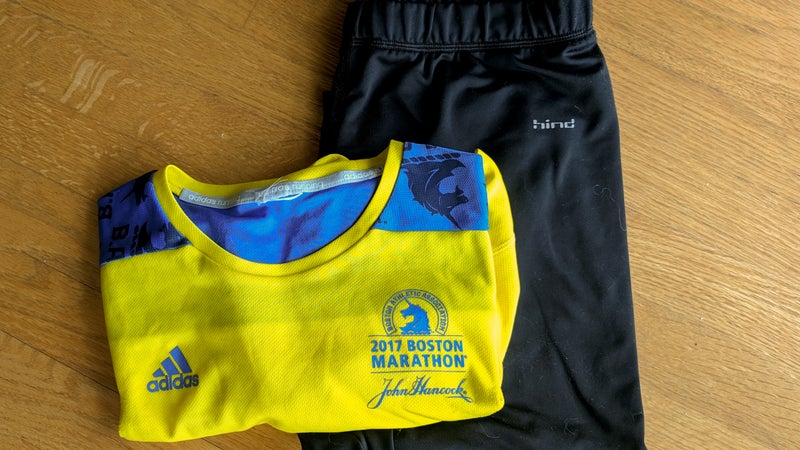 If the forecasted low temperatures are in the forties, as they normally are this time of year, I'll bring a long-sleeved polyester top and some lightweight running tights. The eight-ounce weight penalty will be entirely justified by the enhanced nights of sleeping comfort. These items have no performance threshold—I'll take a top and bottom that I already own, even if they fit poorly, have holes, or are last decade's hot color.
Osprey Aether Pro 70 ($375)
As the guide, my pack is always the largest and heaviest of the group. I carry the first-aid kit and satellite messenger and usually a disproportionate share of the food. Plus, I like having the extra capacity, in case a client needs to be relieved of some weight. (Most clients will start these intro-level three-day trips with only about 20 pounds of gear, food, and water. But if someone is struggling with altitude, fitness, or a travel bug, every pound makes a difference.)
Since last year, I've been using the Osprey Aether Pro as my guide pack. I also used it on a two-night trip with my wife and during an elk-hunting trip in the Colorado Rockies in November. I wouldn't recommend the Aether Pro for normal backpacking trips—it's a little heavy—but it is ideal for larger loads. Weighing about four pounds, the Aether Pro is about 1.5 pounds heavier than sweet-spot backpacks like the Hanchor Marl, Osprey Exos, and Sierra Designs Flex Capacitor. But it offers more volume, more durability, and much more load capacity than lighter packs. This spring in the Aether Pro I've been carrying 50 pounds up the foothills peaks of Boulder, Colorado, and I'm not at its maximum comfort weight.
Lead Photo: Andrew Skurka
Trending on Outside Online