Gear Guy
Appalachian Trail Gear Must-Haves of 7 Thru-Hikers
I tracked them down to find out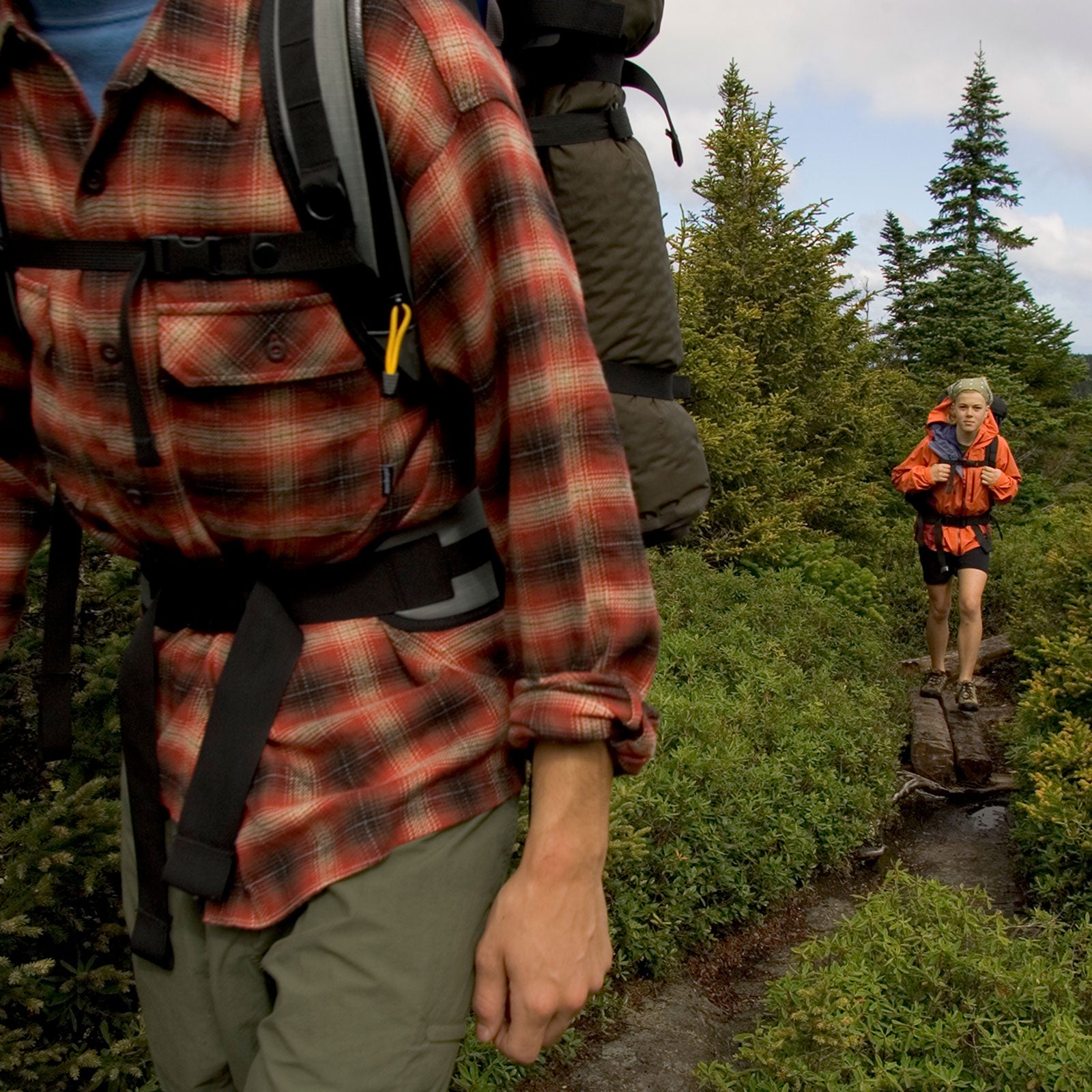 Jose Azel/Aurora(Photo)
Heading out the door? Read this article on the new Outside+ app available now on iOS devices for members! Download the app.
Thru-hikers are my favorite people to interview about backpacking gear. They're not just heading out for a weekend of car camping; what they take with them is their home, protection, and food prep for the months they're on the trail. And the thousands of hours and miles walking through the woods gives them plenty of time to fine-tune their setups. They know what works, what doesn't, and why. So I caught up (virtually, via social media) with seven thru-hikers making their way along the Appalachian Trail to find out what they deem absolutely essential.
Tara Dower
Age: 25
Trail Name: Candy Mama. "She eats candy every single day and worries about everybody," says her husband, Jonathan.
Miles Hiked: 206
Favorite Pieces of Gear: Altra Lone Peak 4 Shoes ($120) with Dirty Girl Gaiters ($23)
"I used to wear traditional hiking boots, but my toes rubbed together, and I lost a lot of toenails," Tara says. "Now I use Altra Lone Peaks. I'm not getting blisters like I used to, because the Altras let your feet spread out and give your toes room to breathe." She then pairs the Lone Peak shoes with Dirty Girl gaiters to keep debris out. "They are really easy, simple, and lightweight," she says. Plus, the gaiters work seamlessly with the shoes, thanks to Altra's integrated hook above the tongue and Velcro patch near the heel.
Lone Peak 4 Shoes Dirty Girl Gaiters
---
Jonathan Dower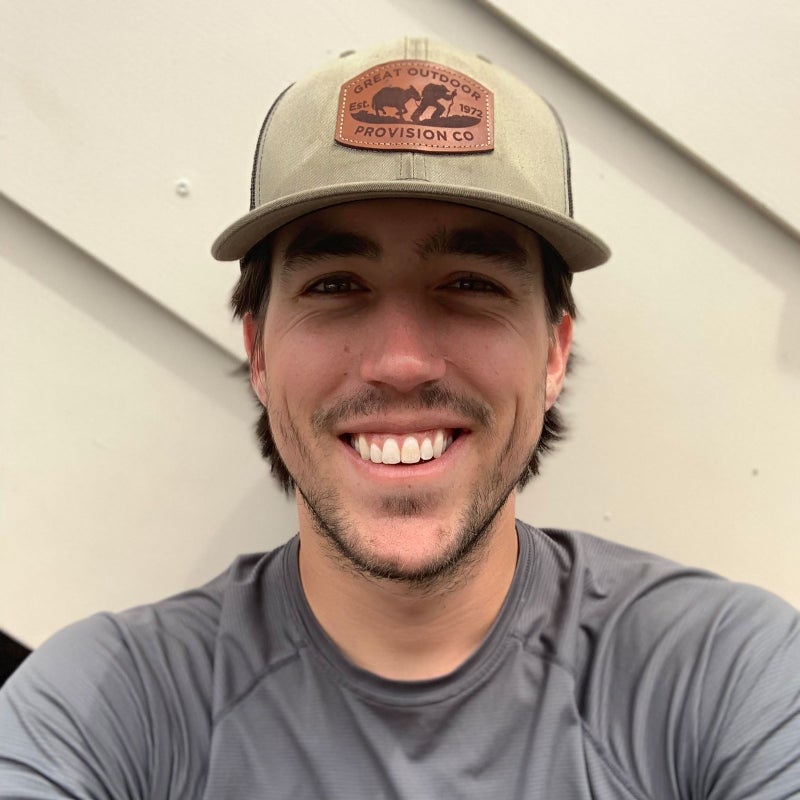 Age: 24
Trail Name: Sheriff. The first time Jonathan and Tara stayed at a cabin with friends in a town along the trail, he played enforcer, making sure everyone paid their fair share.
Miles Hiked: 206
Favorite Piece of Gear: NEMO 2-Person Dagger Tent ($400)
The Dagger earned Jonathan's trust during a brutal night on Bly Gap, in North Carolina. "We were on a ridge in a thunderstorm," he says. "The wind was so strong that the tent was blowing sideways, but all of our stuff stayed dry and our rain fly was intact." The tent is also incredibly easy to pitch. "We keep everything attached when we fold it up, so if we have to set up in the rain, the whole tent is already under the fly," Jonathan says. "We just slide the poles under, pop it up, and the tent never gets rained on."
---
Jillian Ivey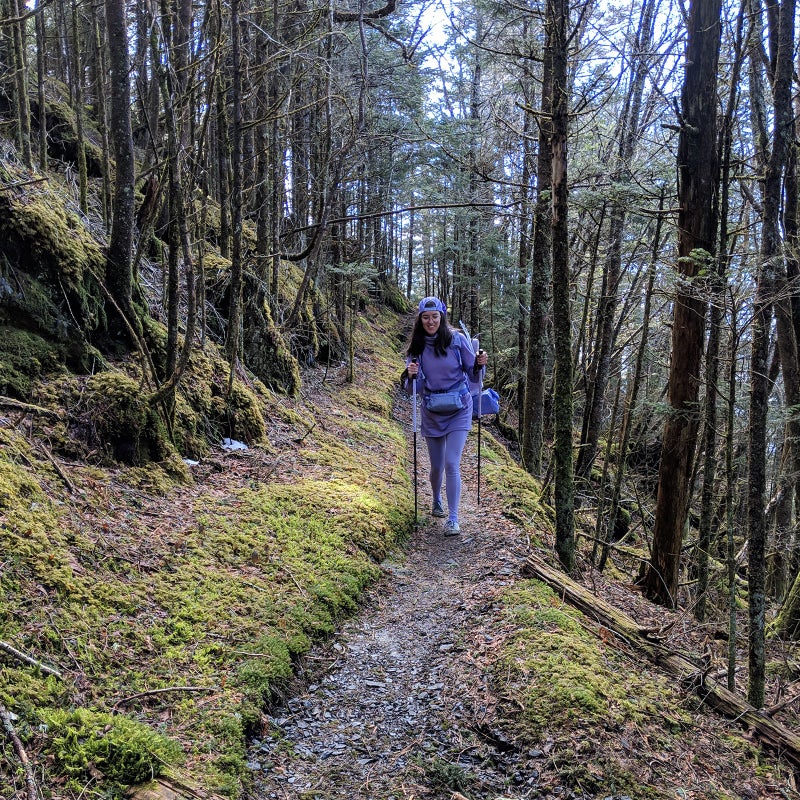 Age: 28
Trail Name: The Purple People (along with her husband, Logan). "All of our gear is lavender. We customized it ourselves with dye or purchased fabric specifically from Ripstop by the Roll or Polartec."
Miles Hiked: 472
Favorite Piece of Gear: Astral Loyak Water Shoes ($85)
"My feet and ankles have been doing way better on this trip than when I hiked the John Muir Trail, and I'm not really wearing hiking shoes, which is funny," Jillian says. "I'm wearing water shoes: the Astral Loyak. They're my favorite at home when I'm doing anything active." She'd been using the Altra Lone Peak, but unlike Tara's experience, that shoe didn't work for her; she had trouble balancing and getting sure footing with the high stack height. Since switching to the more minimalist Loyak, Jillian has been more stable.
---
Logan Ivey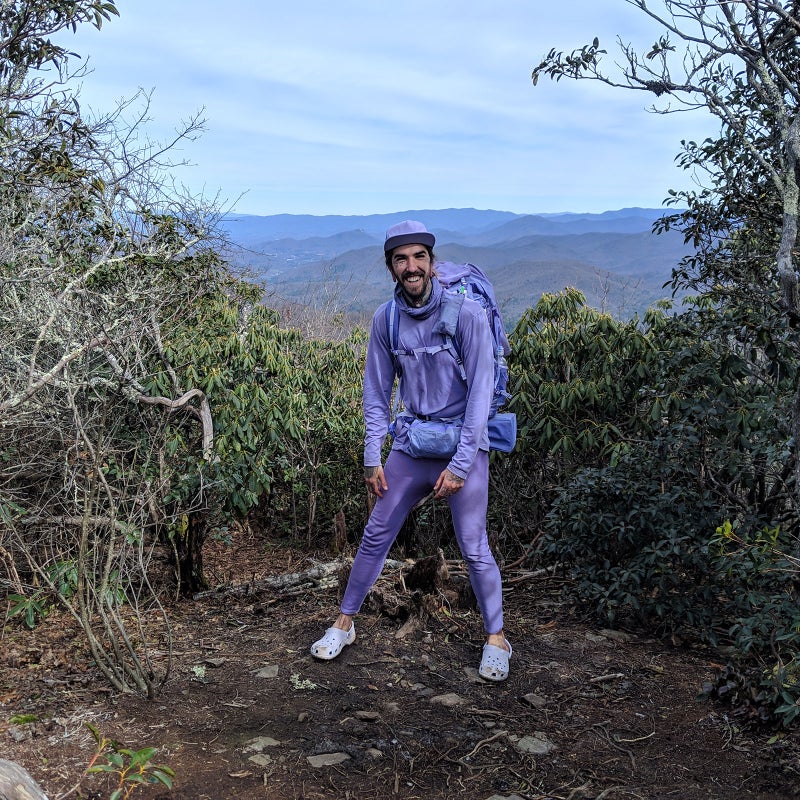 Age: 29
Trail Name: The Purple People 
Miles Hiked: 472
Favorite Piece of Gear: A fanny pack that he made with material from Ripstop by the Roll
"We keep our snacks, money, and everything in our fanny packs," Logan says. "We both wear pretty short running shorts, which don't have pockets." His homemade version can carry a lot—when I spoke with him, Logan had his phone, Body Glide balm, snacks for the day, wallet, hair ties, and a handkerchief in the fanny pack. He sewed one each for him and his wife using Dyneema in their signature lavender color.
---
Abby Sovern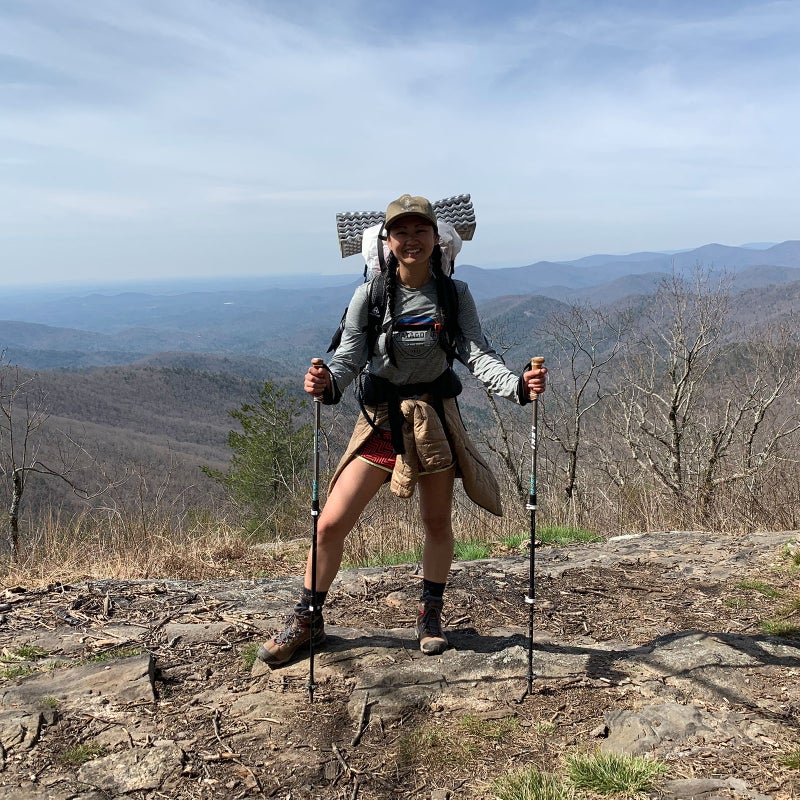 Age: 24
Trail Name: Doesn't have one yet
Miles Hiked: 109
Favorite Piece of Gear: Nike Dri-Fit Running Shorts ($25)
"I brought these as a backup, because I didn't think I would really wear them," Abby says. "I purchased the generic REI pants that are really popular for hiking—the zip-off ones that turn into shorts. But the Nikes are so much lighter and easier to put on." And since many sections of the trail can be stiflingly humid, it often makes more sense to have more breathable shorts. But she's keeping the REI pants with her until she and her husband, Dustin, make it through the Smokies.
---
Dustin Sovern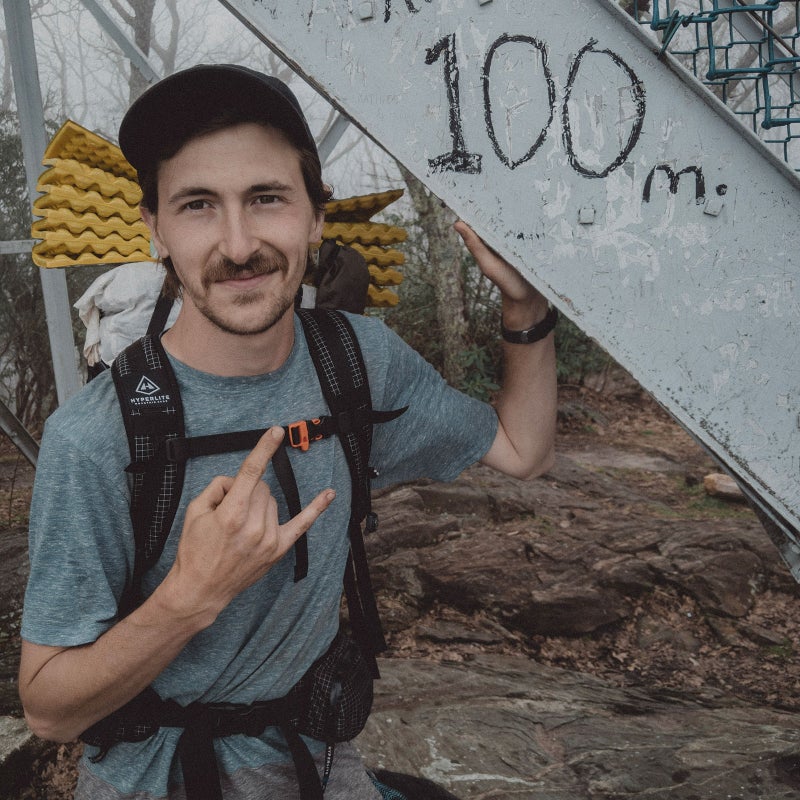 Age: 27
Trail Name: Doesn't have one yet
Miles Hiked: 109
Favorite Piece of Gear: Hyperlite Mountain Gear 3400 Windrider Pack ($345)
"When we started, I had the Gregory Baltoro 65 and Abby had the Gregory Diva," Dustin says. "But they're heavy, and we ended up with a lot of bruises, aches, and pains. After the first four days, we switched to Hyperlite Mountain Gear backpacks." Since then, Dustin says that they're both enjoying the trail more. The bruises on their collarbones, hips, and lower backs quickly disappeared. The Windrider is four pounds lighter than his old Gregory, plus it moves with him better as he's hiking, due to its freeing lack of frame stays. The difference in weight and comfort showed in their daily mileage. "We went from seven to eight miles to up to 17-mile days," Dustin says.
---
Thornton Drury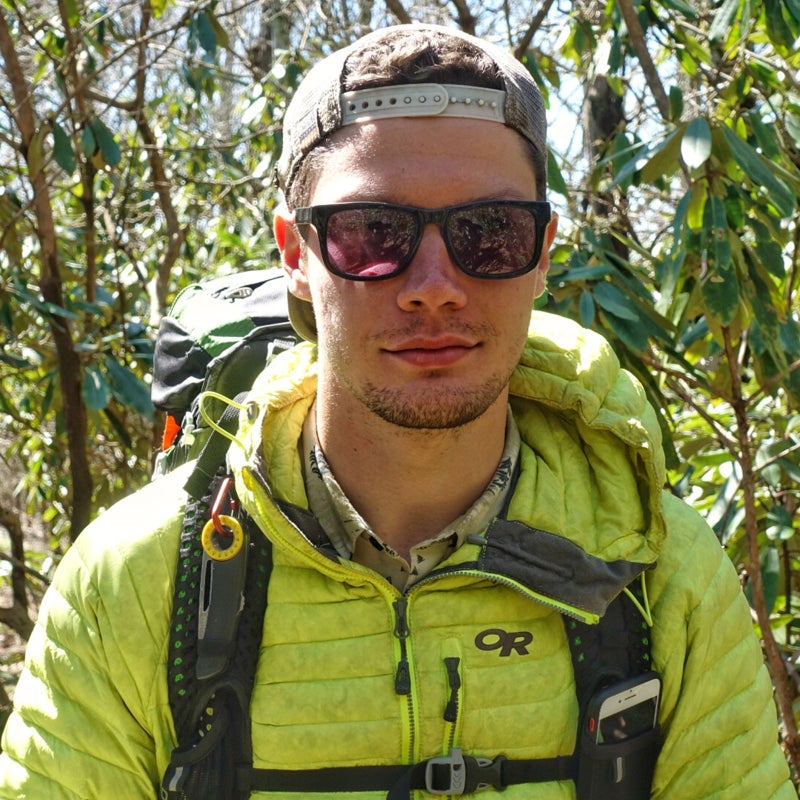 Age: 22
Trail Name: Redline. "One day this guy motioned me over and said, 'Dude, for the past three days, you have passed me on the uphills like five times. You are so focused, you are going so hard, you are just redlining up those hills.' He looked at me and all my red raingear and said, 'That's your trail name!'"
Miles Hiked: 115
Favorite Piece of Gear: Sony RX100 Mark V Camera ($900)
Back home, Thornton works as a music photographer, and he's been shooting two-to-five-minute daily updates as he makes his way along the trail. Since a camera isn't exactly a necessity, "I spent lots of hours and many spreadsheets balancing weight penalty versus functionality versus battery life versus technical specs," Thornton says. "I landed on the Sony RX100 Mark V. It's a powerhouse. It shoots 4K in 100 megabytes per second, which is unheard of, even in a DSLR." For all its chops, the Mark V still fits in the hip pouch of his pack, and its battery lasts a full day.
Lead Photo: Jose Azel/Aurora