2023 Summer Gear Guide
The Best Backpacking Packs of 2023
Our team of testers vetted 20 new rucksacks. These ones came out on top.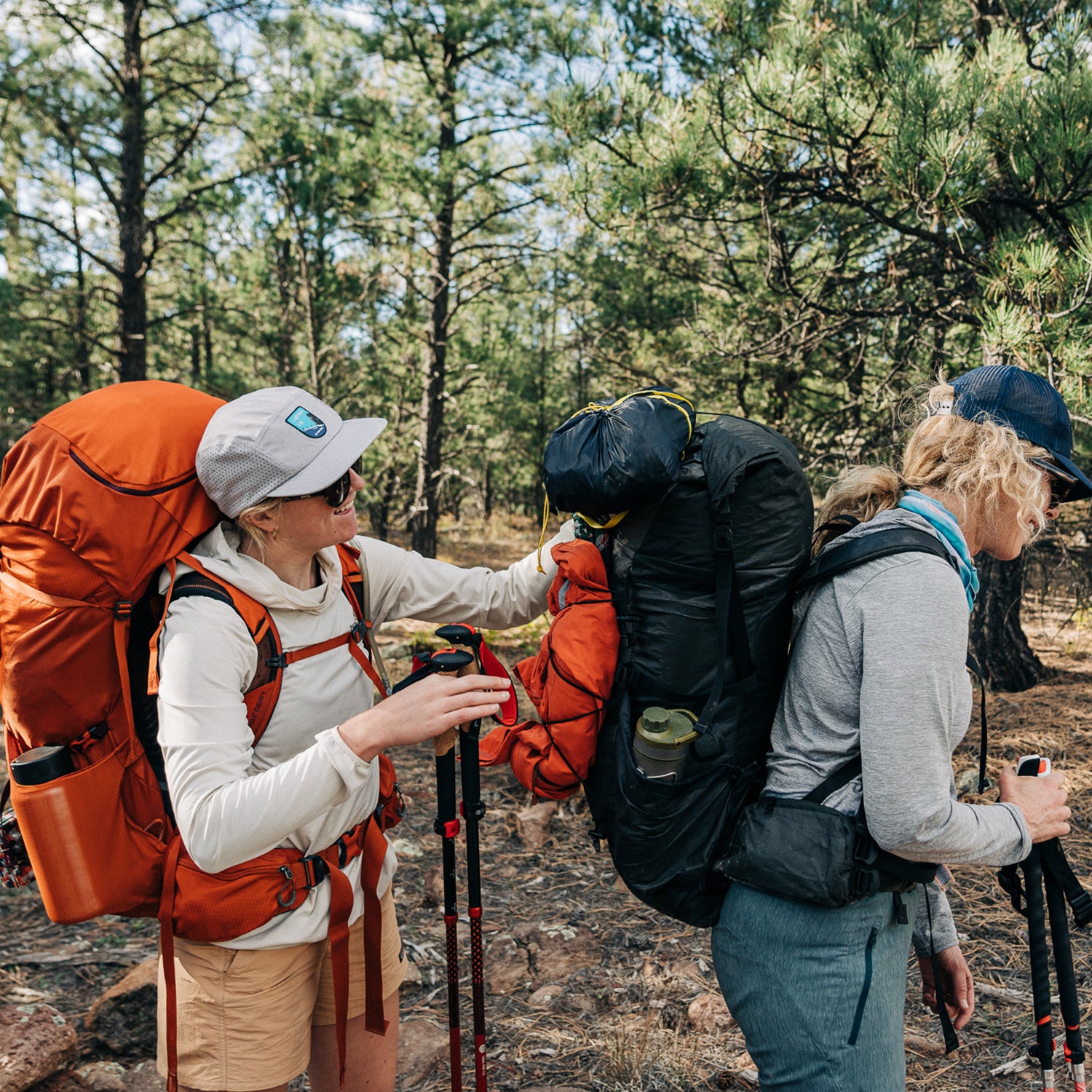 Heading out the door? Read this article on the new Outside+ app available now on iOS devices for members! Download the app.
A solid backpacking pack is the foundational piece of gear for all overnight adventures. Without one, you won't get much further than your driveway. Without a good one, you might not want to leave that driveway ever again. Here are the year's very best haulers, guaranteed to keep you comfortable, pain-free, and stoked even under the heaviest loads.
The Winners at a Glance
Editors' Choice: Osprey Exos/Eja Pro 55L
Lightest: Gossamer Gear Fast Kumo 36L
Best for First-Timers: Gregory Zulu/Jade 43/45L
Best for Long Trails: Outdoor Vitals Shadowlight 45L
Most Weatherproof: ULA Ultra CDT 54L
Best Budget Pick: Decathlon 50+10L MT900 Ultralight / Women's 45+10L MT900 Ultralight
Best for Big Missions: Blue Ice Stache 60L
Most Versatile: ZPacks Arc Haul Ultra 60L
Biggest: Kelty Glendale 85L
How We Test
Total Miles: 2,950
Total Vertical Feet: 394,000
Coldest Temp: 21°F, Antuco, Chile (Kelly McNeil)
Hottest Temp: 115°F, Escalante Canyon, UT (Jeanelle Carpentier)
Highest Elevation: 14,505 feet, Mt. Whitney Summit (Zettie Shapey)
Highest Winds: 40 mph, Chugach State Park, AK (Diane Van Dommelen)
Heaviest Load: 125 pounds, Chugach National Forest, AK (Lang Van Dommelen)
Longest Water Carry: 14 miles, Clearwater Forest, ID (Jim Pierce)
Gnarliest Bushwack: 9.5 miles of alder and devil's club in Alaska's Glacier Creek (Dorn Van Dommelen)
Backpacking packs are among the toughest items to fully test within the course of a season. They're more complex than apparel, they take longer to show their weak spots than boots, and all the bells and whistles can take dozens of miles to evaluate. That means each pack needs two testers and 50 to 100 miles on the trail at a minimum—all in just a four-month span. Every testing season is a madcap race to drive as many packs into the ground as fast as we possibly can.
Samples usually start trickling into the office in July. From then on, it's a game of hot potato: we rush to ship them to our hardest-charging testers—as far as Canada, Alaska, and Peru. When one trip ends, the pack flies back to the post office and into the hands of the next tester.
This year, we evaluated 20 total packs. The ones without technical features, load-bearing hip belts, or suspensions appropriate for their carrying capacity, we eliminated from the test. From there we distributed our candidates to 19 testers across eight states and four countries. Those that broke, tore, or left our testers aching were either re-tested or cut from the running. As for those that lightened loads, kept us moving, or made us forget we were wearing packs at all? You'll find those listed here.
Meet Our Testers
Corey Buhay (@coreybu) started backpacking in college and has been wearing a pack of some kind pretty much ever since. She's a former Backpacker editor and co-author of the hiking guidebook Colorado Rockies and is currently based in Boulder, Colorado. She's been managing the packs category for Backpacker since 2019 and has developed very strong opinions about hipbelt pockets.
Dorn Van Dommelen is the ringleader of a family of gear testers based in Anchorage, Alaska. He's infamous for his ability to put holes in even the most durable packs via rigorous multiday bushwhacks in the Alaskan backcountry. Van Dommelen is currently a professor of geography and anthropology at the University of Alaska, Anchorage.
Zettie Shapey is a gear tester and climate organizer based in Brooklyn. When we need someone to put serious miles on a pack, this is who we call. This summer, Shapey (trail name "Ziploc") hiked the entire 2,650-mile Pacific Crest Trail and brought the Shadowlight 45L along for most of it.
The Reviews: The Best Backpacking Packs of 2023
Editor's Choice: Osprey Exos/Eja Pro 55L ($290)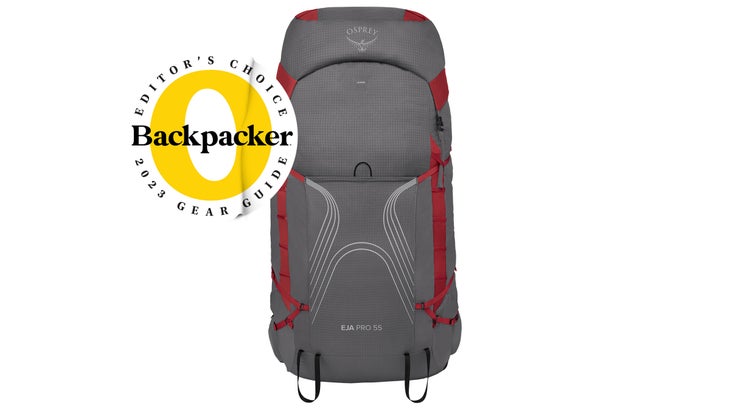 Weight: 2 lbs (men's S/M), 1.9 lbs (women's XS/S)
Size: XS/S and M/L (women's), S/M and L/XL (men's)
Pros: Outstanding comfort, breathability, and durability for a pack this light.
Cons: Load-carrying capacity maxes out around 35 lbs
Looking at this pack's plush hipbelt, tensioned trampoline backpanel, and plentiful pockets, you'd be forgiven for expecting it to weigh twice as much as it does. But that's the magic of the new Exos/Eja Pro: it's more comfortable and durable for its weight than any other pack we've tested in its category. In other words, it's the Holy Grail of backpacking packs.
The Pro is composed of 100-denier ripstop nylon reinforced with a 200- denier ultra-high-molecular-weight polyethylene (UHMWPE)—a stronger-than-steel fiber often used by ultralight cottage brands. The pack's dorsal pocket is woven with that same blend, rather than the usual stretch mesh, further boosting durability. (Its two elasticized hipbelt pouches and deep lateral water-bottle sleeves still use stretch mesh.) Even after a long season spent section-hiking the Colorado trail and brushing through rocky gaps on peak-bagging missions, the material has yet to see a tear.
The Pro's 3.5-millimeter spring-steel perimeter frame is lighter than that of many other packs this size, but was still strong enough to support up to 35 pounds on overnights in the Colorado Rockies. Thanks to plush, EVA-foam padding on the hip fins and shoulder harness, we were able to carry that weight without experiencing any soreness (though loads around 45 pounds did leave us with bruised hip bones). The lighter wire provides better torsional flex, which meant the pack moved with us on rocky scrambles and hairy ridge traverses alike. The frame also provides a scaffold for the taut mesh that lines the backpanel, lending support without inhibiting airflow across the back. "[It's] the most breathable pack I've ever tried," gushed Reid Kalmus, a Colorado-based tester, after a string of 75-degree days in full sun.
Finally, the Pro features a ridiculously user-friendly torso adjustment system: a series of toggles on either side of the backpanel click easily into place with a quick tug, providing four inches of adjustment per pack. That made it easy to find the right fit for both bigger-bodied and thinner testers. "The adjustment system was easy, fast, and intuitive," notes one beanpole tester, who was able to dial in the fit well enough for sway-free scrambling on third-class terrain.
Bottom Line: A fully-featured multi-day pack designed for the ultralight- and lightweight-curious.
Lightest: Gossamer Gear Fast Kumo 36 ($190)
Weight: 1.26 lbs (S/M)
Size: S/M and M/L (unisex)
Pros: Extremely light and easy to organize
Cons: Fiddly buckles and small pockets
Compact, comfortable, and featherlight, the Kumo 36 is a fastpacker's dream. The weight savings come from stripping unnecessary features (like long zippers and excessive pockets) and using high-end materials. The pack body and boot are made from polyurethane-coated 70- and 100-denier Robic nylon, respectively, and the fastenings are all downsized to shave even more weight. We loved the Robic nylon, which emerged tear-proof at the end of the season, but found the small buckles fiddly. In lieu of a frame, the Kumo relies on a removable foam back panel which supports up to 25 pounds (and also doubles as a sit pad).
The Kumo's features are tailored to fastpackers' needs, from the dual-zippered hipbelt pockets, which were each big enough to fit several granola bars, to the wide, vest-style shoulder straps, which spread loads evenly across the upper body. Thru-hiking testers also appreciated the removable hipbelt, trash stash pocket, and D-rings for lashing foam sleeping pads to the top of the pack. The four chest pockets kept snacks, lip balm, a PLB, sunscreen, and smartphone handy, which made it easy to stay moving and log long miles, reports Emily Watson-Cook, a field biologist who used the Kumo for an 118-mile section of the Pacific Northwest Trail this summer. "I also appreciated how compact and maneuverable the pack was during dense bushwhacks in Eastern Washington," she adds, noting the svelte, back-hugging silhouette.
Bottom Line: Ideal for seasoned fast-packers and true minimalists
Best for First-Timers: Gregory Zulu/Jade 43/45L ($200)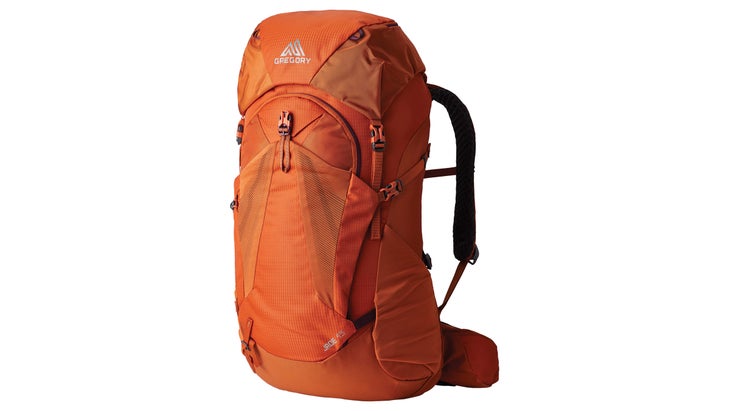 Weight: 3.68 lbs (men's S/M), 3.37 lbs (women's S/M)
Size: S/M and M/L (men's), XS/S and S/M (women's)
Pros: Great organization and load-carrying capacity at a reasonable price
Cons: It's on the heavier side for its volume
If we had to recommend a first backpacking pack from this year's crop, it would be the Zulu/Jade. It's unfussy and user-friendly, while providing all the features and capacity a new backpacker needs for their first overnights and weekend trips. The pack's three entry points make it easy to load in a hurry, and the three exterior pockets are perfect for stuffing tent poles and layers. The capacious main compartment swallows sleeping gear, cookware, and a bear canister—more than we thought possible for a pack of this volume.
Fortunately, the Zulu/Jade's robust suspension provides a little extra wiggle room for overpackers: it can handle up to 40 pounds of gear without straining. A thick, 4-millimeter steel-alloy perimeter frame provides enough vertical rigidity to transfer those loads to the hipbelt, where a cushy lumbar pad and seamless, wrap-around hip wings spread the weight across the pelvis. "It only seemed to get more comfortable with more weight," reports Alaska-based tester Diane Van Dommelen, who stuffed her Jade with 30 pounds during a drizzly 12-miler in the Talkeetna Mountains this summer. Her gear stayed dry, thanks to its DWR coating, and safe: the 420-denier nylon and 400-denier recycled polyester emerged with nary a scratch.
Bottom Line: A perfect bag for entry-level backpackers and weekend warriors alike
Best for Long Trails: Outdoor Vitals Shadowlight Ultralight Backpack 45L ($200)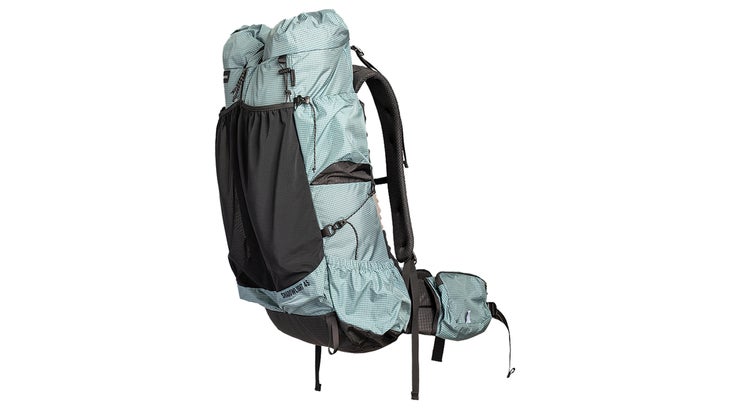 Weight: 1.87 lbs (regular)
Size: short, regular, and tall (unisex)
Pros: All the support of an internal-frame pack at the weight of a frameless
Cons: Fussy pockets and a 35-pound load limit
More supportive and fully featured than many ultralight packs of this volume, the Shadowlight 45 is an ideal pick for thru-hikers who don't want to sacrifice too much comfort by making the leap to a frameless pack. We sent one on a six-month journey with Pacific Crest Trail thru-hiker Zettie Shapey, who was able to fill the main packbag with 35 pounds of gear—including a bear canister—thanks to the vertical aluminum-alloy stay and a stiff foam backpanel. (She notes that this is the pack's upper limit; at around 40 pounds, she experienced some upper-back soreness.) Testers also loved the Shadowlight's capacious hipbelt pockets and bottle pockets, which let us access our snacks, water, and sunscreen without stopping. The two large, stretchy dorsal pockets—which had small tears by the end of Shapey's six-month journey—were easily bypassed when setting up camp, thanks to a full vertical zipper that opened the pack's main compartment. Despite extended bushwhacking, the pack's Robic nylon material—100-denier reinforced with 200-denier UHMWPE on the body and 210/400-denier at the base—suffered no damage.
Bottom Line: A strong contender for thru-hikers looking to minimize both weight and cost
Most Weatherproof: ULA Ultra CDT ($280)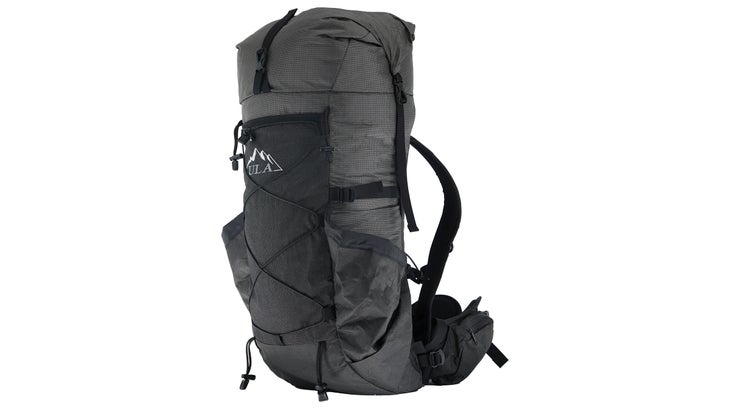 Weight: 1.75 lbs (M torso, M hipbelt)
Size: S-XL torso and XS-XXL hipbelt (unisex)
Pros: Lightweight, durable, nearly waterproof
Cons: Suspension is a little skimpy
Think ultralight packs are flimsy? The Ultra CDT puts that myth to bed. Though the pack weighs in sub-two pounds, its 200- and 400-denier Ultra fabric (an ultra-high-molecular-weight polyethylene, similar to Dyneema) neatly survived a season of scrapes with willows, pine branches, and granite ridgelines. "I would hear those ominous abrasion sounds when I was squeezing through gaps in the rock, but no holes," reports gear tester and thru-hiker Robin Mino after a season of hiking in Rocky Mountain National Park. The pack also suffered no leaks: thanks to a waterproof RUV laminate on the Ultra fabric, Mino's gear stayed dry even during full-on downpours. When the sun came out, she was able to utilize the pack's dorsal stretch pocket to stash her wet tent fly without worrying about it soaking the rest of the gear.
Other organizational features were equally thoughtful. The removable hipbelt sports generous twin pockets: one fits a day's worth of snacks, while the other fits bug spray, lip balm, and sunscreen (and, with a little wriggling, an iPhone 11). As for load-carrying capacity, the Ultra CDT performed about average for a frameless pack; Mino was able to pack 25 pounds (including a small bear canister) for long weekends. At that weight, though, she found herself wishing for load-lifters, available from ULA for an additional $50 by custom request.
Bottom Line: Ideal for light-and-fast backpacking trips in rainy or off-trail zones
Best Budget Pick: Decathlon Forclaz MT900 UL 45+10/50+10 ($180)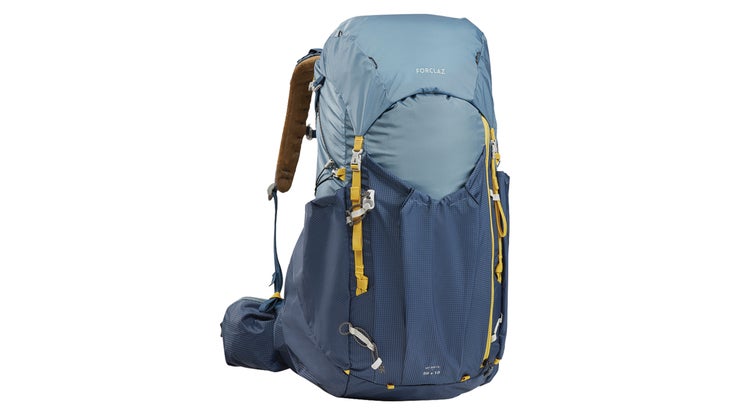 Weight: 2.87 lbs (men's), 2.87 lbs (women's)
Size: one size (men's), one size (women's)
Pros: Unbeatable price and well-rounded feature set
Cons: Unwieldy shape and substandard durability
This one won't break your budget or your back: at under three pounds, it's one of the lightest packs we tested in this price category, and it can hold its own on the trail, too. Thanks to a rectangular perimeter frame and broad, lightly-padded hipbelt wings, Alaska-based cartographer Puck Van Dommelen was able to carry 30 pounds—pretty standard for lightweight packs—over multiday trips in Chugach State Park without any soreness.
The MT900's pear-shaped silhouette makes it difficult to fit an Ursack and impossible to fit a bear canister, but its other organizational features won us over. Each roomy water-bottle pocket fits a Nalgene, and a durable fabric dorsal pocket accommodated our rain layers with ease. It's also one of the few packs in the test that comes with a built-in rain cover. While the MT900's 100- and 210-denier ripstop polyamide fabrics stood up to several days of casual hiking in Alaska, they were no match for the deep backcountry: On a bushwhack in Prince William Sound, alder and old-growth hemlock managed to tear a few small holes in the pack's exterior. But hey—for a pack this inexpensive, avoiding heavy bushwhacking is a sacrifice we're willing to make.
Bottom Line: A budget-friendly pick for longer trips that won't involve too much wear and tear
Best for Big Missions: Blue Ice Stache 60L ($260)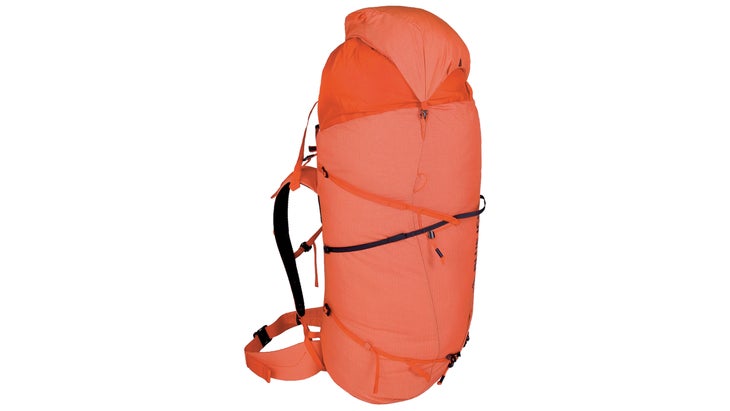 Weight: 1.81 lbs
Size: one size (unisex)
Pros: Light, low-profile, mountaineering-ready
Cons: Prone to abrasion, only comes in one size
Designed for 8,000-meter peaks, the Stache 60 quickly became the darling for our mountaineering testers this season. The pack's external features were made for the alpine: dual ice-axe toggles, helmet-holder loops, and compression straps that accommodate an A-frame ski carry. The internal layout, however, is refreshingly simple. The main compartment is big enough to swallow overnight gear, and the reservoir pouch fits either a three-liter bladder or oxygen bottles for high-altitude pursuits. The small toplid fits snacks, a hat, and gloves. Lightly padded hip fins transfer weight without getting in the way of a harness or impeding motion, even on exposed, fourth-class scrambles. Some testers missed having hip pockets, but most appreciated the low-profile waist belt.
The other benefit of the straightforward layout is that it ensures a tight, bullet-shaped silhouette, which hugs the spine and eliminates sway. "I was surprisingly comfortable while moving and scrambling with 45 pounds on board," reports Seattle-based mountaineer Mickey Silger. (Thank the three-millimeter spring-steel perimeter frame, which provides just enough support for those kinds of loads without adding too much weight.) More of a minimalist? The frame and toplid are both removable, which let us shave the pack to a stunning one pound, five ounces for more weight-conscious objectives. The only ding: the pack's light weight comes at the expense of durability; at the end of the season, we found a few small nicks in the 210-denier ripstop UHMWPE fabric on the base of the pack after some boulderfield spills and butt scooches.
Bottom Line: A streamlined choice for overnight trips in technical terrain
Most Versatile: Zpacks Arc Haul Ultra 60L ($400)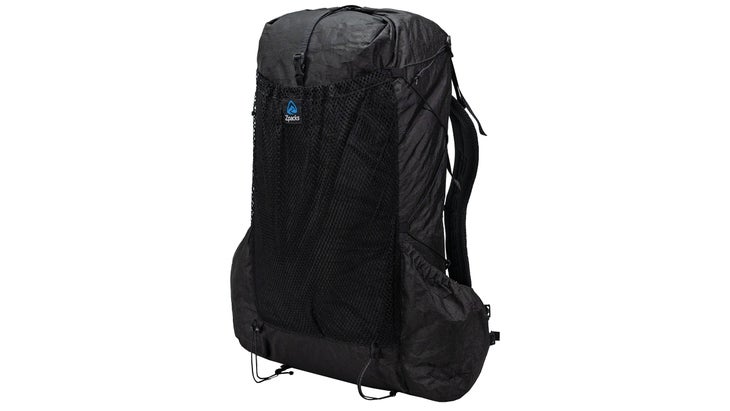 Weight: 1.3 lbs (M torso and M hipbelt)
Size: S-L torso and XS-XL hipbelt (unisex)
Pros: Light weight, decent breathability, and customizable features
Cons: Price
Whether you need to climb a mountain or ski a couloir, hop on an airplane or hit the trail, the Arc Haul Ultra has the customizable features to match the challenge. The hipbelt and shoulder strap pockets are removable (as is the hipbelt itself), which let testers strip it down for technical mountaineering or beef up the organization for more traditional hikes. Hipbelt and chest pockets (sold separately) are easy to add, and both the backpanel and frame are removable if you need to roll the pack into a suitcase for adventure travel.
The minimalist layout—basically a single huge compartment—made it easy to fit a wide range of gear, from bulky layers to climbing equipment to a full-size bear canister. Adventure traveler and guide Kelly McNeil loaded the Arc Haul Ultra up for mountaineering trips to Chile and Argentina this summer, and found the pack's carbon-fiber stays (also removable) were rigid enough to provide weight transfer to the hips under 40-pound loads. The stays are also curved to arch away from the back, permitting more airflow than other ultralight packs we tested. The other good news: our sample withstood all its international travels without so much as a scratch to the 100- and 200-denier UHMWPE. "I put that pack through the wringer and it still looks like new," says McNeil. Biggest bummer: price.
Bottom Line: Our pick for adventure travelers with big mountain plans
Biggest: Kelty Glendale 85L ($260)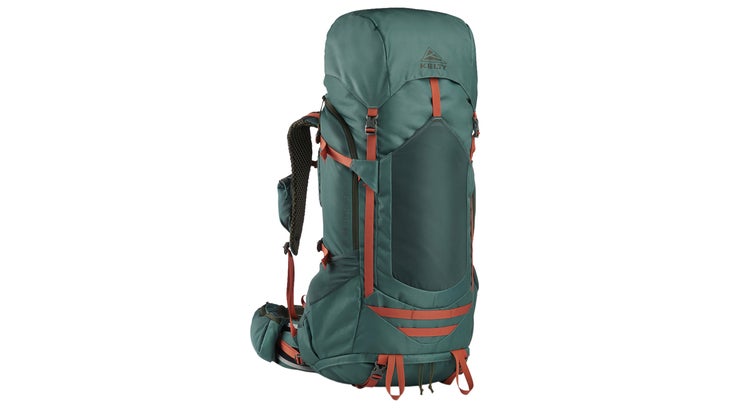 Weight: 5.25 lbs
Size: one size (unisex)
Pros: Great load-carrying capacity, breathability, and cushioning
Cons: Only comes in one size and gender
Equal parts brain and brawn, the Glendale 85L has the load-carrying chops to support your heaviest cargo—and a smart layout to keep you organized no matter how much you pack. A J-shaped zip on the main packbag provided quick access to food and layers, and bottom zipper access made setting up camp a breeze. Two enormous hipbelt pockets each fit a smartphone and several snacks, and twin mesh shoulder-strap pockets fit water, sunscreen, and lip balm. Plus, we loved the zippered side pocket for tent poles and other camp gear.
A burly, 5-millimeter, lightbulb-shaped spring-steel frame (supported by a cross-stay just behind the scapulae) stabilizes the top and middle of the load while transferring the force to the center of the lumbar spine. With it, guide testers were able to hump 60-pound loads over the Continental Divide without issue. "Even when I had the pack completely packed to the gills, it still felt balanced," says Arizona-based trekking guide Samantha Cooke. That meant she was able to move quickly and spot her clients on sections of loose, exposed terrain without worrying about her own pack sway.
The Glendale's 300- and 600-denier polyester canvas also exceeded expectations on off-trail descents: "I got it snagged on branches and scraped across rocks in Colorado's East Inlet Valley, but the pack held up great," Cooke reports. Final gold star: the slight curve to the Glendale's foam back panel permitted significant airflow, which earned it high marks for breathability. Testers never found themselves swamped out, even when putting down big vertical in full sun. One caveat: the pack only comes in a single size, though it adjusts to fit 17- to 21-inch torsos and 30- to 56-inch waists.
Bottom Line: The best choice for guides, heroic parents, and expedition leaders
How to Buy a Backpacking Pack
Pay no mind to the bells and whistles: here are the features that actually matter.
Capacity
Your first step is to figure out how much capacity (usually measured in liters) you'll actually need. Target 45 to 50 liters for two-to three-day trips and 55 to 60 liters for half-week excursions. For a week or more, bring out the big guns: at least 65 liters.
Suspension
Next, ensure your pack can handle your expected load. If you're new to backpacking, look for a wide, well-padded hip belt and an internal frame, which adds support and stability. Frameless packs come with a learning curve, so it's usually best to save the minimalist designs for later in your backpacking career.
Fit
Before you buy, try on as many packs as possible. If you don't know your size, get a professional fitting at your local gear shop first. Then, load each pack with your maximum expected weight (many local gear shops have sandbags on hand for just this purpose) and carry it around the store. The hip fins should wrap your iliac crests, and you should feel the load settling around your pelvis—not against your shoulders.
Features
Make sure the pack has pockets that match your hydration method of choice—whether that's a water reservoir or bottles. It should have a place to stuff layers quickly when you're on the go, and a system for easy snack access while hiking. That said, it's hard to tell what pockets, straps, and toggles you'll love—or hate—until you've used a pack for a while. If you can, rent or borrow a few to get a feel for your needs before you pull the trigger.
When it's time to upgrade your gear, don't let the old stuff go to waste–donate it for a good cause and divert it from the landfill. our partner, Gear Fix, will repair and resell your stuff for free! Just box up your retired items, print a free shipping label, and send them off. We'll donate 100 percent of the proceeds to The Outdoorist Oath.
Lead Photo: Evan Green