2023 Summer Gear Guide
The Best Day Packs of 2023
15 testers tried 12 of the season's top packs. These rose above the rest.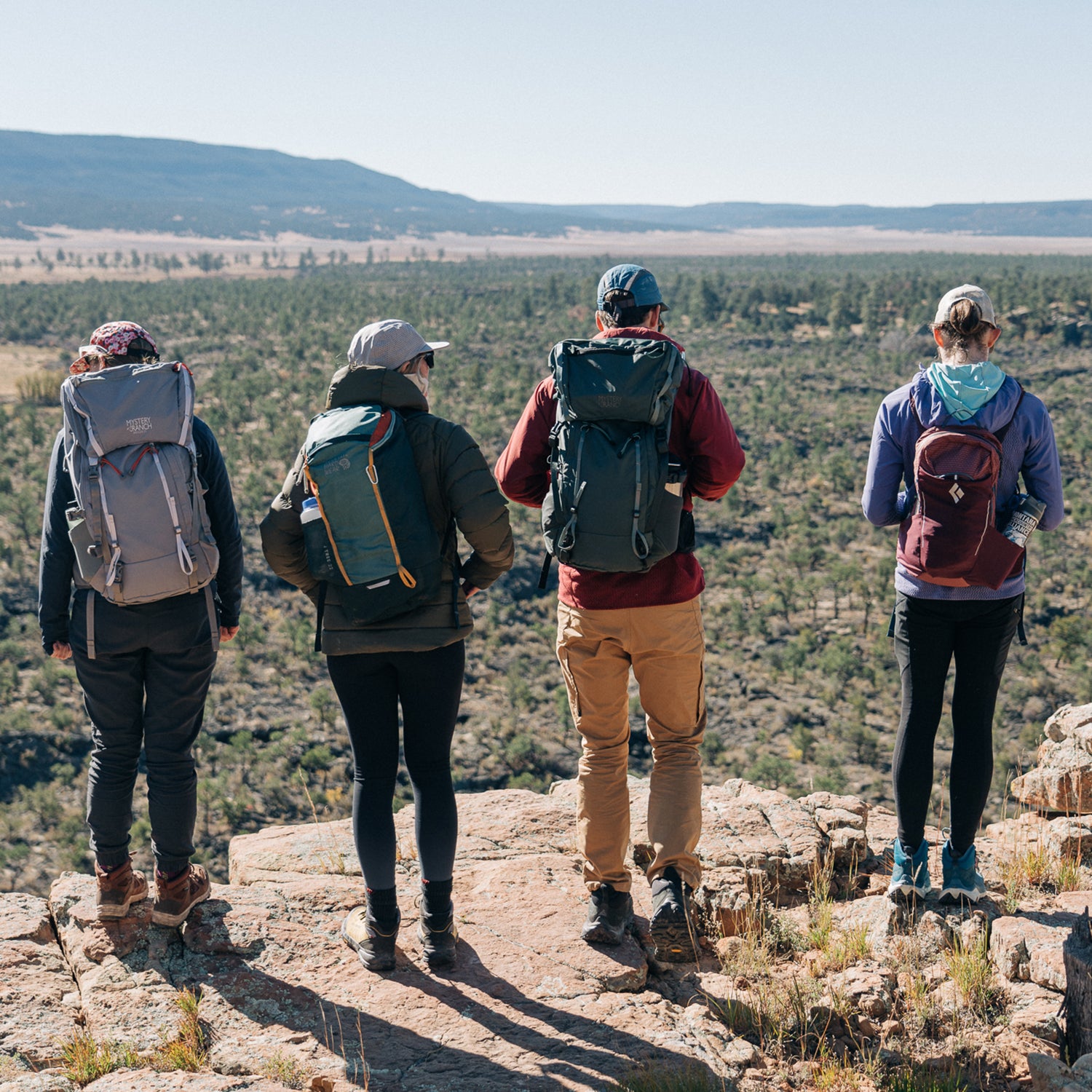 Heading out the door? Read this article on the new Outside+ app available now on iOS devices for members! Download the app.
From mountaintop quests to treks around the block, your day pack is your constant companion. Still, few of us are as discerning as we should be when it comes to choosing something we spend so much time with. This season, don't settle. Choose one of these top-notch haulers instead.
The Winners at a Glance
Best Organization: Rab Veil 6L
Most Comfortable Carry: Black Diamond Pursuit 15
Best Plus-Size Pack: Gregory Miko/Maya 20 Plus Size
Best Summit Pack: Montane Trailblazer LT 20
Most Durable: Fjällräven Kajka 35
Best All-Around: Mystery Ranch Bridger 35
How We Test
Products Tested: 12
Total Testers: 15
Total Vertical Feet: 97,800
Total Miles: 447
Coldest Temp: 32°F, Grotto Mountain, Canmore, Canada (Ella Nuttelman)
Hottest Temp: 100°F, New River Gorge State Park, WV (Ashley Manning)
Highest Elevation: 13,528 feet, Kings Peak, UT (Mark Maleski)
Highest Wind: 50 mph, Kesugi Ridge, AK (Ella Nuttelman)
Heaviest Load: 40 lbs, Kings Peak, UT (Mark Maleski)
Our testing process starts with sorting through all the flimsy bags, lifestyle packs, and adventure travel luggage to find the true gems: outdoor-minded packs with serious load-carrying chops, durable materials, and the thoughtful organizational features adventurers need. This year, we winnowed our list from about 30 to just 12 contenders, then shipped those out to 15 testers across five countries and seven states. Packs that ended the season with busted back panels or gaping holes got the axe. Those that helped us tackle our summer bucket lists in style made the cut. Meet the best day packs of 2023.
Meet Our Testers
Corey Buhay started backpacking in college and has been wearing a pack of some kind pretty much ever since. She's a former Backpacker editor and co-author of the hiking guidebook Colorado Rockies and is currently based in Boulder, Colorado. She's been managing the packs category for Backpacker since 2019, and has developed very strong opinions about hipbelt pockets.
Elisabeth Kwak-Hefferan is Backpacker's women's shells category manager. She's been testing gear for more than a decade and knows more about high-tech materials and waterproofing technologies than most folks in the industry. She's currently based in Missoula, Montana where she conducts most of her testing with her two kids in tow.
Bradley Allf is a science writer, naturalist, and PhD student at North Carolina State University. Gear-testing claim to fame: he once put a waterproof daypack to the test by strapping it on and swimming up a creek. When he's not in school, you can find Allf scouring the North Carolina woods for snakes, trail-running, or busting out long backpacking loops in the Appalachians.
The Reviews: The Best Day Packs of 2023
Best Organization: Rab Veil 6L ($165)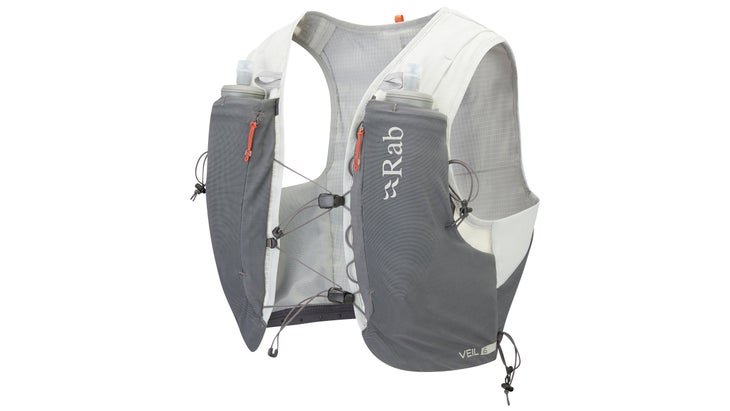 Weight: 8 oz. (M)
Size: S-L (unisex)
Pros: Tons of pockets and wide, supportive shoulder straps
Cons: No women's fit, below-average breathability
It's not often gear samples get nicknames. But after six months of wearing the Veil 6 for everything from day hiking to wildlife monitoring to adventure travel, our testers started referring to it as simply "The Adventure Vest." The moniker couldn't be more accurate: with six pockets on the chest harness and four larger pouches spread across the back and sides of the pack, it could easily fit sunglasses, a headlamp, phone, beer cans, climbing shoes, snacks, water, and raingear. In other words, the Adventure Vest kept us prepared for anything the weekend could throw at us. Credit that outsized capacity to the pockets' springy (but surprisingly strong) stretch mesh, which allowed the pack to swell to 10 liters of volume. The main chassis is made of a similar, albeit sturdier, ripstop mesh that's cut on a bias to both reduce vertical stretch and maximize lateral stretch. As a result, we never had to worry about sagging—even when the pack was stuffed with 12 pounds of gear—and never felt restricted by the contoured fit. "I used the Veil for a week of hiking and trail-running in southern Iceland. Even when I was charging up hills or flying down hairpin turns, I forgot I was wearing it," says category manager Corey Buhay, crediting the wide shoulder straps and body-hugging fit for the sway-free support. The only ding pertained to the pack's breathability: "My back definitely got sweaty on long hikes," Buhay said.
Bottom Line: Perfect for fast-moving hikers who want to be able to access all their gear without ever having to take their pack off.
Most Comfortable Carry: Black Diamond Pursuit 15 ($150)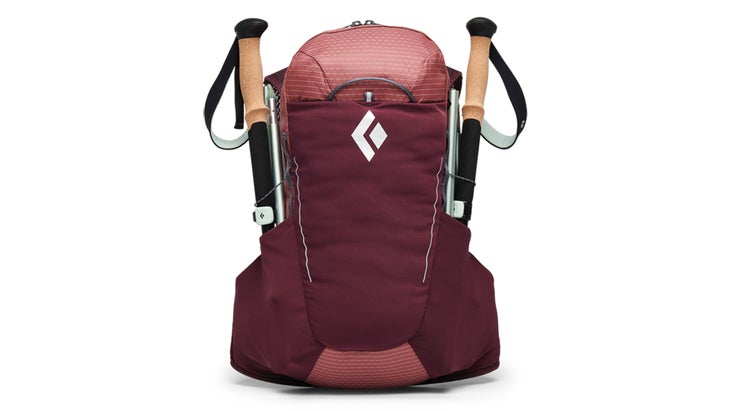 Weight: 1 lb. 8 oz. (men's M), 1 lb. 8 oz. (women's M)
Size: S-L (men's), S-L (women's)
Pros: Sway-free carry, good organization
Cons: Loose side pockets, sub-par breathability
To put it simply: this is the most stable, secure 15-liter daypack we've ever tested. Outside's shell category manager, Elisabeth Kwak-Hefferan, loaded her Pursuit with 15 pounds of gear for a summit hike up Montana's Mt. Sentinel and experienced zero stiffness or sway. "Sticks like glue to my lumbar spine and follows my every move," she gushed. Thank the dual sternum straps—a common feature on running vests but rare on day packs—as well as the broad shoulder straps and hipbelt. Both of the latter connect seamlessly to the backpanel and provide a continuous wrap around the body. This system also pulls the stiff, PE framesheet tight to the spine, keeping loads vertically stacked and maximizing transfer to the hips. The only downside to the backpanel's close-to-body fit was its substandard breathability; testers found themselves swamped out in temps higher than 80 degrees. Still, the great organization more than made up for it. Four shoulder-strap pockets meant testers could keep snacks and bear spray close at hand while on the move—a feature Kwak-Hefferan appreciated during longer hikes in the Montana backcountry. (Although the lateral pockets are a little loose; slender bottles are prone to falling out.) We also appreciated the light-but-strong 140-denier nylon/150-denier polyester blend, which survived a season of scuffs in both Montana and New Mexico.
Bottom Line: A very stable and feature-rich daypack.
Best Plus-Size Pack: Gregory Miko/Maya 20 Plus Size ($130)
Weight: 2 lbs. 3 oz. (women's), 2 lbs. 4 oz. (men's)
Size: one size (men's), one size (women's)
Pros: Inclusive fit, decent breathability, good load-carrying capacity
Cons: Some testers found its narrow shape hard to pack
Plenty of packs come with extended hipbelts, but few are built from the ground-up with bigger bodies in mind. Enter the Miko/Maya 20. Designed specifically for plus-size hikers, the Miko/Maya features wider angles on the shoulder harness, adjusted buckle locations for easier access, and pulled-forward hipbelt fins. The result is a secure wrap, even on wider hips, and pockets that remain easily accessible no matter your body shape. The improved fit maximizes not just comfort but load transfer: West Virginia hiker Ashley Manning was able to take a 20-pound load for two mile out-and-back on the Old Kaymoor Miners Trail in New River Gorge National Park and experienced zero chafing, rubbing, or sway. Credit goes to the multi-density foam backpanel, which provides enough rigidity to stabilize heavier loads without barreling or buckling. Mesh-wrapped channels in the foam kept the Miko/Maya breathable, even in 80-degree West Virginia humidity. We had no complaints about durability: a 210-denier high-density nylon lines the pack bottom, and a water-repellant 100-denier version comprises the main pack bag. Over the course of the summer, Manning hiked just about every trail in the New River Gorge—including some with mandatory bushwhacks and butt-slides. And yet, no holes. "It still looks almost brand-new," she reports.
Bottom Line: A supportive, well-organized bag designed specifically for bigger bodies
Best Summit Pack: Montane Trailblazer LT 20 ($139)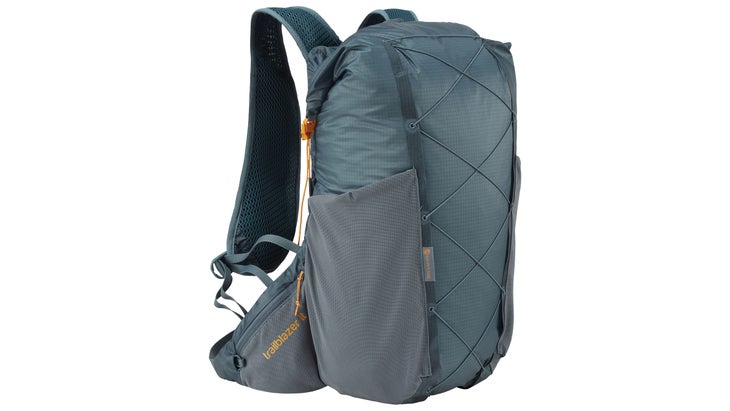 Weight: 11 oz.
Size: one size (unisex)
Pros: Lightweight, great organization
Cons: Fiddly buckles, sub-standard abrasion-resistance
The Trailblazer LT is one of the lightest 20L packs we've seen. And unlike a lot of ultralight summit packs, it's bursting with organizational options, making it the perfect companion for both side trips from basecamp and standalone quick-hit missions. Trail runner and new mom Ella Nuttelman was able to fit snacks and sunscreen in the zippered vest-style pockets (each of which will hold a 500-liter soft flask) and bear spray and extra water in the side pockets. Her max weight clocked in just under 10 pounds (average for most fast-paced day outings), and she found the broad shoulder harness and air-mesh hipbelt were more than enough to disperse and stabilize the load, even while tiptoeing across the Yukon's exposed Angelcomb Ridge. Between that outing and several others across Canada and Alaska this season, the Trailblazer has seen a fair bit of the north, with few scuffs to show for it. That could be due to its strategic use of materials: the main pack body sports a light-but-strong 40-denier silnylon. A proprietary polyester mesh on the shoulder straps and back panel helped promote breathability even on humid 70 degree days in Canmore, Alberta. One ding: though lightweight, the Trailblazer's tiny buckles are tough to operate with gloves on.
Bottom Line: A great grab-and-go pack for peak-bagging trips and side missions
Most Durable: Fjällräven Kajka 35 ($275)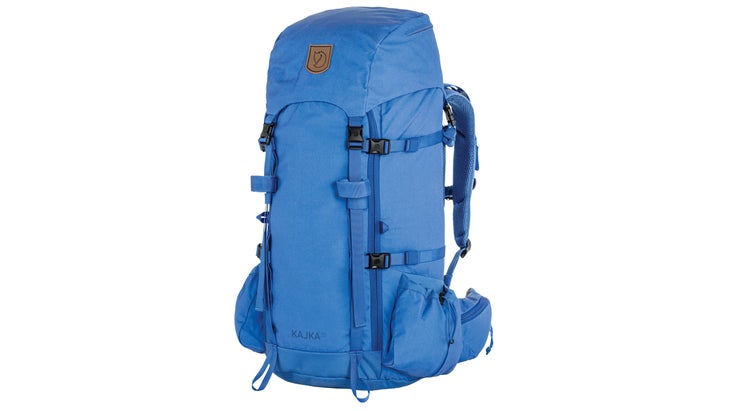 Weight: 4 lbs. 12 oz. (S/M)
Size: S/M and M/L (unisex)
Pros: Top-notch durability, eco-friendly materials
Cons: Weight, poor waterproofing, sub-par breathability
The Kajka 35's plentiful pockets, rugged practicality, and timeless look led one tester to compare it to a pair of cargo shorts. And he's not wrong (except maybe about the timeless look). The pack sports three toplid pockets, a single hipbelt pocket, and two water bottle pockets. Because all are made of Vinylon F—Fjällräven's signature burly synthetic canvas—we never had to worry about ripped or overstretched pockets. "I dragged this thing through a whole mess of greenbriars coming down Shortoff Mountain, and there are no visible tears," says PhD student Bradley Allf, who used the Kajka 35 to backpack the 30-mile Grand Loop through North Carolina's Linville Gorge. His load clocked in at 25 pounds, a testament to the frame's strong-but-flexible birch-wood stays. (They connect to the hipbelt just behind the ilia for a wider, more stable suspension than you'll find on many other daypacks.) While we loved the durability of the thick canvas, it did have its downsides: it adds weight, and it's pretty absorbent. The fabric wets out quickly, even with its included rain cover, and though the mesh-wrapped foam on the backpanel and shoulder straps provided plenty of cushioning, it wasn't breathable. "Maybe not a pack for the Southeast," Allf notes.
Bottom Line: A burly bag for bushwhackers, four-season adventurers, and anyone who never wants to have to buy a replacement pack.
Best All-Around: Mystery Ranch Bridger 35 ($289)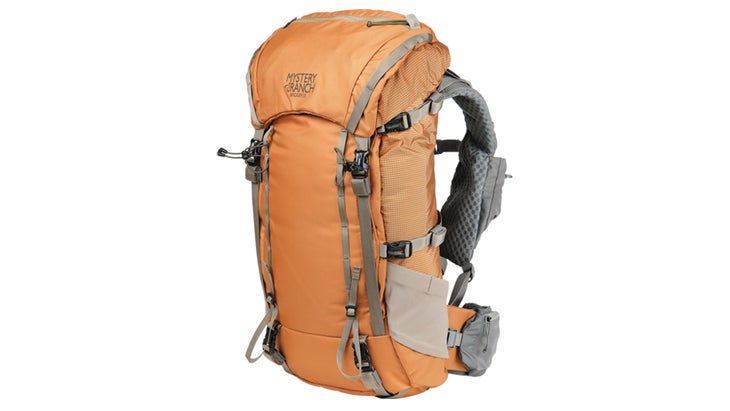 Weight: 3 lbs. 11 oz. (men's M), 3 lbs. 11 oz. (women's M)
Size: S-XL (men's), XS-L (women's)
Pros: Superior load-carrying capacity, comfort, durability
Cons: Weight and price
The Bridger 35 knows no compromises. With the organization of a running vest, the load-carrying capacity of an overnight pack, and the close-to-back fit of a truly athletic daypack, it emerged as our top choice for gear-intensive, all-day adventures this season. Thanks to a 4-millimeter, spring-steel perimeter frame (a direct descendant from Mystery Ranch's backpacking frames) and a cushy, EVA-foam-padded hipbelt, we were able to load the Bridger 35 with up to 40 pounds. In fact, Utah tester Mark Maleski carried that weight for a 16-mile hike this summer—and reported zero rubbing or next-day soreness. Organizational features hit all the marks: chest pockets, top lid pocket, hipbelt pockets, and dual stretch-mesh side pockets. Our only real feature complaint was that the compression straps had to be unbuckled to access the zipper. As for durability? The Bridger's main pack body uses a 100-denier recycled ripstop Robic nylon (the first-ever fully recycled high tenacity nylon to be used in a pack), while the boot boasts a 330-denier ripstop Robic. Both fabrics emerged with zero tears after a season of bushwhacking and Colorado ridge scrambling. The Bridger's biggest drawbacks? Weight—and price. It was both the heaviest and the most expensive day pack in the testing pool this season.
Bottom Line: Ideal for overpackers and outdoor professionals who need to hump big loads.
How to Buy a Day Pack
Having the right day pack can make or break a hike. Here's how to choose wisely.
Fit
Just because you're carrying less weight doesn't mean fit is any less important. Unless you know your torso is of average length (usually 18 to 19 inches—a men's medium or a women's medium/large), beware of day packs that come in only one gender and size. We recommend going into your local gear shop to get fitted professionally or, at the very least, trying on several fully-loaded packs in the store before you buy. Make sure the hip belt wraps your hips securely enough to take the weight off your shoulders, and that you don't hit your head on the top lid when you look at the ceiling.
Suspension
Plenty of day packs come without any real suspension to speak of, but most hikers find they're more comfortable with a well-padded hipbelt and at least some kind of rigidity in the back panel—whether that's an actual metal frame or just a rigid foam frame sheet. These features help transfer the force of your load to your hips, which can prevent back and shoulder pain on long hikes.
Capacity
Practice loading your usual kit into the pack before you buy to make sure it all will fit. Note that 15 to 20 liters is often standard for summer hiking, but four-season adventurers may need at least 30 liters to accommodate bulky winter layers.
Features
Feature preferences are highly personal. Consider whether you'd rather to take lots of sit-down breaks, or snack and drink on the go. If the latter, look for hip or chest pockets. Make sure you can reach your water without having to take the pack off. If you're the kind of person who's constantly swapping layers, prioritize stretch-mesh pockets or a dorsal bungee net or shove-it sleeve.
Lead Photo: Evan Green