Indefinitely Wild
The Best Everyday Flashlight Yet
Foursevens' new Mini MkII is smaller than a chapstick, yet pumps out over 1,000 lumens. And it only costs $40.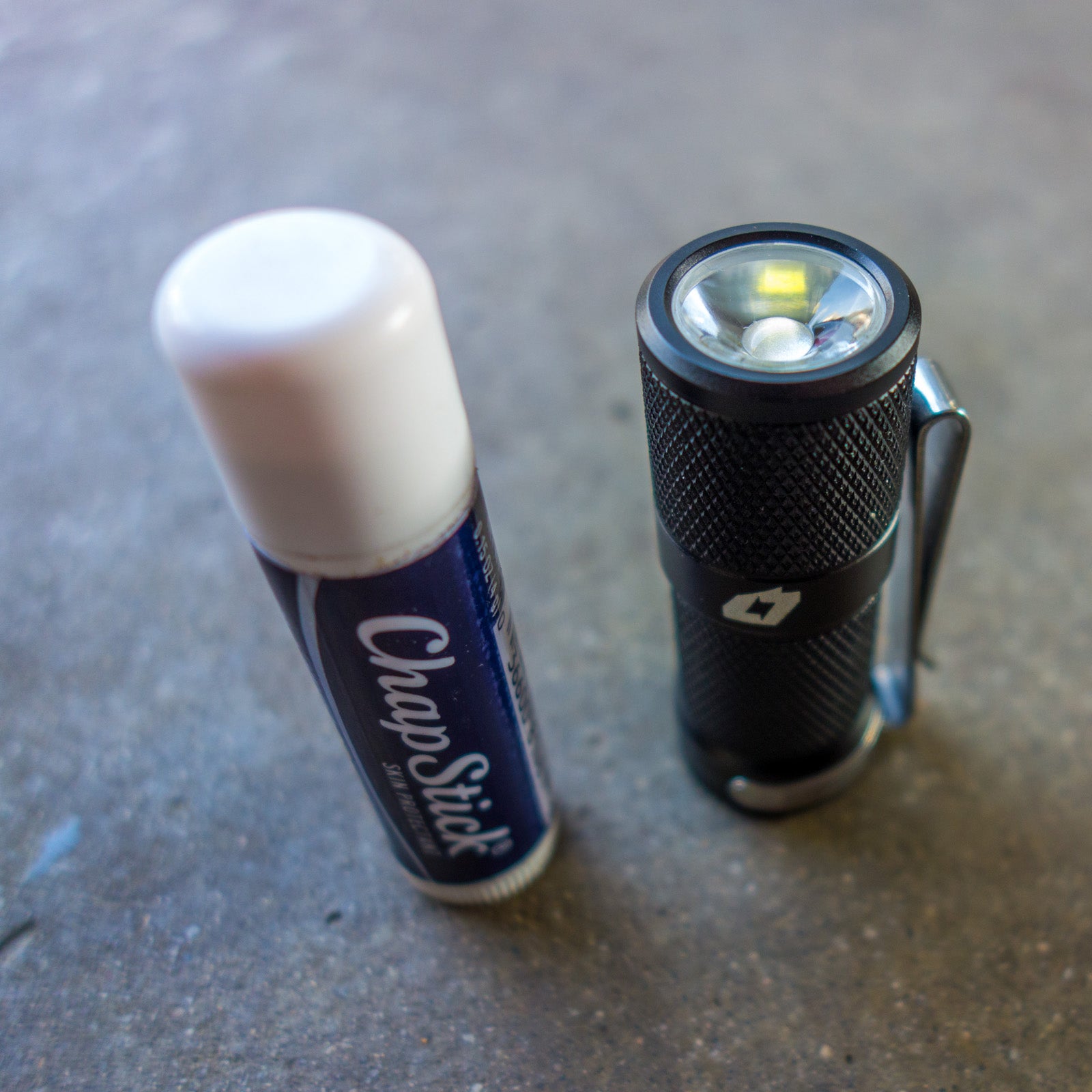 Heading out the door? Read this article on the new Outside+ app available now on iOS devices for members! Download the app.
This is it: The best flashlight I have ever used, at a price anyone can afford. It's small enough to carry with you everywhere, easy to use, extremely well built, and almost impossibly bright. If you plan to buy a flashlight this year, buy this one. If you're looking for a gift for someone, make it this. Read on to find out why. 
What Is It?
Based out of Atlanta, Georgia, FourSevens has been on the forefront of LED light technology for nearly a decade. 
Unaware of the amazing progress that's been made in flashlights during that time? The ubiquitous three D-cell Maglite that you probably have in the trunk of your car, and which until recently was carried by virtually every police officer in this country, puts out about 45 lumens and is almost 13 inches long. It costs $35 without batteries, and runs for up to ten hours.
This Mini MKII puts out 22 times the brightness, and at just 2.17 inches long and 0.8 inches in diameter, it's considerably smaller than one of the Maglite's batteries. It costs $40 without its battery and can run for up to 19 days. To produce the light's maximum brightness, you need to order FourSevens' proprietary RCR123 battery, which arrives with a great charger. Total cost of the package is $55 and it's what you should order. The light will also work with an off-the-shelf, non-rechargeable CR123 battery, but will only be able to produce 550 lumens. 
Who Is It For?
Small, affordable, and extremely bright, the Mini MkII is the perfect carry light. It'll fit in your pocket, it'll fit in your bag, you can wear it around your neck or clip it to something in your car. It'll even fit in the company's headlamp kit. 
Anyone can appreciate its brightness on high, but you'll probably get more use out of the exceptionally long run times in a lower-power modes. While 1,020 lumens can be useful in some situations, if you're just looking for a set of keys you dropped in a parking lot or lighting up a dark path, less light makes more sense. 
And because it'll last for years and years (LED's have a 50,000 hour life), and survive submersions, vibrations, and impacts, it'll be a faithful companion through even the most arduous activities.
One exception to the Mini MkII's usefulness is that its integrated lens/optic reflector is heavily biased towards creating an even, broad flood of light. People who need a light that throws out to long distances, such as search and rescue workers, will be better served by a larger design with a reflector geared toward throw.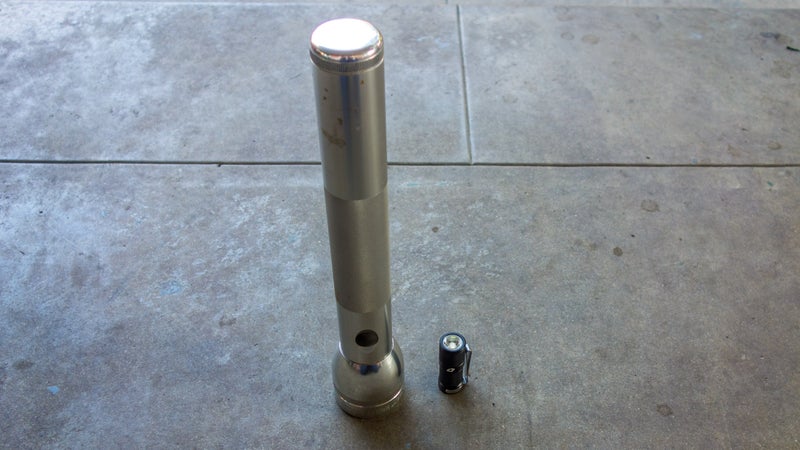 Design
It's a simple little knurled aluminum tube that you twist to turn on. But making such a simple, small package do what you want gets a little complicated. 
The only user interface is through that twist-on head. Twist it off to access the battery, and tighten it or loosen it to turn the light on and off. Quickly switching the light on and off allows you to switch between a variety of modes. The user interface works like this: 
Config. 1: High

Config. 2: High – Low 

Config. 3: High – Strobe

Config. 4: Low – Med – High – Strobe

Config. 5: Low – Med – High – Strobe – SOS – Beacon (hi) – Beacon (lo)

Config. 6: Low – Med – High – Moonlight
To change between configurations, you need to rapidly twist the light on and off in quick succession, 10 times, then the light will flash a correspondent number as it cycles through the modes. Just twist again to select which one you want. There's also special strobe, SOS, and beacon modes, which can be accessed through further twisting. 
That sounds confusing, but you'll only ever have to do it once, and the vast majority of us will be happy with configuration six, which it arrives in. When you turn the light off, it turns back on in the brightness you were last using. Don't over-think any of this: it's actually an ideal arrangement. 
On high, the light produces its maximum brightness steadily for 15 seconds, before ramping down to 550 lumens over the next few minutes. This is a necessary heat-management feature (the light never grows hot in your hands), ensuring the light's longevity. The step down occurs so gradually that you don't notice it. And 550 lumens is still an exceptionally bright output for such a small light. 
Using It
I carried the light on a night hike out in the high desert last week. Even though its heavily biased toward flood, it was still bright enough to light up the entirety of a hillside 100 yards away. 
More usefully, it produces a very clean light pattern, totally free of shadows and artifacts. So it's perfect for illuminating a trail, working on a car, or reading a map. The very dim 0.8-lumen "moonlight" mode is specifically designed for late night, up close map reading without destroying your night vision. 
It should be noted how great the light's charger is. Just a USB dongle, connected by a six-inch cord to two magnetic terminals, it's tiny, light and very easy to carry. The whole package is a perfect travel companion. You can charge it off your battery pack, laptop, or airplane seat, just as easily as you can off an outlet.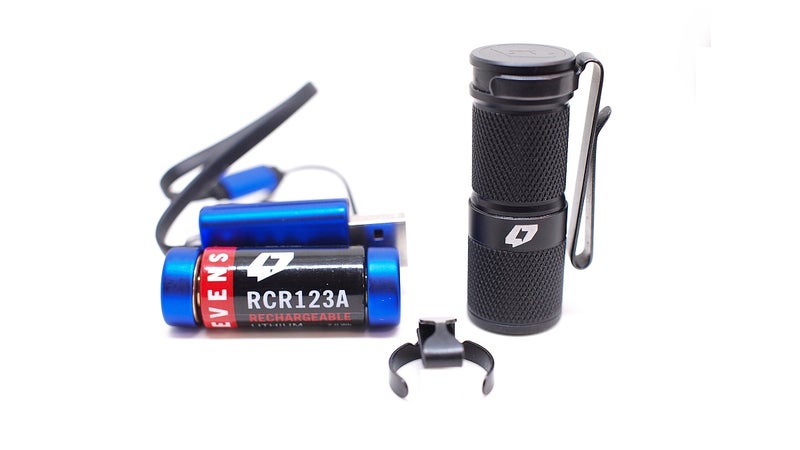 Likes
The best pocket clip I've ever seen on a flashlight; you won't lose this light. 

Don't like pocket clips? A secure lanyard attachment point can be clipped in its place. 

Bright enough to totally illuminate your entire backyard, city block, or similar. 

Small enough to take anywhere, no matter what you're wearing.

The charger is tiny, and works very fast. 

Works best with proprietary battery (which is just $15, and includes a charger), but can run a standard CR123 in a pinch.

Twist interface is simple to use and prevents accidental activation.

Unlike most other flashlight makers, FourSevens is honest about its lights' output. In independent testing, this light exceeds performance claims.
Dislikes
A glow in the dark bezel would make it easier to find, if dropped at night. 

I'm sure more colors and finishes are on the way. The black is kind of boring and easy to lose. 

It'd be impractical to recall all other flashlights in the world and replace them with one of these.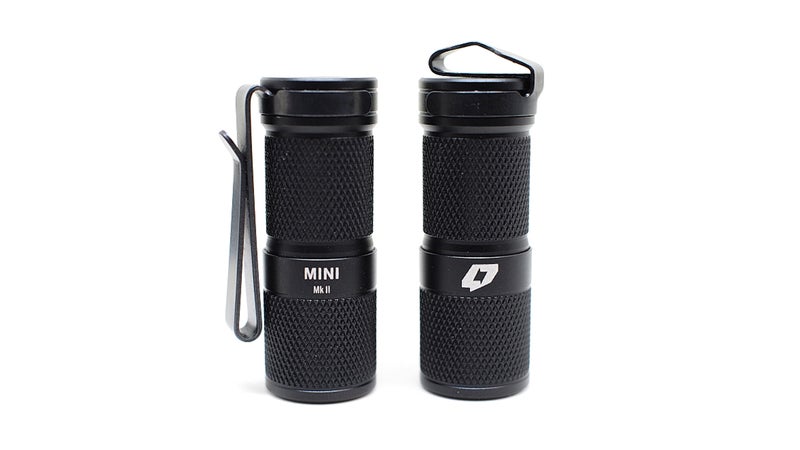 Should You Buy One?
Yes. 
If you're one of the people that gets Christmas presents from me, this is what you're getting this year. Sorry to spoil the surprise.