2023 Summer Gear Guide
The Best Trekking Poles of 2023
Six testers tried out 8 trekking poles. These ones came out on top.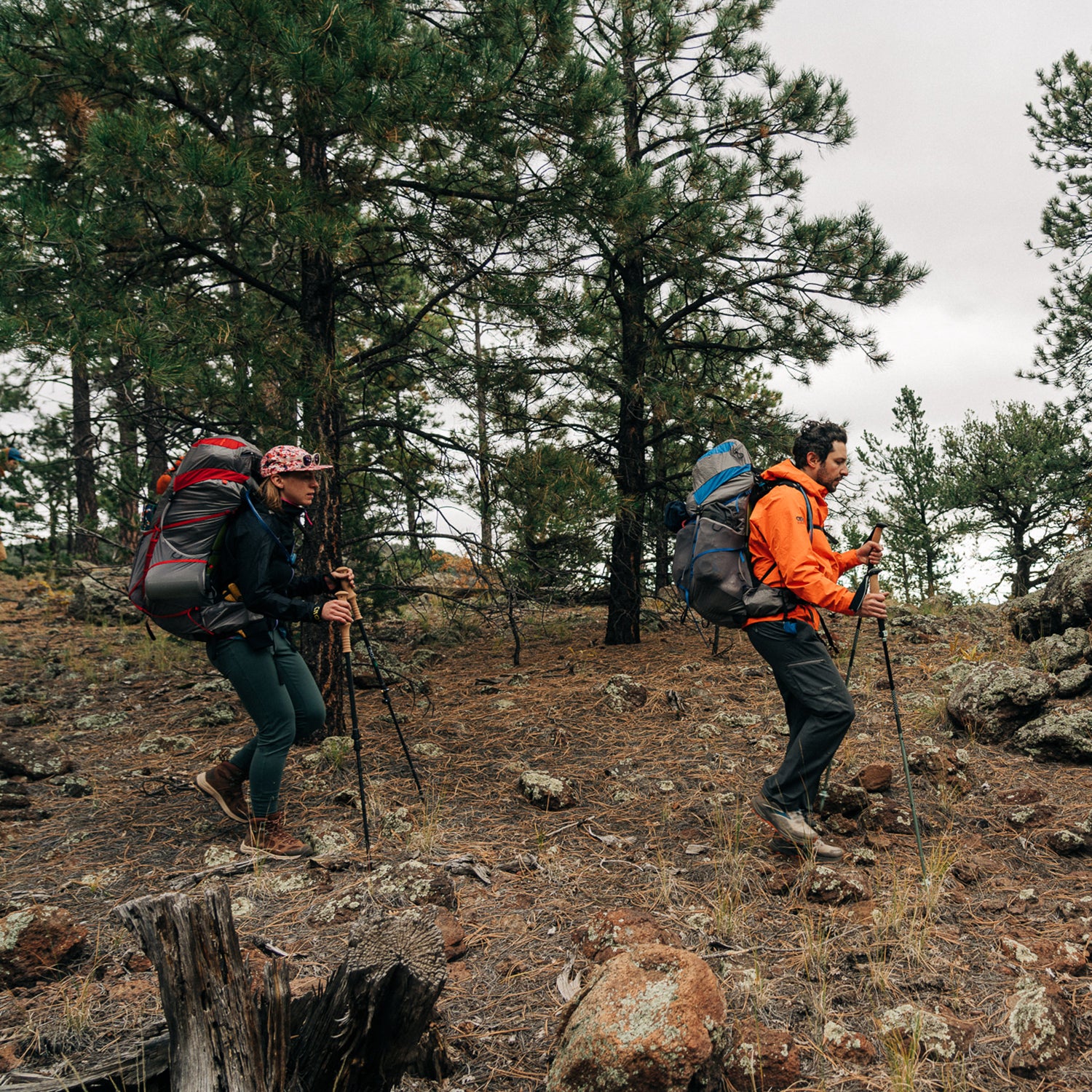 Evan Green
Heading out the door? Read this article on the new Outside+ app available now on iOS devices for members! Download the app.
Some still debate the merits of using trekking poles, but nowadays, most hikers won't leave home without them. Poles can help you power up steep climbs, support your weight on downhills, and provide extra points of contact on loose or uneven terrain. The best trekking poles are comfortable in hand, stiff under load, easy to stow away in your pack, and can help you tackle challenging terrain and hike pain-free.
The Winners at a Glance
Diorite Gear Telescopic Carbon Fiber
Leki Makalu FX
TSL Carbon Connect 5
How We Test
Number of Testers: 6
Number of Products Tested: 8
Distance Covered: 250+ miles
Elevation Gained: 45,000+ feet
To test the latest trekking poles, we employed a team of hikers who headed out on trips ranging from simple day hikes to epic cross-country expeditions. The poles accompanied testers in multiple states and countries, including California, New Hampshire, and the Italian Dolomites. Our testers used poles to climb steep trails, set up tarp shelters in sustained winds, and save their ankles on sketchy, rocky descents. Along the way, we tasked the team with recording every detail, from ergonomics and comfort to ease of use and packability. Here are our top picks for 2023.
Meet Our Lead Testers
Nathan Pipenberg is a freelance writer based in Boise, Idaho, who writes Backpacker magazine's ultralight hiking column. Over the course of his hiking career, he has broken three pairs of ultralight carbon poles, set up a Tarptent using bent ski poles, and hiked 200 miles with a pair of cheap trekking poles bought during a last-minute Walmart stop. A 2011 Appalachian Trail thru-hiker, he's always scanning his calendar for a six-month gap in deadlines to fit in another long-distance hike.
The Reviews: The Best Trekking Poles of 2023
Editors' Choice: Diorite Gear Telescopic Carbon Fiber Trekking Poles ($180)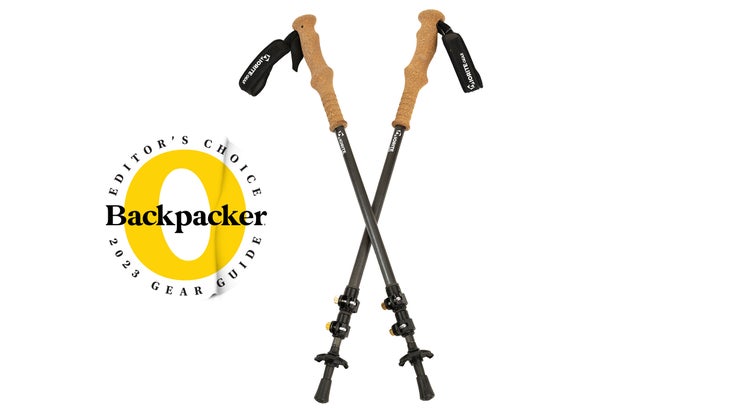 Weight: 7.4 oz (per pole)
Size: One size (71-158 cm length)
Pros: Best-in-class versatility and durability
Cons: On the expensive side
The Diorite Telescopic Carbon Fiber is a rare no-compromises trekking pole: it's the burliest all-carbon construction we've ever tested, with a formidable telescoping length that's a godsend for tarp-oriented thru-hikers. The first thing testers noted was that even though the Diorite looks and feels like an overbuilt aluminum pole, it tips the scales below 8 ounces—a weight limit normally reserved for folding fast-packing poles. Most ultralight carbon poles in that weight class require babying. In contrast, the Diorite inspired confidence even when several testers slid down steep, sandy descents in Idaho's Salmon River Mountains. The extra-long EVA foam (also available in cork) grips were comfortable in-hand and made it easy to choke down on steep climbs without stopping to readjust the length of the poles. The beefy locking mechanisms are replaceable, along with the individual pole sections and pole tips. As a bonus for in-field repairs, the Diorite uses a self-threading aluminum adapter that will accept replacement tips from other brands, even if they're unthreaded.
Best of all, the Diorite poles come with an unusual perk: they extend all the way to 158 cm. While that extra length isn't necessary for on-trail use (even our 6'5" tester rarely exceeds 135 cm), it does provide a few advantages. For one, all that extra carbon reinforces the poles, making them extra stiff and sturdy. For another, the generous telescoping range means that they can be used to set up nearly any tarp or tent that requires trekking poles. "It's nice to know that no matter what shelter I bring, these poles will work—even if I opt for my pyramid tarp with a high center height," said New Hampshire-based tester Dan Huntington. Between its weight, comfort, and durability, the Diorite is one of the few trekking pole quiver-killers on the market.
Bottom Line: A do-it-all pole built to withstand the rigors of daily use.
Leki Makalu FX Carbon ($230)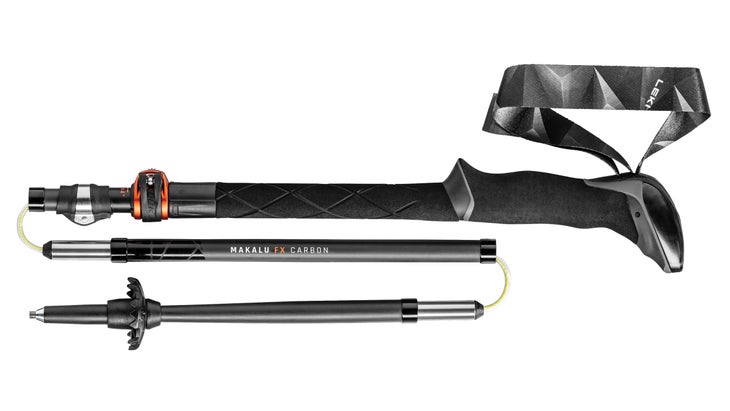 Weight: 8.9 ounces (per pole)
Size: One size (110 – 130cm)
Pros: Durable, excellent grip comfort
Cons: Very expensive, not especially light
Rather than chasing an ultralight weight goal, the Makalu—a modern iteration of the first-ever trekking pole—sets itself apart thanks to durability and comfort. The grips on the Makalu were among our favorites in the test, with EVA foam that one hiker described as "velvety" and easy to clean. The extra-long grip extension made it effortless to bear down on climbs without stopping to adjust pole length. One California-based tester said the Makalu was the most well-balanced pole he tested, thanks to the weight distribution between the pole and the grip. The Makalu has an adjustment system that combines folding and a quick-lock mechanism (similar to Black Diamond FLZ models) which means it boasts the shorter packed length of folding poles, and 20 cm of adjustment. The carbon poles were also impressively durable. Having survived a 170-mile trek in the Dolomites, another tester resorted to tossing them from boulders and ledges to test their mettle. (Spoiler alert: they never broke).
Bottom Line: A highly ergonomic model that combines the best of adjustable and folding pole styles.
TSL Outdoors Connect Carbon 5 ($180)
Weight: 8.4 ounces (per pole)
Size: One size (110 – 130 cm)
Pros: Lightning-quick set-up and break-down
Cons: Feel a bit flimsy
The TSL Connect Carbon 5 brings one of the best features of trail-running-specific poles to the hiking world: glove-style straps that attach and detach via a magnetic quick-release button. Though testers took some time warming up to the idea, a few miles on the trail using the Connect Carbon 5 won them over. "The secure glove attachment made it easier to flick the poles exactly where I wanted them," said Boise-based tester Matt Tock. The quick-release also made switching from using the poles to carrying them that much easier. Testers reported the nylon and mesh gloves to be snug but comfortable, though they do get sweaty faster than standard straps since the fabric isn't particularly breathable. Like the Leki Makalu, the Connect Carbon 5 has both a telescoping and folding design, with a packed length of 42 cm (16.5 inches) and 20 cm of adjustment. The poles, which have pivoting baskets that help them adapt to changing terrain, held up fine to sustained use. Testers remarked, however, that the full-carbon design felt flimsier in the hand—although it never failed on the trail—owing to the plastic construction of the quick-release and locking mechanisms, which wasn't confidence-inspiring.
Bottom Line: Techy poles with unique features prized by fastpackers and other high mileage types.
How to Buy
The most important feature of any trekking pole is length. This is especially important for fixed-length poles, but even with adjustable poles, you want to make sure your preferred length is within the range of adjustment, especially if you are particularly short or tall. Measure your pole length by standing on flat ground with your arms held in front of you, elbows at a 90-degree angle. Your ideal pole length is the distance from your hands to the ground. Adjustable poles help give you some wiggle room depending on your hiking style—many people prefer to shorten their poles during sustained climbs and elongate them during descents.
Pole material is an important consideration as well. Aluminum is generally less expensive and heavier, while carbon is stiffer and lighter. Consider that an aluminum pole will likely bend under strong lateral forces (like getting pinched between rocks) while a carbon pole is more likely to break and become unusable.
Finally, telescopic poles will generally have a larger range of adjustment but a longer packed length, while folding poles will pack down shorter but offer less length adjustment. Some poles offer a fusion of styles. If you plan to use your poles to set up your shelter, double check the length required for an optimal pitch. You'll want to ensure that your poles can adjust to accommodate both your hiking length and your shelter set-up length.
When it's time to upgrade your gear, don't let the old stuff go to waste–donate it for a good cause and divert it from the landfill. our partner, Gear Fix, will repair and resell your stuff for free! Just box up your retired items, print a free shipping label, and send them off. We'll donate 100 percent of the proceeds to The Outdoorist Oath.
Lead Photo: Evan Green
Trending on Outside Online