Black Diamond Contact Strap Crampons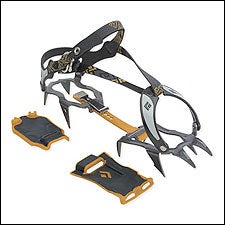 Heading out the door? Read this article on the new Outside+ app available now on iOS devices for members! Download the app.
The funny thing about Black Diamond's Contact Strap Crampons is that most people have no idea they exist. When I started canvassing the adventure junkies in Outside's hallways looking for a pair of reliable crampons I could use with my normal trekking boots, several told me I was out of luck. Most crampons require a special notch (a welt) in the toe and heel of a boot, and many—especially those used for vertical ice and mountaineering—require a heavy, hard-soled boot. That becomes a real problem if you plan to cross a few icy sections but aren't doing extensive climbing. Who wants to pound the dirt in moon boots?
Black Diamond Contact Strap Crampons

Black Diamond Contact Strap Crampons
So I was pretty happy to come across the Contact Straps. They can basically be fitted to any sturdy boot (even running shoes or snowboard boots, if need be, but I wouldn't try old penny loafers) and get you pretty close to the traction you get with standard crampons. There is some give in the design, allowing them to flex slightly under your foot, but not enough to cause stability problems. The toe will flex up about an inch, and they allow about half an inch in torque. The Contact Straps are also adjustable to fit between men's sizes four and 12.
The teeth (ten-points) are steel, a good choice if you're planning to cross both ice and rock—since the latter would grind aluminum points into impotent little nubs. The toe piece is basically a plastic strap drawn tight around the toes with one nylon strap that cinches up the heel and fastens across the instep. The straps collapse quite compactly for quick stashing.
I took the Contact Straps up Longs Peak, in Colorado's Rocky Mountain National Park, expecting some late-season ice in the notoriously sketchy Narrows section of the hike—a string of north-facing ledges known in early summer for black ice and deadly falls. The problem was, before even getting to the Narrows, there was a seven-mile dirt stretch—and a boulder field before that. I sure as hell didn't want a big pair of heavy mountaineering boots. (I was wearing a pair of La Sportiva Trango Treks, a sturdy leather boot with a flexible sole but no toe welts).
The first test came in the form of a relatively tame, sloping sheet of ice above a modest drop. I watched as a trio of young hikers (in T-shirts and light hiking boots) walked brashly across the lip, but I wasn't going to follow—one whack from my ax and whole plates would come free. (The trio later got stuck in a storm and nearly struck by lightning). Slipping into the crampons and cinching them around my boots in a matter of seconds, I was able to take a much safer line up and over the exposed section, where the ice was sturdier but too slippery for rubber soles. The crampons worked perfectly—no slip, no slide, no give at all.
An ugly turn in the weather turned me back shortly after that point, but I decided to traverse a section of steep snow to get a good view of the Diamond, Longs Peak's impressive east face. The snow was loose and slippery, sloped above 45 degrees. I spent the 30 minutes or so kicking my toe points and often whole foot into the slope, sidestepping and sinking my ax shaft deep into the snow at my chest for a handhold. In spite of the fact that flexible-soled boots make spending any real time on your toes a real pain, I felt really confident that at least the crampons wouldn't slip. When the section eased up a bit, I was able to walk foot over foot, testing their edging ability. Again, no slip.
The Contact Straps aren't for vertical climbing, but for a crampon priced under $100 that you can basically just throw onto whatever boots you're wearing when you come across something slick, they work great. I couldn't imagine what could be done to improve them. Cramp on! Now if only they made a model of chains for my car…$99.50, www.bdel.com
Trending on Outside Online