Gear Guy
The Case for Burly Hiking Boots
Why good old leather shit kickers like the Oboz Wind River II BDry still matter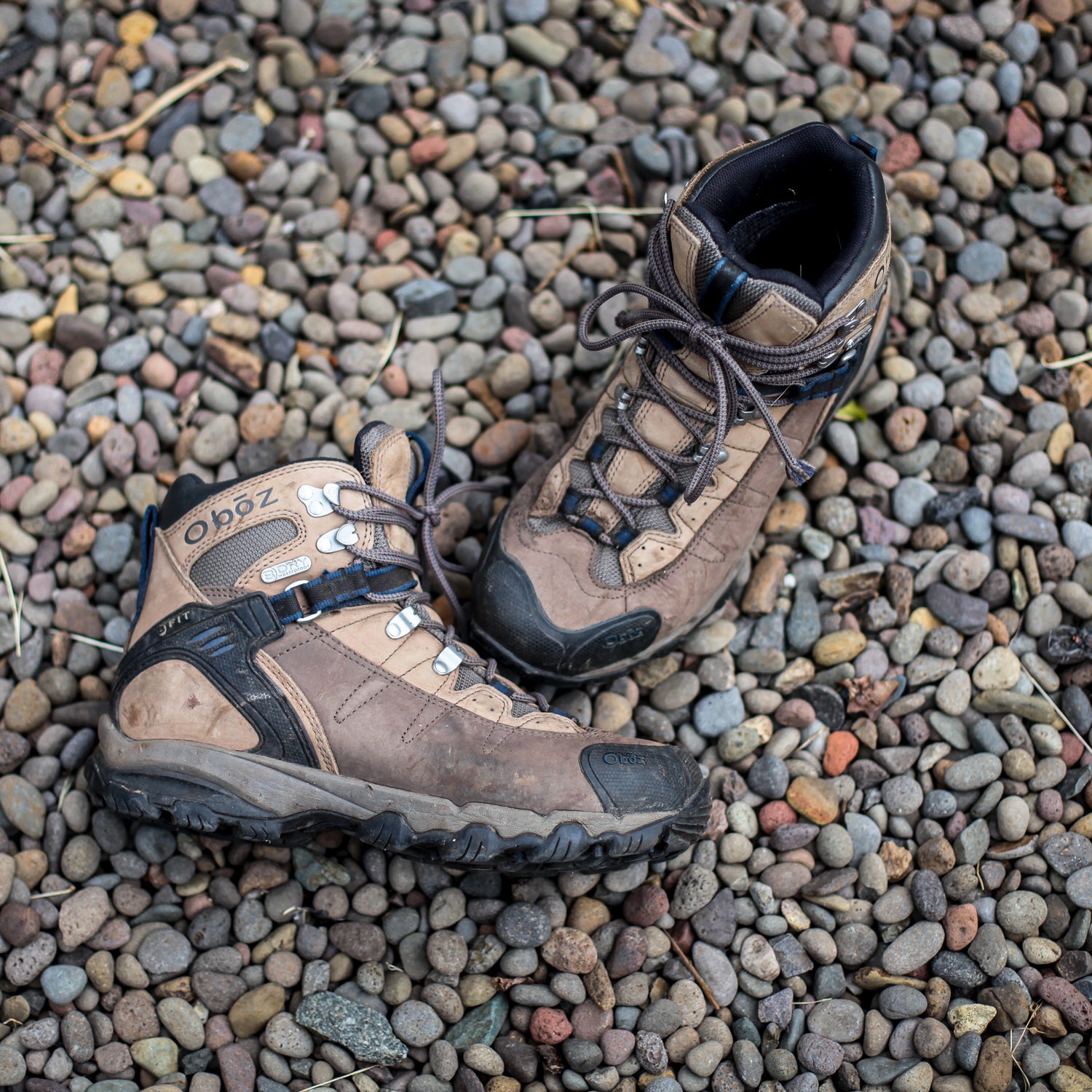 Heading out the door? Read this article on the new Outside+ app available now on iOS devices for members! Download the app.
I know a lot of people prefer light hikers or even running shoes for the trails. I also know ultralight backpacking is gaining popularity. More power to you if that's your thing, but I still love my traditional, overbuilt, slightly heavy Oboz Wind River II BDry.
Over the past four years, I've covered thousands of miles wearing these leather boots. I like the nylon shanks in the outsole that add both torsional support and extra sturdiness so I can weigh down my trail pack with a bottle of wine and extra food. The stiff rubber over the toe has been great for everything from kicking heavy 110-liter coolers out of a truck to bushwhacking through the forest to scrambling over jagged high-alpine scree. And the aggressively lugged outsoles cling to wet mossy rocks in streams and along rivers. At three pounds per pair, they're not the lightest boots, but I'm glad to sacrifice weight for protection. (Many of the boots Outside recommends in its Buyer's Guide fall under two pounds.)
In terms of fit, I've never found anything better for my mostly normal foot. The key design features are a roomy toe box plus a piece of webbing that goes over my instep and cinches down with the laces to keep my heel firmly locked in place. That extra space up front allows my toes to breathe and not rub—preventing blisters—while the locker keeps me from bashing my foot into the front of the boot on descents.
To be fair, I've warned against waterproof hiking boots in hot environments many times in this column, and yet here I am currently endorsing a boot with a waterproof membrane. That's because the proprietary BDry membrane that Oboz uses breathes phenomenally well, and I've been happy to have a waterproof barrier in the Pacific Northwest and on rainy days. That said, I've also suffered. Two years ago, during a July Fourth backpacking trip, I found myself stripping off the Wind River IIs as fast as possible to dunk my hot, sweaty feet in every alpine lake I came across. Bottom line: Don't buy these boots if you live and hike in Arizona or New Mexico. Do take a look if you're somewhere cooler and wetter.
This is only my second pair of waterproof hiking boots. I bought my first pair (which were Asolos) when I was a sophomore in college, and they lasted me a decade. My current pair of Wind River II boots are scratched and scuffed but totally intact, and I figure they'll be around for at least six more years. While I've used just two pairs of boots in 14 years, I've gone through half a dozen whitewater kayaks, equally as many skis, and dozens of running and water shoes. Granted, technology in the hiking world hasn't changed as much as some of these other categories, but the Wind River II's longevity is a testament to its build.
At $185, the Wind River II is indeed an investment. But given the likely decade-long lifespan, that's about $18 per year. I'm guessing you spend more at Starbucks each month.
Lead Photo: Joe Jackson