Sponsor Content: Visit Big Bear
Discover Great Green Adventures in Big Bear Lake
The responsible traveler's guide to connecting with Southern California's mountains on a deeper level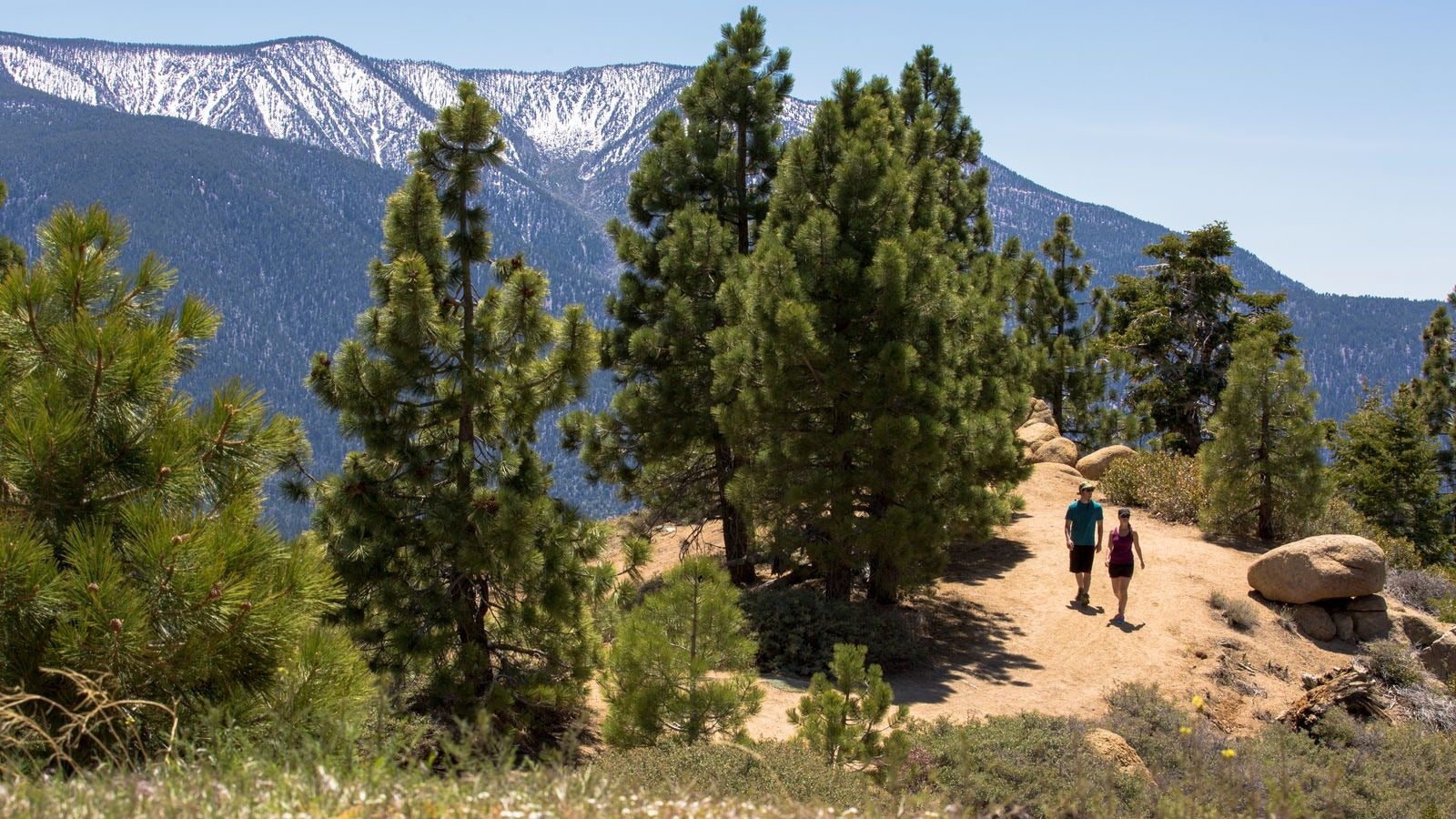 As you wind into the San Bernardino Mountains on the way to Big Bear Lake, palm trees give way to alpine forests and the air becomes visibly clearer. "You're transported to a remote, but not too remote, mountain town. It's just such a drastic difference," says Susie Schmelzer, a local trail runner and ultramarathon race organizer. After nearly a decade in Big Bear Lake, she still gets the same feeling every time she drives back into the mountains. "It never gets old." 
Whether you're exploring a new season in Big Bear Lake or considering your first visit, here are some ways to get plugged in to the community and experience some Big Bear–inspired awe for yourself.
Caring for Miles of Trails
As an avid trail runner, Schmelzer says the trails are the number-one reason she loves living in Big Bear Lake. The variety of hiking trails with diverse terrain surrounding Big Bear Lake, offers every level of adventure—from half-mile lakeside strolls to trails that take you 12-plus miles into the San Bernardino National Forest. Hiking season starts in the spring when wildflowers pop up along the trails. "I love to hop on the PCT going south in the opposite direction of the thru-hikers," says Schmelzer. "On a ten-mile trail run I could see 30 people from different countries, which is really cool."
In the summer, Schmelzer dedicates much of her free time to trail maintenance, an activity she says is a great way for visitors to connect with locals and their favorite trails. "It's more than just walking down a trail. You're connected with the trail. Plus, the local people who are working with that trail can tell you anything and everything about the trail—history, the town itself, flora and fauna." Guided, visitor-friendly trail-maintenance days happen most weeks throughout the summer in Big Bear Lake, and no experience is necessary to get involved. Visitors can also pitch in on trail and shoreline cleanup days, which are announced on Facebook.
California's Beloved Mountain Lake Escape
As one of California's top mountain lake escapes, Big Bear Lake isn't exactly a secret, especially among Southern Californians who enjoy visiting year-round. With greater interest in outdoor recreation nationwide over the last few years, however, encouraging both visitors and locals to take pride in protecting Big Bear Lake and minimizing their impact on the land have become even more important.
"Lots of people discovered, rediscovered, or started to spend longer than a weekend here," says Schmelzer. More visitation meant more harm to the environment. The Care For Big Bear program was launched to educate and motivate new and returning visitors to travel responsibly.
Care For Big Bear connects anyone who loves Big Bear Lake with tangible ways to contribute to the upkeep of the forest, trails and waters that surround the town and supports larger initiatives in sustainable tourism and visitor education. "It's a door for both locals and visitors to get involved and learn about the importance of the work we're doing." 
In addition to the boots-on-the-ground activities in Big Bear Lake, the community manages multiple conservation areas—Baldwin Lake Ecological Reserve, Pebble Plains Ecological Reserve in Moonridge and The Stanfield Marsh Wildlife and Waterfowl Preserve—that offer opportunities to learn about the region's unique ecosystems and see rare flora and fauna. (Some plant varieties in these protected areas are known to exist only in Big Bear Lake.)
Four Seasons of Adventure
Big Bear Lake is known for its skiing and snowsports in the winter. According to Schmelzer, who lives for summer in the mountains, visitors who don't come to Big Bear Lake year-round are missing out. The lake that gives the town its name is one of the best spots in Southern California for boating, paddling and other water activities. Anglers can land nine species of game fish in the lake, and everyone can enjoy watching the resident bald eagles, Jackie and Shadow, that nest near the shore of Big Bear Lake. (Where else can you see these breathtaking birds so close to the city?)
Throughout the summer and fall, Big Bear Lake hosts a variety of events for endurance athletes, including the Tour de Big Bear, the Kodiak 100 Ultra Marathon, and a one-mile uphill race called Conquer the Wall. Of course, as a trail-lover, Schmelzer believes the best way to connect with nature is to venture farther into the San Bernardino National Forest on foot, on horseback, or by bike. Although Big Bear Lake is famous in Southern California for its downhill mountain biking, the area is also threaded with hundreds of miles of bikeable cross-country trails, including the family-friendly Alpine Pedal Path, a self-guided bike tour that offers a look at geographical history and regional ecology. Off-road adventures on designated 4×4 trails are an accessible option for thrill seekers and sightseers alike.
Schmelzer could talk all day about how amazing Big Bear Lake is year round. "Where can you live that you've got it all? The mountains, the perfect climate—that's Big Bear," she says. "You get a sense of seclusion here."
---
Visit Big Bear strives to instill a sense of ownership and pride in each visitor. By encouraging responsible visitation and spreading awareness of the natural environment that is our home, we empower visitors through education and involvement. We seek to revitalize and grow Big Bear while honoring our mountain-town heritage.
Trending on Outside Online