Dyneema Finally Has a Stronger, More Affordable Rival
UltraTNT can help manufacturers create lightweight tents that don't deform under tension. The downside? It's still heavier than Dyneema.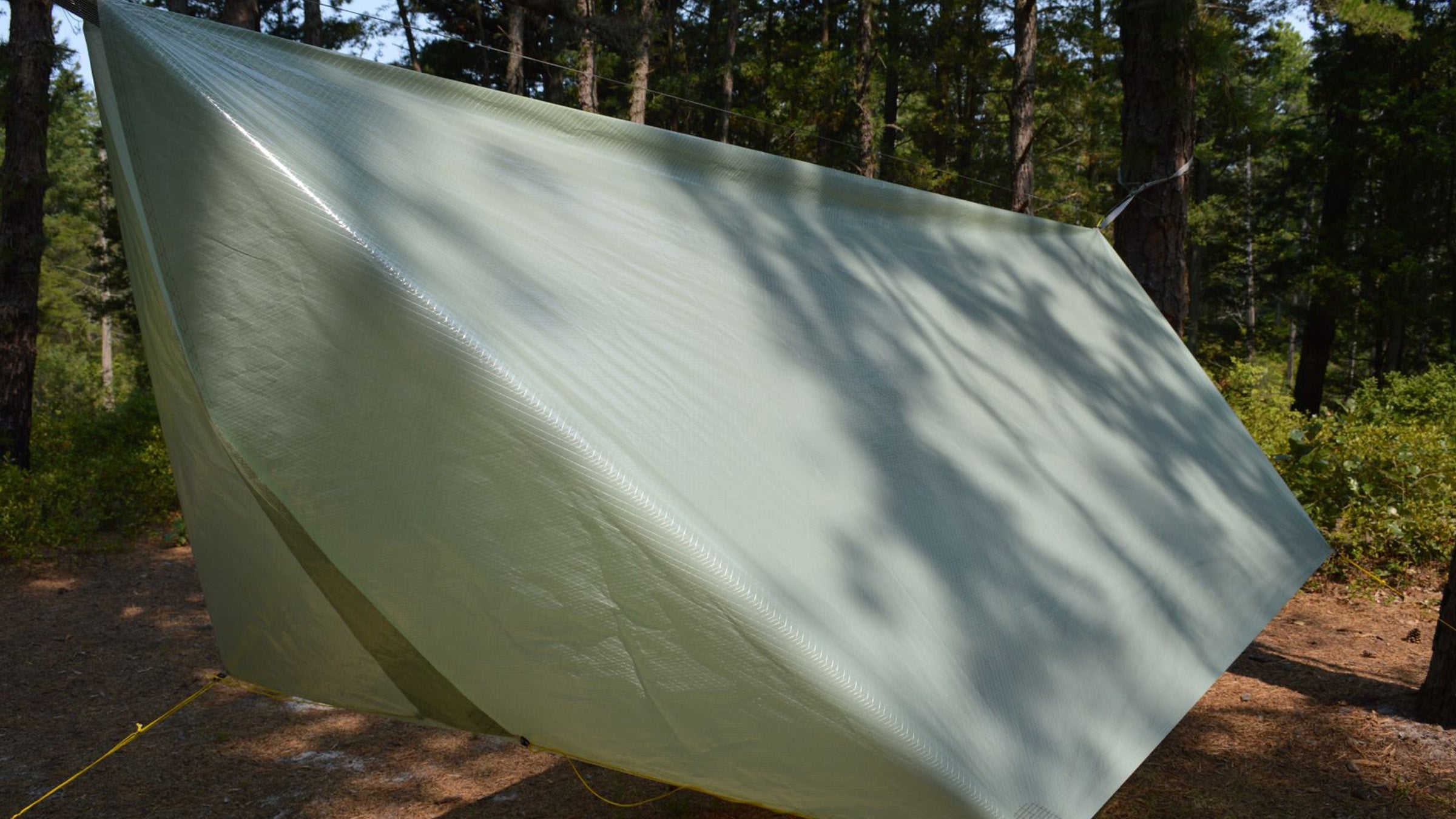 Courtesy Challenge Outdoor
Heading out the door? Read this article on the new Outside+ app available now on iOS devices for members! Download the app.
Big news in the ultralight backpacking world: Challenge Sailcloth, the fabric-maker that produces Ultraweave, the superstrong material found on many new ultralight backpacks, is releasing an even lighter-weight fabric designed for shelters. UltraTNT (for tarps and tents), is a high-tech composite fabric designed to rival Dyneema, the pricey, longstanding king of ultralight fabrics. And while UltraTNT tarps are only available from a single brand right now, shelters from other big name ultralight brands will be available by the end of summer. 
Let's be clear: UltraTNT is neither a Dyneema or a silnylon killer. Instead, it's poised to occupy its own niche: a durable, lightweight option that won't break the bank. The new fabric is substantially heavier than the version of Dyneema most often used in shelters at 0.94 ounces per square yard, compared to Dyneema's 0.51 ounces per square yard. That means it can't compete when it comes to building the absolute lightest shelters possible. In terms of price, it's much cheaper than Dyneema, but about twice the price of silnylon per yard—which means it won't become the de facto budget choice either. My guess is that it will become a top choice for four season shelters (where the extra strength is especially importantl) and small tarps (where slightly heavier fabrics only add an ounce or two of total weight). 
Like Dyneema, UltraTNT is what is known as a composite fabric. While silnylon and silpoly are traditional woven fabrics coated in liquid silicone, UltraTNT and Dyneema are laminated. In the case of UltraTNT, that looks like two polyester films sandwiching a grid of Ultra (or ultra-high-molecular-weight polyethylene) fibers. This method of construction gives the fabric some unusual characteristics: Like Dyneema, it's 100 percent waterproof. Brand new, it's stiff and a bit crinkly. Over time, it becomes softer and more pliable. According to Challenge Outdoor managing director Hale Walcoff, UltraTNT actually becomes more resistant to tears and punctures as it breaks in. "As the fabric gets used, it develops many small wrinkles, which improves tear strength and makes it easier to pack" explains Walcoff. 
The Ultra fibers are what give the material its strength, and the layout of the fibers is where UltraTNT and Dyneema differ drastically. Dyneema uses a sheet of similar fibers, and arranges them in a close grid that looks almost like a woven material. In contrast, UltraTNT is essentially a polyester sheet embedded with long strands of Ultra yarn, which form a wide grid that looks a lot like other ripstop fabrics. 
One technical feature unique to UltraTNT is that the Ultra grid crosses in three directions instead of two. Walcoff says that this diagonal layout helps to increase its strength and reduce the chances that the fabric will deform under load. Since the grid of Dyneema is all at right angles, it's not well-suited to tension in other directions. In real world scenarios (think stakes at the corners of a tent) that means Dyneema will eventually deform when under tension at odd angles. 
"A Dyneema tent used in the field for multiple days will never again set up as well as it did the first time," says Henry Shires, founder of ultralight shelter brand Tarptent. "UltraTNT is far better able to resist deformation because of the extra diagonal weave. That alone makes it a better tent material."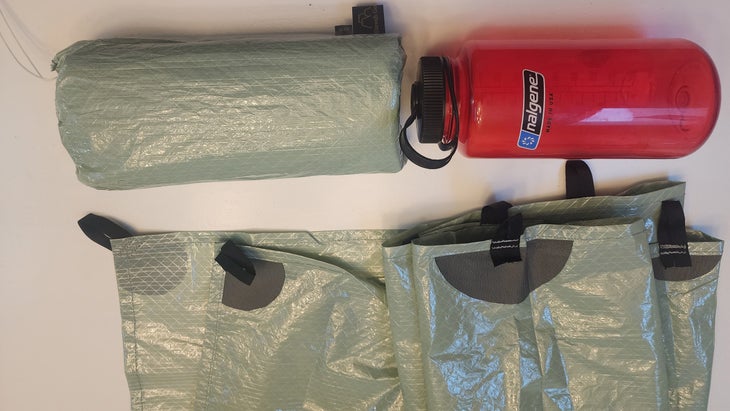 Tarptent is one of several brands to experiment with UltraTNT, but one of the only to state definitively that it plans to use the fabric going forward. Shires says tents using UltraTNT will be for sale by the end of the summer. The only drawback he noted is that the wide Ultra grid makes the fabric more susceptible to punctures. For that reason, he's not planning to use it as a tent floor fabric. 
One brand already has an Ultra TNT tent on the market: Etowah Outfitters, a longtime cottage brand based in Georgia, helped develop the fabric and, as a result, is first to get a product out the door. Etowah has UltraTNT flat tarps for sale, starting at $100 for a five-by-eight-foot tarp (prices rise quickly from there—an eight-by-ten costs $220).
"It doesn't happen very often for a product like this to come along," says Paul Fitzner, founder of Etowah Outfitters. "UltraTNT is the rare case of a new, cool fabric that's actually cheaper than what's currently available." He says UltraTNT's advantages are many. Aesthetically, the fabric's color is more consistent and less transparent than Dyneema. The unique grid pattern prevents tears and running in the fabric, and it's easy to patch with Challenge's proprietary repair tape or simple masking tape. Fitzner also says he hasn't experienced any issues with delamination, a major cause for concern with any composite fabric. And though it is heavier, Fitzner says it's not a big deal: an eight-by-ten UltraTNT tarp weighs about three ounces more than the lightest Dyneema option.
In the end, even if UltraTNT doesn't take over the ultralight shelter market on its own, it could be the beginning of the end of Dyneema's dominance as the only composite fabric worth using. Challenge is likely to continue to innovate with new fabrics, and Walcoff has said that a slightly lighter iteration of UltraTNT is on the horizon.  Meanwhile, other competitors, like ALUULA Composites, have teased their own upcoming innovations. For consumers, the end result will be better gear, more choices, and cheaper prices.
Lead Photo: Courtesy Challenge Outdoor