Indefinitely Wild
The Gear That Helped Me Bag My First Elk
Essentials to get you hunting—or just make being outside more enjoyable
Heading out the door? Read this article on the new Outside+ app available now on iOS devices for members! Download the app.
Back in September, I went on my very first elk hunt. And it wasn't just any elk hunt: my friends and I did it on archery and across open terrain. The four of us ended up pulling three elk out of an area that weekend. This is the gear that made that possible.
Camouflage
The best outdoors clothing I've ever worn isn't made by Patagonia or Arc'Teryx—it's made by an upstart hunting brand out of California. Kuiu sells direct-to-consumer, so you get cutting-edge materials at a reasonable price.
With 60-degree days and 30-degree nights, weather on this hunt was dry and mild, so I got away with just a Teton soft-shell jacket, a lightweight merino t-shirt, and a basic pair of soft-shell pants for $300 all told. Not bad for total comfort across all those conditions.
The apparel also gave me total concealment. I was in Kuiu's awesome Vias pattern, which was inspired by the fur of African wild dogs and is designed to obscure your silhouette and movement from prey animals. The first bull I spotted walked within 50 yards of me while I crouched next to a rock pile. I was able to stalk the next down to just 10 yards in a brushy valley. 
Bow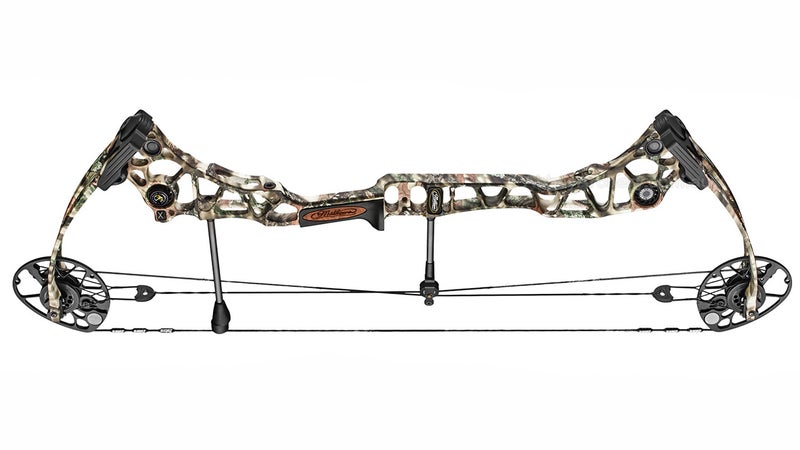 This is the second year I've been shooting the new Mathews Halon. The powerful dual-cam design has a uniquely smooth draw cycle, which last year helped me shoot through a shoulder injury, and this year helped deliver my most consistent shooting ever.
It's also fast. At 353-feet-per-second, the five-inch brace height model is nearly as fast as the PSE Full Throttle I shot previously. Just here on the Mathews, build quality is perceptibly superior. After going through two hunting seasons and thousands of arrows, I've had zero issues with the Halon.
Practice
Of course, a fancy bow is no good unless you can shoot it well. To avoid always having to drive to the range, I set up a 20-yard target bag in my front yard. That enabled me to build muscle memory and shoot a few arrows every day.
To develop my longer range, I also dragged a portable target along on camping trips. That Rinehart 18-1 enabled me to practice in real-world conditions like up and down hill or through grassy cover. When it came time to sight-in my broadheads for the hunt, Rinehart's self-healing foam soaked up the impacts without shredding. I'll get many years' use out of these. 
Optics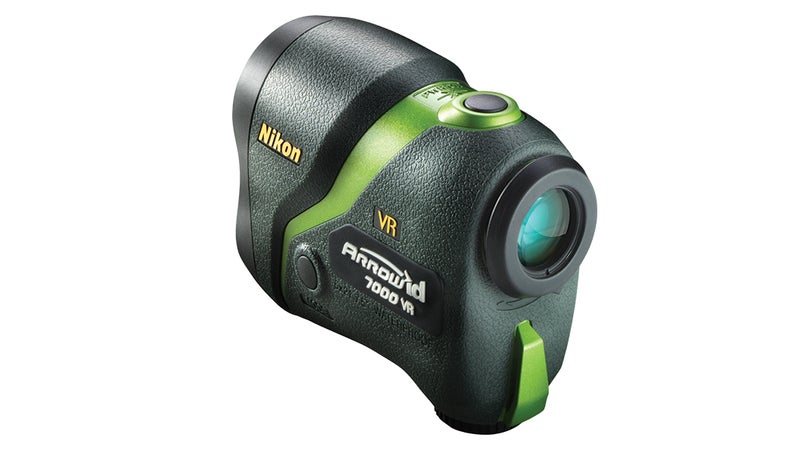 The reason hunters pursue the most advanced, high-quality equipment is to ensure that we're taking the most ethical, humane shots as possible. In addition to practicing and using reliable gear, the best way to be sure of your shot is to employ a laser range finder. On a bow, knowing the precise range of your target is crucial for an accurate shot, and a good range finder makes that data quick and certain. This new Nikon ArrowID 7000 VR compensates for angles for both archery and rifle hunting, but what makes it unique is its optical image stabilization, which removes the jitters of your nervous anticipation. Optical clarity is also outstanding.
Of course, you also need to be able to spot prey at long distances. Through my exceptionally clear Leupold binoculars, I was able to watch as, half a mile away, my friend Brent belly-crawled within range of a group of bedded cows, only to airball two shots. His efforts weren't wasted though; the knowledge we gained of the animals' movements enabled us to get on the herd first thing the next morning.
Apps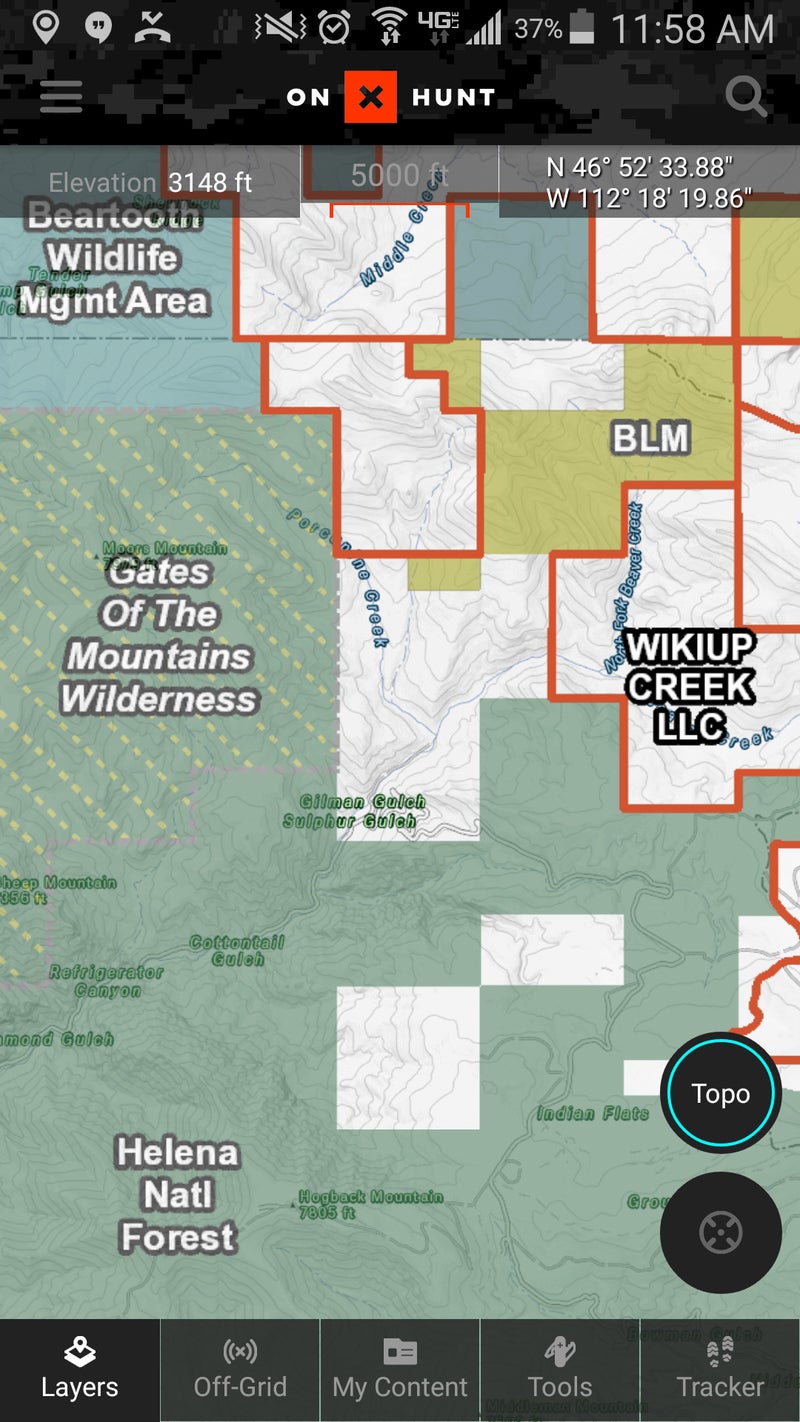 One of the unique challenges of modern hunting is managing the patchwork nature of land ownership. An area where you're permitted to hunt may be separated from private land by an invisible line. OnX Hunt, for your phone, makes those borders visible, letting you overlay terrain data with street maps and even satellite imagery. It updates your precise location in real time.
It also allows you to easily note the locations and movements of the animals you're stalking, and share that info with your group. Thanks to onX, we were able to share granular data with each other, even when we were miles apart. 
Knives
In the field, you're best equipped by carrying a rugged fixed blade that can perform both camp chores and basic animal processing. It should be pretty small, making it easy to carry wherever you are. On this and previous hunts, we've found the Helle Harding to prove ideal. Its laminated steel sandwiches a layer of carbon steel between outer layers of stainless. This arrangement takes advantage of the easy sharpening nature of the former, with the low maintenance of the latter. Its blade is also an ideal shape and size for skinning and quartering animals.
Back home, for fine processing, we prefer the deft nature and incredible sharpness of kitchen knives custom made by James Cosimini. Right now, he's combining the merits of his kitchen knives with the ruggedness of a field knife into an elk-antler-handled design of our own invention. We keep the blades sharp with a Spyderco Sharpmaker.
Truck
You can't go hunting without a good truck, and you can't go wrong with a Ford F-150. I rented a SuperCrew from Enterprise, and it fit four big dudes, three large elk, and all our gear, while handling both off-road abuse, and a day-long highway cruise.