Hoka's New Hikers Look Crazy but Feel Great
The gap between performance and style has never been wider—or has it?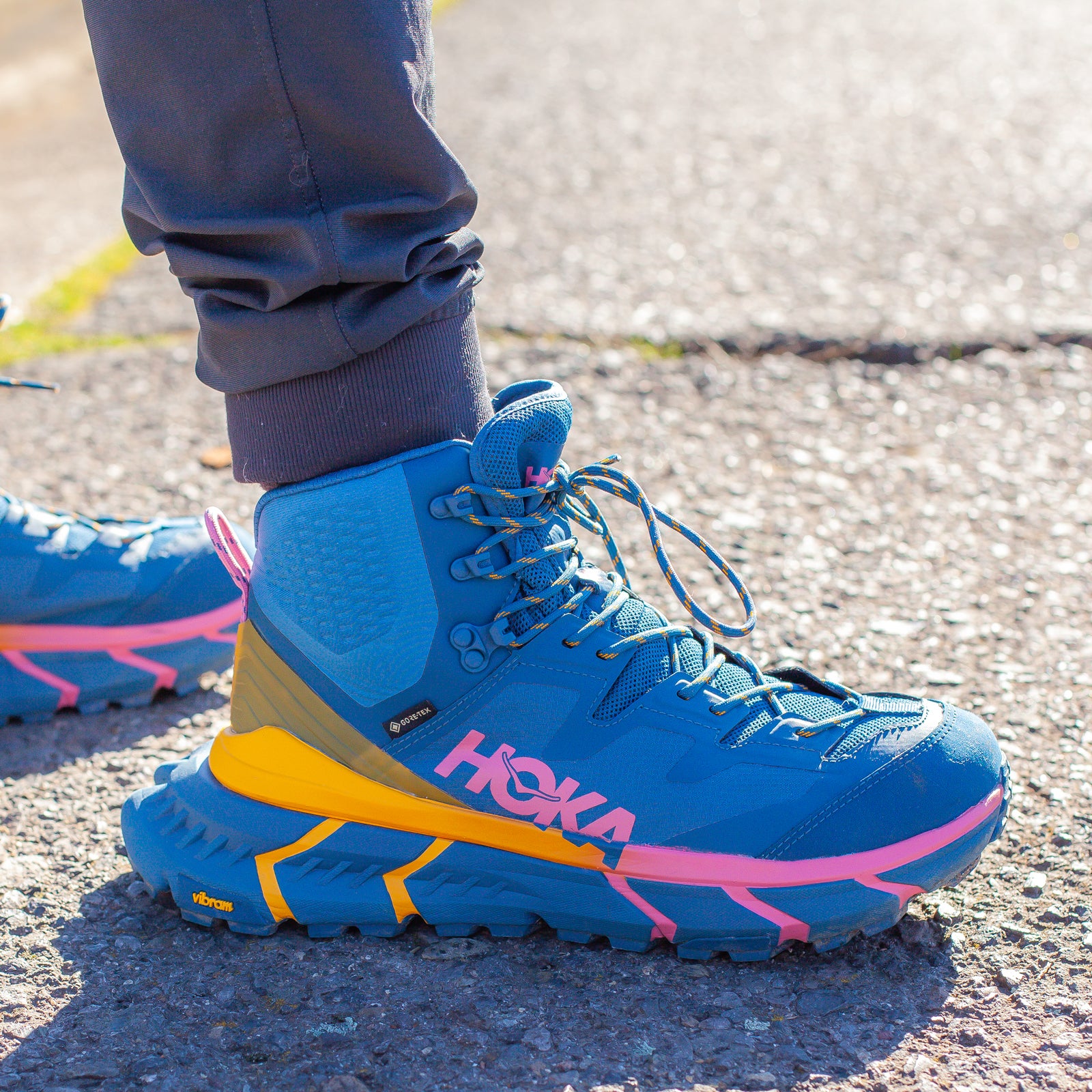 Heading out the door? Read this article on the new Outside+ app available now on iOS devices for members! Download the app.
I was ready for a wild-looking shoe when I opened the box containing Hoka's newest hiker, the TenNine GTX, which features a fish-tail heel that extends inches behind a normal shoe's terminus. What really caught my eye, though, wasn't the kicks but a caveat printed on a small card advising me not to drive a car or walk down stairs while wearing them.
I've experienced a lot of warnings in the nearly eight years I've been Outside's Gear Guy—"These skis are transcendent in pow but chatter brutally in crud" or "This air mattress is crazy light but sounds like a jet engine when you roll over," et cetera—but needing to change your hiking shoes to drive your car? Or never descending stairs? It's a lot to ask, especially for a shoe that costs $250. It felt like too much. I wondered if Hoka had gone too far down the rabbit hole with the TenNine.
To be fair, this is the same company that gambled big on peoples' willingness to wear completely different—i.e., massively cushioned—shoes and won. When Hoka first hit the market, I heard the brand ridiculed in meetings and on trade-show floors. But many of those naysayers, myself included, changed their tune after a few long runs in its shoes. It was hard to not fall in love with their soft forgiveness. These days I'm completely sold and gush about not only the comfort my many pairs of Hokas have delivered since then, but also how the marshmallow style has actually become fashionable. Which begs the question: Does the TenNine represent another coming trend that's not even on my radar?
But the looks of these shoes did affect how I thought about them. I had a hard time wearing them out of my house, despite my legendary tolerance for looking like a gear nerd, which is pretty much a requirement of this job. The combination of futuristic colors (I tested a pair in the Morrocan blue and saffron, although there are more subdued black and navy versions, too), massively rockered base, and hugely protruding heels make them look like the shoes my preteen self imagined I would be wearing while riding a hoverboard in the future. My current self is less psyched.
On the trail and away from judging eyes, though, they performed fantastically. The heel-to-toe transition was smooth and organic, thanks to that rocker (26 millimeters at the toe and 40 millimeters at the heel), which delivers the tiniest bit of aid heading uphill and on the flats. It also didn't hurt that the scant weight—17.8 ounces—notably cut my fatigue during an eight-mile hike with over 1,200 feet of elevation gain.
Ascending in these shoes was one thing, but descending was something else entirely: comfortable and stable like nothing I'd never experienced before. They truly felt amazing. The difference between the TenNine and other hiking shoes is like the difference between off-roading on a deeply rutted dirt road in a sedan versus a four-wheel-drive truck. The swallow tail of the heel and extension of the back helped absorb shock as I quickly scooted down steep scree fields. The Vibram soles, coupled with that additional real estate, made control effortless. On one six-mile hike, I tried to purposefully slip by jumping downhill, one leg at a time, on the most precipitous 100-foot slope I could find, but remained in control despite my efforts.
These hikers were also extremely comfortable to walk in for extended periods of time. My feet felt hugged by the insoles—in fact, the amount of support they delivered with each step went beyond cushioning, it felt downright therapeutic. I noted significantly less leg fatigue at the end of hikes lasting more than an hour, and my feet always felt strong and hot-spot-free afterward.
I called up Hy Rosario, senior product manager at Hoka, to get the scoop on how the company made such a plush shoe. He says that the TenNine has been in development for ten years. Changing the way people look at shoes is an intrinsic part of making products at Hoka, Rosario says. "It is woven into the DNA of our brand to be bold in our approach when we are looking at solving problems specific to an activity or consumer need," he says. "Sometimes those ideas are crazy, but that's what it takes. You don't get a shoe like this if you think with the old rules as your guidelines."
When I asked Rosario how far Hoka would go in terms of wild silhouettes, he reminded me that Hoka has already introduced shoes that look wilder, noting the TenNine running shoe, released in early 2020, which features even more heel protrusion. He feels like they've hit a good balance with a hiker that people can wear for big days on the trail or who find walking in regular hikers uncomfortable. "Sure, you could go crazier, but we feel like we found an optimized spot to really deliver something that is beneficial, commercial—maybe not for everyone, but that's OK," Rosario says.
The silhouette of the TenNine is so outlandish that Hoka actually had testers wear darkened sunglasses so they couldn't see the shoes before they tried them. They had biomechanists help testers onto the treadmills to safely perform the tests. "We wanted to gauge the experience versus the emotional response," Rosario says. "Some of the shoes were really out there."
But for me, the question is: Can I remove my emotional response to how different these shoes look and just enjoy how spectacularly comfortable they are? I can't land on an answer. My favorite hiking shoes are also my favorite shoes to wear with jeans while walking around town. The TenNine is absolutely next-level in terms of downhill performance but feels unwearable in a public place—not to mention in my car. That said, if it hurts like hell for you to make descents, there's a distinct possibility that this shoe will help with that. Or it will allow others to be on their feet longer, just like Hoka's running shoes do.
However, the decision might not be so tough in the years to come. "In the future, you are going to see this technology filter down through our range. We built the race car," Rosario says, referring to the this version of the TenNine, "and in seasons ahead, we will build the SUV that is going to sit in a lot more driveways than the person who was only looking for the race car."
Lead Photo: Sarah Jackson