How can I resurrect a pair of scuffed-up hikers?
I recently took a pair of Scarpa ZG 65 boots on a massive four-day hike through the Drakensburg Mountains. They ce back completely filthy, so I used some Nikwax products to help clean them up. On the bottle it says that if really dirty, use a "stiff nylon nail brush to assist," so I did. Unfortunately, that caused the inner fabric on one of my boots to become very, very furry. Please tell me how badly I have messed up my boots. Why would they include instructions that would harm one's boots? Kirsty KwaZulu-Natal, South Africa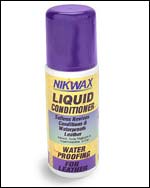 Heading out the door? Read this article on the new Outside+ app available now on iOS devices for members! Download the app.
Boy, I'm glad I wasn't that boot. Did it beg, "Here, Kirsty, give my back a scrub with that stiff nylon nail brush"? Brings to mind a form of medieval torture. It was called flaying.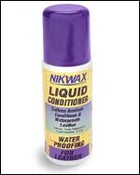 Nikwax Liquid Conditioner

I mean, on the one hand, you did some damage to the fabric portion of the ZG 65's—a light hiker/backpacking boot ($150 U.S.; www.scarpa-us.com)—having now caused it to fuzz out a little. But on the other hand, it's mostly cosmetic. Recoating them with any good boot waterproofer will solve much of the problem. You also could try a men's electric shaver—I'm serious!—to shave off some of the offending fuzz. Besides, these boots weren't all that waterproof in the first place.
Anyway, I'm surprised Nikwax brought out the boot sadist in you; in their defense, the stiff brush probably only concerns really dirty outers. My usual advice, though, is to use a soft nylon brush on a boot when it's really dirty, along with some warm water and maybe a spot of mild liquid detergent (in the U.S., Dawn dish detergent is an excellent all-purpose cleaner—mild, yet a good emulsifier). Rinse the boots in and out, then gently scrub them with the brush, paying particular attention to the seams where grit and sand can get into the stitching and damage the threads. Air dry at room temperature, then treat leather portions with Nikwax Liquid Conditioner ($8; www.rei.com) and the whole boot with a waterproofer such as Nikwax Aqueous Wax Boot Treatment (also $8) or Tectron Extreme Shoe Guard ($6).
Hope you and your Scarpas recover to enjoy a happy hiking life together!
For 2005's best hiking boots, check out the
2005 Outside Buyer's Guide
, including useful boot-care and buying advice.
Trending on Outside Online