La Sportiva Trango Trek boots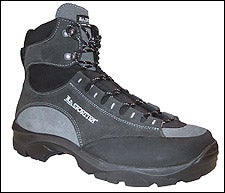 Heading out the door? Read this article on the new Outside+ app available now on iOS devices for members! Download the app.
Wow. Talk about a boot that's made to kick ass, and maybe even save yours in the process.
La Sportiva Trango Trek boots

La Sportiva Trango Trek boots
I just got back from a trek around Longs Peak, in Rocky Mountain National Park, where I wore La Sportiva's heavy backpacking/trekking boot, the Trango Trek. In one weekend, I put them through a straight-up gantlet of torture tests, including the whole "running for your life" thing.
Before subjecting the Trangos to stream and snow in the Rockies, I put them through a little pre-expedition test in the bathtub of my apartment in Santa Fe. I stood up to my ankles in water for more than ten minutes, talking to my friend "More Cowbell" Mary, who would join me on the trip. Not a single drop penetrated the Perwanger leather or the stitched seams. Only when the waterline got above the ankles did it spill through a cleft in the boot's tongue and soak my foot.
Our trip started in dense woods, along a slowly climbing dirt trail. Piece of cake. Not something you want a heavy-duty, rigid-soled boot for. But the Trangos—with an ankle hinge, semi-flex sole, moisture-wicking liner, and even-cinching lace system—were as light and comfortable as trail runners, and just about as breathable. Even in the mid-morning summer heat, and with two pairs of socks, my feet didn't seem to sweat—surprising, considering how waterproof they were.
Their first wetness test came when Mary and I crossed above timberline, where several portions of the heavily eroded trail had turned into small rivers of snowmelt. I splashed along several ankle-deep streams for several hundred yards without so much as dampening the inside of the boot.
Our camp the first night was in the Boulderfield, a tricky rock-hopping landscape of wobbly boulders and sharp, glacial moraine in the shadow of Longs Peak. Several times I misjudged the angle of the rock or its sturdiness and probably would have sprained an ankle beneath my 50-pound pack if not for the Trangos' high-and-tight ankle support.
The next day, it was Class 3 scrambling up and through the Keyhole feature toward the summit. La Sportiva doesn't say these boots are crampon-compatible—with no heel or toe bails—but they worked excellently with a pair of Black Diamond Contact Strap semi-flexible strap-on crampons as I crossed safely through a rather dicey and exposed ice slope on the ridge above a fall I really didn't want to take.
Turned back by the weather, I made my way (in crampons again) across a loose, 50-degree snow slope, enjoying the Trangos' heavy-duty toe rands (rubber, not steel) as I kicked into my footholds and traversed sidelong toward a vista. With the skies darkening ominously, the real test for the Trangos was about to come.
At about 13,000 feet, on my way up a ridgeline toward Longs Peak's impressive Diamond face, granules of hail began to pelt me—a sure sign of trouble in the clouds. An ominous boom of thunder followed, reminding me that I was standing on snow in metal crampons, near an exposed ridge, with not one but two metal ice axes on my back pointing at the sky—a human lightning rod. Getting fried seemed a really bad way to end the trip.
Off came the crampons as another pair of booms rocked the mountain, closer this time. I began scrambling hurriedly down across the long, terraced slope of boulders, thankful for the Trangos' aggressive rubber tread during the tricky downclimbing.
That's when things got just plain silly.
The boulders around me went completely white in a brilliant flicker of light, followed almost immediately by a crisp, crackling explosion so loud and close it seemed to come from all directions. That was my cue. I ripped off my pack and bolted, sprinting and bounding like some rabid alpine goat across the tops of the shifty, jagged boulders—a twisted game of high-speed hopscotch across what might as well have been a minefield. How I got across without breaking anything is beyond me. After dropping 300 vertical feet in about five minutes over the course of maybe a half-mile, I reached the valley floor and made it panting back to the tent.
I'll die a happy old geezer if I never have to do that kind of fancy footwork ever again. But if I do, there's no question: I'd wear these boots. $195, www.sportiva.com
Trending on Outside Online