On Walking
Light Hiking Shoes We've Tested and Trust
Five kicks that transition seamlessly from trail to town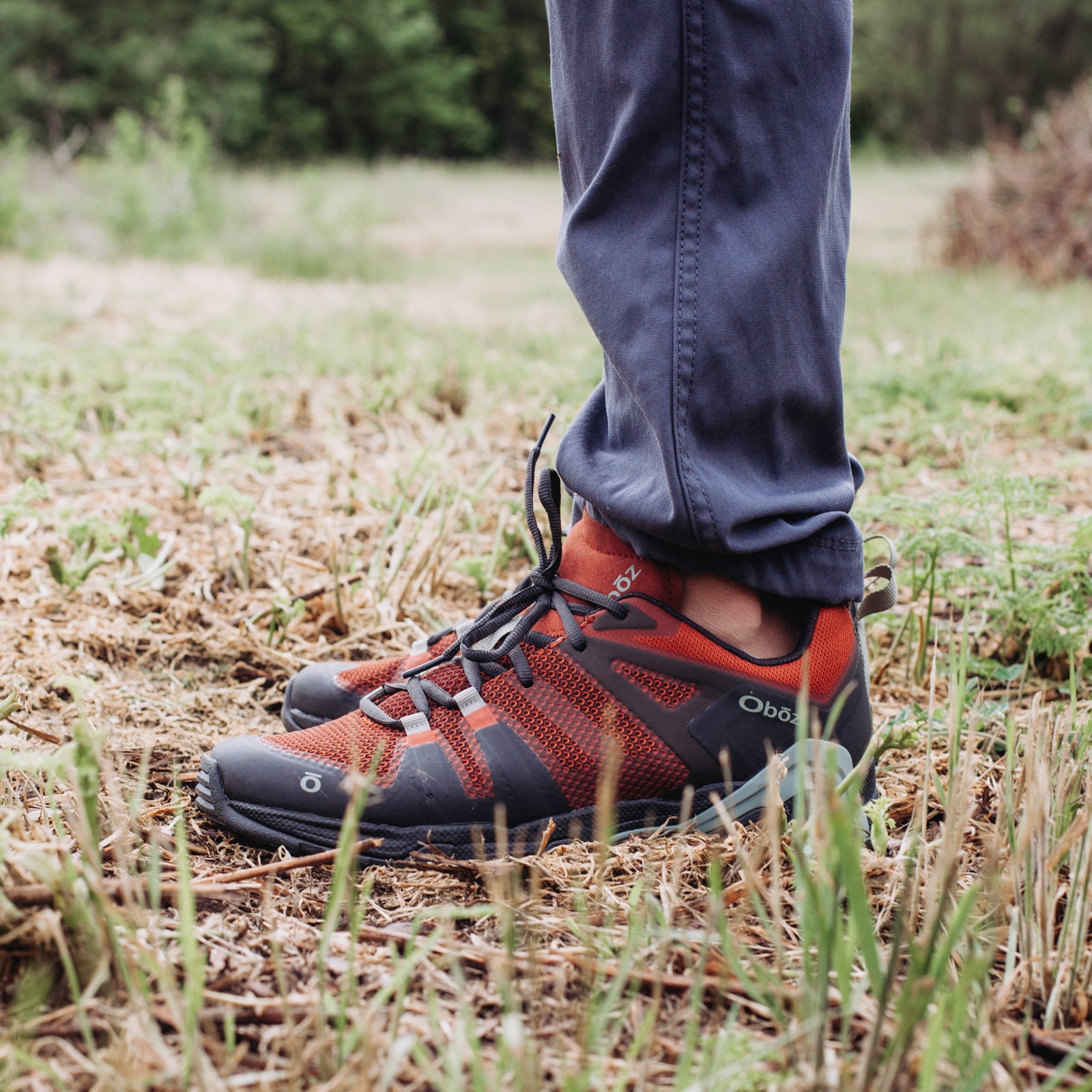 Heading out the door? Read this article on the new Outside+ app available now on iOS devices for members! Download the app.
A light hiker is the best type of shoe for on-foot adventures close to home. The right pair can bridge the gap between trail and town, saving you both money and closet space. Unlike a high-top hiking boot, it offers less structure, more breathability, and a minimal weight. That makes it much more comfortable for occasions when you aren't carrying a heavy load or walking for days at a time—i.e., 95 percent of the average user's hikes.
An increasing number of manufacturers have caught on to this need and, in the past five years, have focused on more functional and better-looking designs. Now there are a wealth of options on the market. Since many of us are staring down months of nearby adventures (though these shoes will also serve you farther afield once things reopen), it seemed apropos to put five of these do-it-all light hikers in a head-to-head test.
The Test
Comfort: I wore each pair while working at my standing desk for an entire day and during an hourlong hike in a green space near my house.
Performance: Besides the hike, I wore each to climb and descend a steep scree field three times. I gauged how well each shoe gripped the ground and interacted with my feet.
Style: I FaceTimed with fashion journalist and founder of the outerwear site Coatchecking, Alex Rakestraw. We studied each pair and discussed their designs.
The Winner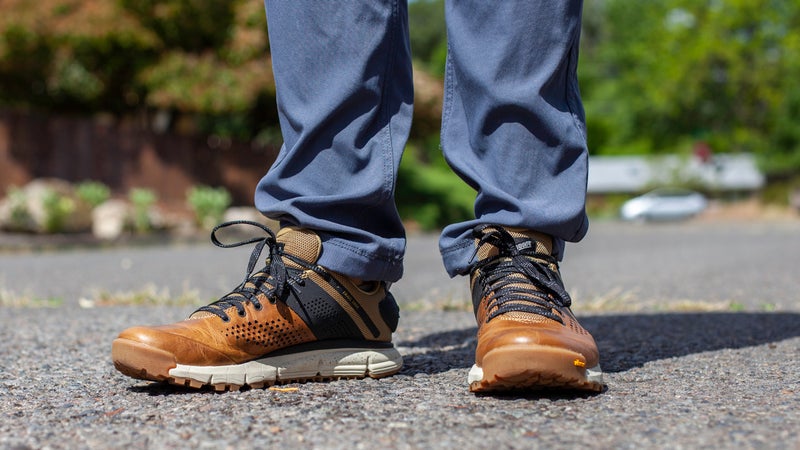 Danner Trail 2650 ($160)
Comfort: 5
Performance: 4.5
Style: 5
This pair was so comfortable and capable during both the hike and scree-slide tests that I wore them on a bonus hike with my two-and-a-half-year-old daughter in our Deuter Kid Carrier that same day. The shoes handled my adorable 25-pound load with aplomb, and the hours on my feet proved to be full-on enjoyable. Credit the cushy midsole, coupled with an OrthoLite insole, the latter of which hugged the bottom of my feet like an old friend; this helped while standing at my desk as well as when sliding downhill on scree, because my dogs didn't move around in the shoe at all. On the fashion front, Rakestraw shared my love of the 2650. "These are my favorite true-to-form light hikers that are out right now," he says. "A lot of the time, brands keep designs so firmly anchored in the idea that it's a boot, to the detraction of the sneaker. These hit a balance with this that no other pure outdoors light hikers have hit so far."
---
Best Value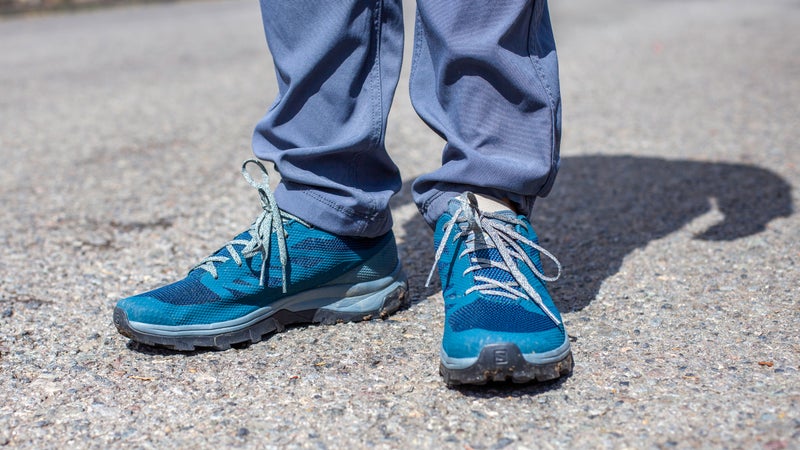 Salomon Outline ($110)
Comfort: 3.5
Performance: 4.5
Style: 4
If you're on a budget, look no further than the Outline, which was fantastic by all three testing criteria and costs $50 less than the 2650. Its aggressive five-millimeter lugs allowed me to arrest a downward slide in less than two feet on the scree field. Meanwhile, its extremely lightweight and breathable upper felt like that of a comfy sneaker, making this a best-of-both-worlds day hiker. Rakestraw believes that this party-on-top, business-on-bottom approach added to the aesthetic of the shoe as well. "I love that it has a running-shoe upper with a monster-truck bottom. It looks a little sandwiched together, but because it is Salomon, there is a real tastefulness to how it was executed," he says. "It's like one of those Porsche 911 models with big Baja tires: you might say, 'Wait, that doesn't go together,' but it's very utilitarian because of it."
---
Best Performance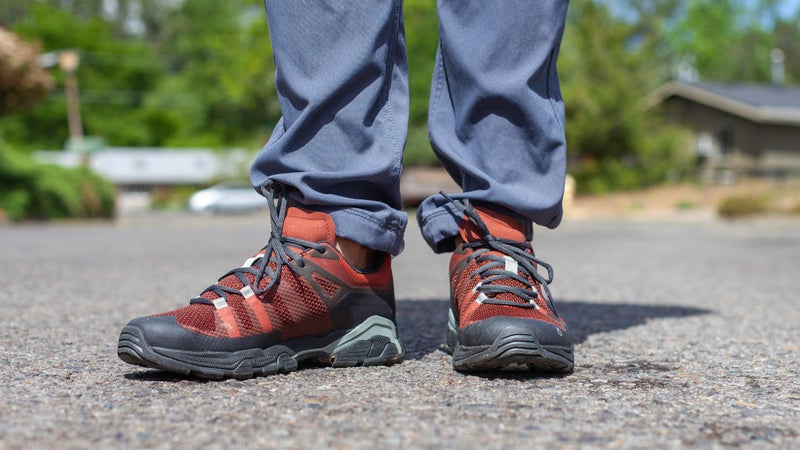 Oboz Arete Low ($125)
Comfort: 5
Performance: 5
Style: 3.5
If this test had been based solely on performance, the Arete Low would have won. I made audible oohs and aahs while navigating downhill amid both mud and scree, as the Arete's fantastic traction and best-in-test fit made it incredibly capable at maintaining control. The fit—a nice cupping heel to keep my foot in place, with an arched midfoot and a wide toe box—married the best of performance and comfort. Though the upper was featherlight and breathed well, I never felt like this shoe would be undergunned on a technical day hike. Oboz has not historically been known as a stylish brand, but it stepped up its game with the Arete. "I think this is a great move for the brand," Rakestraw says. "It's somewhere between a walking shoe and a really technical sneaker, and it looks completely unlike anything I would associate with Oboz. It has some of that outdoor niche detailing that's in fashion right now." 
---
Best Summer Style
Columbia Vitesse Outdry Hiking Shoe ($110)
Comfort: 4.5
Performance: 3.5
Style: 4
I don't think of Columbia as a brand that puts aesthetics first, but the Vitesse proved me wrong. "I think these would be really fresh with shorts," Rakestraw says. "I like how big the weave is on top. This is a funky risk-taking shoe that is aggressively summer and retro in color scheme." On the performance side, these were the most running-shoe-like of the bunch, and I felt extremely comfortable standing in them for hours at my computer. They also had lugs that were tough enough to help me maintain control while descending the scree field. My only beef was that my feet got extremely hot because of the waterproof upper. I finished my 55-degree, hourlong hike with wet socks and clammy feet. 
---
Best for Mountain Townies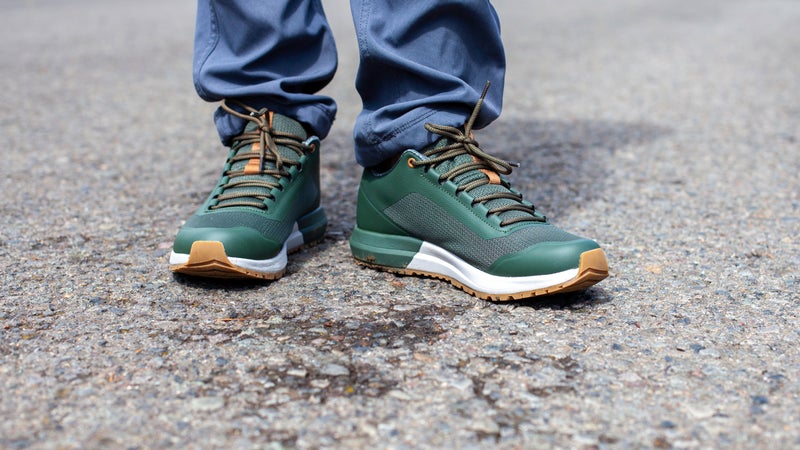 Forsake Cascade ($110)
Comfort: 3.5
Performance: 1.5
Style: 3.5
I really liked the way the Cascade looked with jeans, but I wasn't happy with the shoe's performance. It was plenty comfortable for walking on streets and standing at my desk for hours, but the fit felt sloppy during hiking climbs and descents. On one downhill, both of my big toes hit the front of the shoe for 30 consecutive steps. That's a one-way ticket to losing a toenail on any longer hiking trip. Their lugs were the least aggressive of the test and did little to help me control myself on scree. But when I brought these issues up with Rakestraw, he reminded me that they have a place in this market. "They do look like a nice casual sneaker—like a generic seventies-inspired runner—and they have an extra layer of ruggedness to them," he says. "It is a more mature style."
Lead Photo: Sarah Jackson