The Best Camping Apps to Plan Your Next Adventure
From finding an open site to tracking the weather, these apps will up your camping game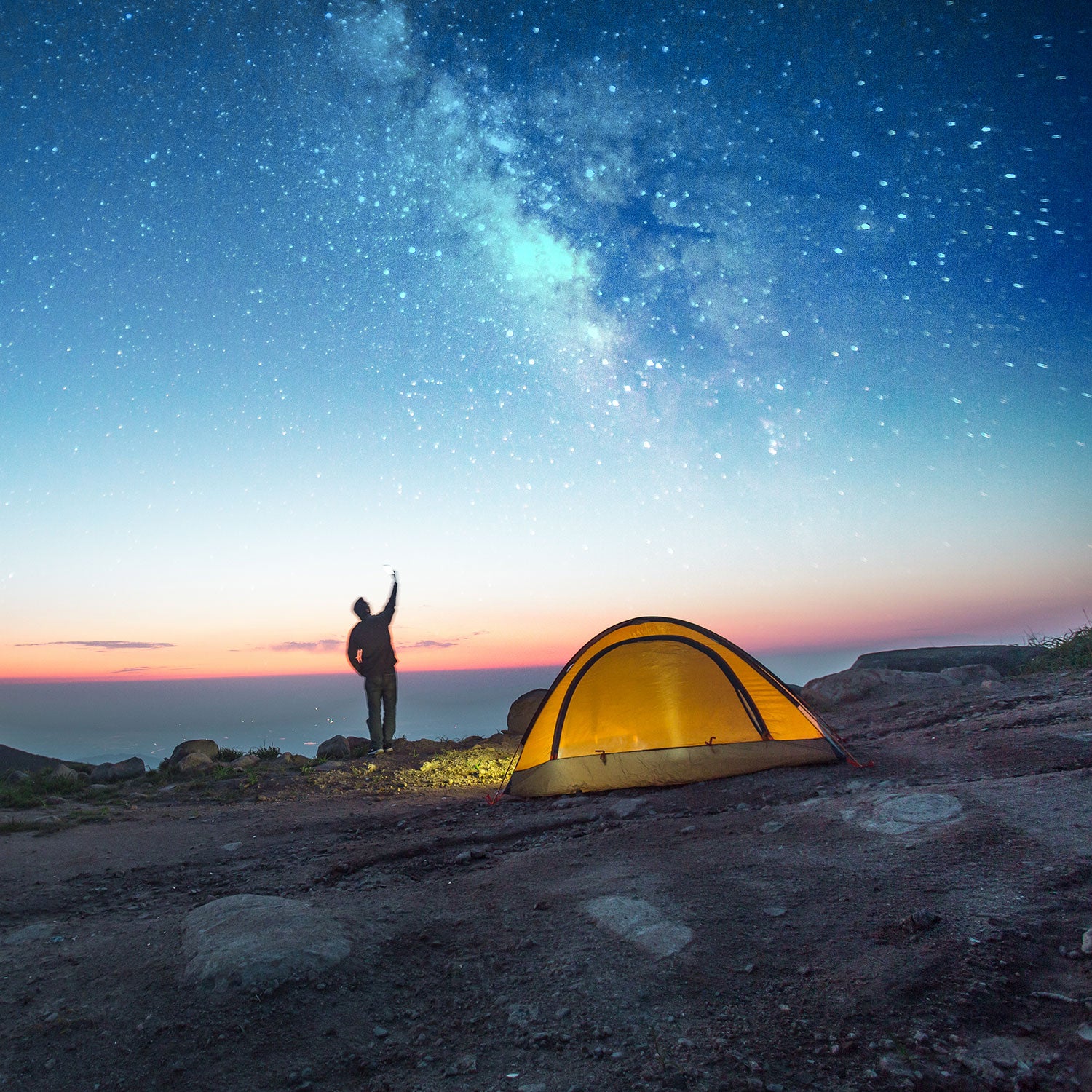 Heading out the door? Read this article on the new Outside+ app available now on iOS devices for members! Download the app.
There's nothing quite like leaving the office on Friday evening, jumping into a car with all your gear, and heading out for a weekend in the woods. In theory, camping trips are simple. You don't need much, and you can keep most of your regular kit packed and ready to go.
In practice, however, getting away is rarely simple. You have to figure out where to camp, what the fees and regulations are, and what the weather will be like, among other concerns. Thankfully, there are apps for that. Here are a few of our favorites.
The Best Camping Apps for an Adventure Assist
Best For Finding a Designated Campsite: Recreation.gov
This go-to app has an exhaustive database of campgrounds around the country, from RV to tent sites. Just plug in the area you're visiting and your arrival and departure dates, and the app produces a map with pins denoting nearby campsites. (You can manually select specific towns or cities or use location tracking to auto-populate sites in the surrounding area. The app chooses a mileage radius, which is not adjustable.) Blue pins signify available campsites, and yellow pins mark campsites that are booked. You can call an agent or make a reservation online from within the app.
Best For Boondocking Beta: Campendium
Camping for free is great but often involves a lot of shooting in the dark. It's easy to pick a national forest or tract of BLM land on a map, but you never really know what you're going to find. Campendium makes the process a bit easier. The app's database includes information about cell service, site size, and amenities like toilets or RV hookups. You can also filter destinations by elevation, get detailed trail maps, and more. The comments section is a cache of more specific information based on people's experiences staying at each site—like whether there's space to turn around a large vehicle, if the road is in good condition, or whether you'll experience crowds.
Best for Weather Reports: MyRadar
How many times have you seen rain in the forecast and packed up camp, only for it to merely drizzle? Or chosen an exposed campsite for the beautiful views and been rocked all night by heavy wind? MyRadar provides detailed weather data to help you avoid such trip-ruining mishaps. Like other weather apps, it gives you an hourly and weekly forecast, but it also shows you the direction, speed, and severity of impending storms, wind, temperature swings, wildfires, and even earthquakes through an interactive map. (You can turn all these filters on or off as needed, like if, say, you're not camping on an active fault line.) A $7 upgrade gets you access to detailed information from 150-plus individual radar sites that provide the aggregated satellite weather reading. That upgrade also gets you ad-free app usage, Apple Watch compatibility, and a hurricane tracker.
Best for Staying Organized: PackPoint
Between the camp kitchen, food, hiking gear, fishing gear, bikes, and first-aid kit, there's a lot of equipment to keep track of when prepping for a camping trip. Enter PackPoint, which lets you create different lists for certain types of trips—like separate "camping " and "hut trip" lists—and then populate each with activities or categories such as food, clothing, and toiletries. Add items to each, specify a quantity (three pairs of socks, two six-packs), and then click the check box once the item is accounted for. The app is free, but upgrading to the premium version ($3 per year) let's you share your list with others, sync across your devices, and further customize your lists (great for type-A packers).
Best for Stargazing: Night Sky
Outsource constellation-remembering duties to this app (no, not you, Siri). Use your phone's compass to line up the screen with what you're looking at in real life—be it a star, planet, or satellite—then click on each constellation for a mini astronomy lesson. Night Sky can also help you search for a specific constellation. Nightly stargazing reports tell you what will be visible that evening and (also key) where to find a spot with minimal light pollution for optimal viewing. The app is free, but $2 per month gets you augmented-reality tours of planets and moons.
Lead Photo: jxfzsy/iStock