The Ultralighter's Guide to Synthetic Insulation
Which down alternative does the best job of keeping you warm without weighing you down?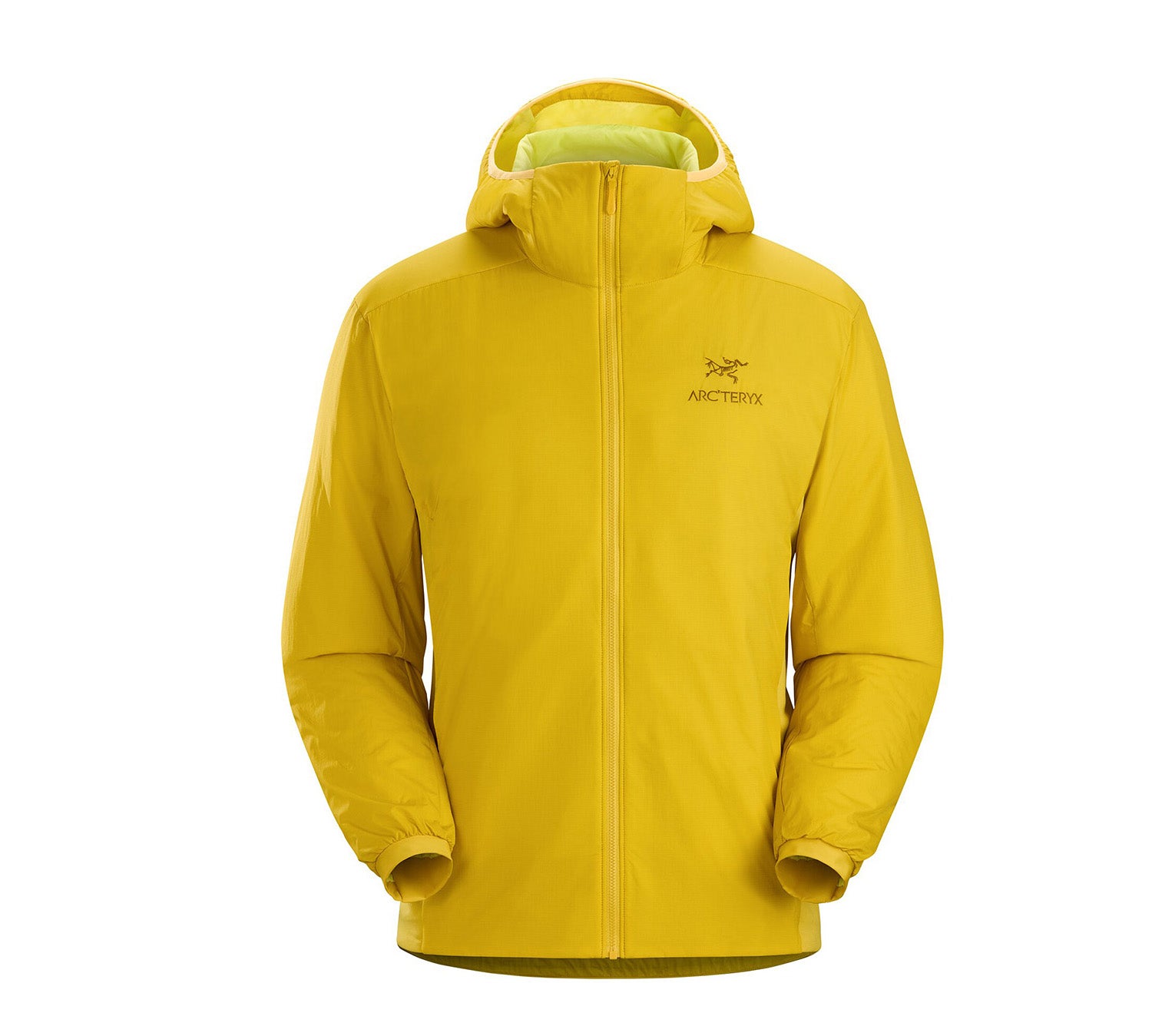 Courtesy Arc'teryx
Heading out the door? Read this article on the new Outside+ app available now on iOS devices for members! Download the app.
When it comes to insulation, most ultralighters head straight for down jackets and sleeping bags—and for good reason. Try as we might, humans haven't managed to create a synthetic insulation designed for outdoor gear that can rival the insulating power of high-quality goose down. That doesn't mean that synthetic jackets and quilts don't have a place in an ultralighter's gear closet, though. Synthetics perform better in damp or wet conditions, making them a great choice when it's humid or rainy. They're also easier to wash, dry, and store (down can lose loft if it stays compressed too long), and therefore a good choice for anyone who's tough on their gear. Finally, synthetics can offer better breathability, so if you're after active insulation (something to keep you warm while you're hiking), a synthetic layer is a good choice. 
But comparing the many synthetic insulation options out there is no easy task. Unlike with down's fill power metric, there isn't a simple way to measure the insulating power of different types of synthetics. When weight is a top priority, as it is for ultralighters, that's a vital piece of information. An insulation's warmth-to-weight ratio can be the deciding factor of whether it's appropriate for a midlayer, puffy jacket, or sleeping bag, or if it's simply not a good choice for an ultralight kit. 
Luckily, there are ways to test and compare synthetic insulation. Things are going to get a bit wonky and technical from here, but if you want to know which synthetic jacket to bring on your next chilly, wet long hike read on. It all starts with something called CLO. 
What is CLO?
CLO is a value used by textile manufacturers to attempt to answer a simple question: How warm is an article of clothing? In short, CLO is a measure of the amount of clothing (or insulation) required to keep someone comfortable while sitting down in a 70 degree room at 50% humidity. If you were to be totally naked, that would be a CLO value of 0. If your clothing leaves you perfectly comfortable and warm, the CLO value would be 1. Warm clothing like jackets, hats, and gloves would boost the CLO value to well over 1. 
For our purposes, the textbook definition of CLO isn't that important. After all, warmth is subjective, and wearing an outfit with a CLO of exactly 1 might leave one person cold in a 70-degree room and another perfectly comfortable at 50 degrees. What's more important is that the actual CLO value itself is not subjective—it's an objective number that's measured by testing, just like EN-standards for sleeping bags. If one jacket has a CLO of 2.2, and another has a CLO of 3.1, the jacket with the higher CLO is warmer. What's more, it's also fairly simple to derive a CLO-per-ounce value, giving you a clear warmth-to-weight ratio for the type of insulation used.
CLO values aren't aren't as easy to find as more common metrics like fill power for down jackets or EN-standards for sleeping bags. Some brands (like The North Face) will include CLO values on the tag of synthetic jackets. Many others do not. Most insulation manufacturers do publish CLO-per-ounce measures for their products, but they're often hidden in product spec sheets and hard to find as a consumer. So we did it for you.
Below is a breakdown of a few of the most popular and best-performing synthetic insulations, along with their CLO-per-ounce value, advantages, disadvantages, and best uses. 
Primaloft Gold 
CLO: 0.92
As seen in: Patagonia Nano Puff Jacket
Best for: All-purpose puffy jackets
Primaloft Gold has long been the—no pun intended—gold standard of synthetic insulation. It's a short-staple insulation, made up of short fibers arranged into batting. It's soft, highly water-resistant, packable, and easy to wash. Short staple insulation does have one drawback though—it tends to lose its loft faster than other types of synthetic insulations. Among outdoor brands, normal Primaloft Gold has largely been replaced by Primaloft Gold Eco, a 100% post-consumer recycled variation that has the same CLO value of 0.92. The Primaloft line also includes Primaloft Black and Silver, both of which are more affordable but have lower CLO values. 
The North Face Thermoball Eco
CLO: 0.85
As seen in: The North Face Thermoball Eco Jacket 2.0
Best for: Emulating the look and feel of down jackets 
Thermoball Eco is a 100-percent recycled insulation developed by The North Face to resemble down as closely as possible. As the name implies, Thermoball consists of tiny balls of insulation rather than a sheet. That makes it both high lofting and highly packable, but also limits the way it can be used in apparel. Like down, Thermoball requires baffles to hold the insulation in place. All of those seams are also points where water can enter, which can impact weather resistance compared to jackets with fewer seams. The North Face currently uses Thermoball in jackets, vests, and hoodies, but not sleeping bags. 
Climashield Apex
CLO: 0.82
As seen in: Enlightened Equipment Revelation APEX Quilt
Best for: Sleeping bags and quilts
Though Climashield Apex doesn't boast the highest CLO value on this list, it's a favorite choice for synthetic quilts and sleeping bags, thanks to its durability and resistance to compression. It's a continuous filament insulation. Like short-staple insulations, it ends up as batting, but it's constructed of a single filament rather than many short fibers. That makes it stiffer and less packable, but more resistant to losing its loft. Though these characteristics make it better suited to use in sleeping bags, Climashield Apex jackets like this one from Timmermade are also available. 
Polartec Alpha Direct
CLO: 0.38
As seen in: Superior Fleece Brule Hoodie
Best for: Super breathable active insulation layers. 
With such a low CLO value, Polartec Alpha Direct isn't a direct competitor to the other options on this list. It's less insulating, but also far more breathable, making it a great choice as light insulation during strenuous exercise. It's also soft and durable enough to be used on its own without an inner or outer shell layer, making it perform more like a fleece than other insulations. 
Coreloft Compact
CLO: 0.65
As seen in: Arc'teryx Atom LT Insulated Hoody
Best for: Highly packable soft shells.
Coreloft Compact is Arc'teryx's own proprietary line of short-staple insulation, found in the brand's popular Atom jacket lineup. Compared to Primaloft's top options, Coreloft has a lower CLO value, but it does have an incredibly soft feel and good breathability, making the Atom a solid choice for an active insulation layer. 
Primaloft Gold Crosscore
CLO: 1.40
As seen in: L.L. Bean Packaway Jacket
Best for: Serious ounce-counters who need a down alternative.
Though the Crosscore is technically just another variation of Primaloft Gold, it warrants a separate category because the CLO value is remarkably warmer. In fact, Primaloft's advertised CLO of 1.4 for Crosscore is the only option that even approaches that of 800-fill power down, with a CLO of about 1.68. That next-level warmth is achieved by combining Primaloft Gold with Aerogel, a material that's composed of 95% air. It retains the other advantages of Primaloft Gold, namely its water resistance, packability, and soft feel.
Lead Photo: Courtesy Arc'teryx