The 3 Best Headlamps for #Vanlife
Headlamps are underrated yet vital gear for living on the road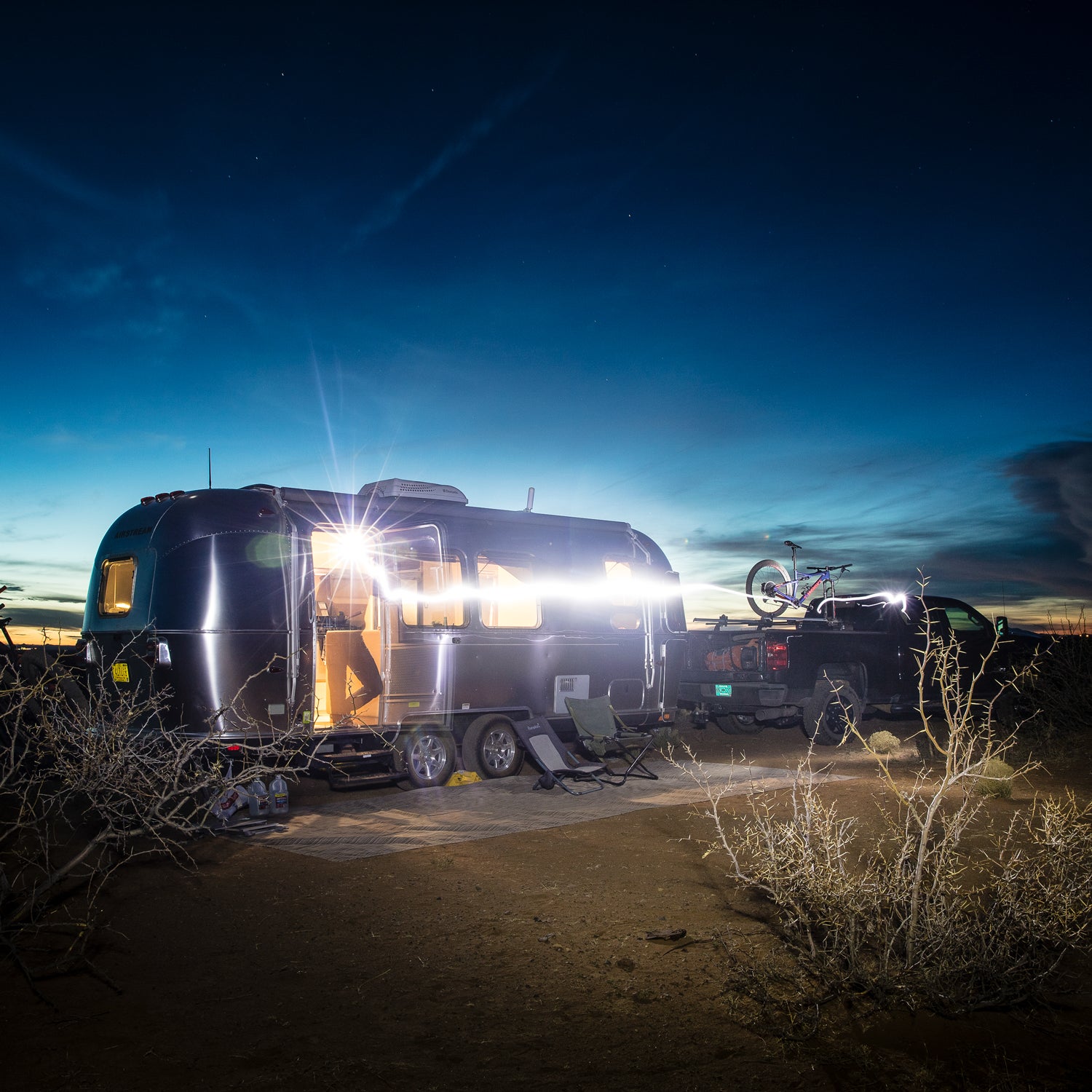 Heading out the door? Read this article on the new Outside+ app available now on iOS devices for members! Download the app.
A few years ago, I gave Jen's mother a headlamp for Christmas. Not an outdoorsperson, she was both flabbergasted—her idea of a headlamp leaned toward hard-hat mining lights—and appreciative of how much easier the trim little light made grilling on dark winter nights. Seeing how much the light changed her experience (no more flashlights to juggle along with the potatoes and plate of burgers) made me realize just how much I take bright, lightweight, skull-mounted luminescence for granted. From digging around in the back of the truck after dark to piloting singletrack through the night, modern headlamps are probably one of the most indispensable and underrated tools for being in the woods. And with the constant improvements in LED bulbs and battery efficiency, headlamps are as effective and affordable as they have ever been.
Thanks to my job as bike editor for Outside, I have used and tested dozens, if not hundreds, of lighting systems over the years. Here are three of my favorites.
Ledlenser MH10 ($80)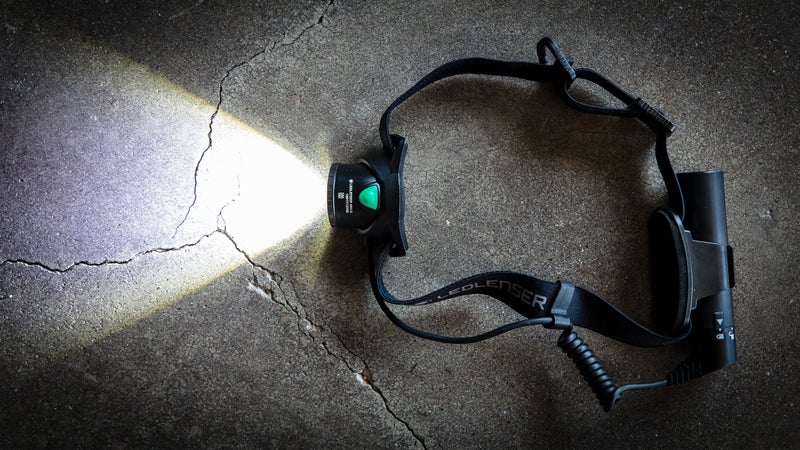 If I could own just one headlamp for camping, cycling, hunting, hiking, skiing, and all my backcountry pursuits, it would be the Ledlenser MH10. Unlike most headlamp companies' designs, which have either a lens beam for distance or a diffuser for up-close light spread, Ledlenser's focus system combines a lens and reflector that allows you to focus the beam for seeing far off or spread it gradually for a softer glow up close. Spinning the ring around the light head magnifies and disperses the light with a flick of your fingers.
For almost a decade, I have owned one of Ledlenser's early headlamp designs, which offered 100 yards of throw from just 180 lumens but was still light and compact enough to throw in my pack for any adventure. Fast-forward to the MH10, and it's nearly as light and packable as my early model but produces 600 lumens, almost the same as the low beam on a single car headlight. That's a ton of light that can reach out more than 160 yards, which I always appreciate if ever I hear something go bump in the night and have to go out to scan the surrounding terrain. I also use that high beam when cycling after dark, especially on trails; it sheds enough light to speed along even when things get technical. In addition to the diffuser that lets you spread the beam, the MH10 has three power levels that allow it to run as low as 40 lumens—perfect if you're still into books on paper, as I am, or for studying maps after dark in the tent. It's waterproof to 13 feet, visible from the rear courtesy of a small LED, and has a travel lock so you don't inadvertently drain the battery.
For the combination of packability, light quality, features, and cost, I haven't found a better lamp. My one misgiving about the MH10 is its rechargeable-only battery, which rules this one out for multiday backcountry endeavors and makes it best for RV and trailer camping, where you can charge regularly. The rear battery pack is also bulky for lying in bed.
Petzl e+Lite ($30)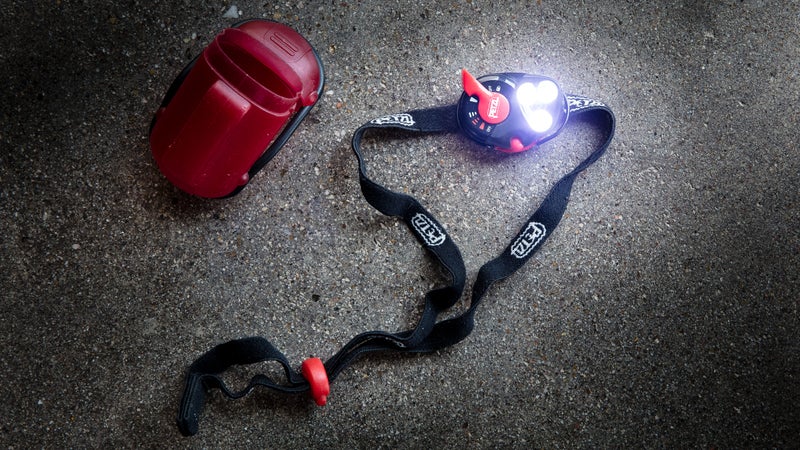 While the MH10 hangs permanently near Artemis the Airstream's door for outdoor duty, I keep a Petzl e+Lite by the bed. With a head about the size of a half-dollar, this minuscule light (26 grams) puts out just 50 lumens. It's intended for emergency use, and I've tossed it into my pack many times on alpine ascents as a backup. But I've also found it perfect for the trailer when I wake up in the middle of the night and want to read myself back to sleep but fear waking Jen with a bright light. The e+Lite produces just enough of a faint glow, especially in red light mode, that I can power it up and get through a chapter or two without Jen ever budging.
Black Diamond ReVolt ($60)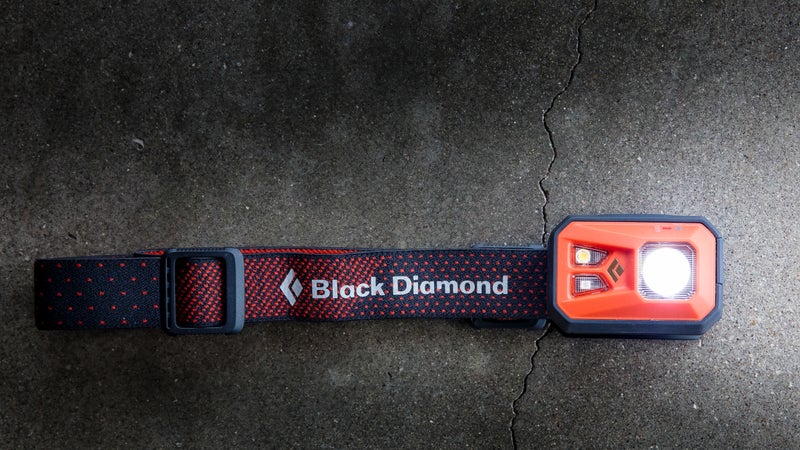 Last year, when I forgot to bring a headlamp on a backcountry trip to Idaho, I was forced to buy a spare from a gear shop. After long consideration, I chose the Black Diamond ReVolt and realized just how far light tech has come. This model sits somewhere between my two favorites in terms of light (300 lumens) and weight (97 grams). Plus, its adjustability—multiple modes include a dimming function that drops power to just 40 lumens and both a red and white beam—mean that it could almost sub for both. The ReVolt also has the advantage of accommodating both a USB-rechargeable battery pack and three AAA batteries, which means you'll never be out of light, even if you have no way to charge. It's not quite bright enough for high-speed trail riding after dark, so it won't ever work as my primary. (And last spring I left it in Siberia with my reindeer-herder hosts, whose cheap knockoff lights were as dim and unreliable as candlelight relative to the ReVolt.) But that's probably the light's only limitation. If you don't run or bike after dark, for which something brighter like the MH10 is better, the ReVolt might be the ideal compromise.
Lead Photo: JJAG Media