What are the best boots for a professional dog hiker?
I trying to find the best boot setup for my job. I a professional dog hiker. My job entails hiking five to six miles a day three days a week with 13 dogs throughout the winter in mountainous terrain. Generally I moving so much that I sweating and warm, but after I start my descent my feet are sweaty and start to freeze. I use sock liners and hiking socks with my Vasque Sundowners or Asolo's with Outdoor Research gaiters and Yaktrax Pros. Is there a special winter boot out there or setup you recommend? John Missoula, MT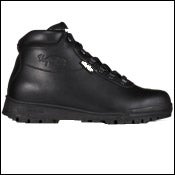 Heading out the door? Read this article on the new Outside+ app available now on iOS devices for members! Download the app.
Do you ever consider taking a mono-ski or snowboard, and letting the hounds carry you uphill? I just love that image.

The Sundowner
What it sounds like to me is that your feet are getting a little wet. True? Otherwise I'm not sure I can account for feet getting all that cold, even on a chilly Montana day, on a descent that probably doesn't take more than an hour.
So, first thing I'd do is just make sure your feet are staying dry. Use a good waterproofing treatment on your Sundowners like Nikwax Aqueous Wax ($8.50). Then maybe upgrade your socks. If you aren't already wearing wool outer socks like SmartWool's Hiking Socks ($18) then get a pair. They have a wider temp comfort range than most other socks.
You can do a few things to make your boots a little warmer. Neoprene socks is one. They do breathe, so your feet won't get all that wet from sweat. Cabela's's sells a 2mm pair for $13. And add some Insulator Insoles ($9), which provide better insulation across the sole than the standard insole. And lastly, spray your feet with anti-perspirant. Seriously. If your feet are getting wet from sweat, then do something to short-circuit that process.
Your last resort is to find new boots. Vasque Sundowners ($180 in GTX edition) are good boots, but not real heavy. And of course not insulated. Maybe you could try a pair of The North Face's Four Shadows GTX boots ($150), which are a decent hiking boot with Primaloft insulation. Warmer than what you have now!
Trending on Outside Online