What backpack can handle Micronesian island-hopping?
I'm going on a two-month trip to Micronesia, where I'll be taking weeklong trips away from the main islands to some outer islands. I'm after a suitable daypack that can withstand the salt-spray environment. We don't need tents or sleeping bags as we will be in thatched huts, but still want ple storage for food, water, fishing gear, and the like. Christian Mishawaka, Indiana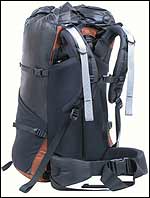 Heading out the door? Read this article on the new Outside+ app available now on iOS devices for members! Download the app.
Oh, you're one of those people. Fabulous trip planned, yet you're not satisfied with merely going someplace about which most of us can only dream. No. You have to announce it to the whole world in the guise of a "question."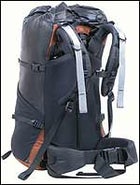 Nimbus Ozone

Some of us have to work for a living. Well, for me that means answering questions like yours, so through clenched teeth I shall do so.


The main thing to think about is the size of your pack. Most packs aren't really tailored to a saltwater environment. Giving the gear a rinse with freshwater when available is all you really need to do. As for size, about 4,000 cubic inches should be more than enough for your basic clothing set (mainly, clean bathing suit), food, fishing gear. You won't carry enough water in a pack to last a week no matter what, so I assume the islands either have some freshwater, or you can pack along a few plastic jugs and a water filter.
Lots of packs meet that size criteria. Gregory's Acadia ($199, www.gregorypacks.com) offers 3,800 cubic inches in the medium size, plus a great suspension, top-loading design with side pockets, and a frame design that helps funnel air past your back to keep you cool. Granite Gear's Nimbus Ozone 3800 ($200, www.granitegear.com) is a tough but light pack with the same capacity as the Acadia. The Nimbus is a top-loader that doesn't have a regular lid—drawcords cinch things down. Side pockets and lots of tie-on spots help simplify packing small items and those "extras" that always get stuck to the back of the pack. Finally, for something more affordable, REI's Morning Star 65 ($135, www.rei.com) matches the Gregory and Granite Gear packs in capacity, with a suspension that's more than adequate for the fairly light loads you'll likely be schlepping.
If you're still concerned by the saltwater issue, you might try a kayaking drybag that does double-duty as a backpack. Designed specifically for sea-kayaking and paddling hauls, this will fully seal out all that idyllically exotic seawater (getting envious again). Innova Kayaks makes one of these hybridized beasts that can carry around 4,300 cubic inches ($50, www.innovakayak.com). Note, you'll never get the same packing add-ons or suspension as in a conventional pack because a drybag-cum-backpack is only really designed for ferrying gear from a boat's bulkhead to camp. And from the sounds of things, you'll not be going too primitive if thatched huts on a beach are the order of the day…
For more essential travel style, read Outside's
2004 Buyer's Guide
.
Trending on Outside Online