What backpack will do it all: climbing, trekking, urban travel, the lot?
G'day, Doug. I'm after an "all-rounder" backpack for trekking, travel, backpacking, the lot! I want a top-loader but can't decide between two Deuter bags, the Aircontact 75+10 or 65+10. The 75 might be a bit big for city travel, but it could carry all my climbing gear, trekking boots, tent, sleeping bag, and the like. On the other hand, the 65 might be better for ease of use, and I can then carry a cargo bag for the excess. What do you think? Mark Brisbane, Queensland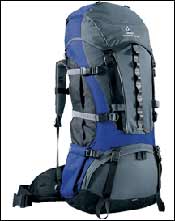 Heading out the door? Read this article on the new Outside+ app available now on iOS devices for members! Download the app.
Here we have the old Big Pot conundrum. If you have only one pot in the kitchen, what size to get? Answer: The biggest one you are apt to ever need, even if most of the week you're just heating a can of soup.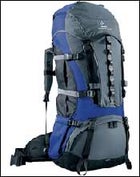 Aircontact 75+10

That rule applies to backpacking and trekking as well. If your load doesn't fill the pack you can always cinch down the pack bag. But if your load exceeds the pack's capacity, well, what do you do? It's true you can take along a duffel bag for overflow, but then you've got another piece of luggage to negotiate through train stations, airports, and so on. Plus it's just never that much fun carrying a good-sized piece by hand.
For that reason, I'd just get the Deuter Aircontact 75+10 ($230 U.S.; www.deuter.com) and be done with it. It's a largish pack, but not that large—its 75-liter main bag capacity is only about 4,600 cubic inches (an extendible lid provides overflow space). Although good for less ambitious outings, the 65+10 ($160), which comes in at more like 4,000 cubic inches until the hood is extended, really isn't going to suffice for bigger treks. It isn't even all that large for a travel pack.
Overall, the 75+10 is an impressive amount of pack for the money. It features a nicely designed suspension with a well-padded belt (a little more padding than support, perhaps); top-loading bag with a slot for a hydration bladder; built-in rain cover and more. It should work well on your travels, wherever they take you.
And, as an aside, I do always suggest taking a light duffel that's big enough to hold the pack, just in case some fussy airline employee insists you stow all the straps and buckles.
For a world-conquering selection of packs, check out Outside Online's Backpacks Buying Guide.
Trending on Outside Online